Autumn Trends For Window Treatments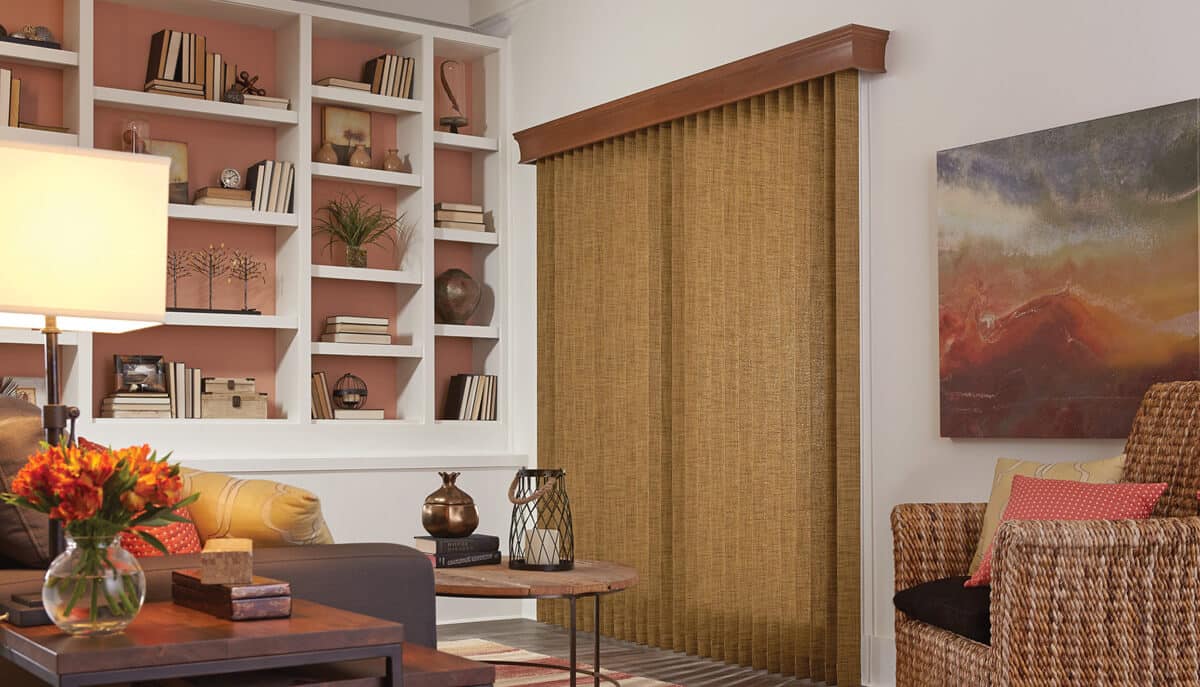 There's no such thing as a pumpkin spice window covering…but that doesn't mean you can't bring that fall feeling indoors with fall window treatment trends! We've started to see fall decorations showing up in stores, and while no one enjoys having holidays rushed on them early, we have to say that the fall décor isn't an unwelcome sight.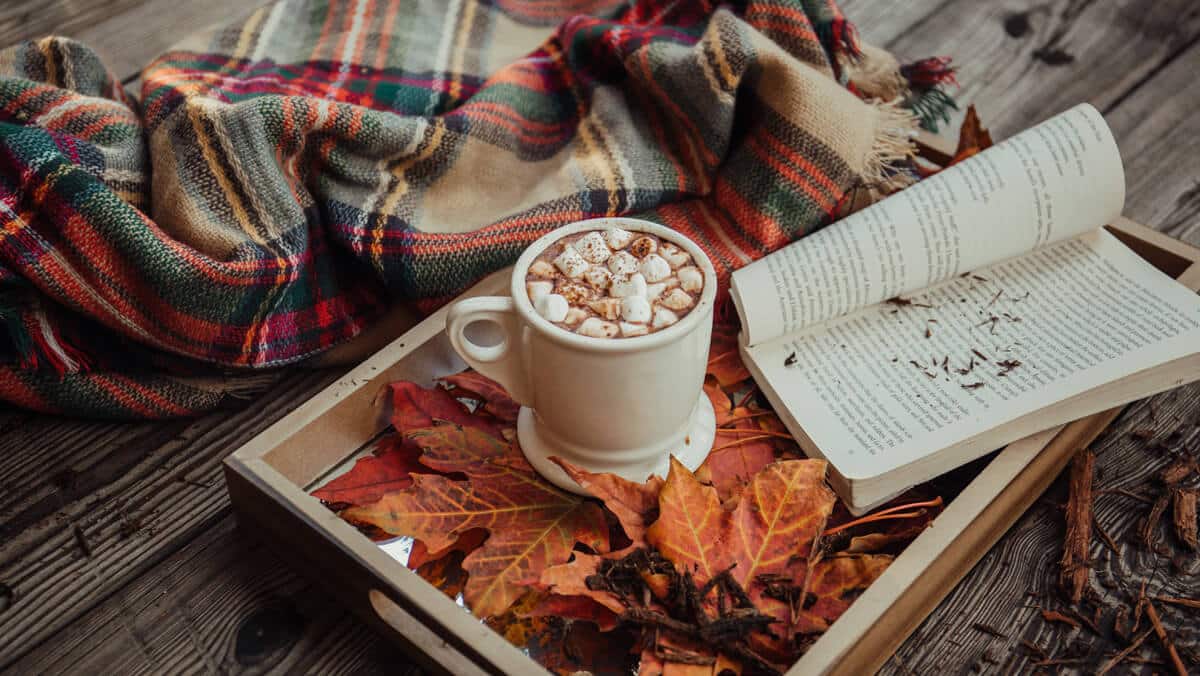 📧 Never miss a post from the 3 Blind Mice blog!
Subscribe to our newsletter to receive window treatment tips, how-to, and special offers in your inbox.
"*" indicates required fields
How To Decorate For Fall
When you think "autumn," your mind probably goes to fall leaves, a warm drink, shorter days, and all the cozy feelings that come with the fall season. There are many ways to embrace fall decorating ideas—from candles, to pumpkins, and yes, even window coverings!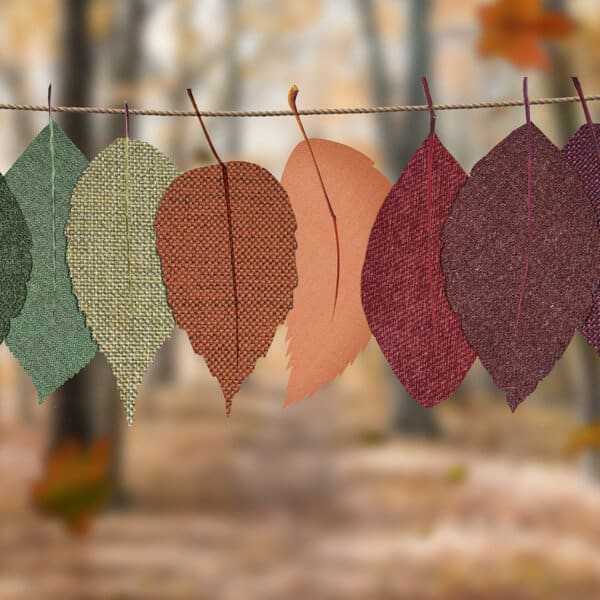 Classic fall décor ideas & trends
With the cooler temperatures nudging trees to drop their leaves, the crimson, bronze, and gold colors swirling through the air are a staple of fall décor. Don't leave the leaves behind—bring them inside in the form of garlands, branches with leaves (real or artificial), individual leaves to scatter along a table centerpiece, and even leaf-shaped window decals.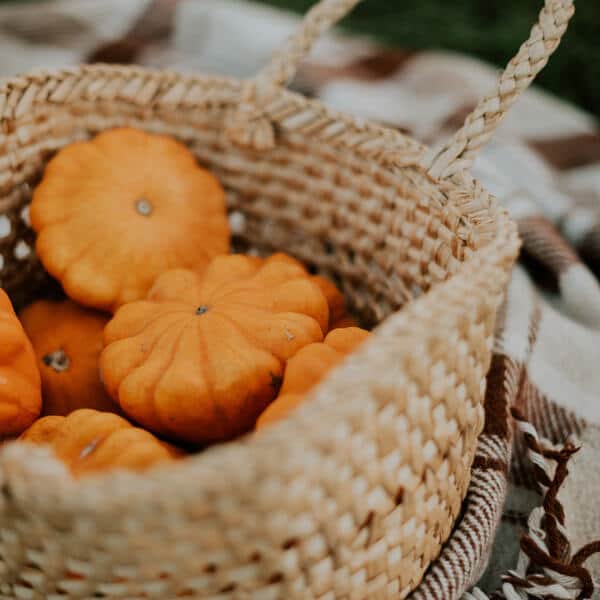 Pumpkins? Pretty please!
Pumpkins, squash, and gourds of all shapes and sizes are a staple of fall trends! Add a natural pop of color with pumpkins large and small—and embrace natural elements like this woven basket to get the full fall effect.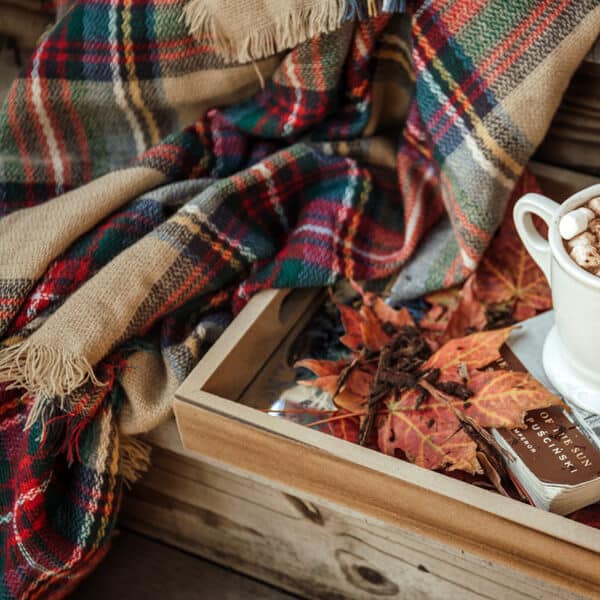 Pattern trends for autumn
Fall-perfect patterns include plaids, chevrons (an inverted V-shaped pattern), houndstooth, and the simple repetition of cable knit. Expect to see these patterns on kitchen towels, napkins, placemats, and even curtains—more on our top curtain trends for fall later on!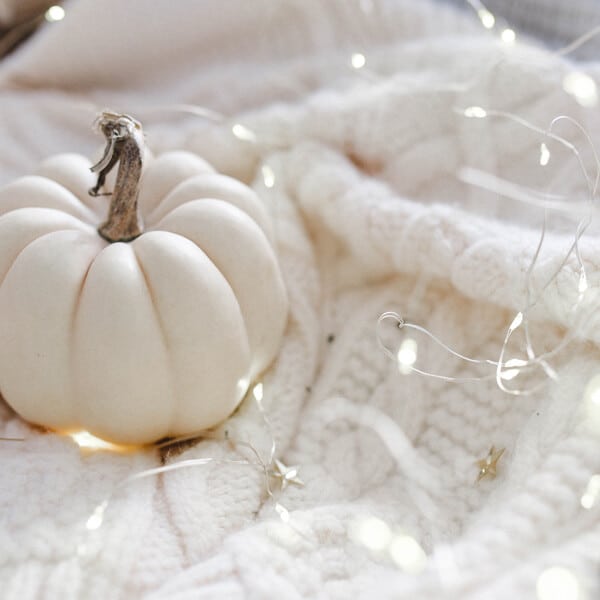 Textures that embrace the season
Fall is all about embracing the crisp chill in the air, so plush and inviting textures like velvet, faux fur, and cozy cashmere abound. Each of these textures (or several combined) can make wonderful accents for pillows and throw blankets. Fall is a season that readily invites natural accents in the form of wood and stone—making woven wood shades a fall favorite.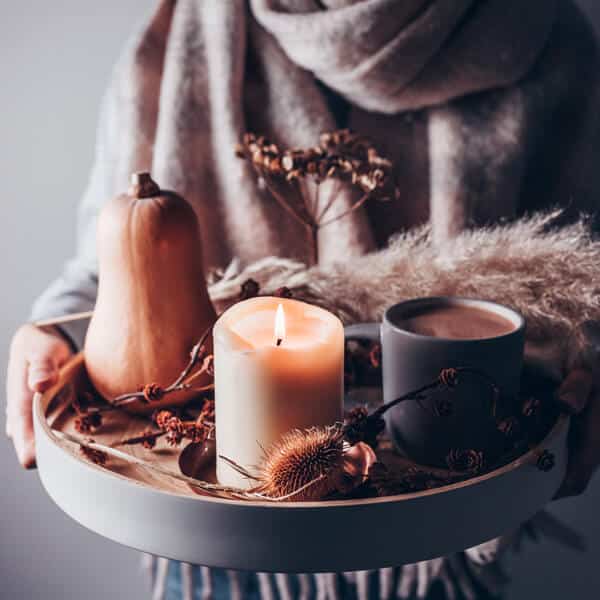 The Newest Fall Home Decorating Trends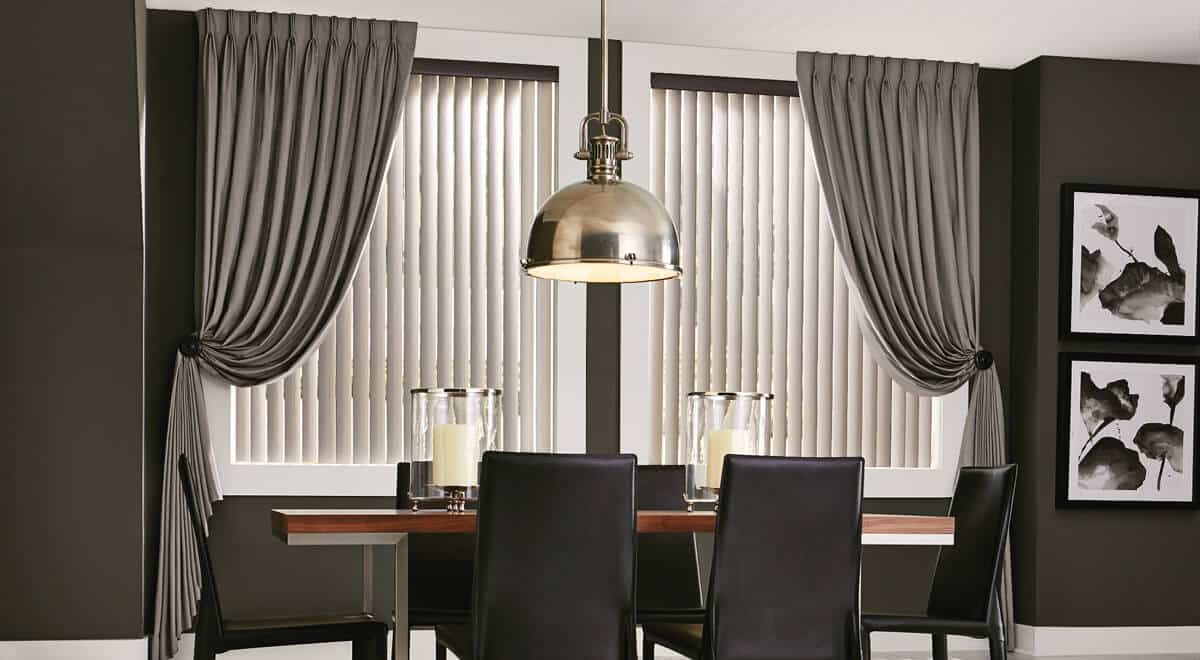 What is the newest fall home décor trend we're loving? Going dark! Let's take a look at how to use a dark color palette to decorate for fall.
Crisp blacks, clean lines, and deep gray tones aren't just for Halloween—they create a beautiful and modern interior year round. Our Guide To Popular Window Treatment Trends for 2022 uncovered that light grays are losing popularity in interior design, being replaced by warmer cream and tan tones for light neutrals. However, black is here to stay!
Black accents, features, and hardware are said to be making their breakthrough. Known as an all-time classic shade, black features can make the trending neutral tones pop. While sleek, industrial interiors are starting to trend out, keep the black accents from these décor schemes to add depth and balance to a softer interior.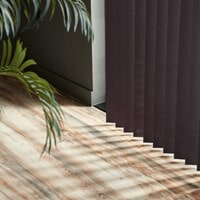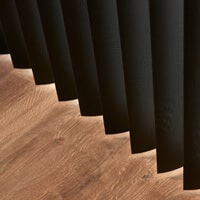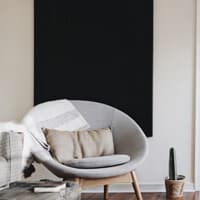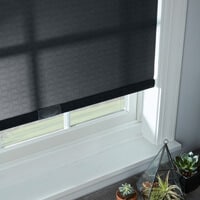 Bold black and dark gray tones really make a statement, especially in large blocks, like with an oversized piece of artwork, a black accent wall, or as window coverings. It is easy to dress up a crisp, modern home's black accents with natural wood, rusty red, and marigold tones for a rustic fall look.
Turn up the drama around Halloween with accents of bright orange and carved Jack-o'-lanterns. Or, create a bewitchingly-classy celebration by complimenting black home features with gold and white, like this Halloween table décor idea from Taryn Whiteaker.
Not ready to go quite so bold? No problem!
You don't have to paint your entire living room tones of raven to enjoy the newest fall home décor trends. Also popular this year are bright orange accents (think pumpkins and throw pillows), gourds galore, lettered signs to welcome fall, and vintage, rustic themes.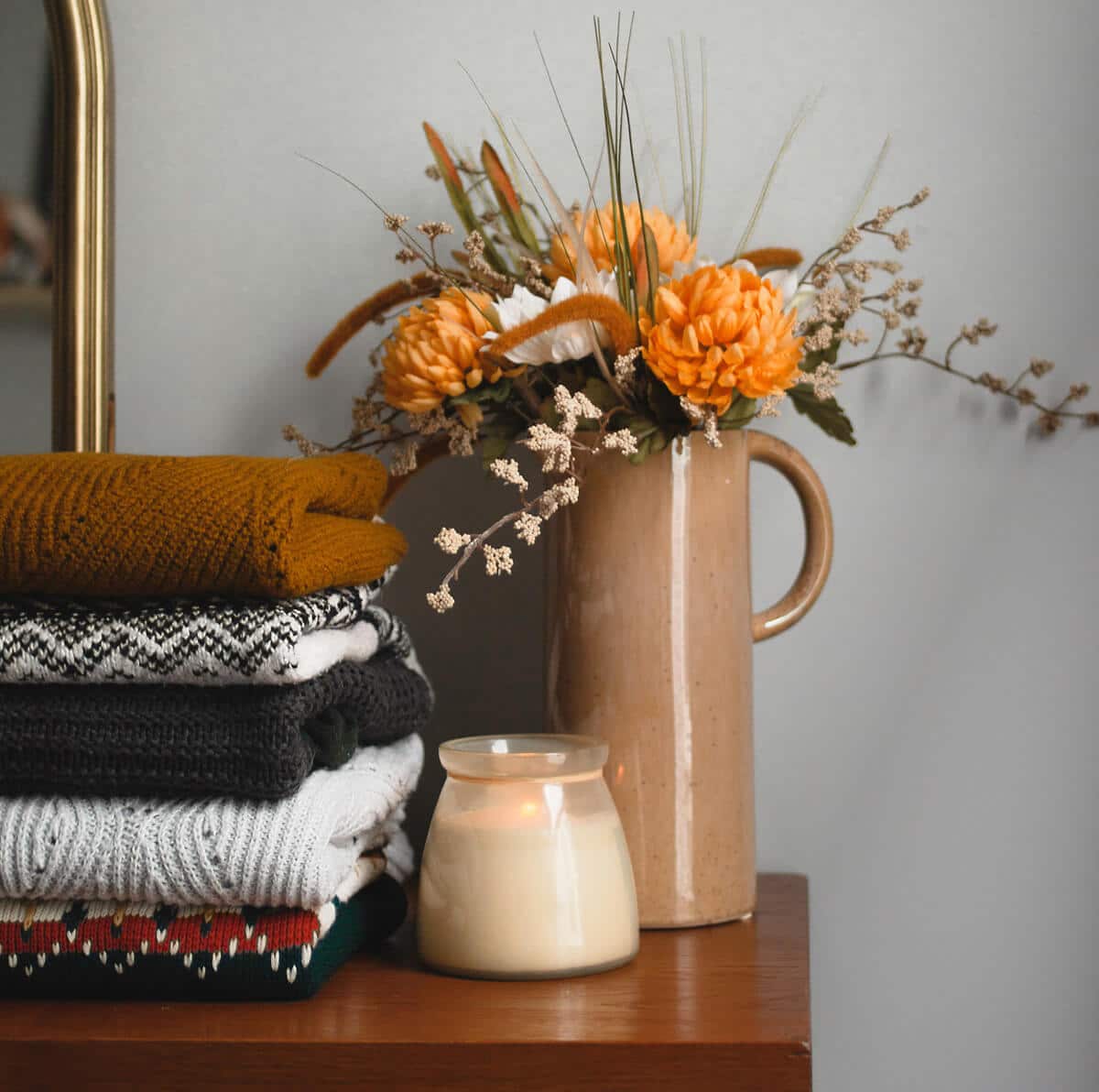 Autumn Means Rustic Décor, Window Treatments & More
Rustic fall décor ideas are rooted in earth tones like browns, greens, and—you guessed it—rusty reds and oranges. This color palette makes it a perfect fit for fall! Back the color palette with a calm and inviting neutral, like cream or vanilla, and accent the rustic look with exposed metal hardware. You don't have to live in the country to enjoy this style in your space.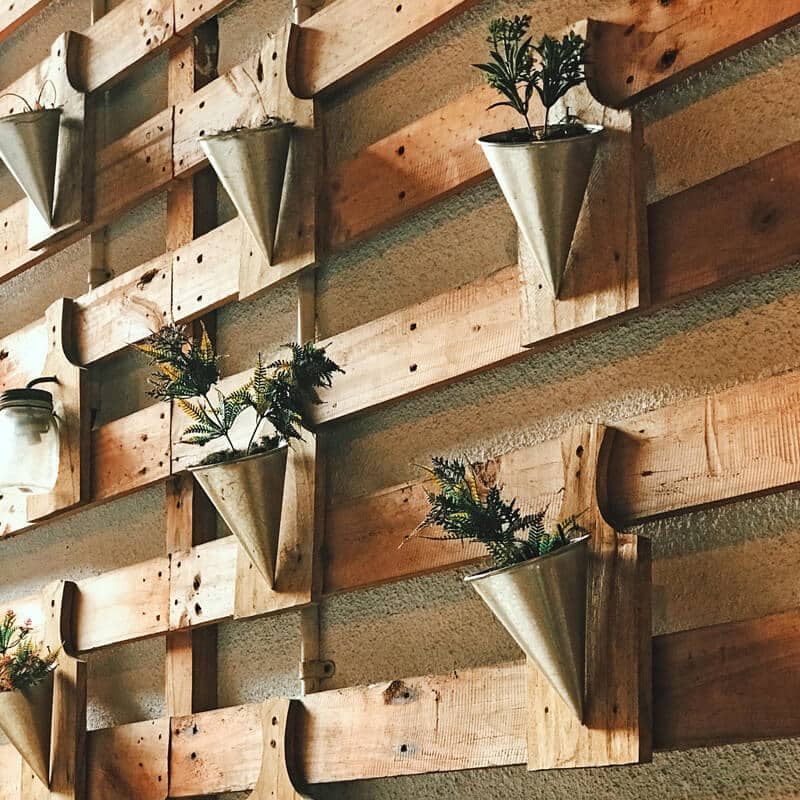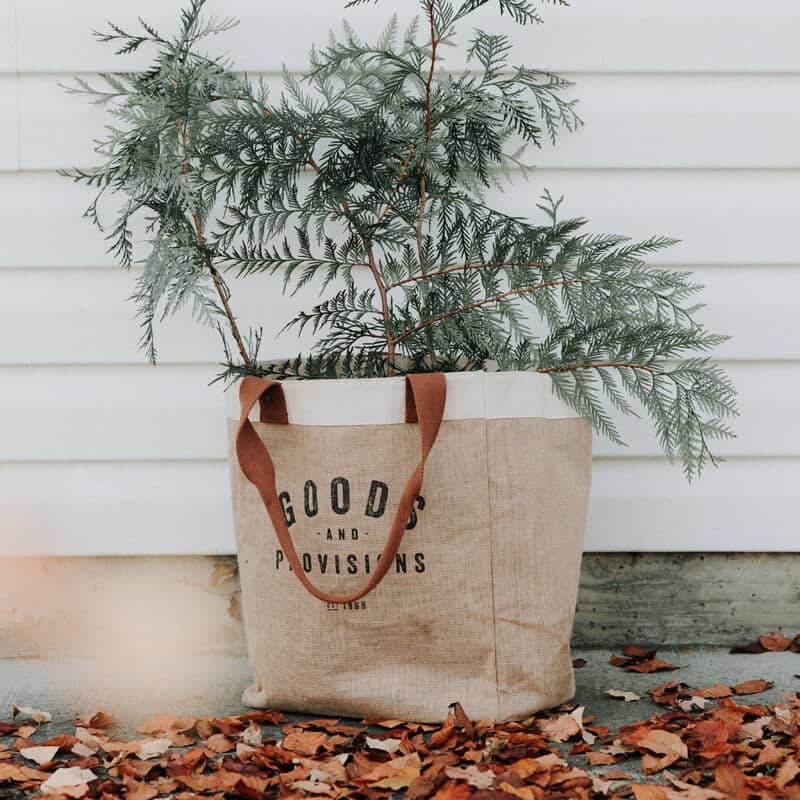 Easily decorate your windows for autumn by creating an eye-catching display right on the window sill! Place pumpkins, baskets, and fall candles along the window sill, mixing natural elements like gourds and wicker with a few shiny glass or metal accents. Add in a string of warm yellow LED lights to illuminate the scene!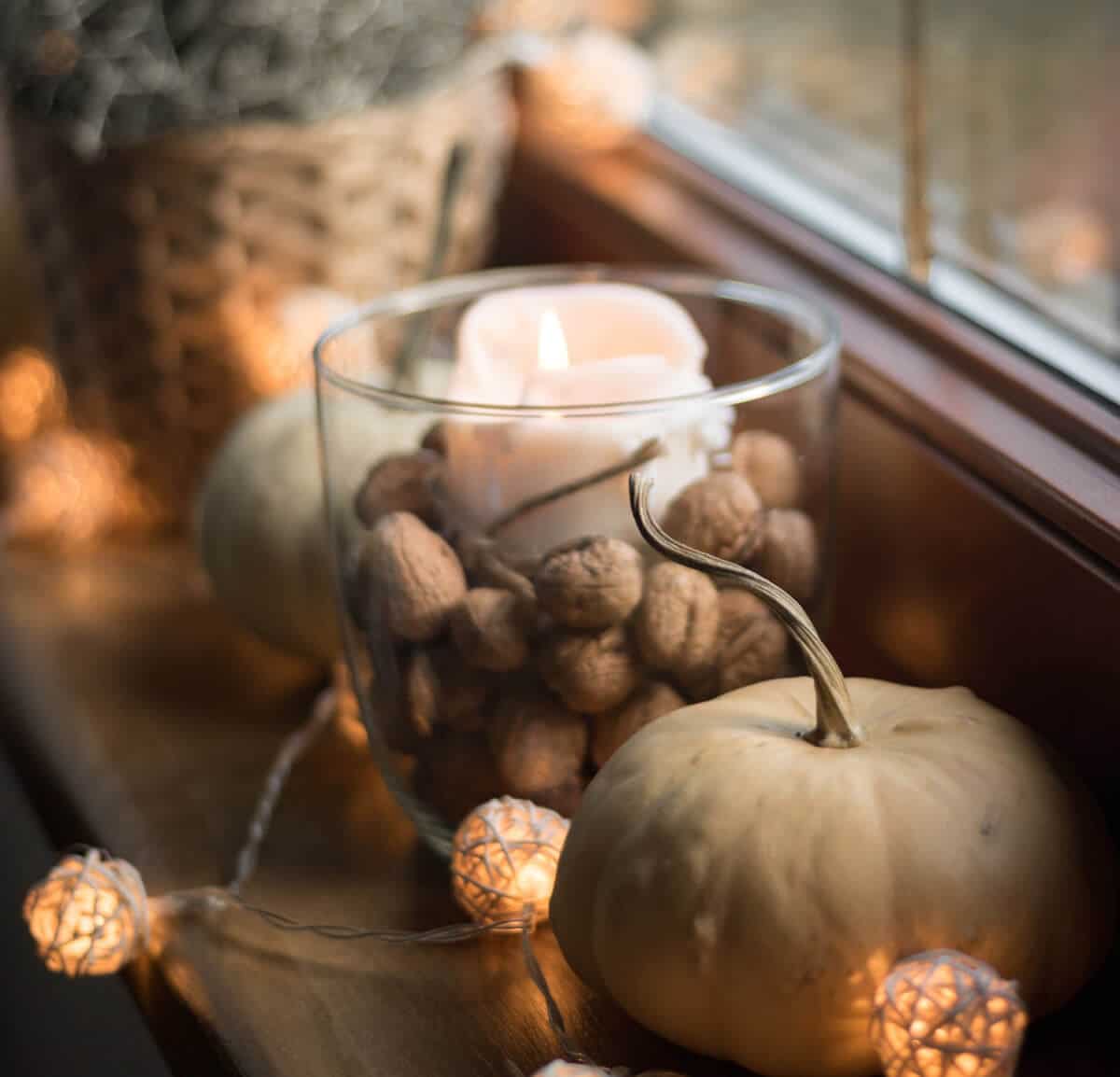 Window sills aren't the only place you can decorate. Here are a few other fall window décor ideas:
» Create a cozy fall reading nook in a window seat with a fall pillow and cable knit throw, or add a piece of vintage velvet furniture near a window.

» Don't forget to dress up your front door! If you want to give the black accent paint a try, the front door is a beautiful place to go dark.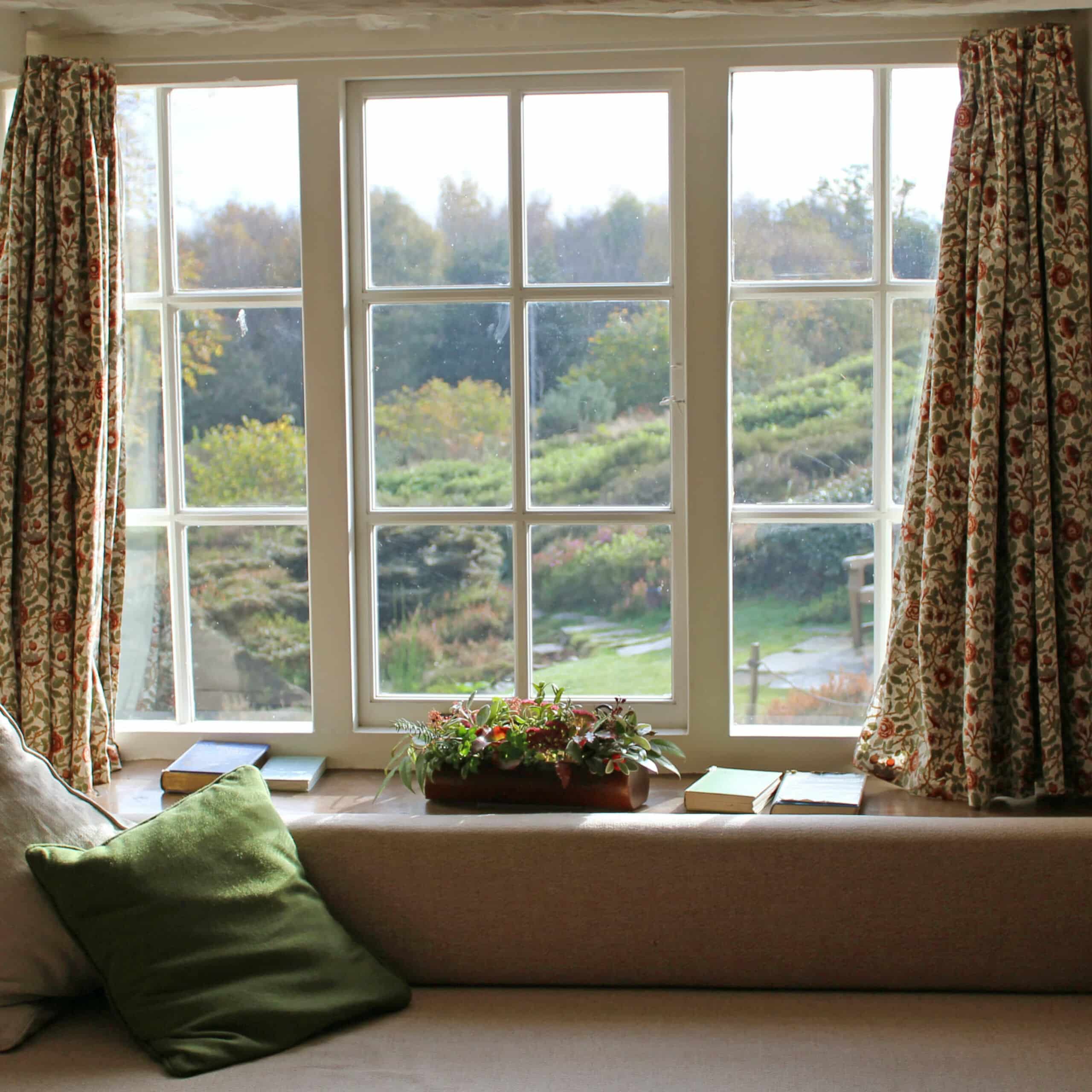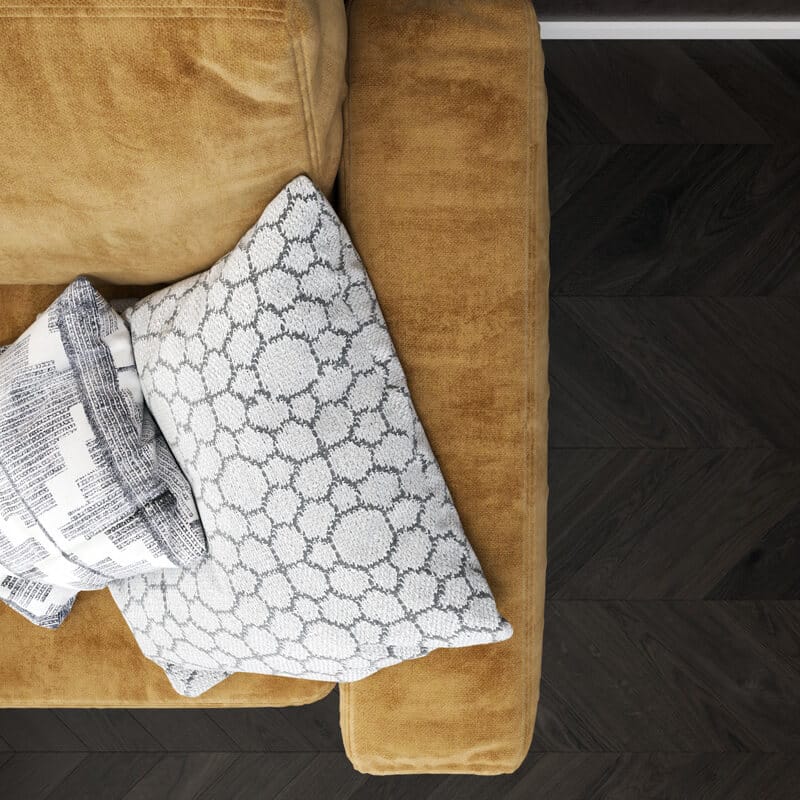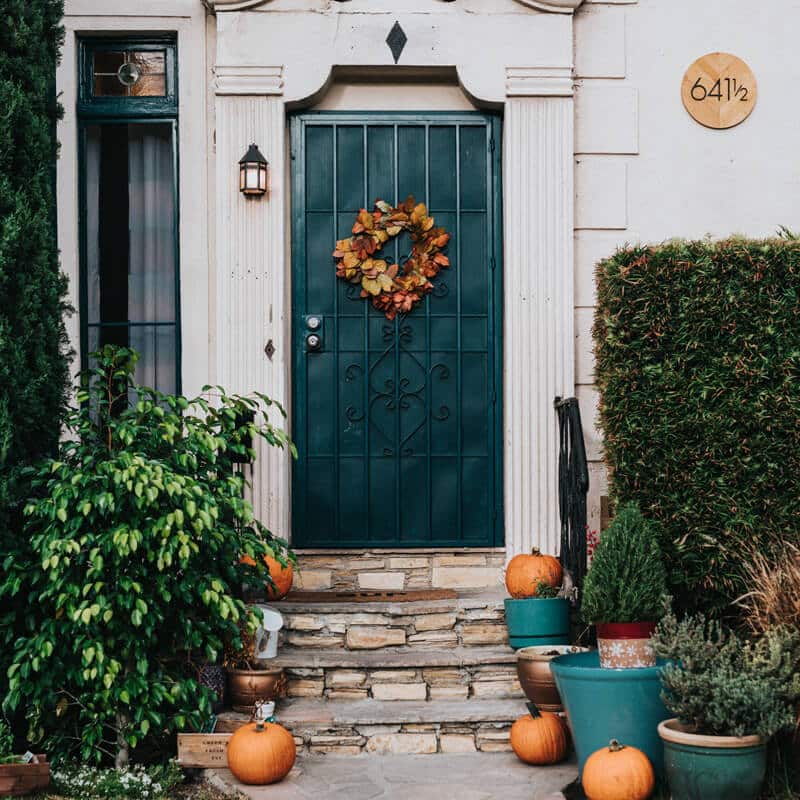 Add pumpkins and seasonal foliage leading up the walk so you're greeted with that fall feeling every time you come home.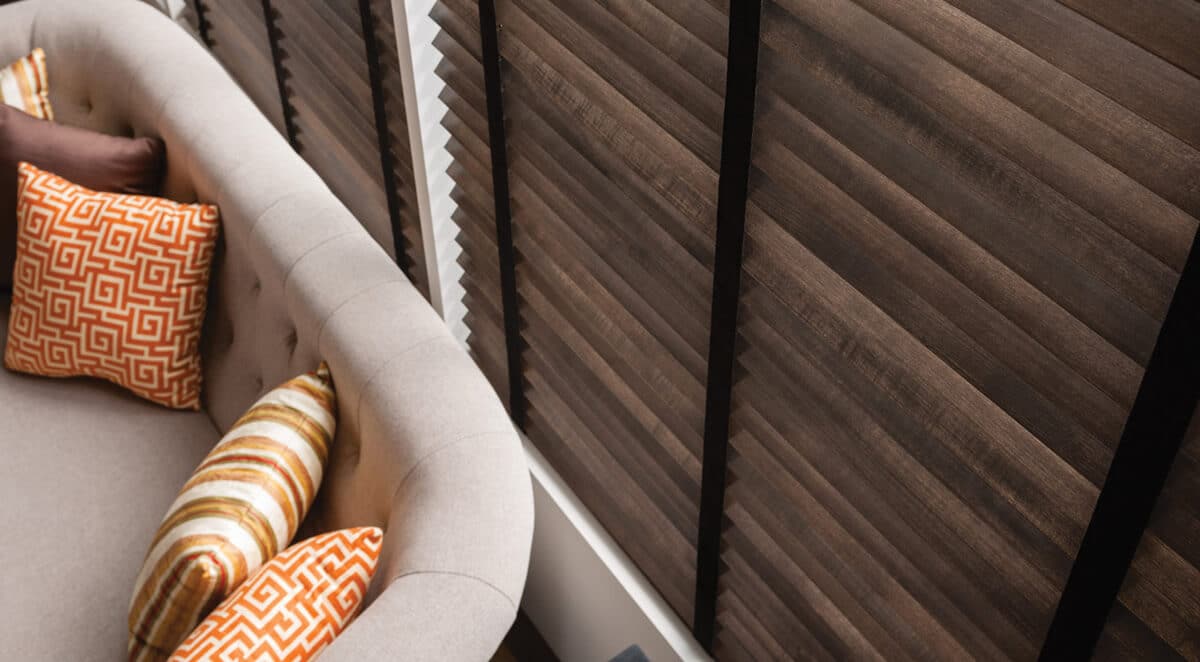 What Are Examples of Rustic Fall Window Treatments?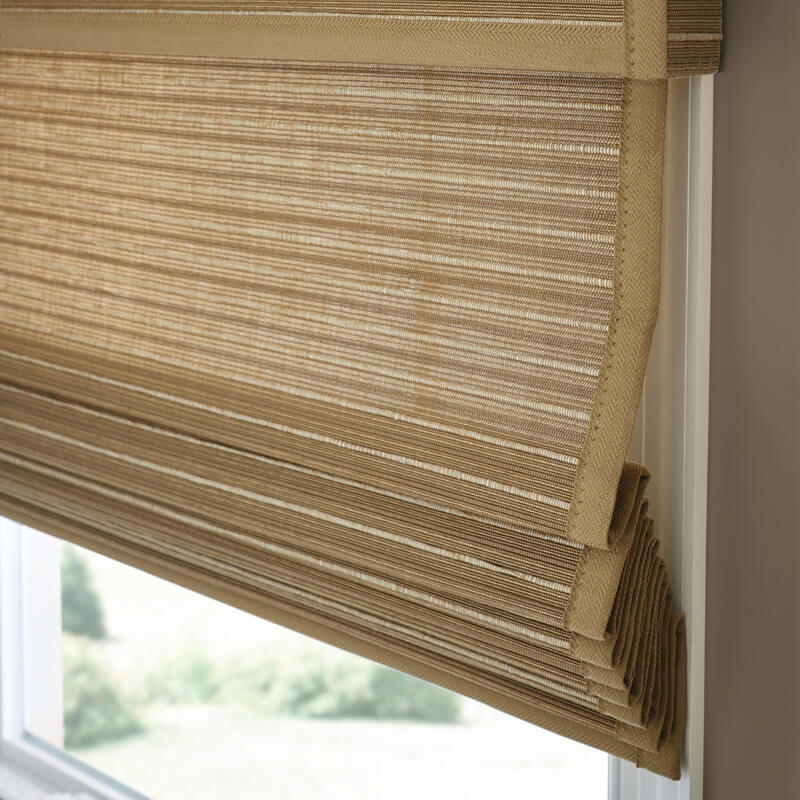 Bring the outdoors in with natural woven wood shades
One thing rustic décor and fall décor trends have in common is an abundance of texture! Bring that natural texture to your fall window treatments with natural woven wood shades. These can be made from a blend of wood, reeds, grasses, and bamboo, or just one single material. Available in light, medium, and dark wood tones, they can coordinate with any home's existing wood accents.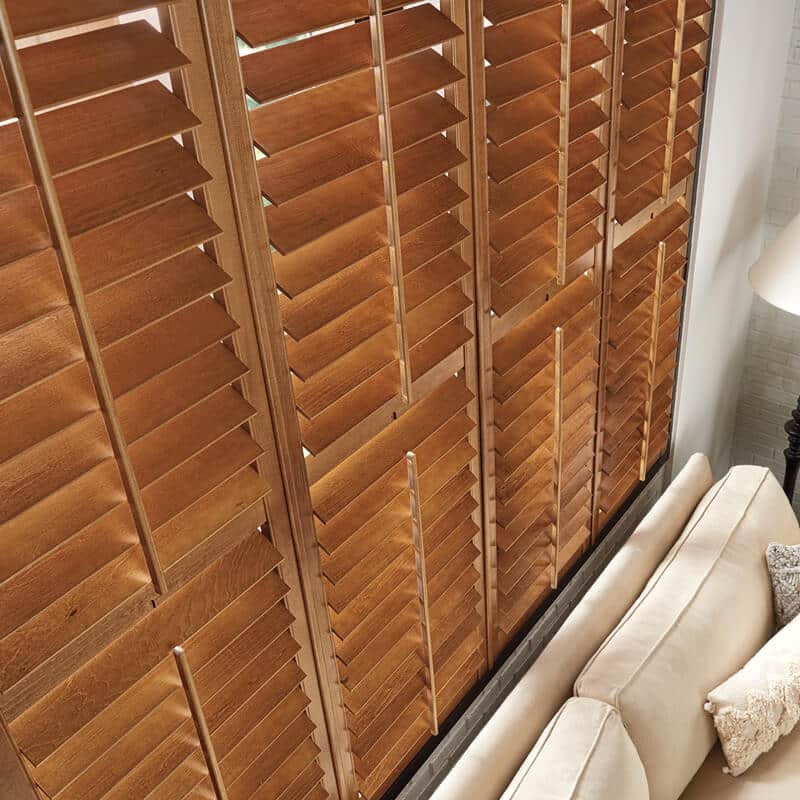 Capture a classic farmhouse look & feel with shutters
Nothing looks quite as warm and inviting as the warm glow of autumn sunlight behind real wood shutters. These stylish window treatments are available in dozens of real wood finishes, stains, and even painted options. Need a budget-friendly option that's suitable for rooms with higher humidity? Faux wood shutters are the perfect fall window treatment!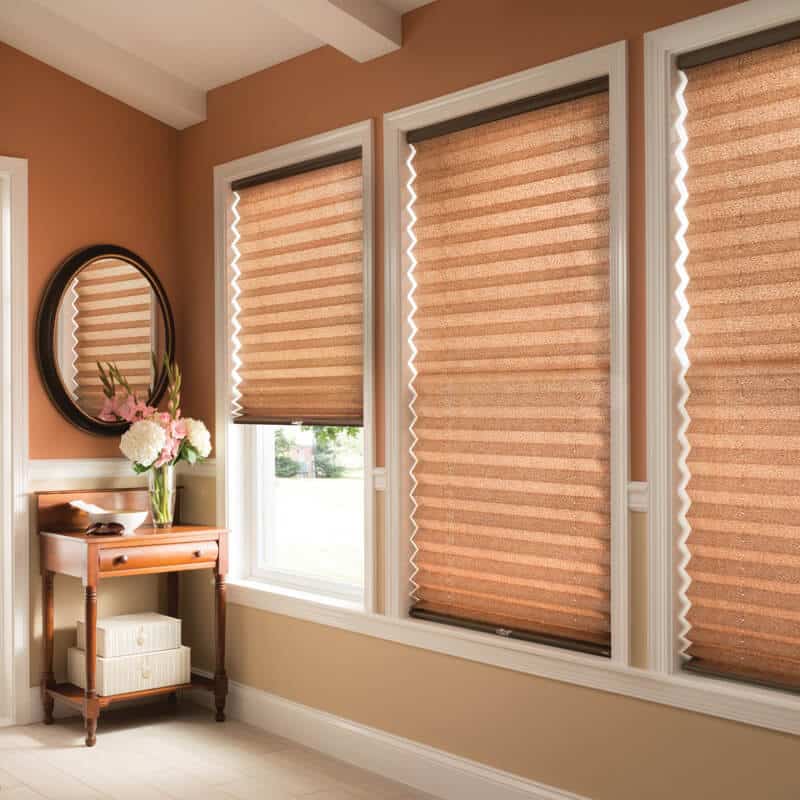 Soften a rustic room with pleated shades
Rustic décor is great, but you probably don't want to feel like you're living in a barn filled with rusted metal farm tools. Taken too far, rustic décor can end up being a little hard. Soften a rustic room's metal and stone elements with pleated or cellular shades. These fall window treatments are economical and energy-efficient—plus, they're available in hundreds of fabric colors and textures!
Autumn Trends For Window Treatments
We've covered some of this year's fall window treatments trends so far—with black making a prominent appearance in shades, blinds, and curtains, and natural wood and fabric choices showing up in rustic fall decorating ideas.
What are some of the other autumn trends for window treatments?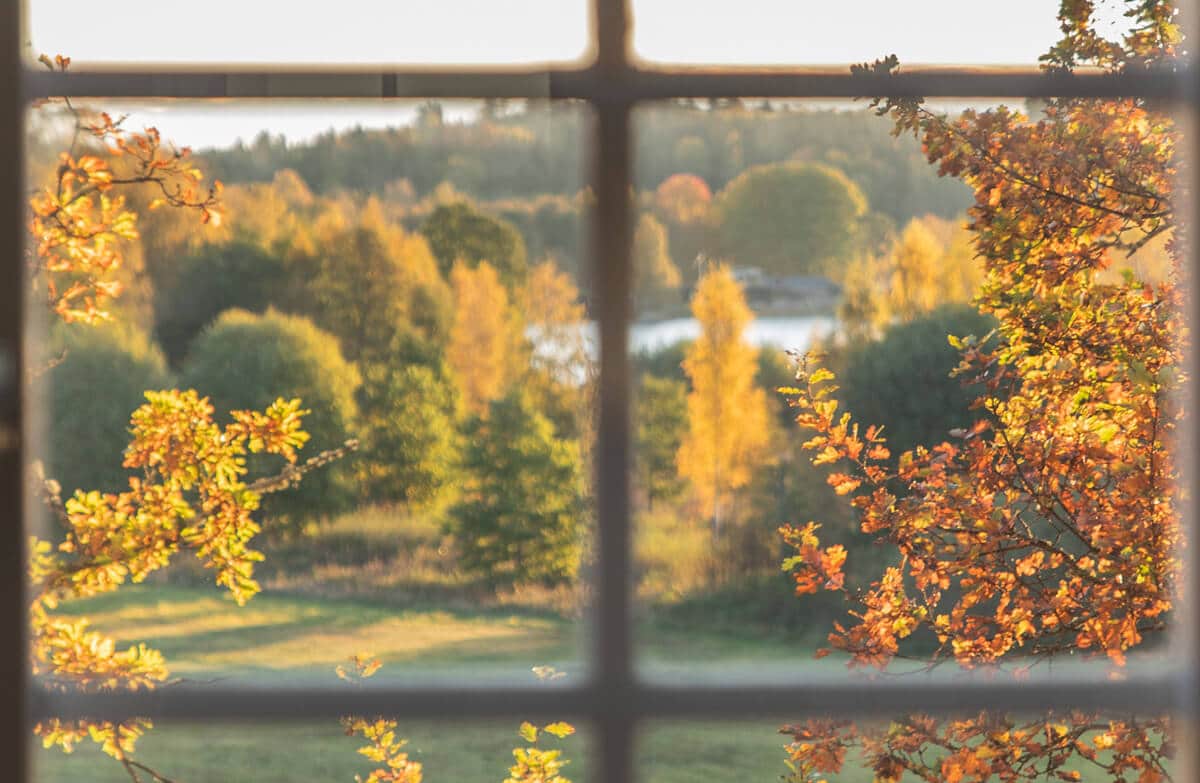 Refresh Your Window Treatments For An Easy Fall Change
While you can install new window treatments for every season, it's really not very practical to do so! Here are a few easy ways you can refresh your current window coverings to update your house for autumn without spending money on dedicated fall window treatments.
Add a new valance
Instead of changing the entire window treatment, update your fabric valance to use fall colors and the natural patterns popular in fall décor. Explore the many available options for curtains, draperies, and valances!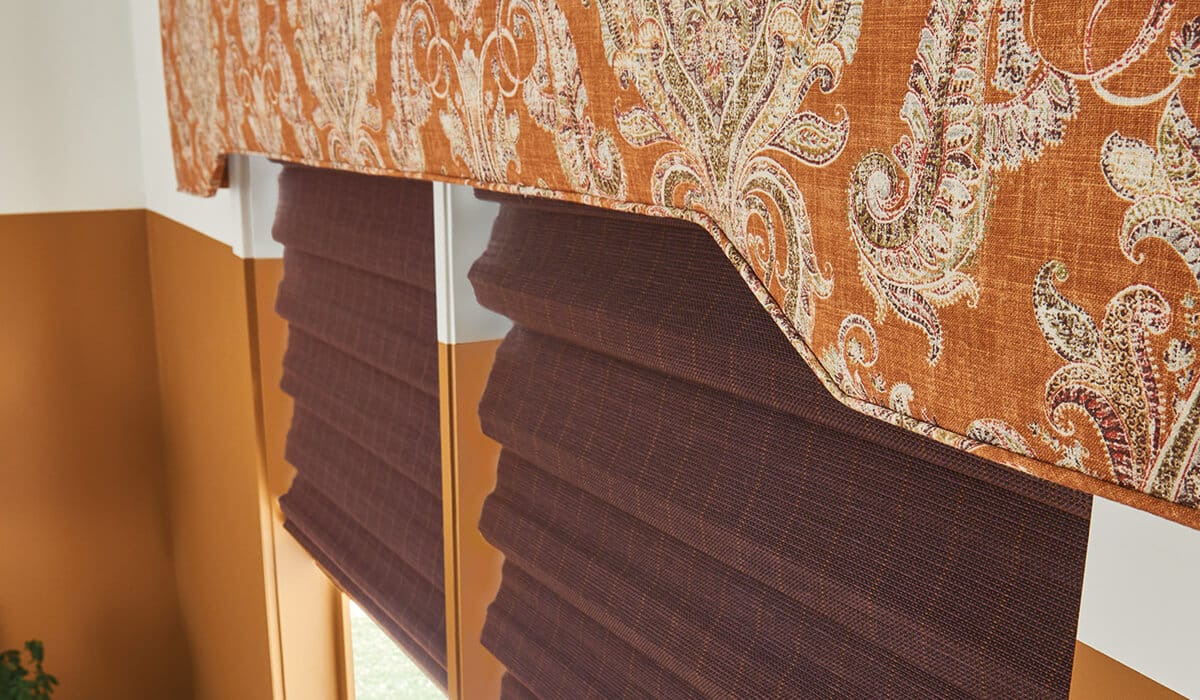 Add coordinating fall décor
Keep your window treatments just as they are, and carefully select fall-inspired accent pieces with textures and colors that either closely match, or intentionally contrast with, your treatments. This will cause the treatments to pop without making any changes to them!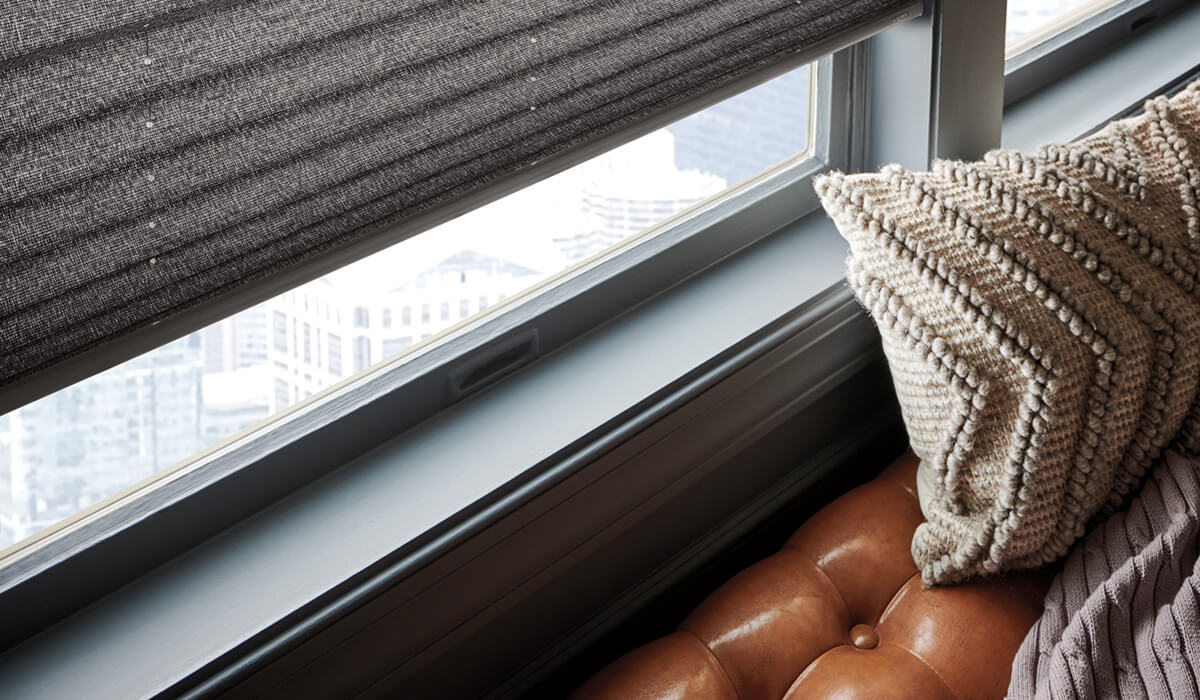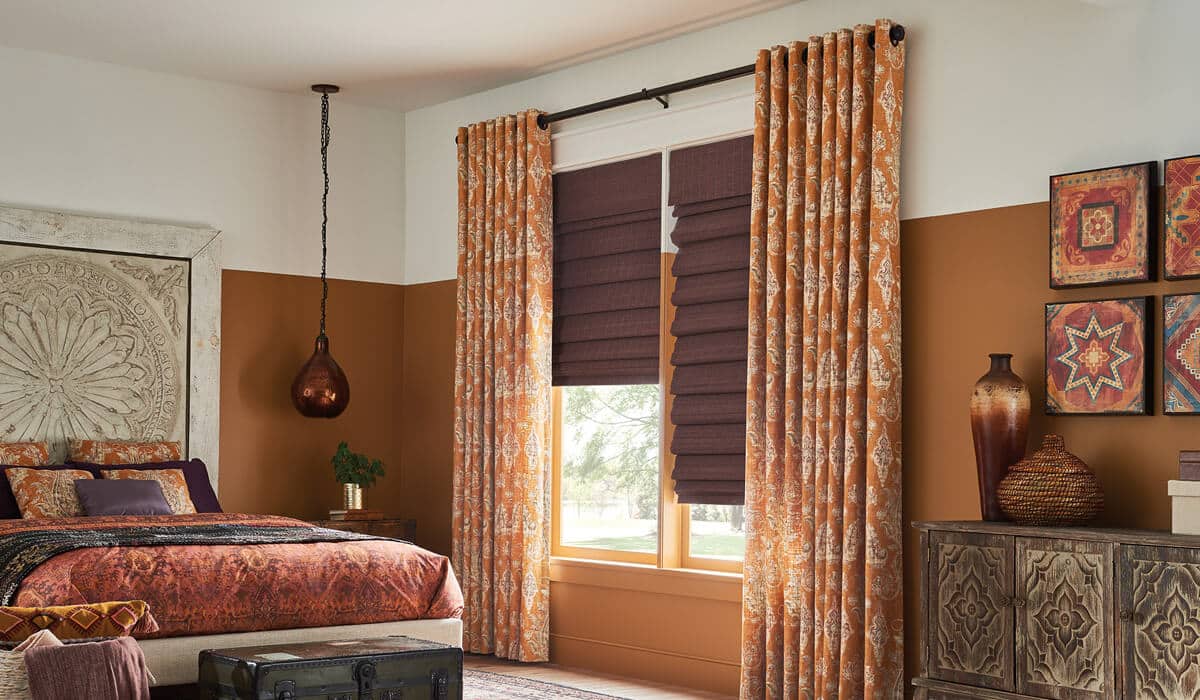 Top Curtain Trends For Fall
When you look out of your windows this autumn, you'll see nature's beautiful display of fall leaves and colors. What better way to celebrate the season than to frame that view with one of our favorite fall window treatments: fall curtains!
Updating curtains seasonally is one of the best ways to decorate for fall—or any season—on a budget. You can keep the same curtain rod and hardware year-round, meaning that the install is as simple as simply taking down one set of curtains and threading the new set onto the rod. Or, replace opaque curtains with sheer curtains in the fall to filter sunlight and see the view through the treatments all day long.
If you already have a different window covering installed, you can still take advantage of these fall curtain trends! Adding a pair of curtains over your existing window treatments is a simple and easy way to bring fall colors and patterns into the home. Curtains pair well with elegant Roman shades, shutters, and cellular shades—more on creating the perfect pair in our guide!
Fall curtain ideas & trends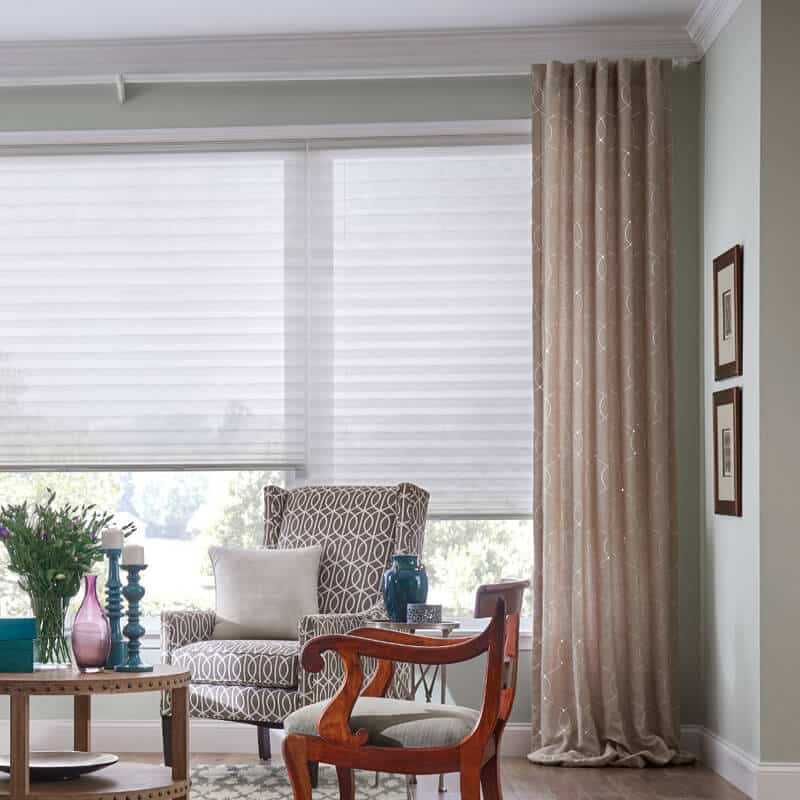 Floor-to-ceiling neutrals
Create height in your room with autumn curtains and drapes that extend from the floor all the way up to the ceiling.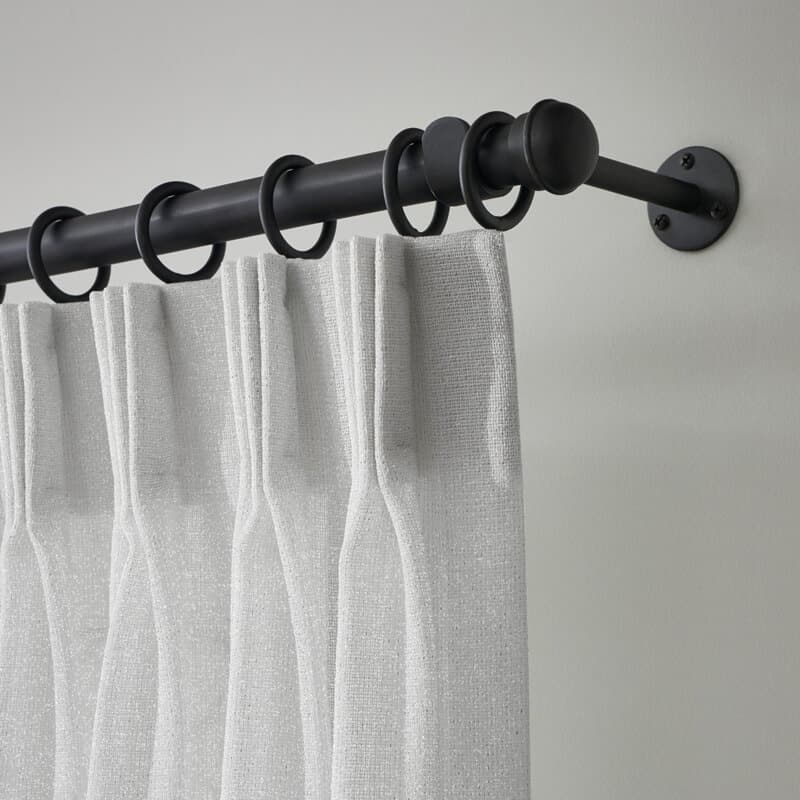 Black hardware accents
Modern all year long, black hardware accents play perfectly into Halloween and rustic fall décor ideas.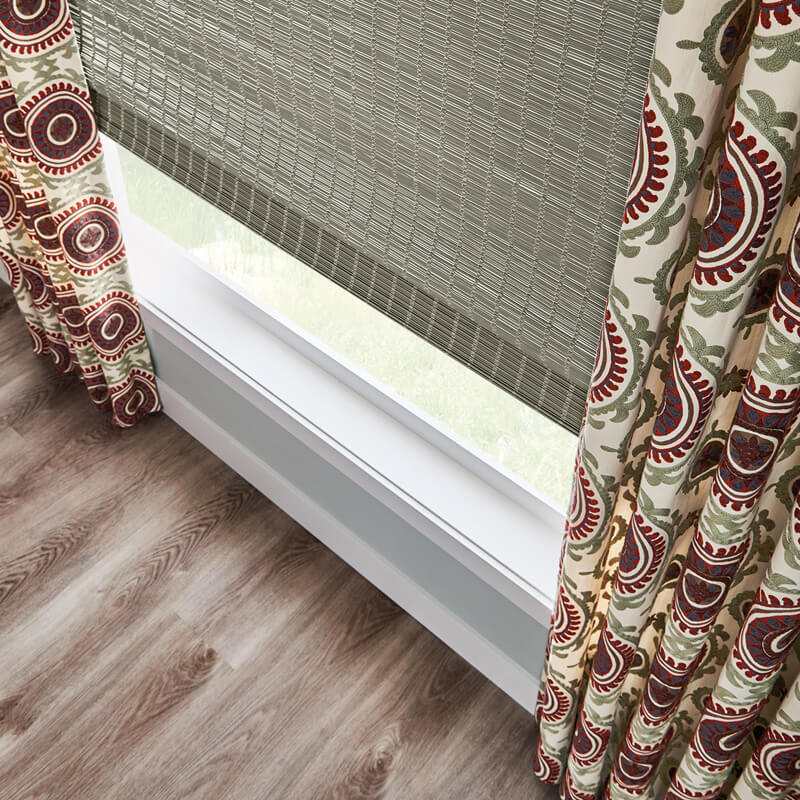 Capture natural fall colors
Bring the colors you see outdoors, inside. Leaf, flower, and vine patterns in reds and greens are a subtle nod to fall.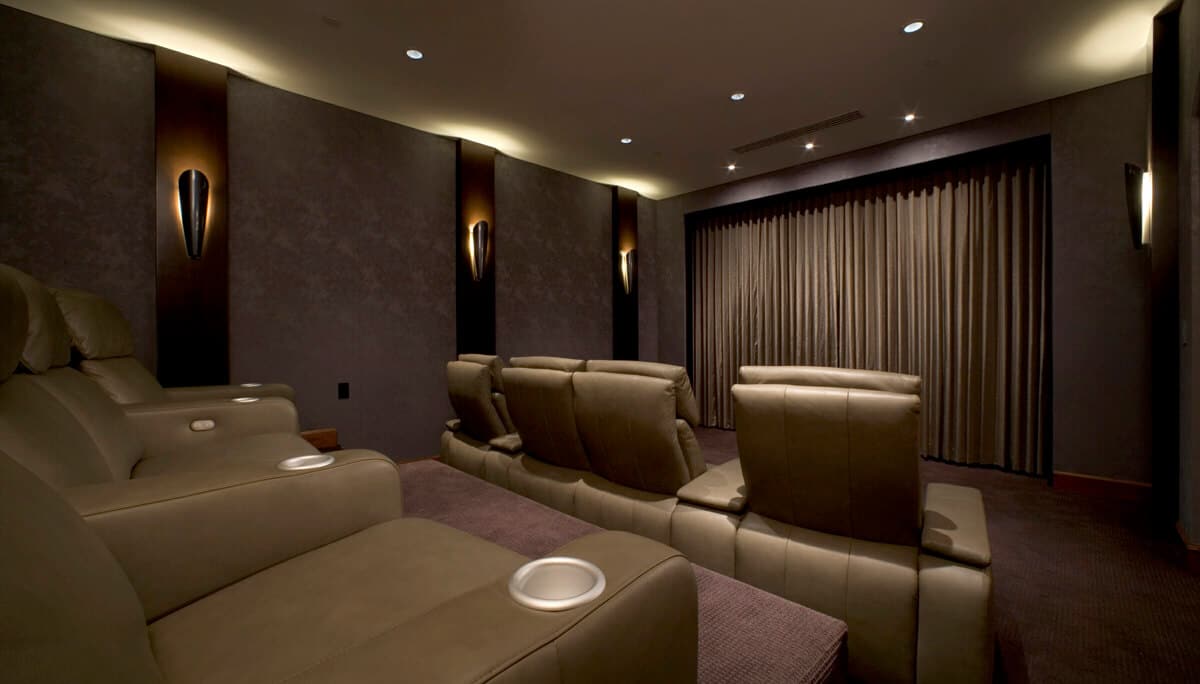 Nothing says "fall fun" quite like a scary movie night at home!
Create the perfect home theater experience with blackout curtains that block light from entering the room and spoiling the perfect jump scare. We recommend motorized window treatments for blackout curtains and shades, because you can darken the room with a simple push of a button or a voice command with smart home devices.
Automation isn't just great for a movie room! With the light levels changing every day during autumn, you'll want to take advantage of natural light. One of our favorite fall curtain trends is to schedule your fall window treatments to open and close at a set time, or even connect them to a sunlight monitor or solar power to automatically adjust them based on sun exposure. This can help your house stay warmer inside during cooler seasons.
How to Bring The Feeling of Fall Indoors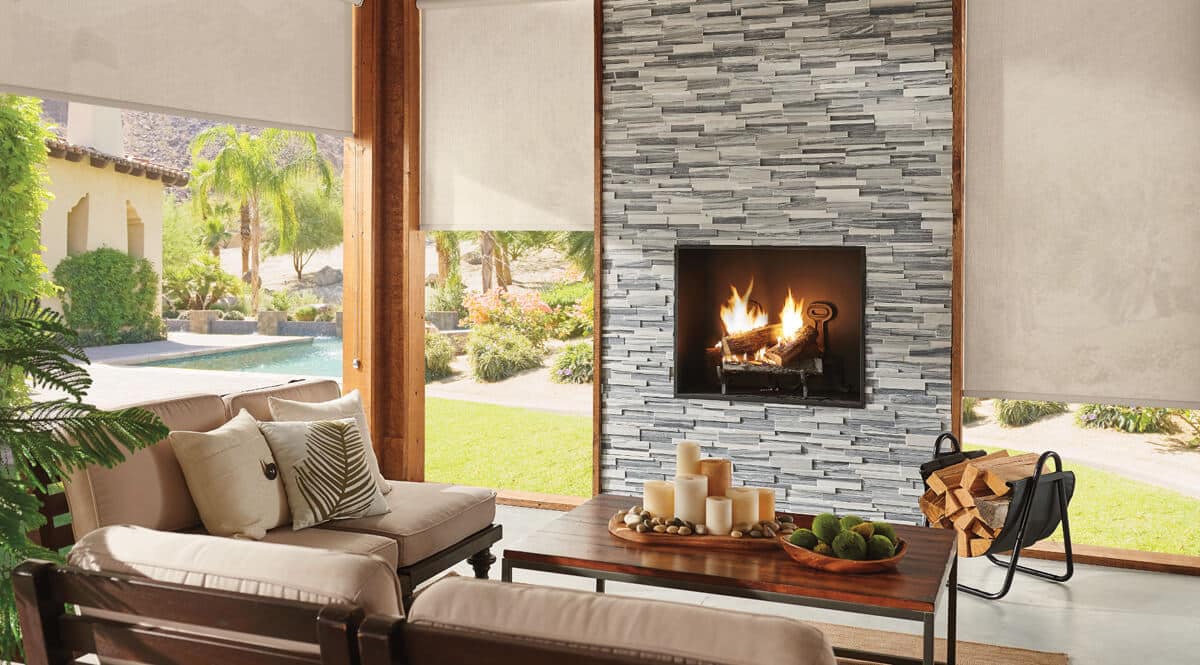 The best way to bring the autumn season inside is to capture the colors of the season, either in bold or subtle ways. Autumn is home to some big & bold colors, but that doesn't mean that you have to go all-in on just orange! Fall brings a beautiful range of hues, from blazing reds and oranges, to warm golds and rust tones, and even calm neutrals like tan, beige, moss green, brown, and black.





Infuse your home with autumn colors by taking a note from nature! Create color harmony with a few colors in the same warm or cool family, or make your fall window treatments pop with nature-inspired color contrast.