Custom Sheer Vertical Blinds
The unique design of sheer vertical blinds combines the style of sheer drapes with the practicality of blinds.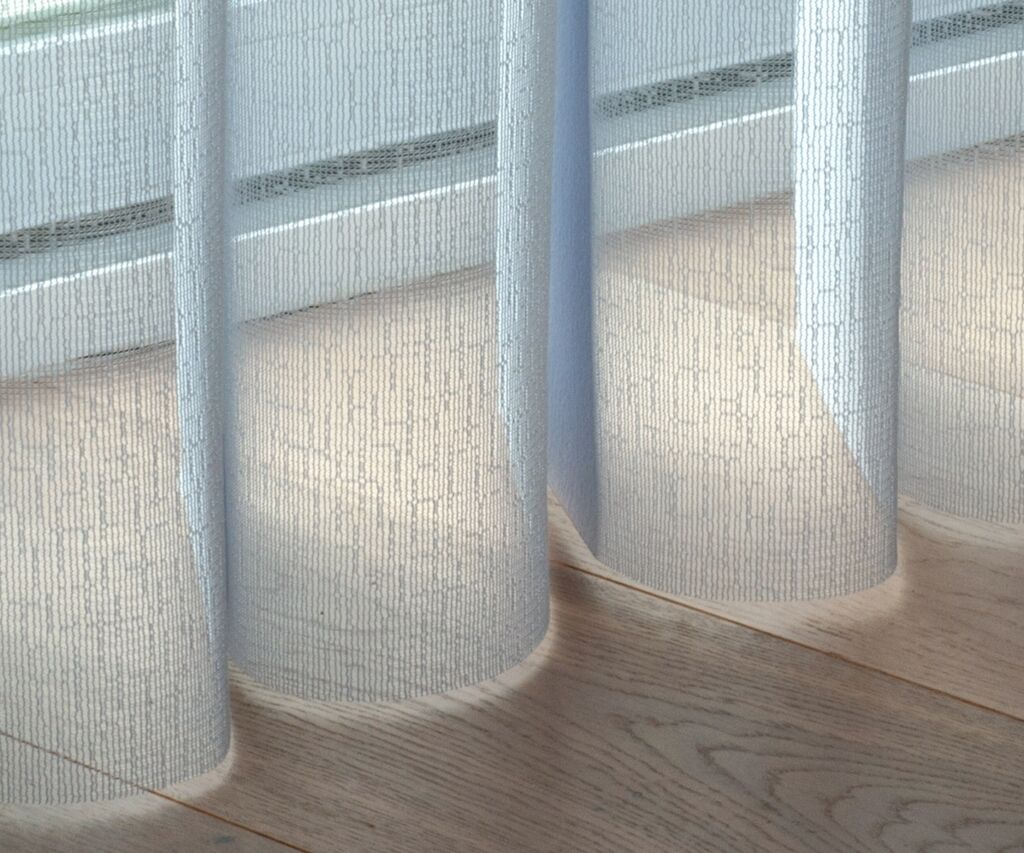 Product Overview
Custom Sheer Vertical Blinds in San Diego, Orange County, Sacramento, Fresno
Fabric or sheer vertical blinds are a window treatment solution that provides you with the convenience, light control, and privacy of vertical blinds with the appearance of drapery. Made of fabric rather than traditional vinyl, the fabric vanes incorporate sheer panels so you can enjoy the soft, gentle filtered light of a skylight for a fraction of the cost. You can rotate the slats closed to block light and enhance privacy or open them for filtered light.
Fabric vertical blinds allow you to experience the best of both worlds in terms of style and functionality.
Motorized / Alexa Compatible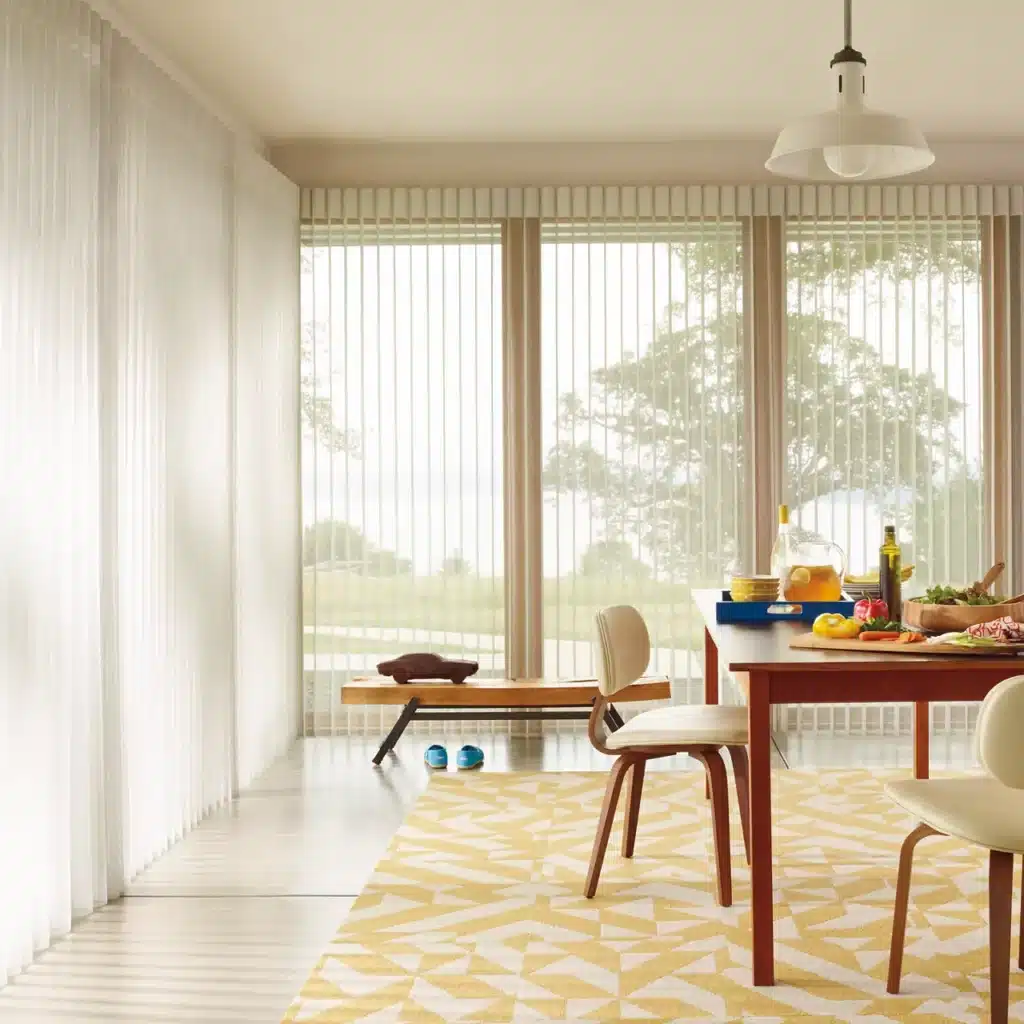 WHY FABRIC VERTICAL BLIND WINDOW TREATMENTS?
Kid-friendly and easy to operate.
A great solution for wide windows and a variety of doors - patio, sliding glass, French doors, and sidelights.
Easy to clean materials – Many sheer vertical blinds are polyester and fabric blends that are machine washable. The ideal solution for high-traffic areas, like patio doors.
Maximize your view while minimizing harsh light by simply rotating the vanes.
Customizable privacy – See out during the day without those on the outside peering in. Close the vanes at night for complete privacy.
Reliable light control
WATCH PRODUCT OVERVIEW VIDEO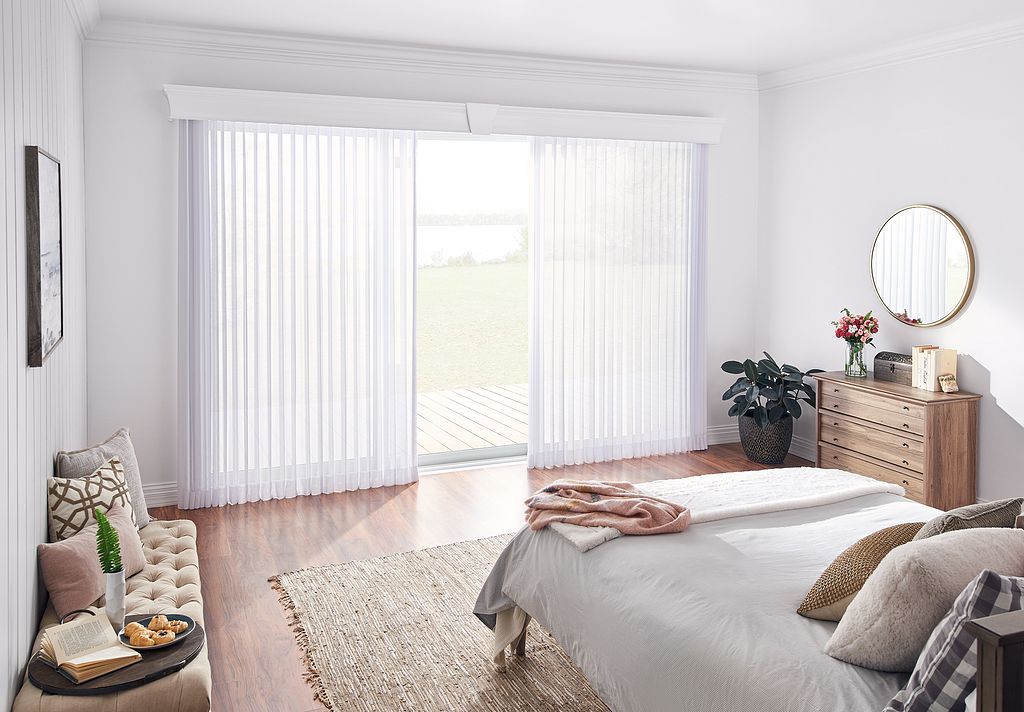 LIGHT & PRIVACY CONTROL
Distinctly designed to control light without sacrificing privacy.
Vertical sheer blinds are rigid fabric vanes between panels of sheer fabric that can be opened to let in soft, gentle light or closed to enhance privacy and block light. These slightly translucent shades soft harsh light and reduce glare while simultaneously providing privacy. Tilt closed to dim your environment or open it, allowing plenty of natural light to brighten up and flow into your room.
The alternating vanes of sheer and opaque fabric give the illusion of solid panel drapery and ensure plenty of privacy even when your shades are open. An ideal solution for all wide windows and doors, particularly those overlooking streets, sidewalks, and other public spaces.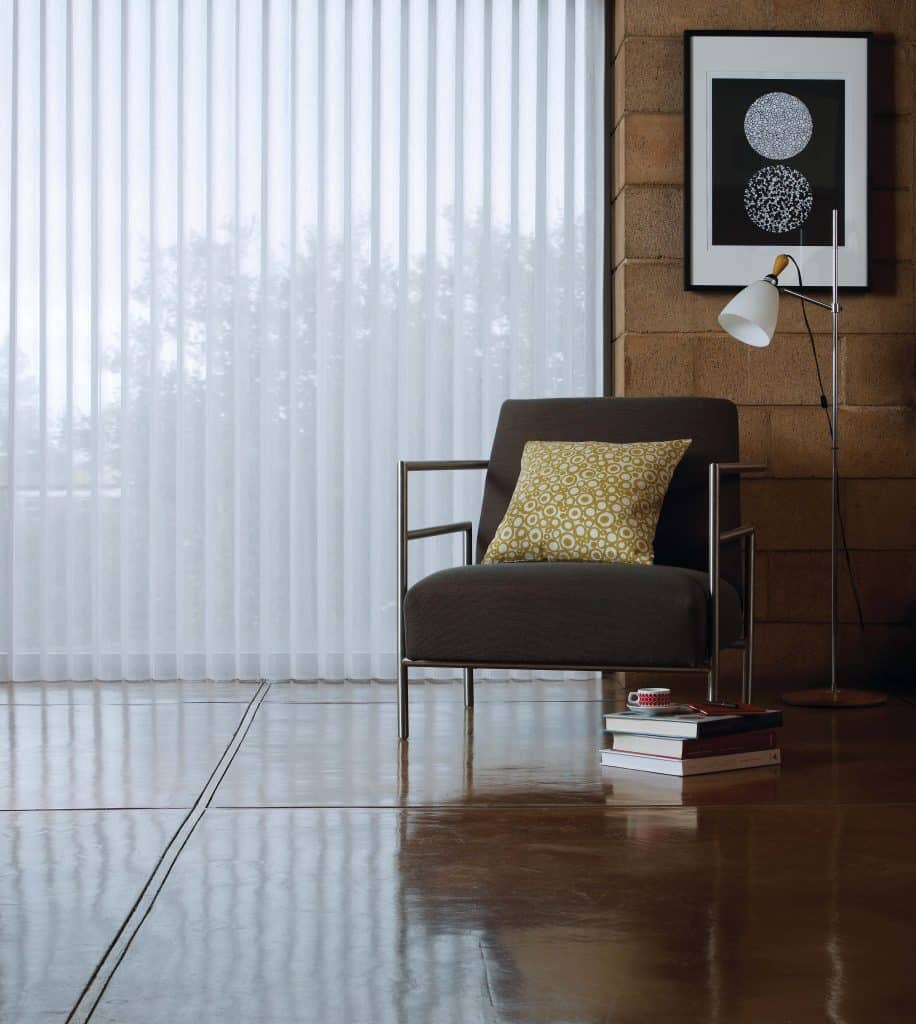 GLARE & UV PROTECTION
Don't let glare get in the way of enjoying your favorite family pastimes. 
Large windows and doors are attractive and desirable because they naturally let in light. However, this presents some challenges, particularly with glare and UV protection.
Whether playing a heated family game or sitting down for a movie night, don't let glare from the outside lights interrupt your quality time. You can angle the vanes to redirect glare while the sheer panels cut back on bright light without leaving you in the dark.
With any window treatment solution for doors and large windows, it is important to have a buffer between your home interiors and flooring to protect against the sun's harmful UV rays.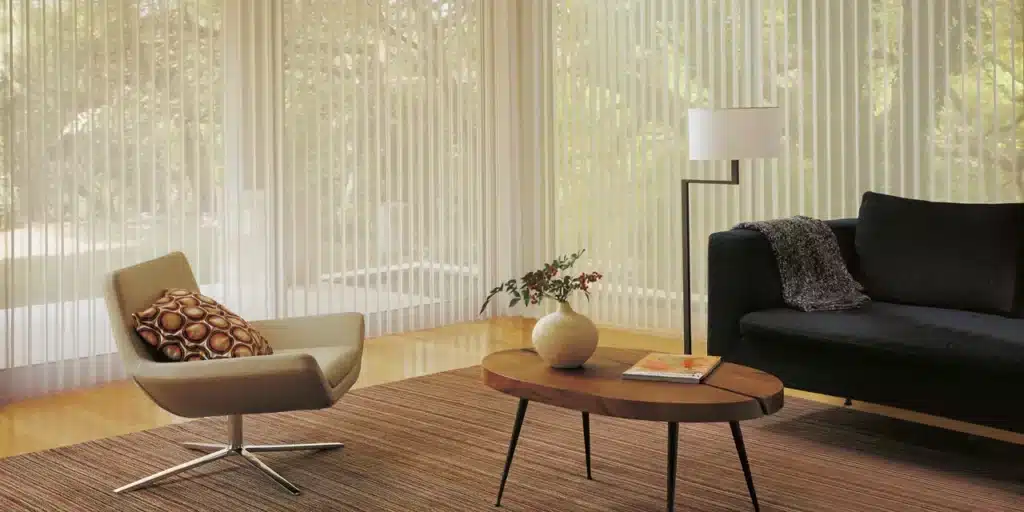 MODERN & ELEGANT SOLUTION
SHEER VERTICAL WINDOW BLINDS
Sheers and blinds are the perfect marriage for doors and large windows.
Due to their elegance and functionality, sheer vertical shades are a terrific window treatment solution for large-scale windows like picture windows, patio, French, and sliding glass doors.  Like regular vertical window shades, sheer vertical shade vanes can be moved to the side to enjoy an uninterrupted view while gaining easy access outside for doors you regularly walk through.
These sheer vertical window blinds also let you uncover one side of your window or door while leaving the other covered. This coverage style is often more convenient than shades that only move from top to bottom.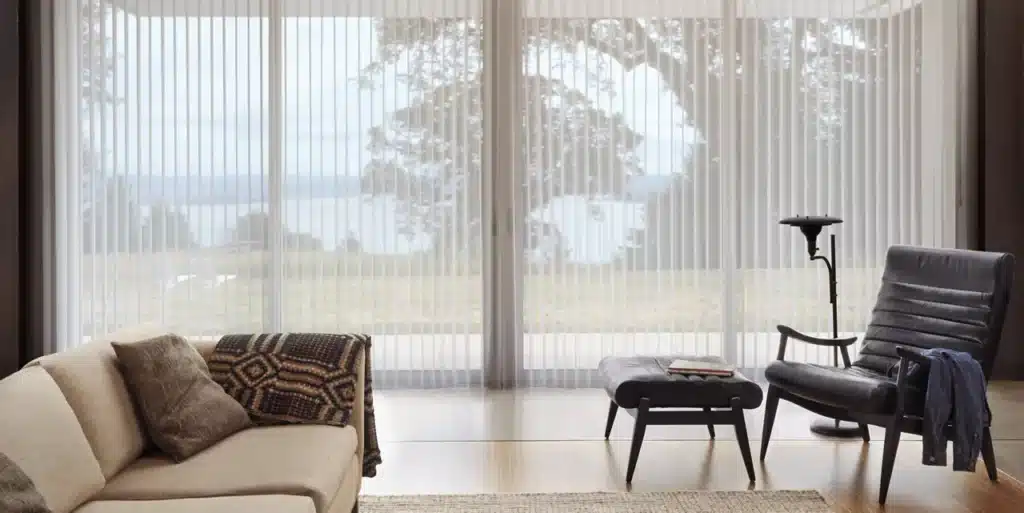 DESIGN OPTIONS FOR FABRIC VERTICAL BLINDS WINDOW COVERINGS
Beyond vertical blinds, vanes and translucent fabric create a soft, billowy, and stylish look that complements any home décor.
Elevate your sheer vertical blinds with these upgrades.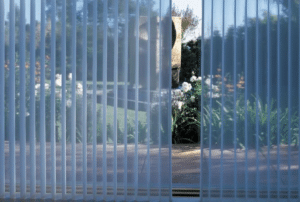 Split Stack
Choose a split stack option by dividing the vanes in half so you can open your sheer vertical blinds from the middle, sliding them to either end of the window when they are open. If your desired window treatment doesn't have this option, consider installing two side-by-side fabric vertical shades to achieve this look. This is an ideal sheer vertical blind upgrade for wider windows. Get extra style points for framing your view, revealing, or covering one portion of the window at a time.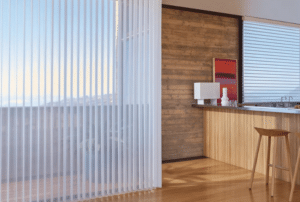 Match or Contrast
Both matching and contrasting slat colors are great style options. Slats that are the same color as the sheer fabric look sleeker and more minimalistic while contrasting slat and sheer colors create a more vibrant, striped look.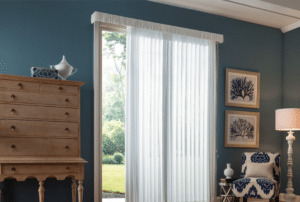 Decorative Valances & Custom Cornices
Attaching a top treatment such as a valance or cornice gives your window treatment a little extra distinction. Not to mention, it sleekly hides window treatment hardware. You can opt for a matching valance or go for a bolder look with material or fabric that complements or even adds texture to your fabric vertical blinds. Pairing top treatments with your fabric vertical blinds can create seamless coordination between your window treatments and the room.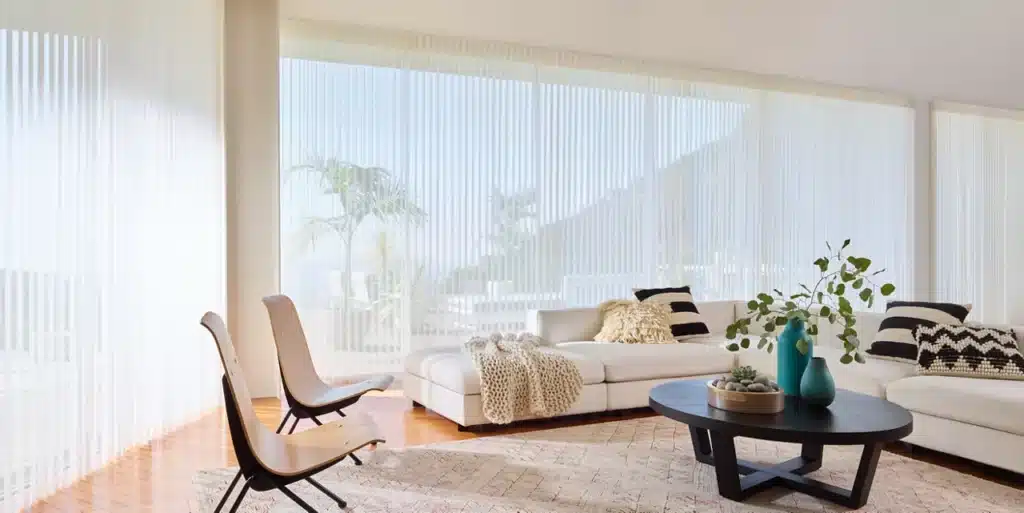 SHEER VERTICAL BLINDS ENGINEERED TO PERFORM
Uniquely designed and cheaper than adding a skylight.
Layering sheer fabrics can result in wavy distortions, but with 3 Blind Mice Window Coverings' sheer vertical blinds, you control the light, not the other way around. Colors remain true while naturally filtered light floods into your room. Choose from translucent or light-dimming fabrics.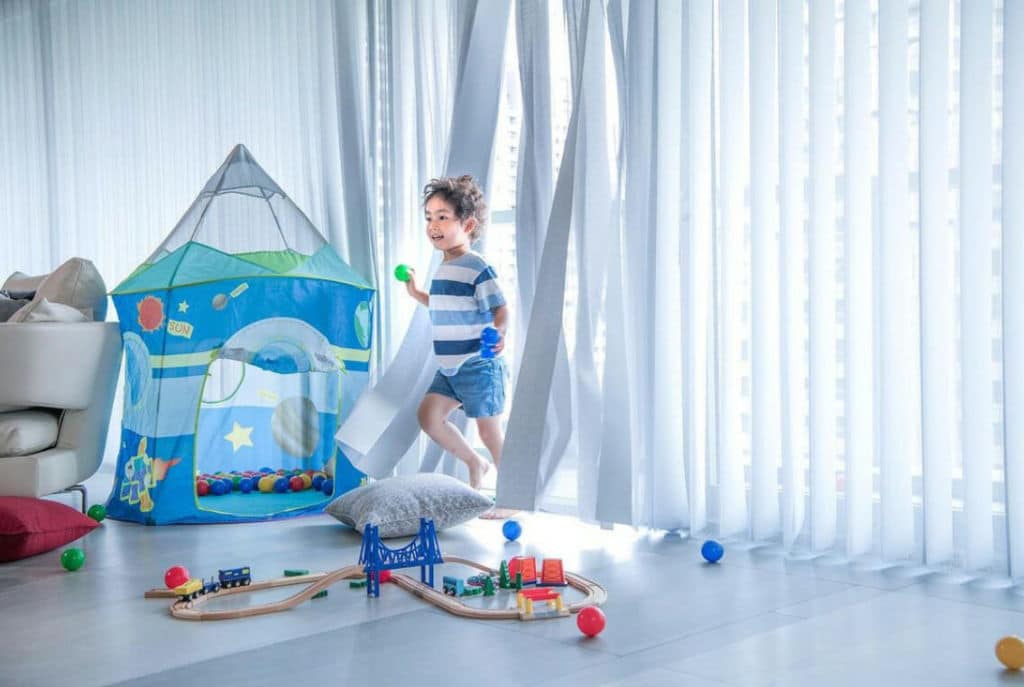 SMARTDRAPE™ SHADES
Seamless indoor-outdoor living, sheer innovation.
For a truly unique sheer vertical shade experience, SmartDrape™'s unique individual vane construction lets you walk through the shade whether it's opened or closed. Giving you the added ability to travel through the shade without rotating the vanes.
Now you don't have to choose between a functional doorway and closed shades. You can have both at the same time, all the time! SmartDrape™ is perfect for homes with kids and pets, entertaining guests and adding a little ease to everyday living. For more information, read our blog post about this innovative product.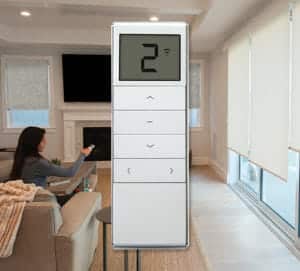 Automation & Motorization
Beautiful form, beautiful function. Designed for the way you live.
Control your vertical sheer blinds with a remote or home automation app; our lift systems are certified Best for Kids™ for homes with children and pets.
Automated and motorized window treatments have motors that are either battery-operated or hard-wired and connected to a "smart hub." The hub is connected to your home's Wi-Fi router and communicates with your powered treatments. Motorized blinds are a smart, rewarding investment in comfort, convenience, and peace of mind. Ask our designers about our motorization options!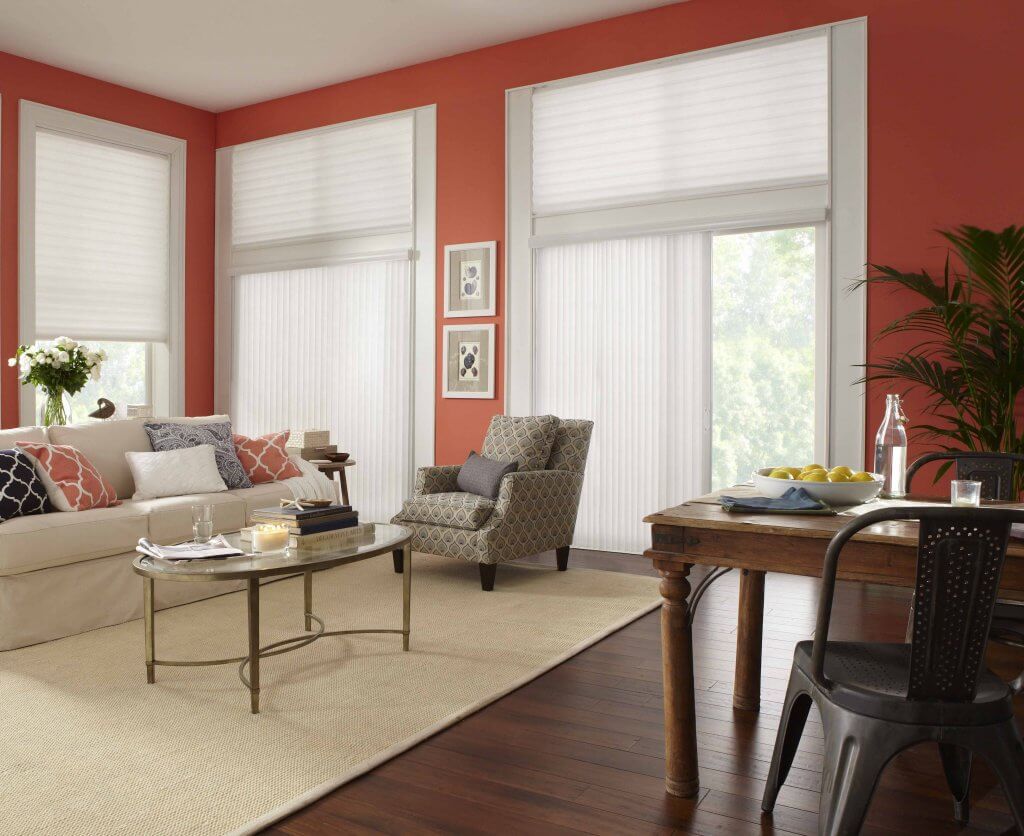 Limited Lifetime Warranty
The 3 Blind Mice Window Coverings Limited Lifetime Warranty extends from installation throughout the life of your window treatment.
Certified Best for Kids™
An independent laboratory has tested and certified that this product has options without operating cords or where inner cords are inaccessible and won't form a loop based on industry safety standards.
Inspected for Quality
Before shipping, each shade is hung, adjusted, and thoroughly inspected for straightness. A Best Experience Pride certificate is included with every order—signed by the 3 Blind Mice Window Coverings craftsman.
GREENGUARD GOLD & OEKO-TEX® Standard 100 Certified Fabrics
For improved indoor air quality, we make 3 Blind Mice Window Coverings Shades with material certified as low in chemical and particle emissions.
Pros/Cons
| Pros | Cons |
| --- | --- |
| Translucent & Opaque | Not Great for Kitchens & Bathrooms |
| Ideal for Wide Windows & Doors | Not Great Insulators |
| Contemporary | Can Be Difficult to Clean |
Heard Enough?
Schedule a free consultation today and let our experts help you find the perfect solution.
0% Financing Provided By: