Custom Faux Wood Shutters
Composite Shutters let you experience the elegance of natural wood shutters in rooms that require more durability or cost-effective solution.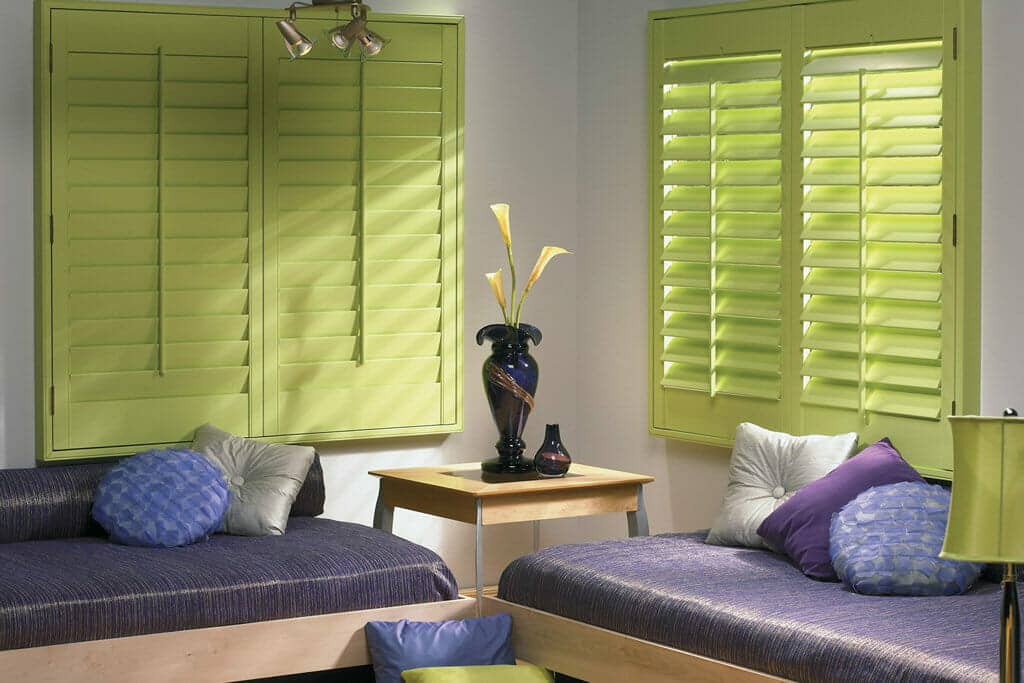 Product Overview
Custom Faux Wood Shutters in San Diego, Orange County, Sacramento, Fresno
Faux wood shutters (aka composite shutters) are interior shutters constructed from synthetic polymers or PVC. Many people use the terms "faux wood," "composite," and "vinyl shutters" interchangeably. These plastic shutters weigh heavier than genuine wood shutters, but they are also extremely durable, which is a beautiful advantage. Just like plantation shutters, faux wood shutters case the entire window and usually swing out from a hinge to allow access to the window or to allow maximum light to come in.
Great for High Moisture Areas

ENGINEERED TO PERFORM
Rigid, composite construction resists flexing from season to season
Color palette overlaps with Graber Composite Blinds for whole-home coordination
Impervious to moisture, meaning you can install in any indoor environment
Designed for durability, composite shutters are ideal for high-traffic areas
Composite shutter panels now come as wide as 36", offering a better solution for larger windows and allowing for a clearer view to the outside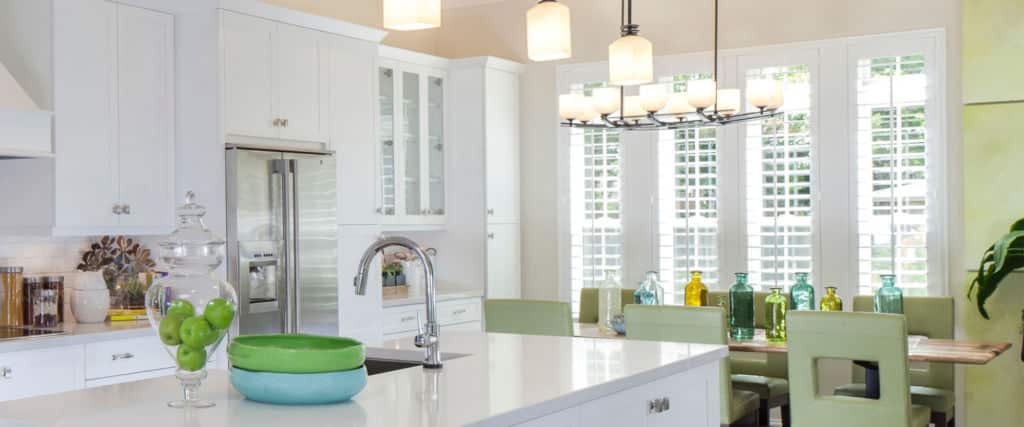 FAUX WOOD SHUTTERS VS. REAL WOOD SHUTTERS
Which is better wood or faux wood shutters?
The most significant advantage of the faux wood shutter is, most notably, the price. Faux wood plantation shutters are less expensive, and the production cost is considerably less than that of custom wood shutters. This type of indoor shutter can be used in every house without considering the environmental impact on the shutter. For example, we would recommend composite wood shutters to be installed in a bathroom or laundry room with a higher moisture potential. Moisture in the air would likely warp a real wood shutter, but a faux wood shutter will stand up nicely for many, many years.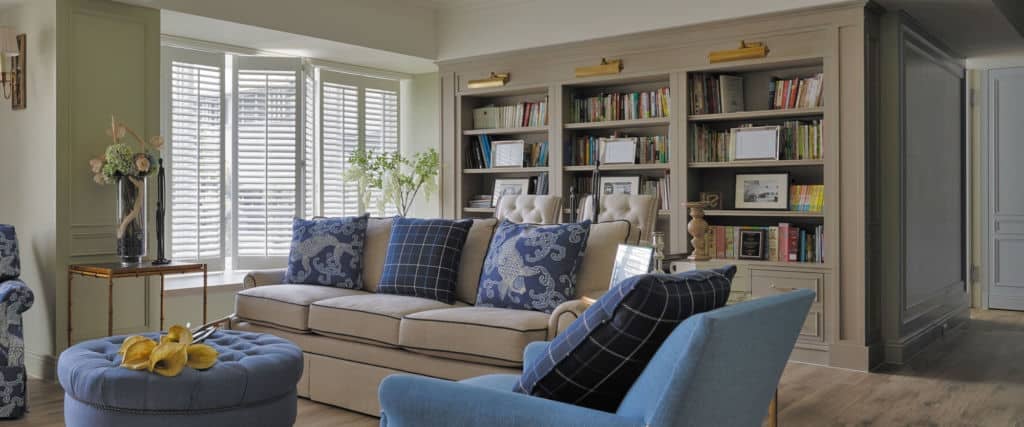 UNIQUELY SHAPED WINDOWS
Plethora of options to custom fit any size window.
Uniquely shaped windows such as circular, oval, or arched windows add an elegant touch to your home's décor that can be appreciated for providing great views from inside and "curb appeal" from outside. Our designers will provide you with a plethora of options to custom fit any size window and stained to match any home's existing decor during the in-home consultation.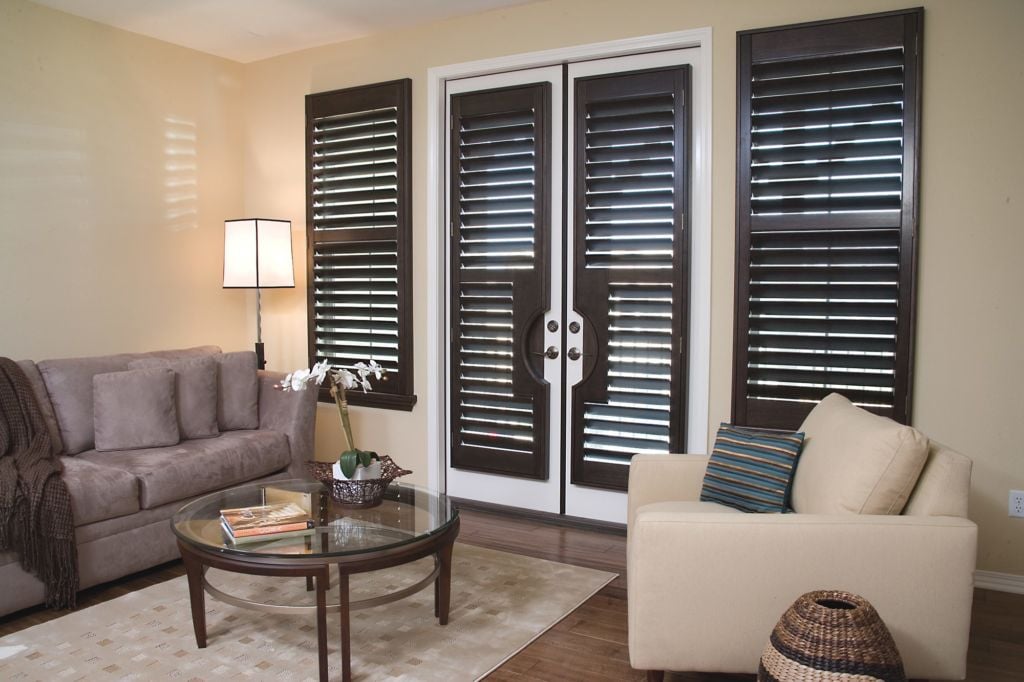 SLIDING AND FRENCH GLASS DOORS
French door shutters let you take control of natural light.
Sliding and French glass doors are very common in sunny California homes but usually come with a lack of privacy. Fear not, you can keep up with your modern and elegant decor by selecting a customized shutter for French doors and sliding glass doors.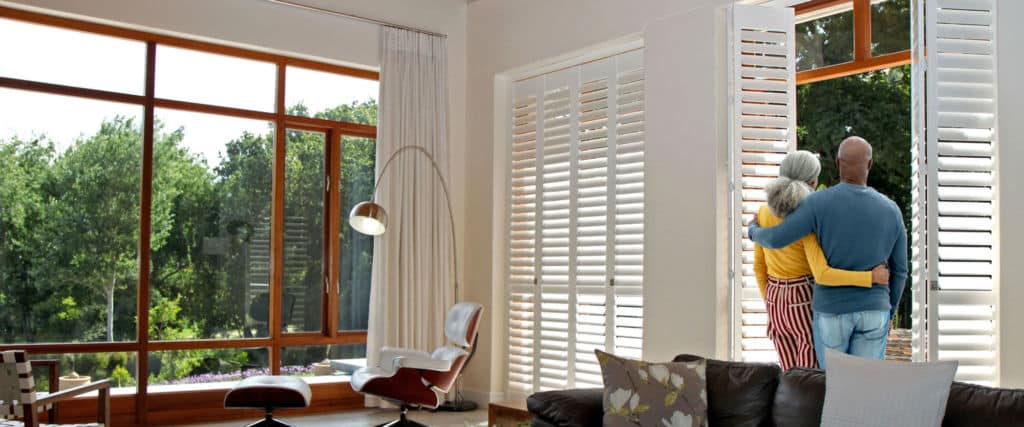 LIGHT CONTROL & PRIVACY
Control the amount of light that enters a room and enjoy privacy when you want it.
Plantation shutters feature wider louvers that allow more light into the room are usually hinged on the outside of the window frame and swing open to allow access to the window or to allow light in. Operable slats can be adjusted for light control, airflow, or privacy concerns. They are also available in multiple tears allowing tilt control for half of the window to have the slats open while the other half remains closed, giving you even more control over light and privacy.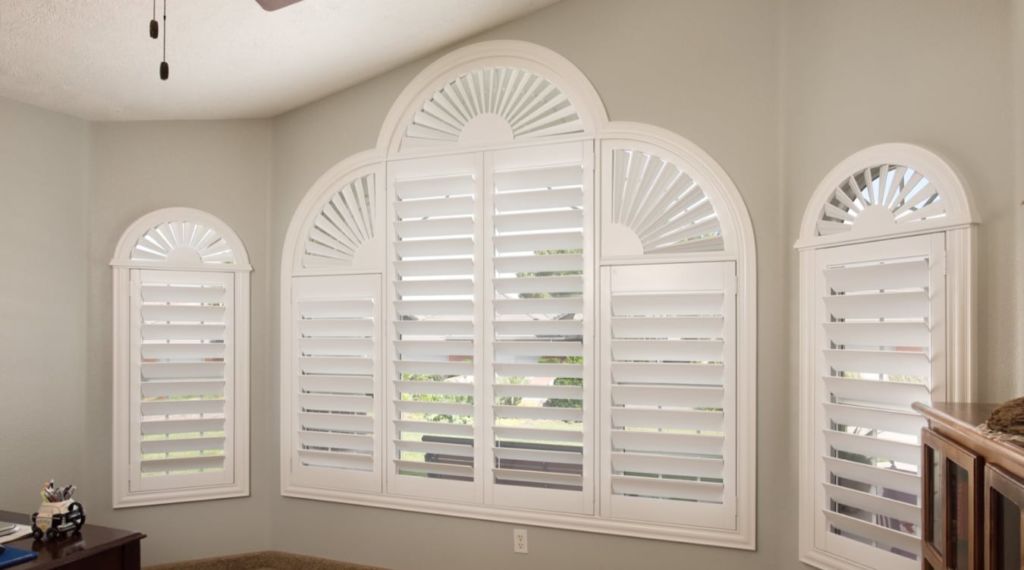 DURABILITY
Faux wood plantation shutters will last you a lifetime.
Faux Polywood is known as one of the most durable material types on the market for an excellent reason. To that end, faux wood shutters are guaranteed never to turn yellow, crack/splinter, or warp from moisture, and 3 Blind Mice back up our product with a limited lifetime warranty. Your shutters will be just as beautiful as they were when first installed.
SUPERIOR ENERGY SAVINGS
Are faux shutters energy efficient? 
Both exterior and interior shutters are energy efficient treatments and can prevent heat loss in the cold winter and reduce heat gain during hot summer weather. Shutters made from solid materials such as poly are the most effective at saving on energy costs.

PET & CHILD SAFETY
No dangling cords or strings  means shutters are an excellent choice for families with pets or small children.
Some of our shutters have eliminated the tilt bar while still giving you full tilt control. In addition to shutters, we provide a variety of cordless & child-friendly treatments as well as motorized window treatments that will eliminate hazardous pull cords from your home and give you one less thing to worry about!
Faux Wood Shutter Product Options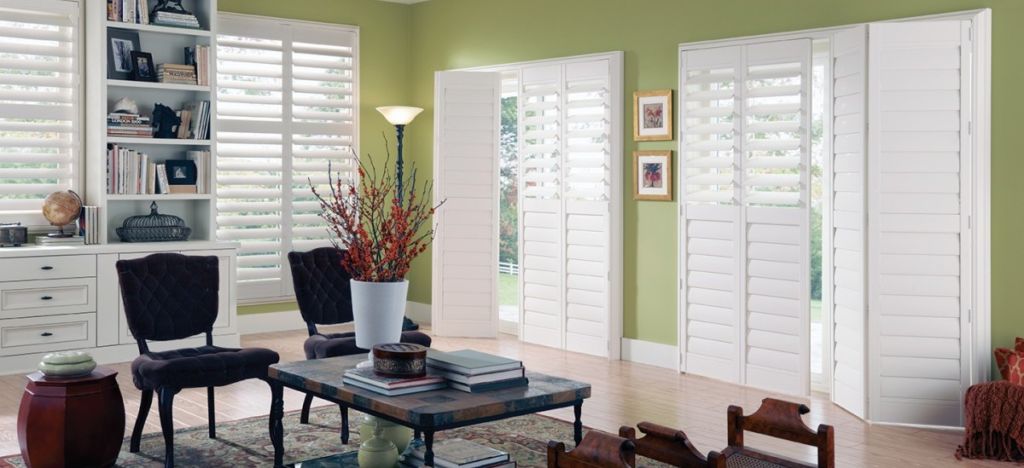 Meticulously handcrafted composite shutters  will add a timeless warmth and create a dramatic statement to your home for years to come.
Styles
Choose from a range of shutter styles, easily customizable based on your privacy needs and size of your windows or doors.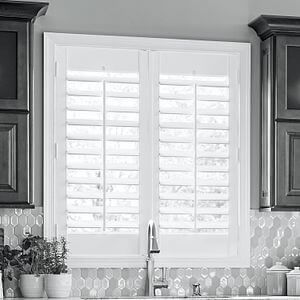 STANDARD PANEL
Rectangular-shaped panel covering the entire window and can be installed using any frame style.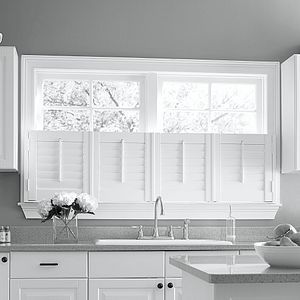 CAFÉ
This classic style covers the bottom part of the window, allowing light to enter above while maintaining privacy.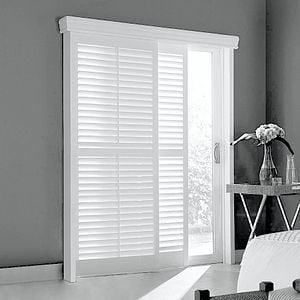 BYPASS TRACK SYSTEM
Ideal for patio or closet doors, panels slide on a double track that can be attached to a frame or mounted directly to a window casing.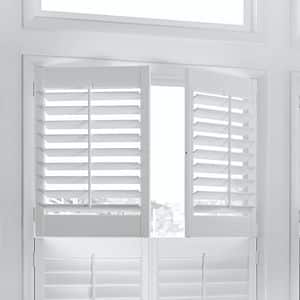 DOUBLE-HUNG SHUTTERS
Top and bottom panels hang in the same window but operate separately, allowing the top to be opened for daylight while the bottom is closed for privacy.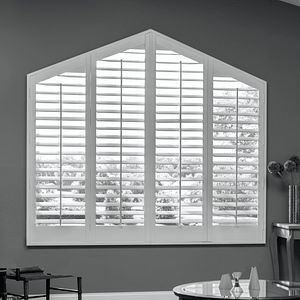 ARCH OR ANGLE TOP PANELS
Whole window solutions that perfectly fit the rounded shape of full arch windows or angles of slanted windows.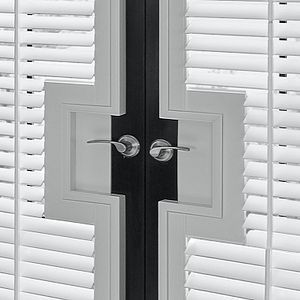 FRENCH DOORS
Mounted to French doors, curved or rectangular cutout options can accommodate door knobs or handles.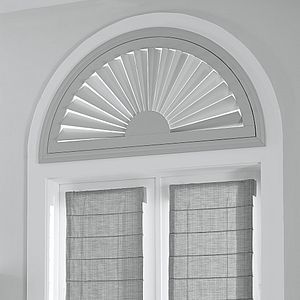 SUNBURST ARCHES
Sunburst patterned louvers cover unique window silhouettes such as eyebrow, elongated, and elliptical arches.
LOUVER SIZES
With three sizes to choose from, window size along with the outside views will help you decide which louver width is the best choice for your shutters.
2½" LOUVER
Traditional style for smaller window and café height applications.
3½" LOUVER
Most popular louver size provides versatile visibility and light control options.
4½" LOUVER
With wide louvers, this option provides great visibility to the outside and is perfect for larger windows..
Control Options
Choose from a range of shutter styles, easily customizable based on your privacy needs and size of your windows or doors.
TRADITIONAL TILT BAR
Positioned in the center of the shutter for the classic shutter look.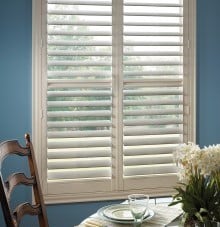 HIDDEN REAR TILT
Discreetly positioned on the back of the panel allowing better view through.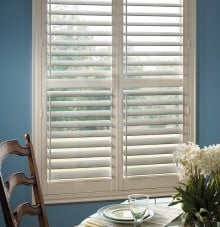 OFF-SET TILT
Positioned on either the right or left side of the shutter for less interruption to the view.
SPLIT TILT
Allows each section of louvers to move independently for maximum privacy control.
Pros/Cons
| Pros | Cons |
| --- | --- |
| Add value to your home | High cost |
| Blocks out sound well | Heavy |
| Easy to clean | Limited panel widths |
Heard Enough?
Schedule a free consultation today and let our experts help you find the perfect solution.
0% Financing Provided By: