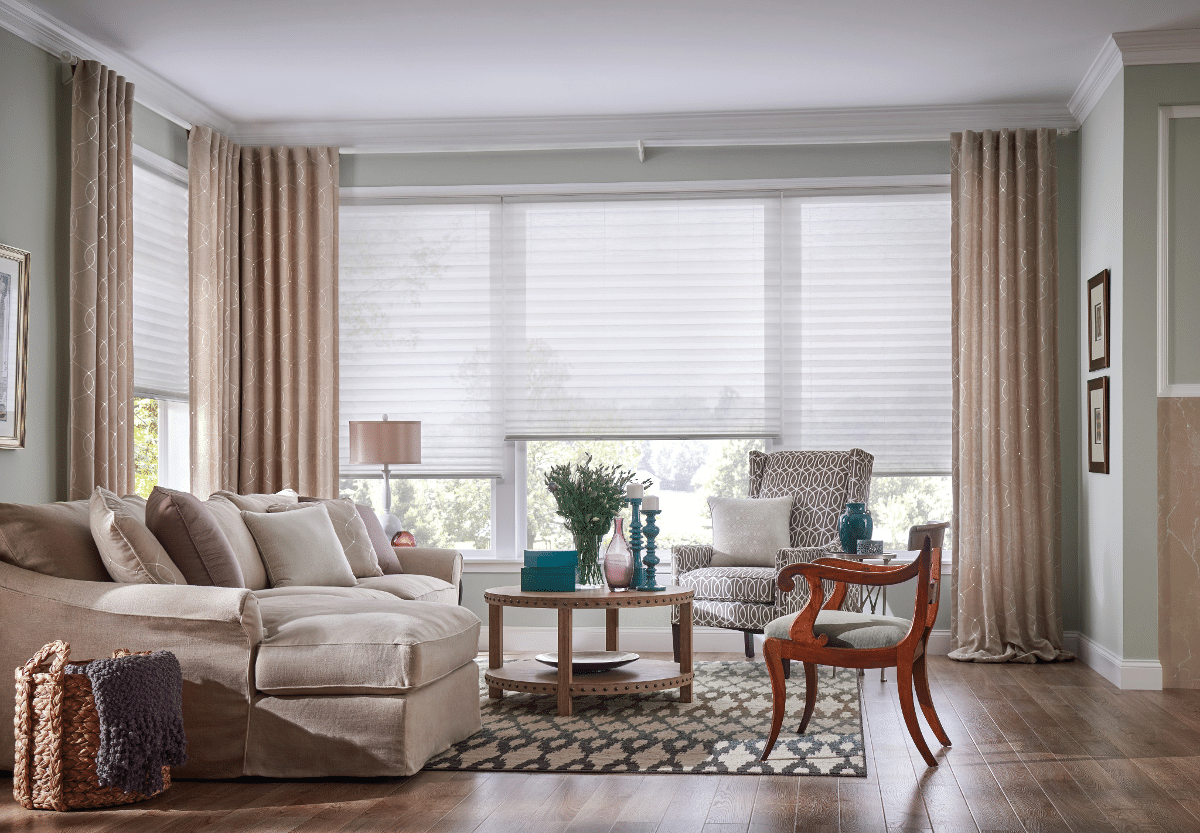 While statement furniture pieces, large appliances, or room layout may be the first thing you think of when you think about designing your home's interiors, window treatments can make or break the feel of a room.
The right window treatment can add color, texture, warmth, and style to a room, all while saving you money on your energy bills and giving you the privacy you desire.
Choosing the right window treatments for your home can be a challenge. There are dozens of types of window treatments. Among the most versatile window treatments are shades.
Don't let the wide array of types of window shades overwhelm you. This article will explain the different types of shades and how you can utilize them in your home.
Roller Shades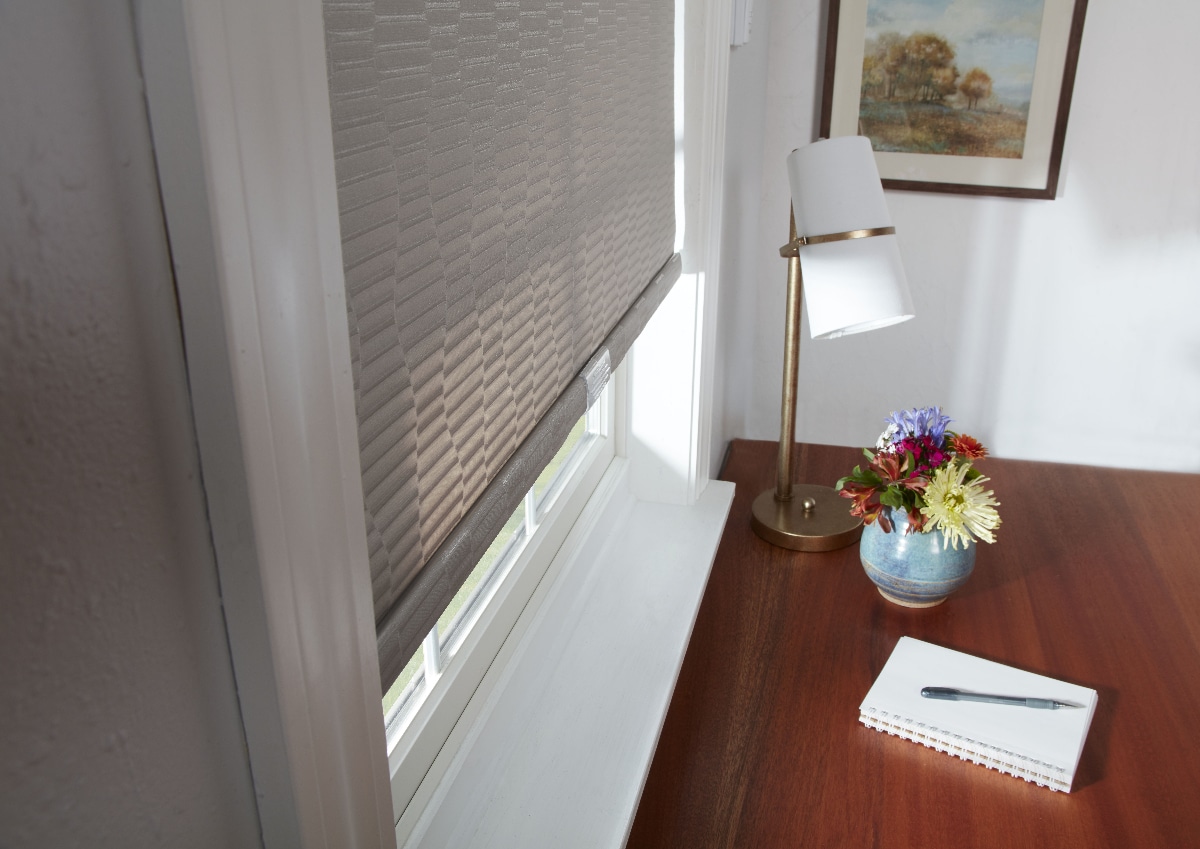 The days of roller shades, or roll-up shades, that would flop around and refuse to open and close correctly are long gone.
Sleek look & Endless Versatility = Roller Shades
Roller shades are one of the most popular window shade varieties today due to their sleek look and endless versatility.
Roller shades work by attaching a single, long piece of fabric to a roller, spring-loaded or motorized, that can then extend and retract with a simple pull. The type of fabric, texture, and color of roller shades can be customized to your liking, making these some of the most versatile window treatments, suitable for any room in the home.
Cellular Shades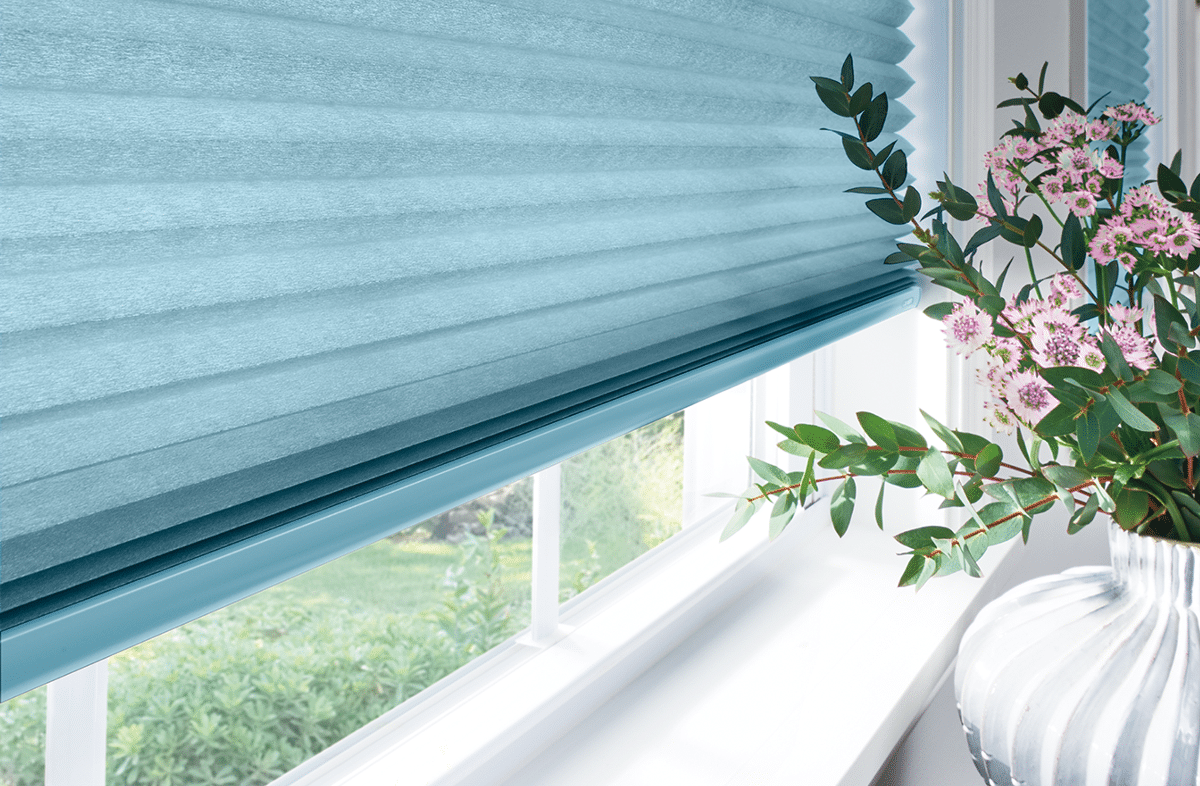 Out of all the different types of window shades, cellular shades are the most energy-efficient. If you've been shopping around for shades, chances are you've probably heard cellular shades being talked about as green or energy-efficient.
Cellular shades, sometimes called honeycomb shades, are the best shades at insulating your home and minimizing heat gain from your windows. They do this by utilizing a specific cellular or honeycomb structure that creates air pockets within the window shade. These air pockets act as an extra barrier between a window and your home and, therefore, an extra layer of insulation, keeping your interiors comfortable all year round.
Double Cell vs. Single Cell Cellular Shades
Cellular shades are available in a single layer honeycomb and a double layer, called "single cell" and "double cell," respectively. Naturally, double-cell window shades are more energy efficient than single-cell window shades.
The cells in cellular shades give them a pleated appearance. The added texture makes this one of the more elegant window treatments around.
Cellular shades also come in a variety of different opacities and cell sizes. You can determine how much light you want to enter your room, from sheer natural light for living spaces to complete blackout for a bedroom. You can also choose how large you want the pleats on your cellular shades to be to match the look of your room.
Energy Efficiency
During the heating seasons, tightly installed cellular shades reduce heat loss through windows by 40% or more; this equals about 10% heating energy savings. Cellular shade is the number one choice if you want to improve energy efficiency at home.
Woven Wood Shades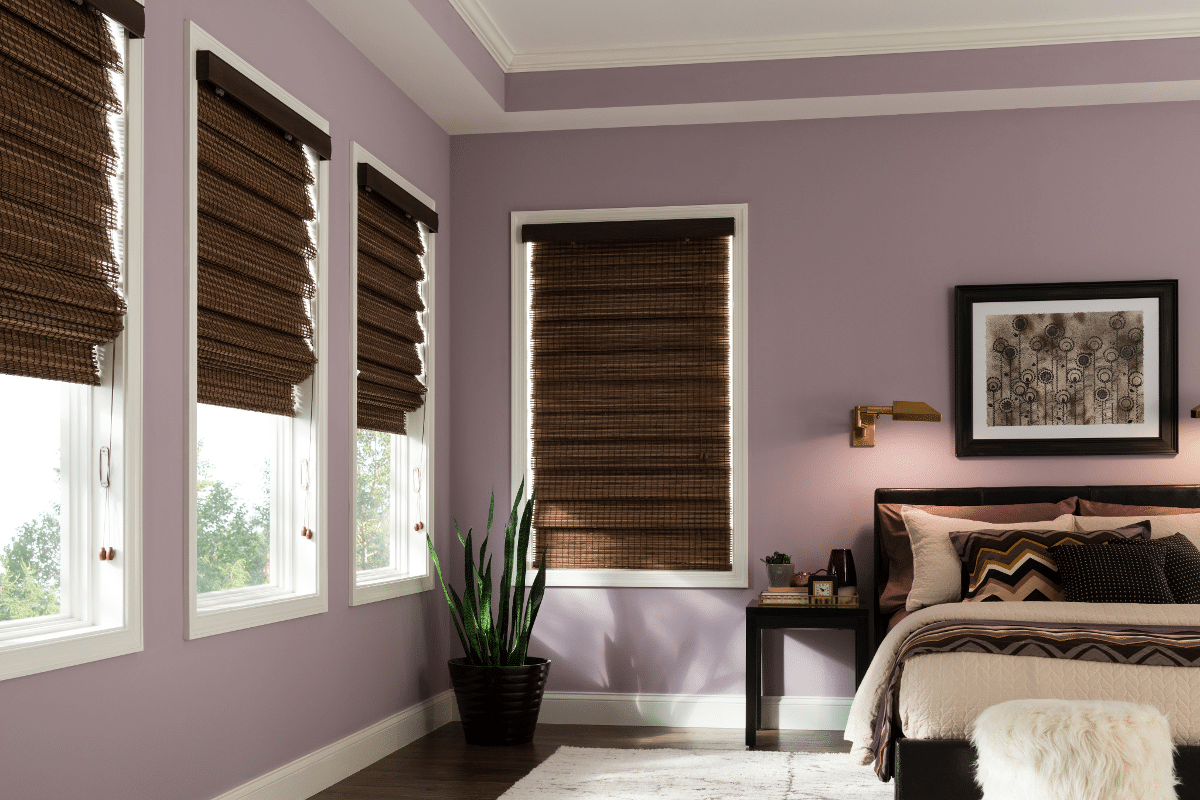 Woven wood shades are great for bringing more of a natural feel into your home compared to other types of window shades.
This type of window treatment exchanges the traditional piece of fabric for a complex texture made of some combination of grasses, reeds, and woods. Some woven wood shades combine multiple of these materials, while others are made of just one.
Add Texture And Drama To Your Boring Old Windows
Woven wood shades provide a focal point of visual interest to any room in which they're installed without sacrificing any of the utility of a traditional window shade. Woven wood shades, like other styles of window shades, allow different light levels to enter a room. You can customize the weave size on a woven wood shade to let in more or less light for your desired level of privacy.
The relaxed and calming atmosphere woven wood shades bring to a room can be spruced up by being paired with drapery to create a more elegant look.
Bamboo Shades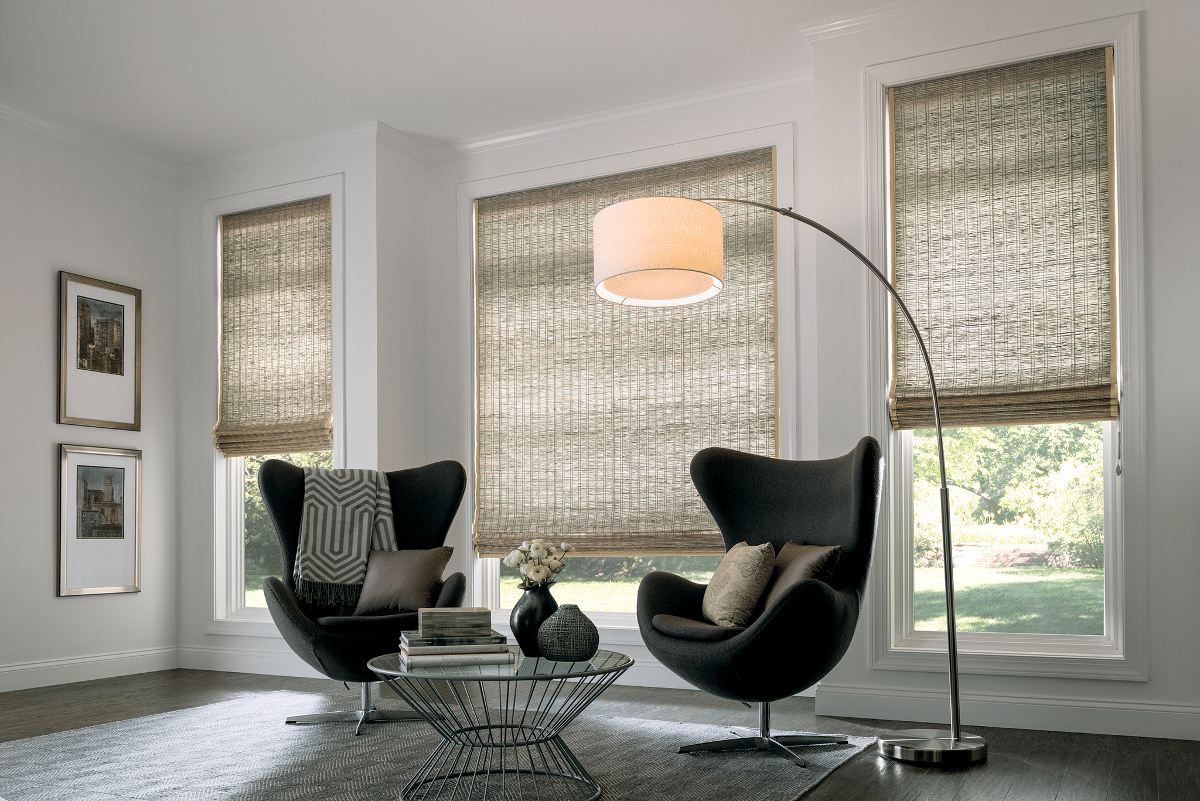 The Most Environmentally Friendly Shade?
Bamboo window shades are woven wood shades made specifically from bamboo. This type of window shade is made from one of the most environmentally friendly renewable materials and is among the most "green" choices for window treatments.
Like other woven wood shades, bamboo window shades can be customized to your liking from light opacity to direction. Shades can be made to open from the top down or from the bottom up.
The naturalistic feeling that bamboo shades can provide is unmatched by any other type of window shade. They can stand on their own, amplifying the natural elements and creating an outdoorsy feel to a living space, or be surrounded by curtains to provide a boosted aesthetic to any room.
Pleated Shades
Pleated shades have the same distinct pleated look as cellular shades do but without the complex honeycomb texture that makes cellular shades so insulating.
Modern Minimalism With Stunning Sophistication
The pleated shade is made of a single piece of fabric folded to create a pleated look when fully extended. Pleat sizes on this type of window shade typically come in 1″ and 2″ to align with whatever style you may want your living spaces to have.
Though pleated and cellular shades look similar, pleated shades have functionality more similar to roller shades. They can be opened and closed easily via string or cordless function. The single piece of fabric can be easier to clean than the honeycomb structured cellular shades. Pleated shades close in layers that can be almost flush with a window frame, like a roller shade.
Blackout Shades
When most people think of shades, they think of sheer or silky fabrics that let too much light through and require supplemental window treatments to add insulation and privacy to the home. Blackout shades block out that issue.
An Economical Solution To Mitigating Light And Providing Privacy
Blackout shades are the ideal window shade for areas of the home you may want to keep darker: bedrooms, nurseries, and media rooms.
This type of window shade provides the highest level of light control and privacy, meaning you can keep your bedrooms cool and dark for sleeping or your family room atmospheric on movie nights.
Motorized Shades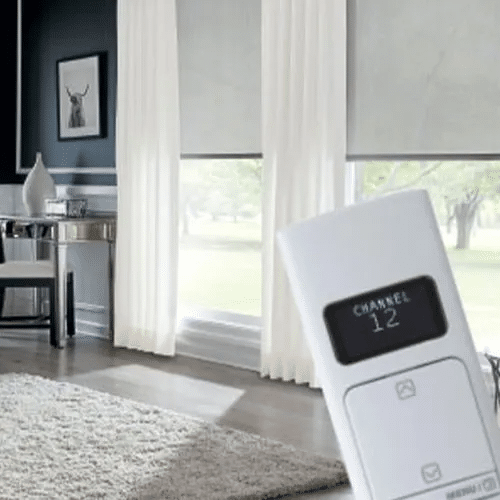 If you want top-of-the-line convenience and modern technology, motorized shades might be the window treatment for you.
Motorized shades get rid of the age-old hassle of cords or strings dangling from your shades. Gone are the days where you have to open and close your window shades by hand.
With the click of a button or even a pre-set schedule, you can have your window shades opening or closing without a second thought.
Add Value To Your Home
Though motorizing your window shades might seem superfluous, the utility and ease of motorized shades is anything but. Motorized shades can be hardwired or installed with solar-powered batteries, meaning you don't have to deal with the hassle of changing the batteries on them every few months.
Motorized shades can also be synced up to fully "smart" your home. Some brands of motorized shades can be customized to open and close on a schedule, allowing morning light into your home and closing during the hotter parts of the day.
This type of window shade is ideal for those looking to fully automate their home and also for those with windows in out-of-the-way places. If you have high up windows that can't be easily accessed, a motorized shade might be the perfect window treatment for them.
Roman Shades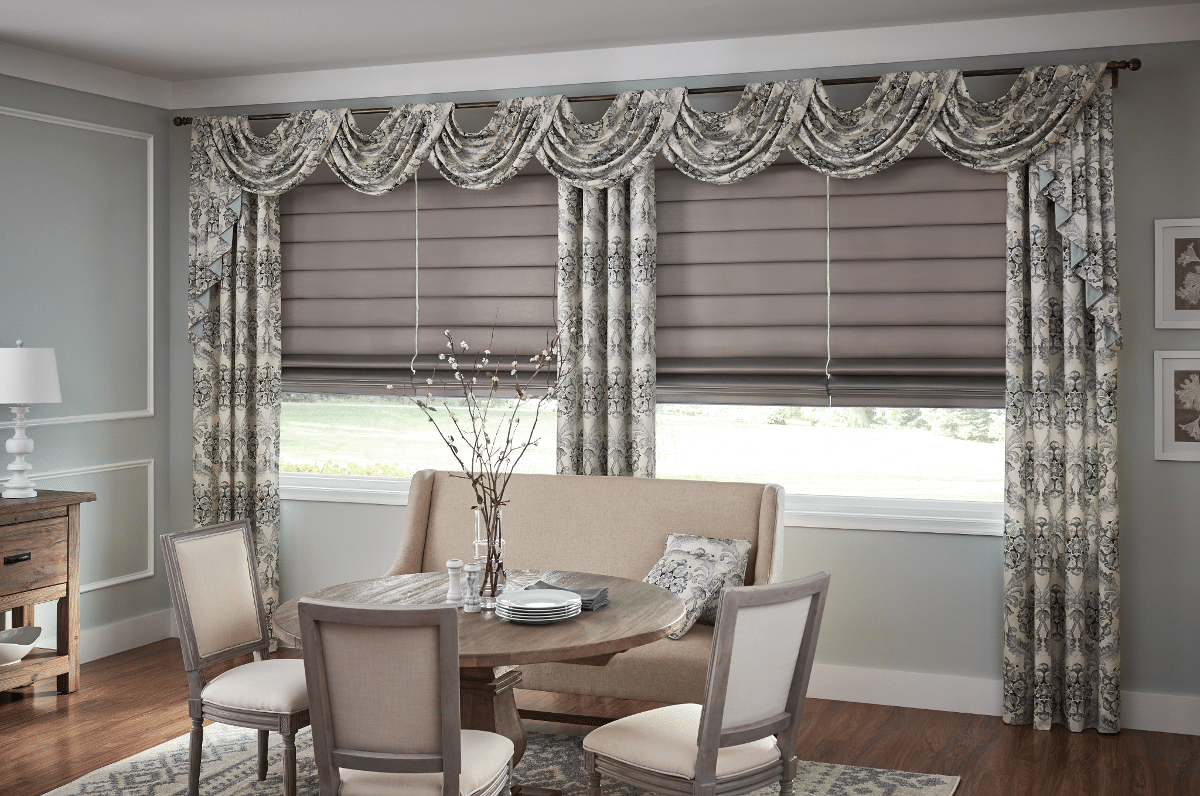 Roman shades continue to endure as one of the most popular types of window shades around. The design for Roman shades actually does go all the way back to ancient Rome.
When coliseums were constructed in ancient Rome and thousands of people would gather beneath the sun all day long to watch them, the Romans designed a way to give spectators a modicum of shade. They created large, pleated awnings that could retract and extend to let viewers be more comfortable. They essentially made large-scale Roman shades.
An Air Of Elegance
The modern design for Roman shades is similar to ancient Roman shades, with a large piece of fabric that would fold into flaps conveniently for storage that unfurls in large pleats. And there's just a hint of that classical history in today's designs.
Roman shades have significantly wider pleats than other types of pleated shades and thus give a much more elegant, refined look.
Because Roman shades are made exclusively from fabrics, they're best used in areas that don't get tons of moisture: perfect for living rooms, bedrooms, and offices. Personally, I am a big fan of Roman shades for a luxurious look on bay windows.
Part of the beauty of how striking Roman shades look is that they come in nearly endless colors and patterns to fit just about any interior design.
Solar Shades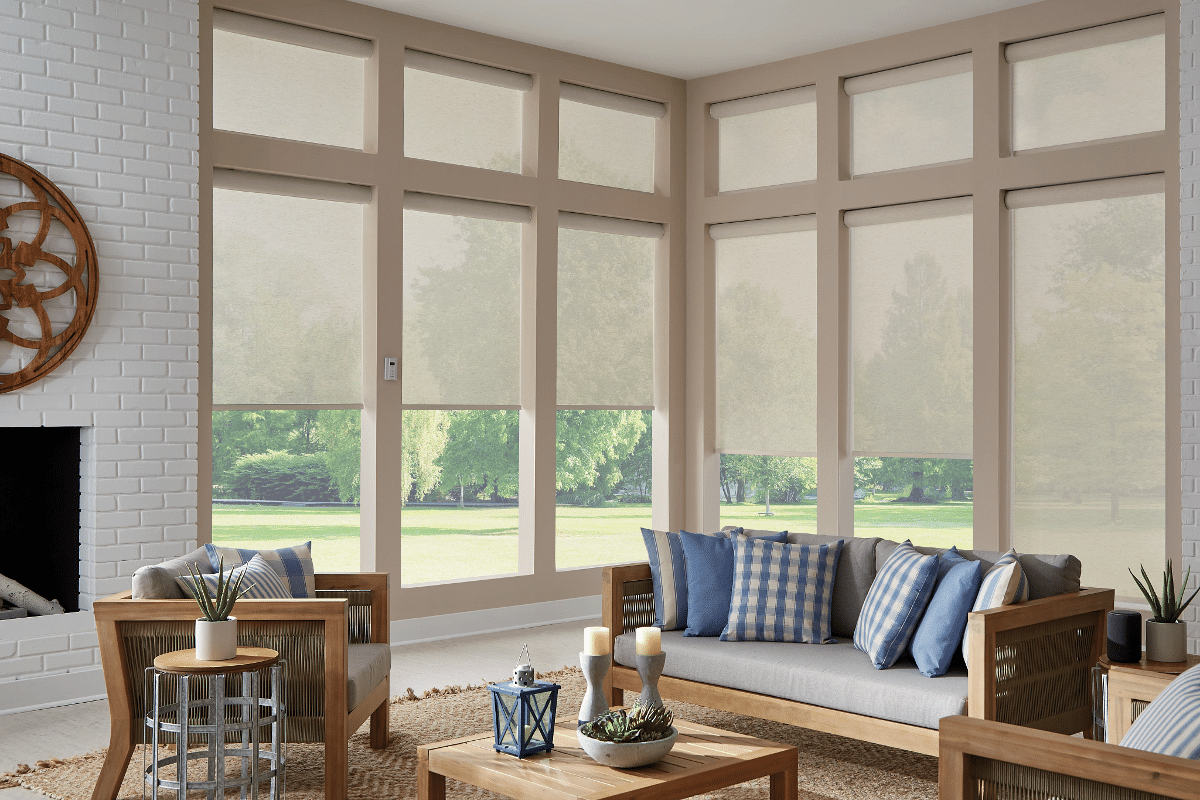 Many people will mistake solar shades for a typical roller shade since they look similar to the eye. They're both made from one distinct piece of fabric that moves up or down via being pulled. However, solar shades are designed specifically to block harmful UV rays from entering the home, oftentimes without hampering the view from a window.
Block Harmful UV & Enjoy All The Benefits Of Natural Light
Solar shades reduce the intensity of light coming through the window, helping to insulate your home and reduce UV damage on your furniture and carpet. Solar shades don't however block out all light from entering. If that's your goal, blackout shades are more of what you're looking for.
Solar shades are the type of window treatment that is great for homes that have high amounts of sun exposure. They can keep your home comfortable and insulated, allowing natural light to flow into the home while still giving privacy. During the day, people from outside won't be able to see into a room treated with solar shades, but when backlit at night, the shades can appear transparent from the outside.
While the specific purpose of solar shades somewhat reduces the number of customization options typically available for them, there are still many colors, styles, and sizes available to fit any room's needs.
Sheer Shades
At a glance, sheer shades can give the appearance of open blinds, a view of the outdoors broken up by a series of horizontal bars. Sheer shades are made of two panels of transparent, sheer fabric, with opaque slats of fabric suspended between. This allows strikingly clear views through the thin material when the shades are open.
Maximize The Amount Of Natural Sunlight
For those looking for the type of window treatment that can maximize the amount of natural light a room gets, sheer shades might be right for you. Sheer shades are airy, transparent, and provide a light-flowing design to any room they're installed in.
It used to be that sheer shades were only available in white or white-adjacent colors, but they can now be as customizable as almost any other type of window shade. Sheer shades can come in a variety of different colors and patterns.
Sheer shades can be customized to even include blackout lining on the internal slats to significantly cut down on light while closed. While sheer shades do help protect against UV light and reduce heat gain from windows, they are not particularly effective at insulating your home, especially in winter. For insulating types of window shades, opt for cellular shades.
Skylight Window Shades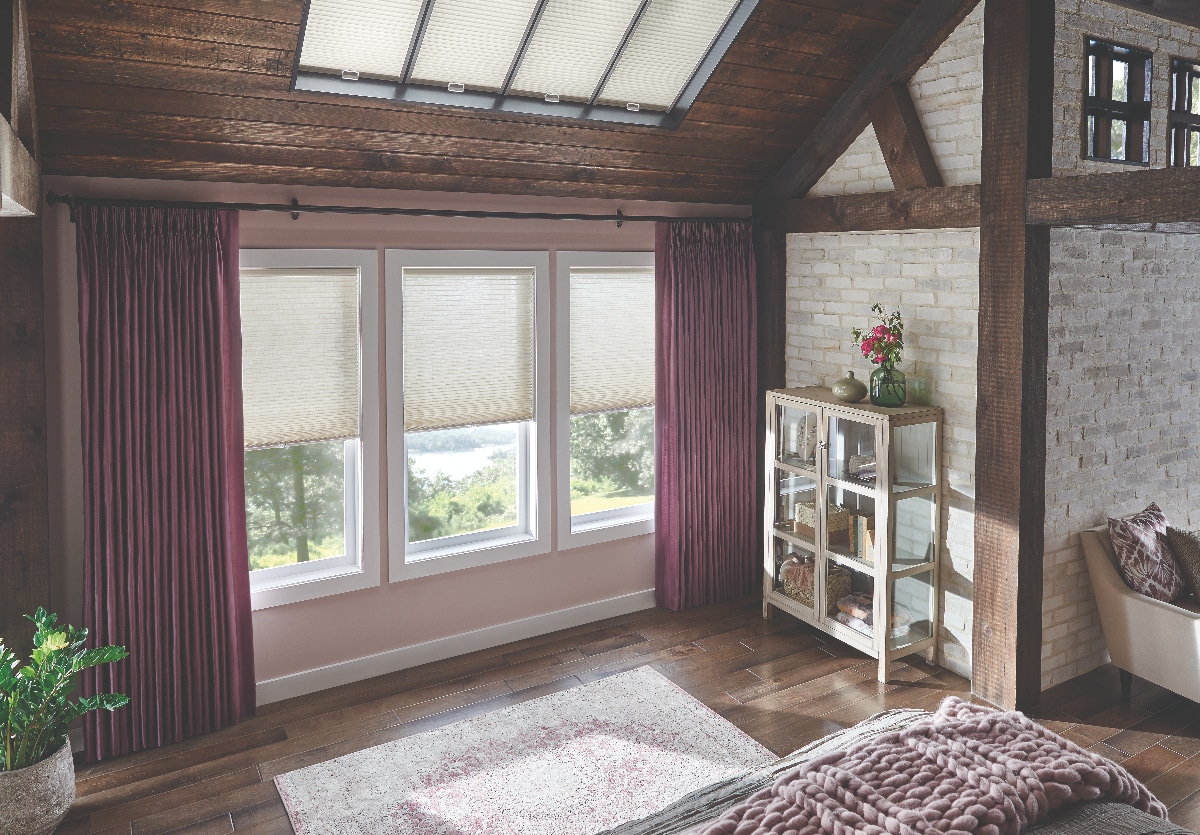 Skylights are beautiful additions to an interior space, allowing tons of natural light to soak into a room during the day. However, if you've had one, you'll know that skylights come with their own set of issues.
In order to reduce glare, heat gain, and protect your spaces from harmful UV light that can pour through a skylight, skylight window shades are an excellent investment.
Motorization Is A Must For Skylight Shades
Consider opting for a motorized option that runs on a track when purchasing this type of window shade for your skylight. Skylights are typically out of arm's reach and a pain to get to.
With a motorized skylight shade, you can open and close it at the push of a button, allowing for the most convenient and smartest home experience. Cellular shades can be great for skylights to reduce the amount of hot sunlight coming in during the summer.
Available Control Options For Shades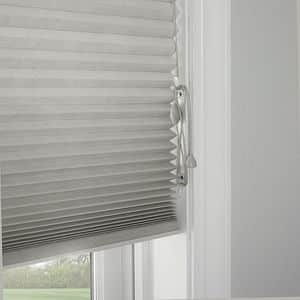 Corded Lift
Raise and lower the shade with a simple cord system.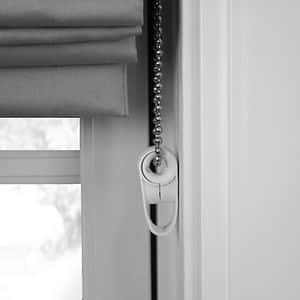 Continuous-Loop Lift
Use the cord loop to more easily raise and lower large shades.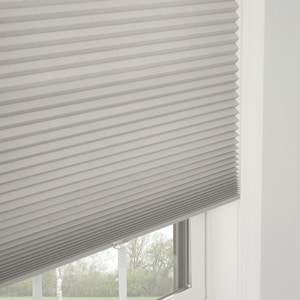 Cordless Lift
The best option for homes with children and pets, operate cordless lifts by raising or lowering the bottomrail.
Graber's UltraLite Cordless Lift
Lift and lower the shade with the lightest touch and perfectly place it the first time, every time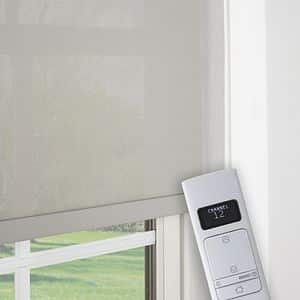 Motorized Lift
Control your shades with a remote, pre-set schedule, or with a home automation app.
Choosing the Right Window Shades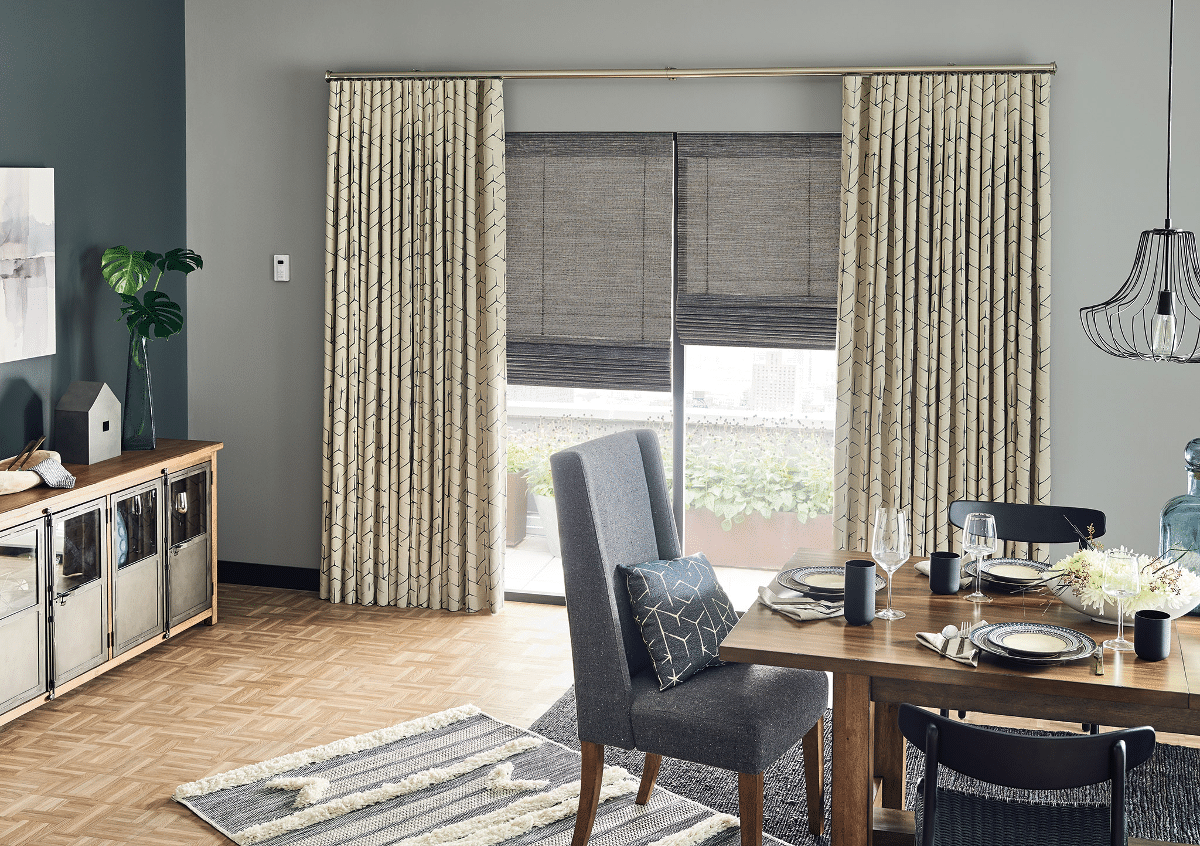 Considering just how many different types of window shades are out there, settling on the right window shades for your home is no simple task. The right window treatment can make or break the look of an interior and set the tone for a whole room.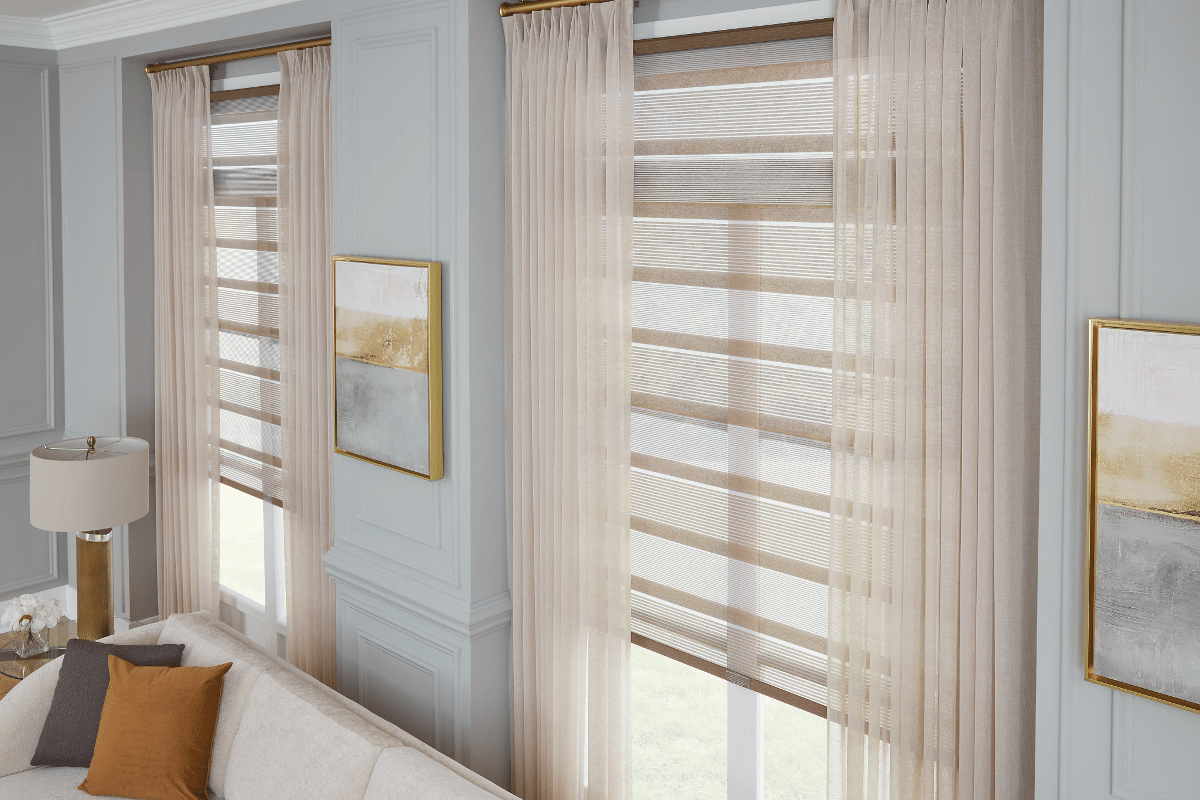 Classic and Timeless Shades
If you're looking for a timeless and classic appearance, roller shades, pleated shades, or Roman shades might be what you're in the market for. These types of window shades come in corded and cordless varieties, can be mounted top-down or bottom-up, and come as customizable as any window treatments on the market.
You can opt for any variety of textures, colors, or patterns on these types of window shades, and they can be custom-made to fit just about any window in your home.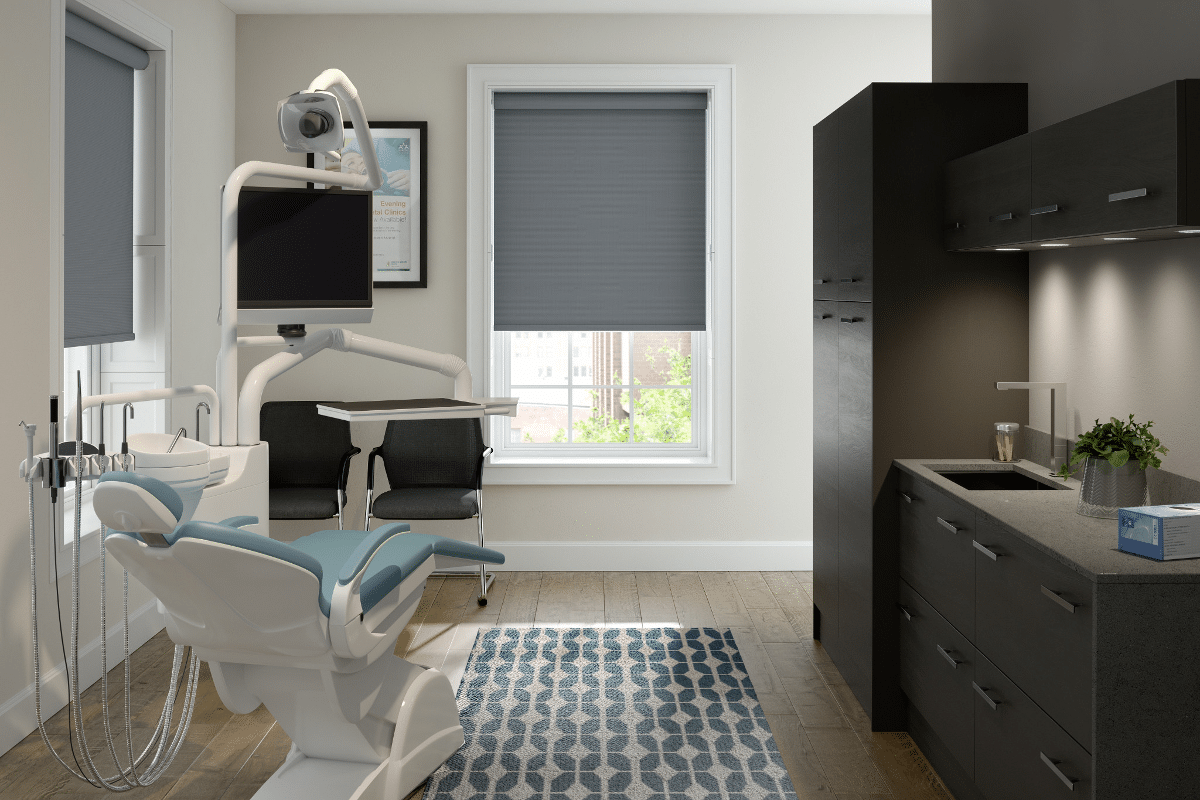 Light Filtering Shades – Window Treatments with Light Control
If you're in the market for window shades that control the quantity of light entering your home, then you might be interested in solar shades, sheer shades, or blackout shades. All three of these window shades have a primary function of controlling how much light enters your home, and they all do light filtering in vastly different amounts.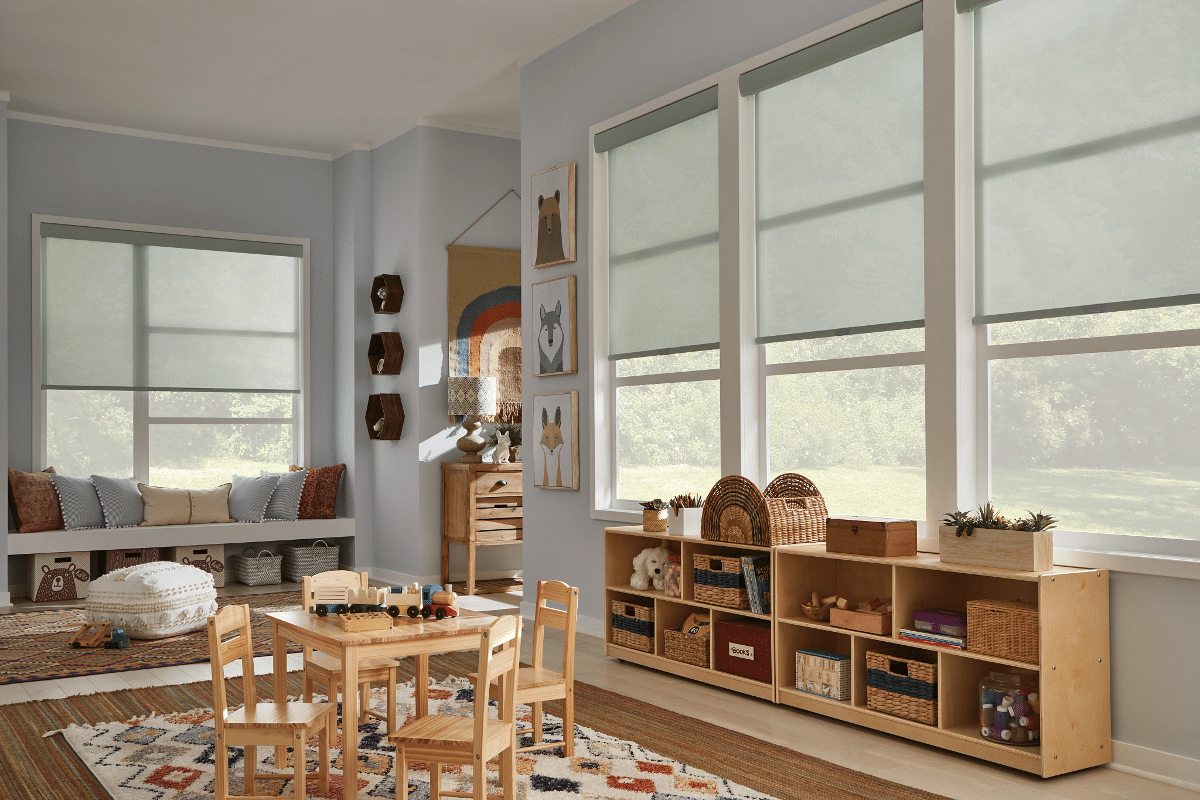 Sheer shades provide the most visibility into your home, as their name would suggest. Solar shades are made to be translucent enough for you to see through but light and UV dimming enough to protect yourself and your belongings. Blackout shades stop as much light as possible from entering a room, making them perfect for areas like the bedroom which you may want to be completely insulated and dimmed.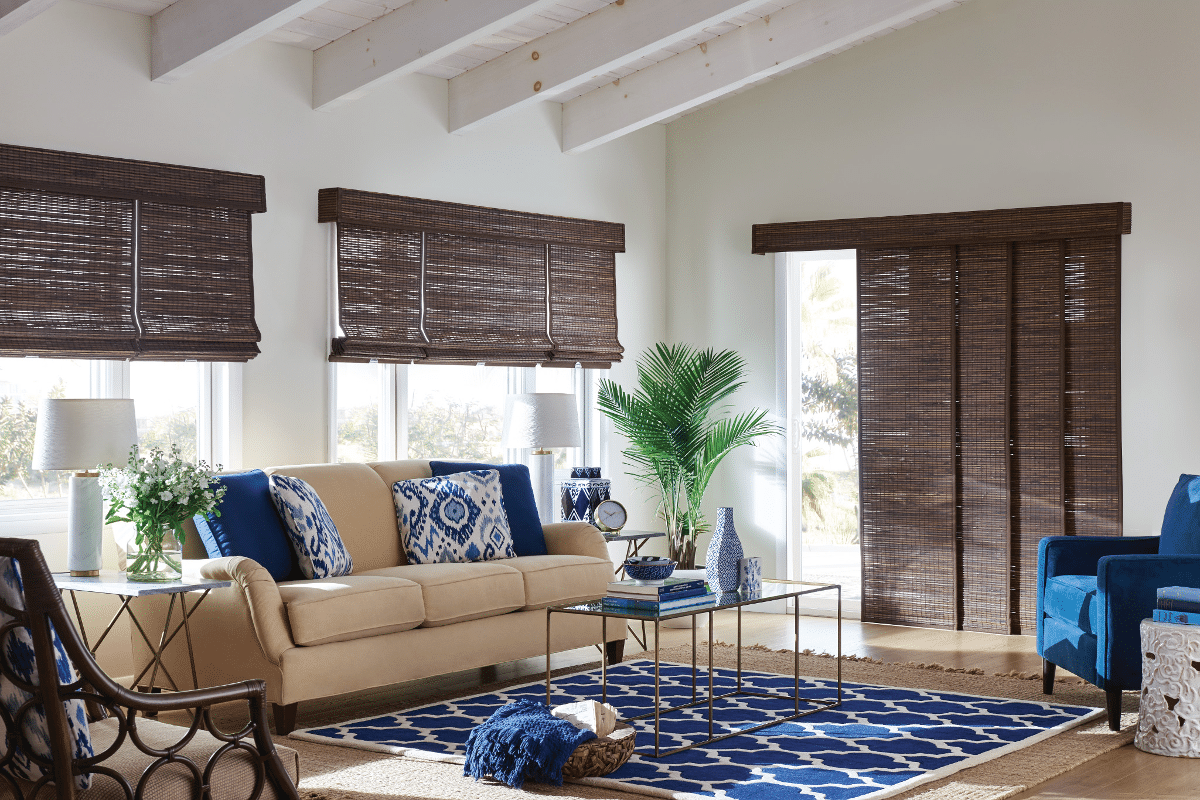 Natural Looking Window Shades
For natural and organic environments, whether that be a beach home or a themed living room, woven wood and bamboo shades would probably be right for you. These shades made from organic materials blend surprisingly well into modern and traditional homes while providing an elegant glow to any living area.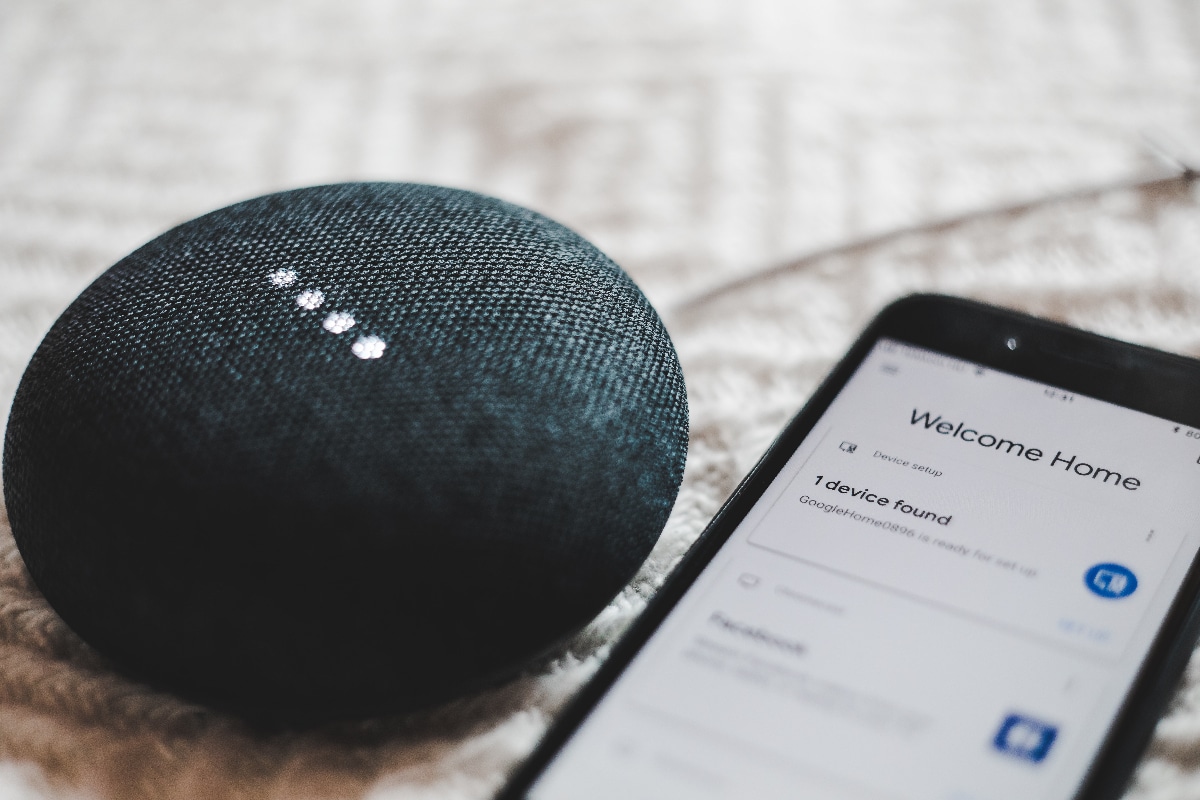 Smart Shades For Windows
Technology continues trending towards fully automating your home. The gadgets are cool, and the convenience can't really be argued with. Making your home a smart home is fun and worth the effort.
For those considering making their home a smart home, motorized shades are the right investment for you. Motorized shades can be automated to give your home the perfect amount of light at any point in the day. The best part is that many of these different styles of shades can be automated so that your smart home can have any aesthetic your heart desires.
The Best Window Treatments for Insulating
When it comes to insulating your home, no type of window shade does it better than cellular shade. The cell structure of this window treatment does wonders for reducing heat gain in a room with direct sunlight and is perfect for areas that require quality insulation to keep your home comfortable.
While cellular shades do have a complex weave of multiple fabrics, making them harder to clean, they can be customized to your liking with blackout lining or specific opacities. As an added bonus, the extra insulation from cellular shades means you get to pay less for heating and cooling on your energy bills.
One of the most common issues during our audit is loosely fitted cellular shades. The treatment must be fitted tightly to your windows to prevent energy transfer, saving you from ballooning air conditioning fees!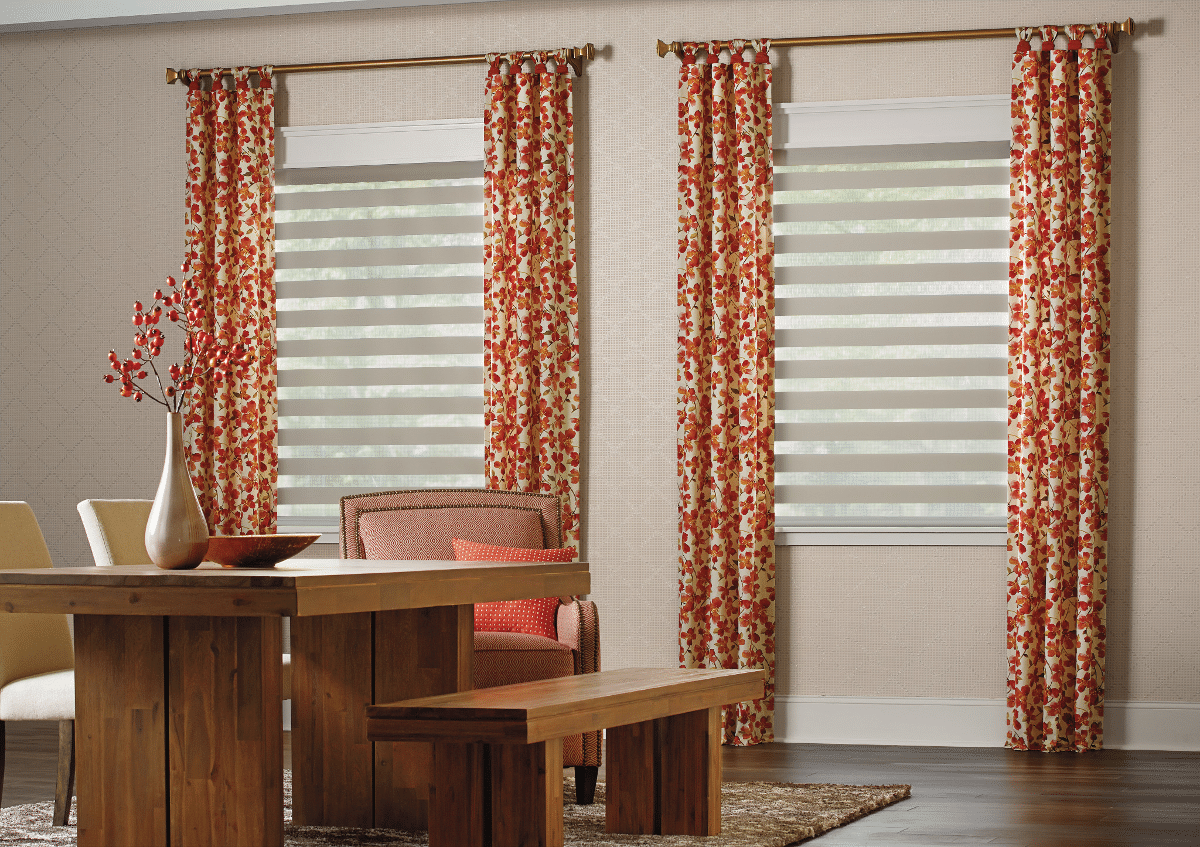 Don't Worry, Be Happy!
If you're worried about making the wrong choice or being stuck with one specific window shade, the expert designers at 3 Blind Mice Window Coverings can help you with design ideas and make the right choice for your home! Don't be afraid to experiment with colors, textures, and even additional window treatments.
Window shades work tremendously well when paired with other treatments like curtains or drapery. The simple addition of a long drape can take a regular window shade and transform it into a timeless treatment. Experiment and find what style of window shades work best for you!
More Guides from 3 Blind Mice Window Coverings