How can I make my room darker?
While it's still winter, spring is around the corner and that means more hours of daylight each day. In San Diego(where our headquarter is located), there is an average of 10 hours of daylight per day in January, but over 14 hours per day in June and July. Many of us welcome the additional hours of daylight and sunshine. Here at 3 Blind Mice, we also know that those extra hours add up and can contribute to unwanted light and heat in the home, so we've compiled this short guide to help you control light levels in your home.
The Bedroom: Perfecting the balance of privacy and light level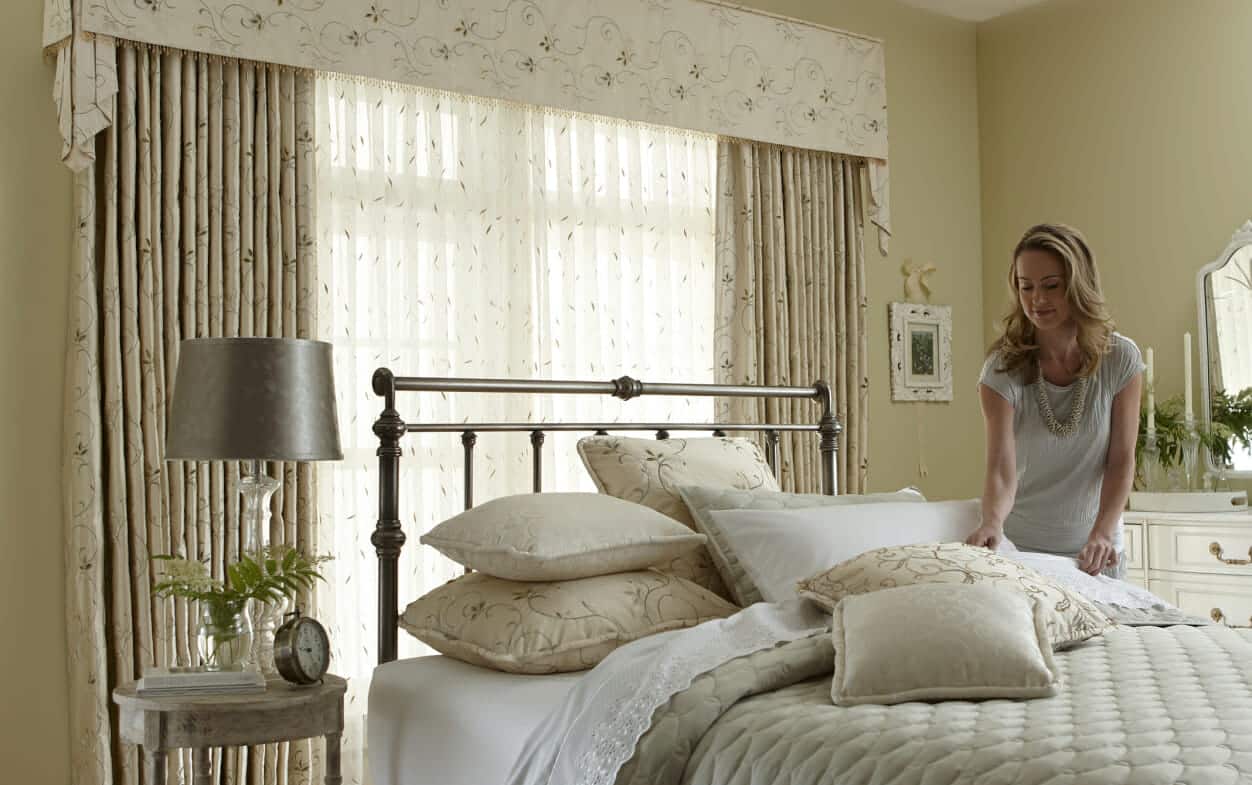 For many people, the bedroom requires several different considerations to select the appropriate window treatments. This usually means using dual treatments or layering two complementary solutions. Let's take a look at some of the most common considerations for this situation.
Privacy
One of the primary considerations is privacy. You may want to allow light into the room during the day, but prevent people outside from being able to see in both during the day and at night. During the day, a simple sheer curtain or single roller shade can be enough to provide privacy while still letting the light in. However, at night when it's dark outside, and the indoor light fixtures are turned on, you'll want something more substantial to ensure your home's privacy.
Light Levels
Another significant consideration is the light (or darkness) level. For many people, complete blackout is not necessary for their home's bedrooms and a single layer window covering provides a sufficient level of light blocking. Cellular shades, traditional blinds, or classic shutters are excellent single-layer solutions for this type of need. These solutions are also effective at providing privacy when it's dark outside and the lights are on indoors.
You may want to pursue a complete blackout solution for the room of a light sleeper, out of personal preference, or for someone who needs to sleep during typical daylight hours. In this situation, we recommend layering two complementary window treatments to ensure that no light enters the room. You'll want to start with an essential window covering like a blind, shade, or shutter and then a lined curtain or drape that extends at least 8" beyond all edges of the window to block any light that filters around the edges of the first window covering. It's also useful to add a fabric cornice or valance at the top to prevent any light from escaping around the curtain rod.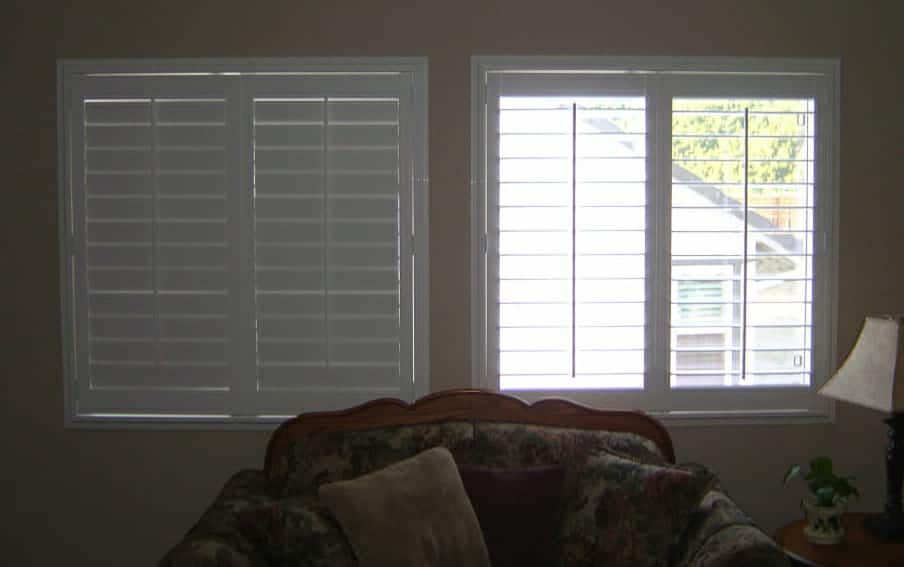 Ideal Single-Layer Solutions
1. Pleated Shades from Graber
DAYTIME: Light with some privacy


NIGHTTIME: Darkness with complete privacy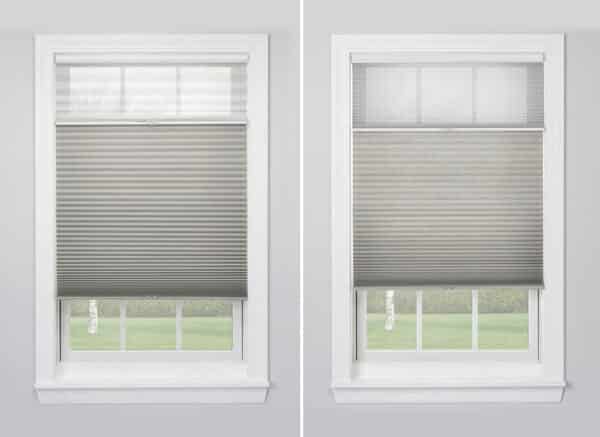 Pleated shades with top-down and bottom-up functionality allow you to use a patterned or sheer material for the top half and an opaque, light-blocking fabric for the bottom half.
DAYTIME: Option for light or complete privacy


NIGHTTIME: Darkness with complete privacy
Plantation shutters give you complete control over light levels and privacy, both day and night. Tilt the slats for less light and obstructed views, or close them entirely for darkness and total privacy.
Optimal Double-Layer Solutions
3. Sheer Draperies + Blackout Curtains
DAYTIME: Light with some privacy


NIGHTTIME: Complete blackout and privacy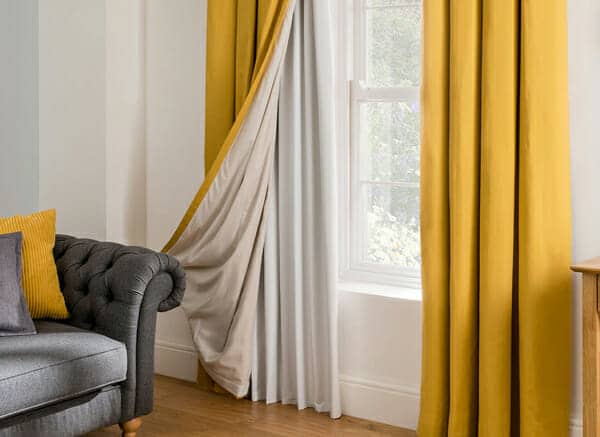 Combining a sheer drapery with lined floor-to-ceiling blackout curtains allows you to get as much—or as little—light as you'd like during the day, while also allowing for a complete blackout at any time of day or night.
4. Woven Shades + Blackout Curtains
DAYTIME: Light with complete privacy


NIGHTTIME: Complete blackout and privacy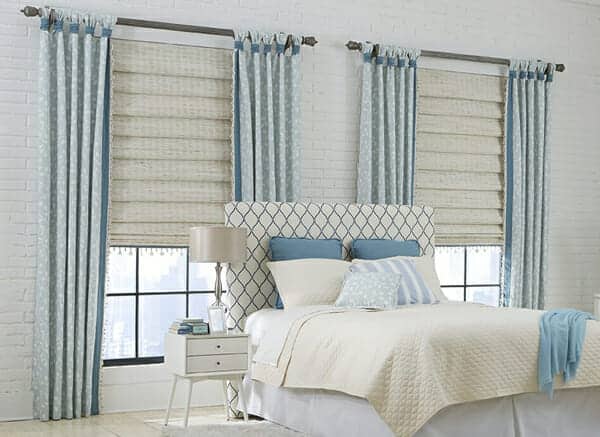 Combining woven wooden shades with lined floor-to-ceiling blackout curtains allows some light to filter in during the day while obstructing the view for passerby. The layers also allow for the complete blackout any time of day or night. With the combination of patterns and textures available in both styles, you can find a design to suit any home décor.
What about the rest of the rooms in the home?
Using these combinations of light/dark levels and desired privacy, you can easily outfit every room in your home with an ideal solution.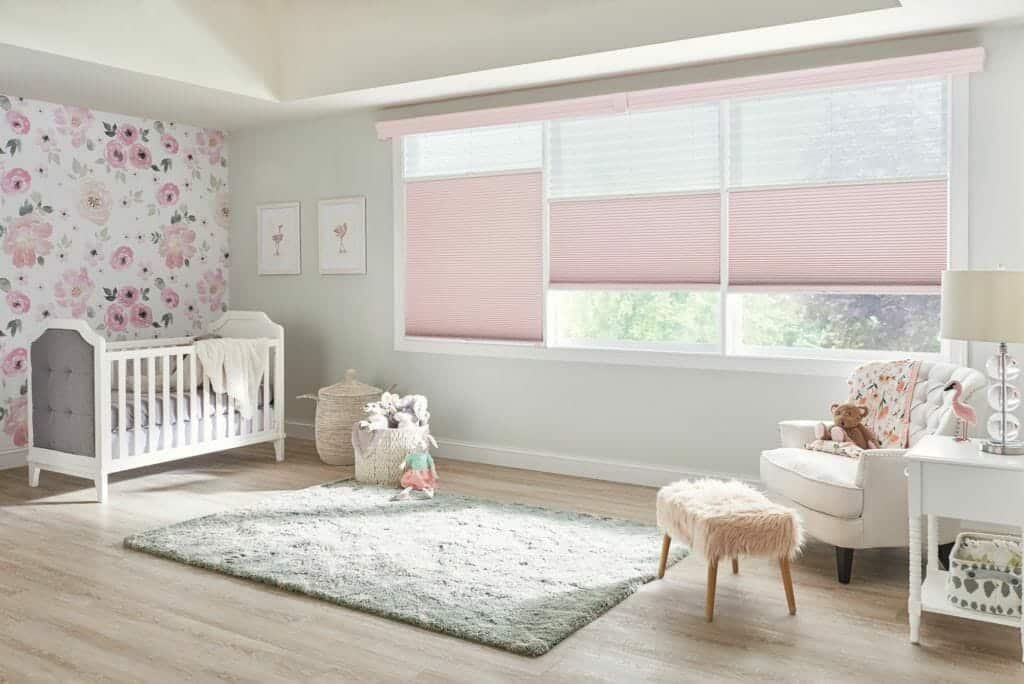 The Nursery
Some parents opt for complete blackout in the nursery to create the most tranquil sleeping environment for their little one. Others prefer to allow a moderate amount of light in, with hopes that this will prepare the baby to sleep more comfortably in diverse environments such as while traveling or visiting another house.
Regardless of what you decide on light level, one thing everyone can agree on is that the nursery window coverings should be completely child-safe and not pose any hazards to your baby. To achieve this, make sure that you select a cordless style of whichever window covering you choose. Cordless lifts are available for many styles of cellular and pleated shades and motorized blinds. Shutters, which are all typically cordless in operation, can also be a suitable choice.
Read more about Cordless & Motorized Window Treatments Designed for Child Safety »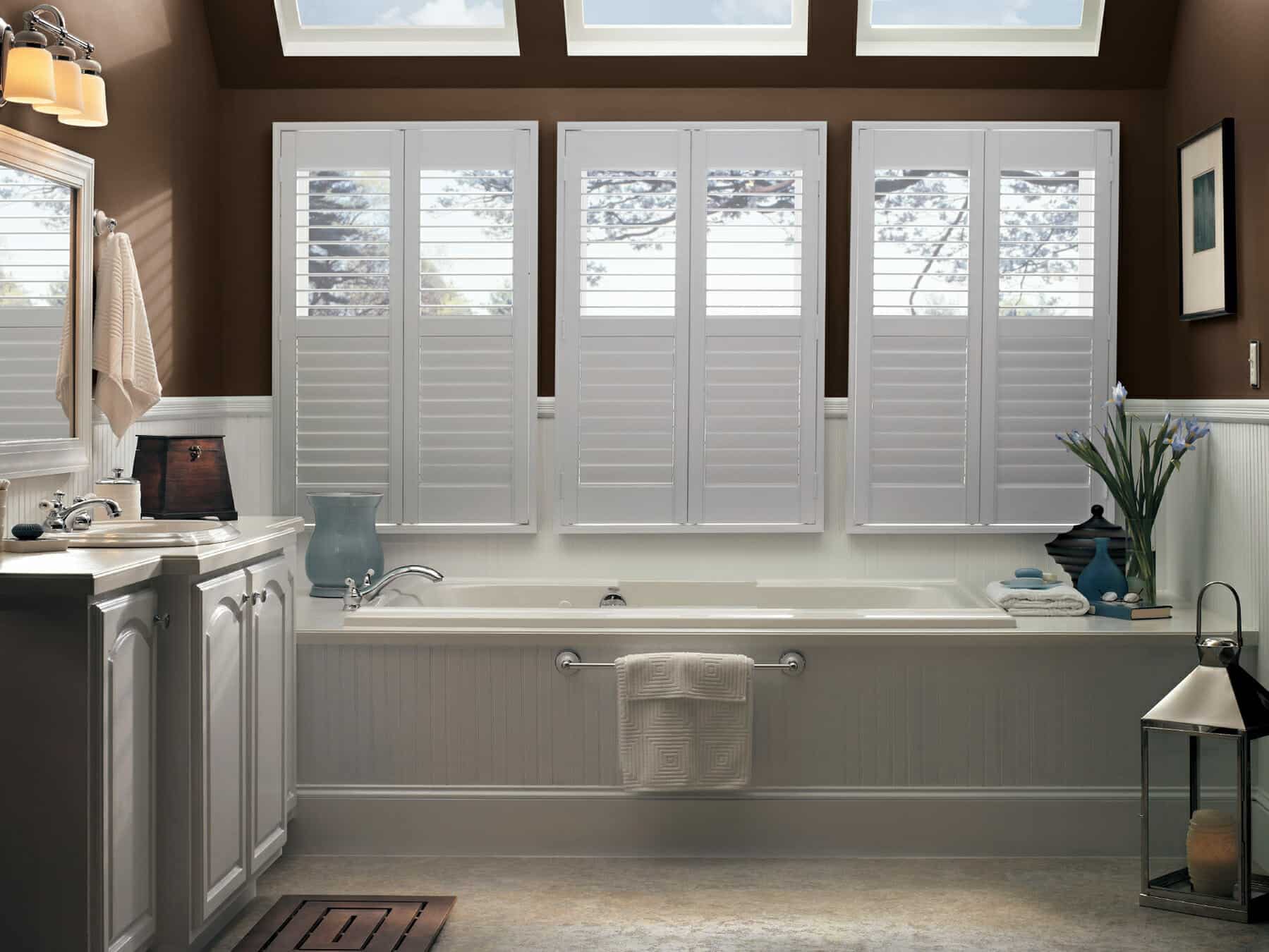 The Bathroom
In the bathroom, your primary concern is typically privacy with light levels as a secondary consideration. Installing faux wood shutters can accomplish many things with one simple treatment:
>> As shown in the photo above, adjust the slats for a combination of light from the upper panes and complete privacy in the lower panes
>> Have control over your light levels, from complete light to total darkness, by adjusting the slats with the tilt bar
>> The composite material of faux wood shutters is exceptionally durable and resistant to high heat and humidity levels
The Family Room or Movie Room
There are essential elements needed to create a successful media room, which include selecting the right television or projector, comfortable seating, an effective sound system, and of course window treatments. The correct window treatments are crucial to blocking out external sounds and light for optimal viewing pleasure.
Installing darkening or blackout window treatments will remove all light from casting a glare on the screen. Complete the theme, as well as ensure complete blackout, with lined floor-to-ceiling blackout curtains that add a decorative touch and create a theater atmosphere in your own home. You could even add a motorized curtain in front of your television or projector screen for a truly theatrical effect.
Making Motorization Work for You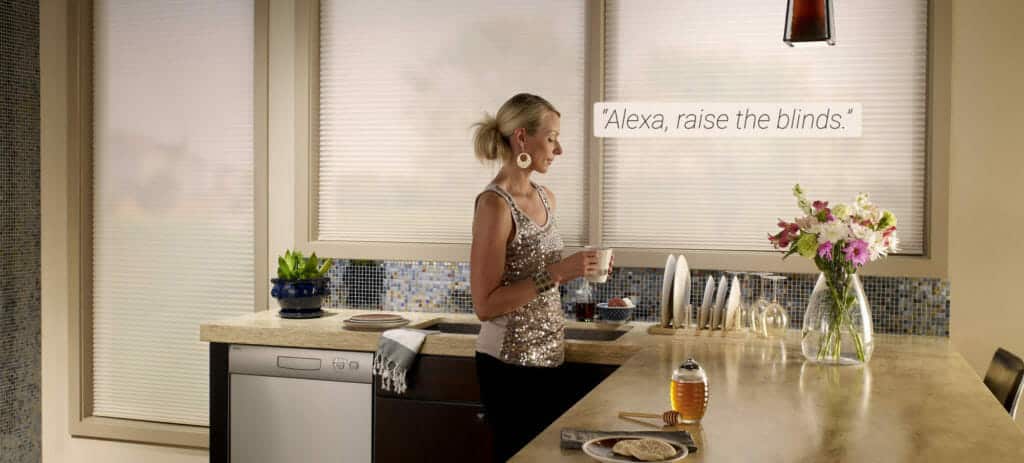 Imagine waking up to natural sunlight streaming into your bedroom. Returning home on a hot day to the cool interior of a home that opens and closes the blinds automatically, based on temperature and sunlight exposure. Blocking out all light for a movie with a simple voice command. All this and more is possible with the wide variety of motorized and automated solutions on the market today. Learn more »