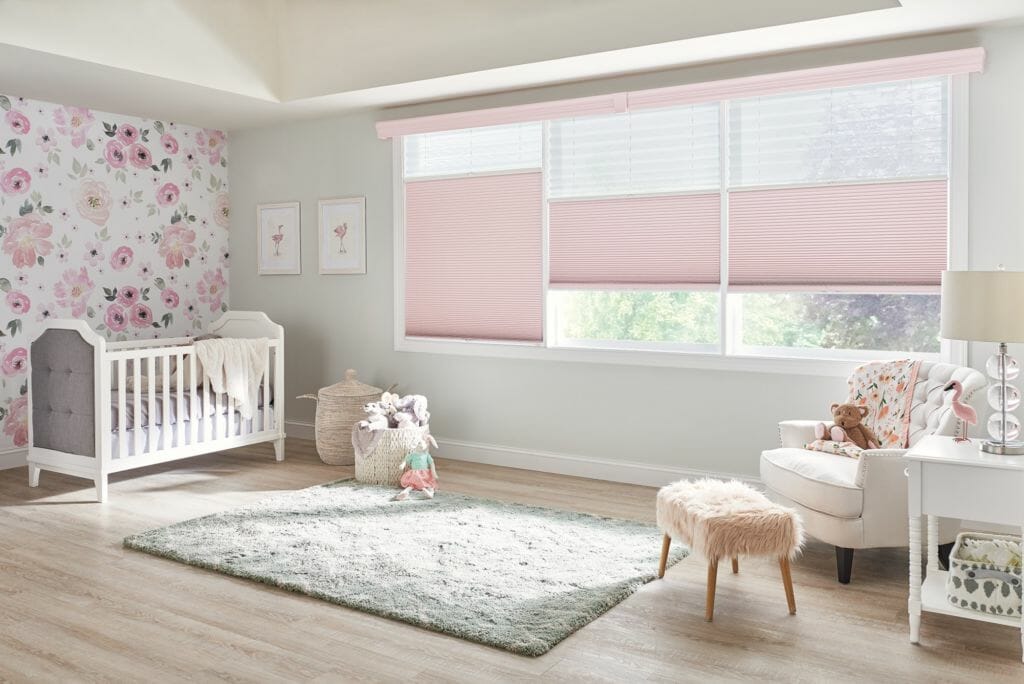 When you think about all the ways your kids can hurt themselves, your home starts to seem less like a sanctuary and more like a minefield. Parents have to carefully examine every room to ensure there are no risks for curious little fingers, and one important element to examine is your window treatments. Whether you're designing a nursery, playroom, or kid's bedroom, or you're baby-proofing another room in your house, making a conscious decision to purchase cordless or motorized blinds and shades can eliminate a dangerous strangulation hazard and ensure that your loved ones are safe.
Prevent a Dangerous Hidden Home Hazard
The United States Consumer Product Safety Commission lists strangulation from window treatment cords in its top five hidden hazards in the home. If you have young children in your home or are expecting a new arrival, please do not ignore this potential risk! It takes only seconds for children to harm themselves with an exposed cord, and the danger is so easily prevented with the selection of child-safe window treatments.
Window Coverings You Should Choose for a Kid's Room or Nursery
Here at 3 Blind Mice Window Coverings, we specialize in providing window-treatment solutions for our valued customers, the most important of which is improving the safety of your home. We offer a range of child-safe window treatments, including:
Cordless Shades
Cordless window shades are simple in their functionality — all you have to do is pull the shade up or down (or to the side if you prefer vertical shades) to open and close it. Because no cord is needed, cordless window shades are a much safer alternative to other window treatments. And, you won't have to sacrifice style for safety. We have elegant cordless cellular shades as well as durable cordless Roman shades available.
Motorized Blinds
Another great option for kid-friendly window treatments is motorized blinds. We can equip your cordless blinds with smart technology that eliminates the safety risk and provides easy operation. Our remote control blinds can be operated with the touch of a button, and our automatic blinds can be programmed to open and close according to a predetermined schedule.
Best for Kids™ Certification
The Best for Kids certification program was created to promote child safety in the home and make it easy for parents to identify safe window treatments for a nursery or kid's room. The Window Covering Manufacturers Association set the certification standards in conjunction with the Window Covering Safety Council. To earn the Best for Kids™ certification, window treatment manufacturing brands must submit their products to a third-party testing laboratory to meet the council's stringent safety criteria. Window coverings with the Best for Kids certification either have no cords or non-accessible inner cords. Cautious parents can look for this certification to easily and confidently identify the safest window shades and blinds for their home.
A Window Treatment Company that Cares
3 Blind Mice Window Coverings is honored to custom design and install Best for Kids-certified window treatments for our customers. When you partner with us, you'll work with one of our designers who can recommend the best options for meeting your safety needs and aesthetic preferences, whether you're interested in cordless cellular or Roman shades, or you'd prefer the convenience of motorized or automatic blinds. Contact us today to get started or to learn more about the child-safe window treatments we can design for your home. We're proud to serve homeowners in San Diego, Sacramento, Fresno, and Orange County, California.