How to make a safe home a stylish home
It's not news that cordless window coverings make your home safer for children and pets.
Whether you're designing a nursery, playroom, or kid's bedroom, or baby-proofing, making a conscious decision to purchase cordless or motorized blinds and shades can eliminate a dangerous strangulation hazard and ensure that your loved ones are safe. Learn More About our Saftey Features »
However, a safe home doesn't have to compromise on style. There are a wide variety of cordless, kid-and-pet-friendly window treatment options on the market today—in fact, cordless options are becoming the preference with some styles due to the clean look it delivers. Let's take a look at a few ways to style cordless options to keep your home safe and on-trend.
First things first…when should you choose fabric treatments?
Fabric window coverings add a touch of warmth and texture to any room in your home. Available in an extensive selection of colors, patterns, and textures, fabric window coverings can create a dramatic statement or a subtle, neutral complement to your home's design.
Fabric window coverings can also help with your home's acoustics. If you have wood floors, high ceilings, or both, using soft window treatments can help absorb sound and reduce echo.
CUSTOM CORDLESS TREATMENTS with CELLULAR SHADES
Available in both motorized lifts and child- and pet-safe cordless lifts, cellular shades are an excellent solution for nearly every room in your home.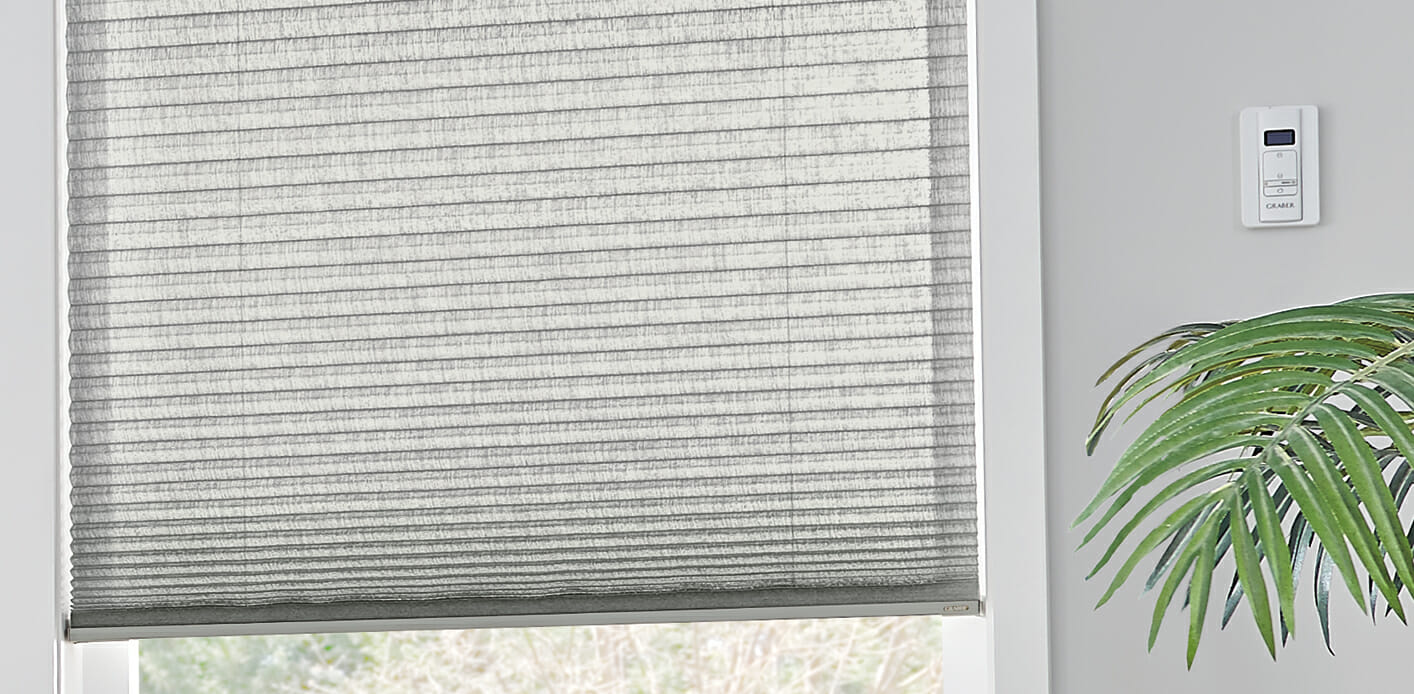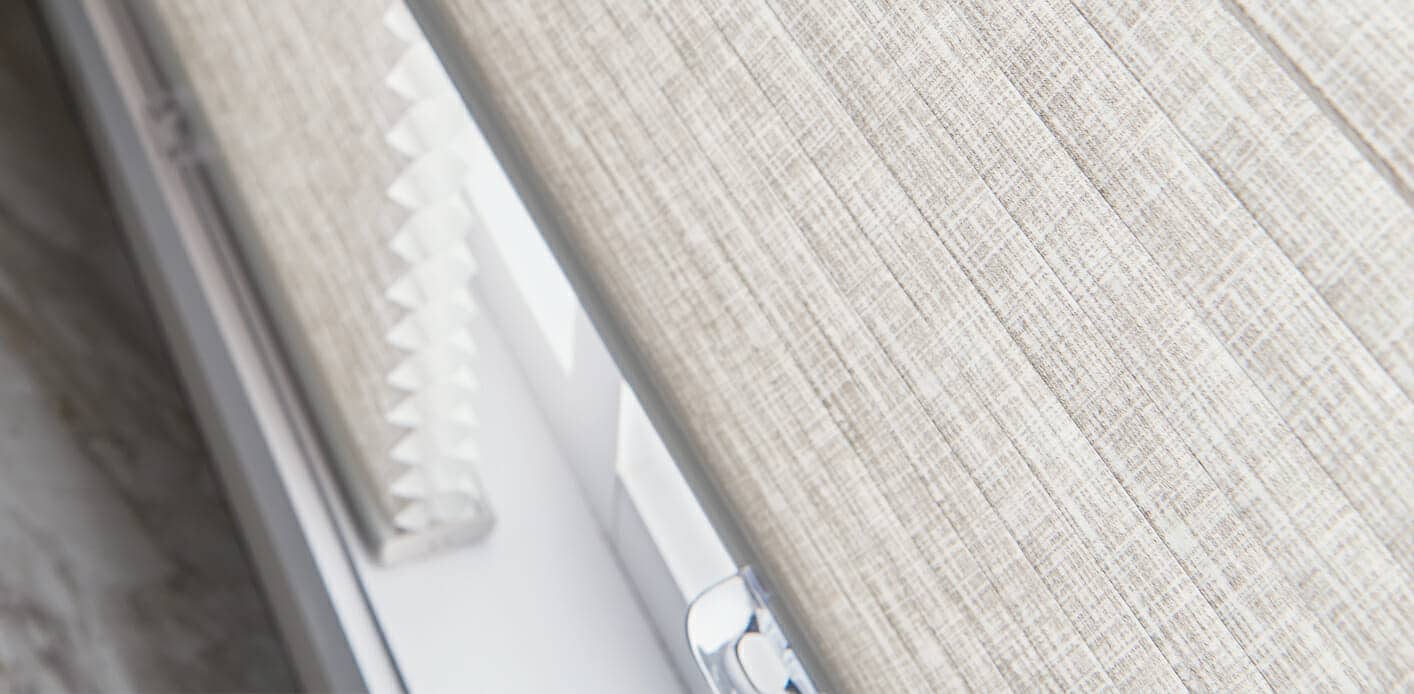 In addition to selecting colors or patterns that complement your interior design, cellular shades are also available in four cell sizes so that you can customize the insulation value needed for each room. You can also select from different levels of opacity to control the amount of sunlight and privacy in each room.
Add a pop of color with a bright accent, ground a room with a dark tone, or use a subtle, neutral color to complement your home's design.
PERFECTLY PRESSED DESIGNS with PLEATED SHADES
Available in 1″ and 2″ pleats, Graber Pleated Shades complement windows large, small, and in between. The freshly pressed look lasts for years and is available in a cordless lift with four different light control options: sheer, light-filtering, privacy liner, and blackout liner.

Select from dozens of colors, or add intrigue to your windows with stylish patterns in white, neutral tones, or an array of colors. Graber Pleated Shades are available in most modern textiles to deliver sophisticated and contemporary shades that beautifully filter light and extend privacy protection to your home.
ELEVATED ELEGANCE with ROMAN SHADES
Roman shades offer an elegant style that combines the look of a beautiful drapery, the ease, and convenience of window shade, and classic lines suitable for any room, taste or décor style making it an ideal window treatment option.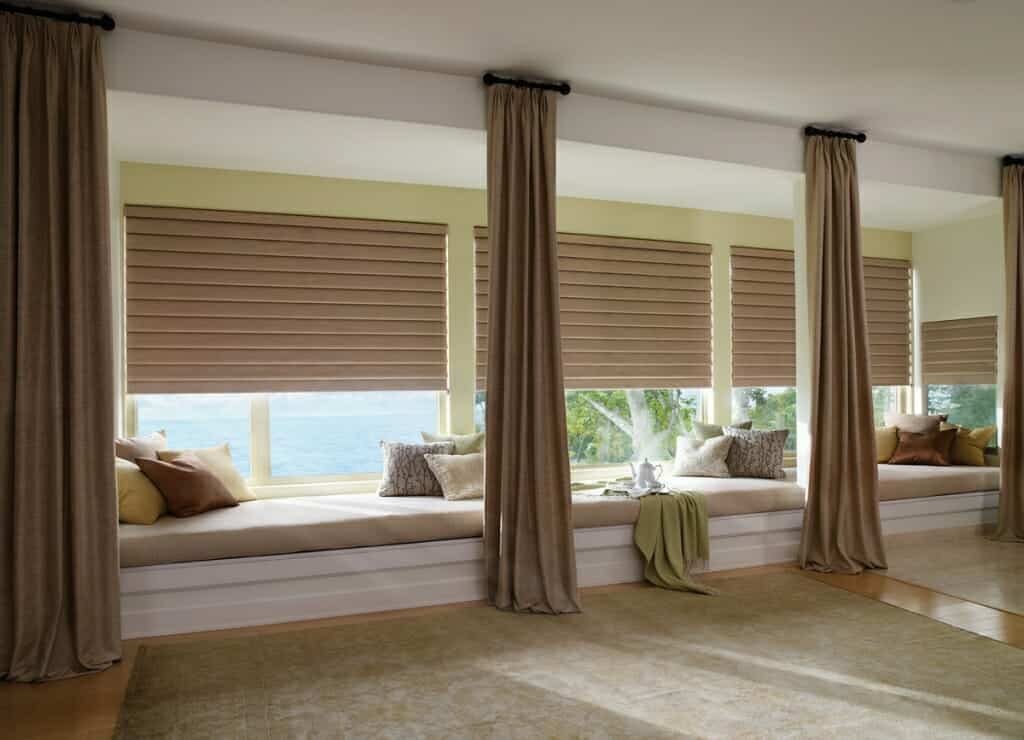 Ditching the cord and installing roman shades with a motorized lift not only makes this elegant treatment safe for children and pets but also adds convenience to your home. You can operate the motorized shades with a remote, set a specific schedule, or even pair motorized options with your smart home devices so that Alexa can open the shades for you with a simple voice command.
CREATING A CLASSIC STYLE with WOOD DESIGNS
Nothing can quite compare to the beautiful glow that wood grain brings to your home. Match your existing trim or furnishings exactly with real wood shutters that can be stained to any finish. Our plantation shutters are available in oak, maple, cherry, basswood, aspen or poplar, and can be custom stained to match your home's decor.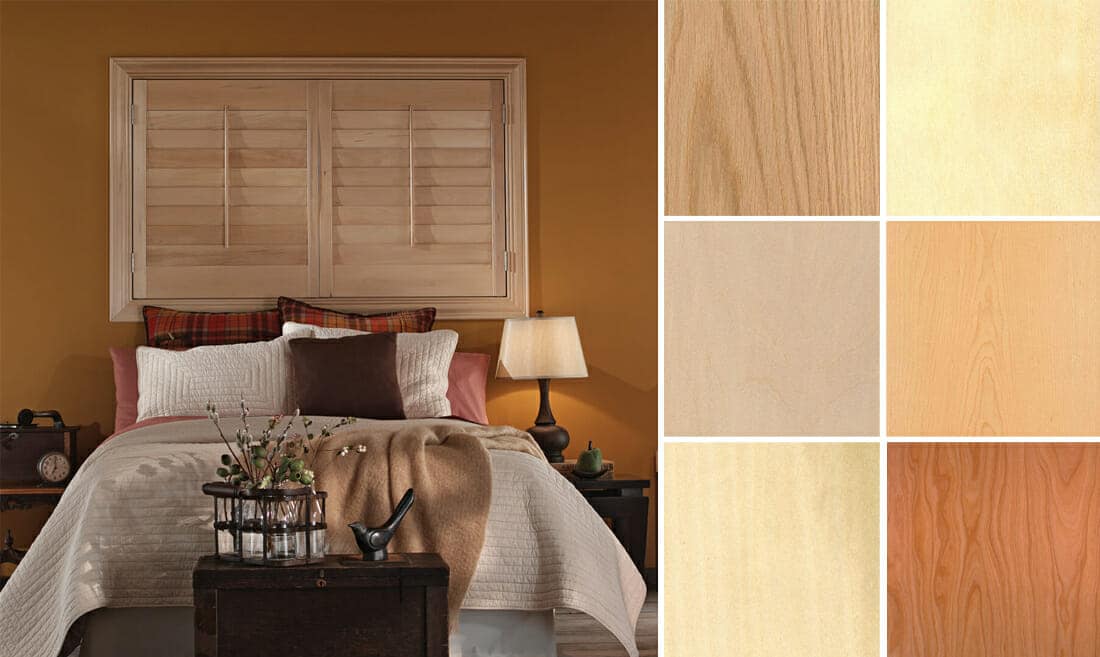 You can select a visible or hidden tilt rod to adjust shutters manually or install a motorized option to open and close your shutters at the push of a button. Norman has introduced a new shutter that is motorized and doesn't have a tilt bar or visible hinges, creating a sleek, ultra-modern look for your windows.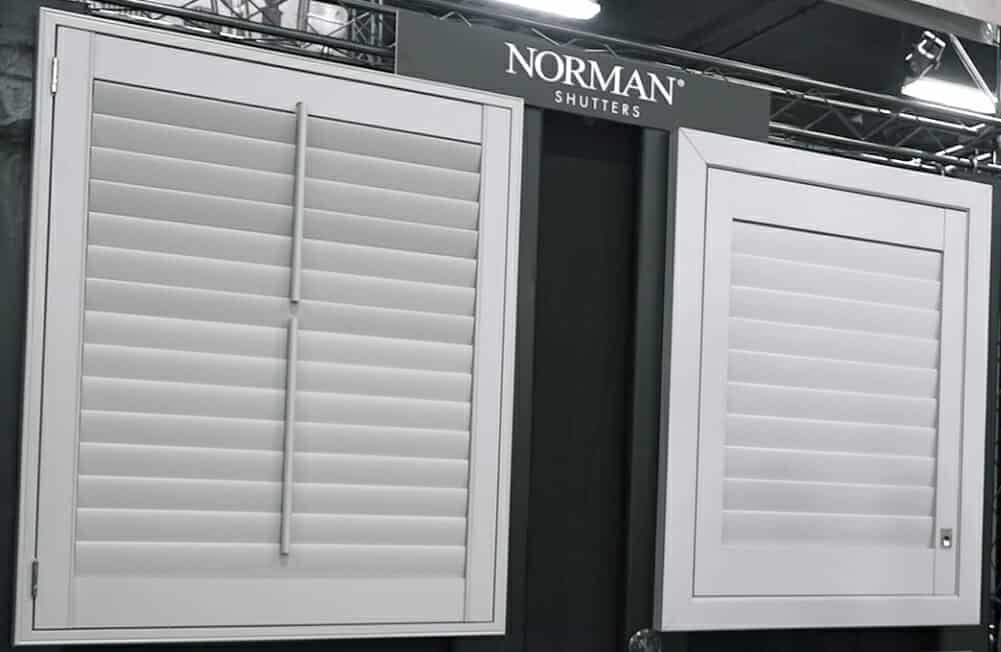 » BONUS TIP: Want the look of shutters in a high-humidity space like the laundry room or bathroom? Consider composite faux wood shutters to get the classic lines of shutters with the durability of vinyl.