As a long-term partner of Graber window coverings, 3 Blind Mice Window Covering is excited to share details about new products being added to the Graber line: CrystalPleat® Cellular Shades, and EvenPleat® and FashionPleat® Pleated Shades!
Features and Benefits of the New Cellular & Pleated Lines
THE PERFECT STYLE FOR YOU: Whether your interior design is coastal, cottage, or contemporary—or anything in between—we'll work with you to find a

stunning

shade to create your ideal space.
SYNERGY: There is now even more consistency available between light-filtering and blackout fabrics, making it even easier to maintain your home's style from room to room.
STATE OF THE ART QUALITY: At every step, the new, more precise Graber manufacturing process ensures the

highest quality

product from fabric to shade operation. New, automated measuring

methods

ensure proper alignment for smooth, quiet cordless operation.
LIMITED LIFETIME WARRANTY: Graber stands behind every treatment they construct—for quality you can count on.
Let's take a look at the unique benefits of each line!
Graber CrystalPleat® Cellular Shades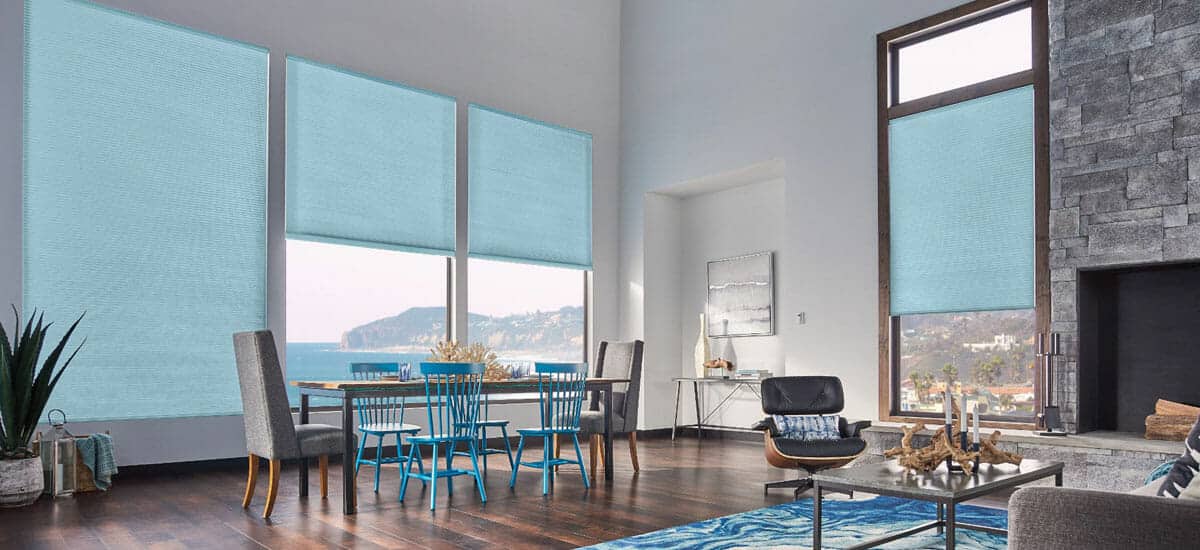 The newly refreshed Graber Cellular Shades offer the perfect balance of energy savings, craftsmanship, and style. Reimagined, re-engineered, and refined, they are the most energy-efficient treatments available from Graber. Plus, they're available in an array of specialty shapes and sizes to cover nearly any window.
The signature honeycomb-shaped cell structure is both visually interesting and elegantly practical. The honeycomb cells are designed to elegantly prevent heat loss and keep the cold air from leaking through your windows. This insulating power gives both your air conditioner and heater a helping hand, lowering your energy bills in every season.
A Cell Size for Every Window
Cellular shades are available in four cell sizes. Each size creates a specific look for your window and relates to the shade's insulation value. We can help you understand which size is best for the different rooms in your home.

The Perfect Mix of Sunlight & Privacy
Graber Cellular Shades are made from fabrics in one of four opacities. The fabric opacity affects the amount of sunlight and privacy in your room. Each textile in the sheer, semi-sheer, light-filtering, and blackout opacities creates different lighting effects in your room.

Vertical Solutions
With expansive, vertical pleats designed for widths up to 192″, Graber Slide-Vue™ Vertical Cellular Shades bring softness, color, and energy efficiency to your wide windows and patio doors. You can coordinate the vertical shades with horizontal cellular shades in the rest of your home for an effortlessly harmonious look. The vertical shades open from the left, center, or right, allowing you to select your shade stack in any configuration.
Graber EvenPleat® and FashionPleat® Pleated Shades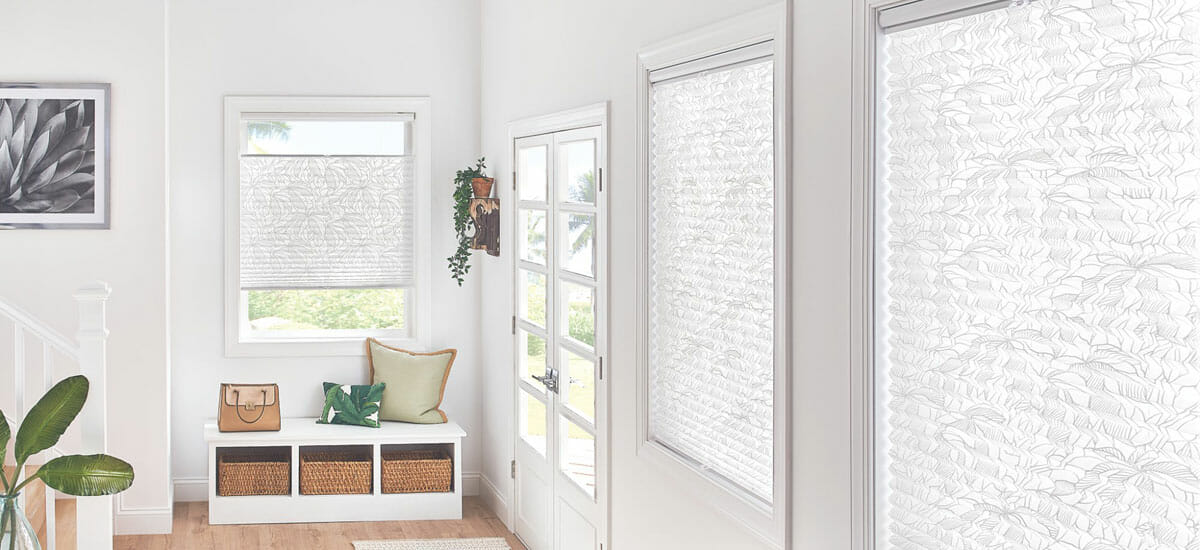 The most up-to-date textiles fold into crisp pleats to create Graber Pleated Shades—sophisticated and modern shades that beautifully filter light and extend privacy protection to your home.
Available in 1″ and 2″ pleats, Graber Pleated Shades complement windows large, small, and in between. For a freshly pressed look that lasts for years, select the EvenPleat option. Back ladder support ensures pleat performance and increases shade longevity.
Light Control, Illuminated
Graber Pleated Shades are made from sheer and light-filtering fabrics. But that's not all. Pleated shades have an additional light control option. Add a privacy or blackout liner to customize your light control and privacy further. We'll work with you to determine which combination of fabric opacity and liner is best for your space.

Flexible Solutions
Are you designing for a sunny, insulated living room during the day and a cozy, protected space at night? Or perhaps you prefer to adjust your shade as the light changes throughout the day.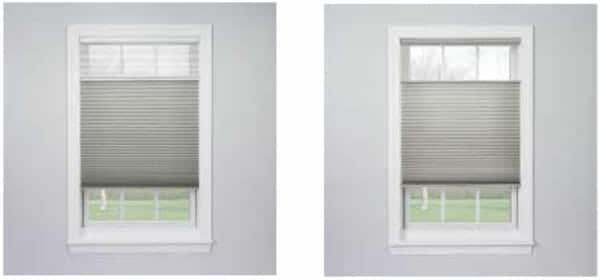 Specialty Shapes
Cover your arch, bay, corner, and angled windows with Graber Cellular or Pleated Shades. We can also work with you for specialty shapes like circles and hexagons.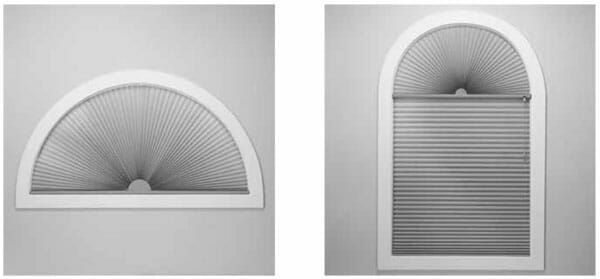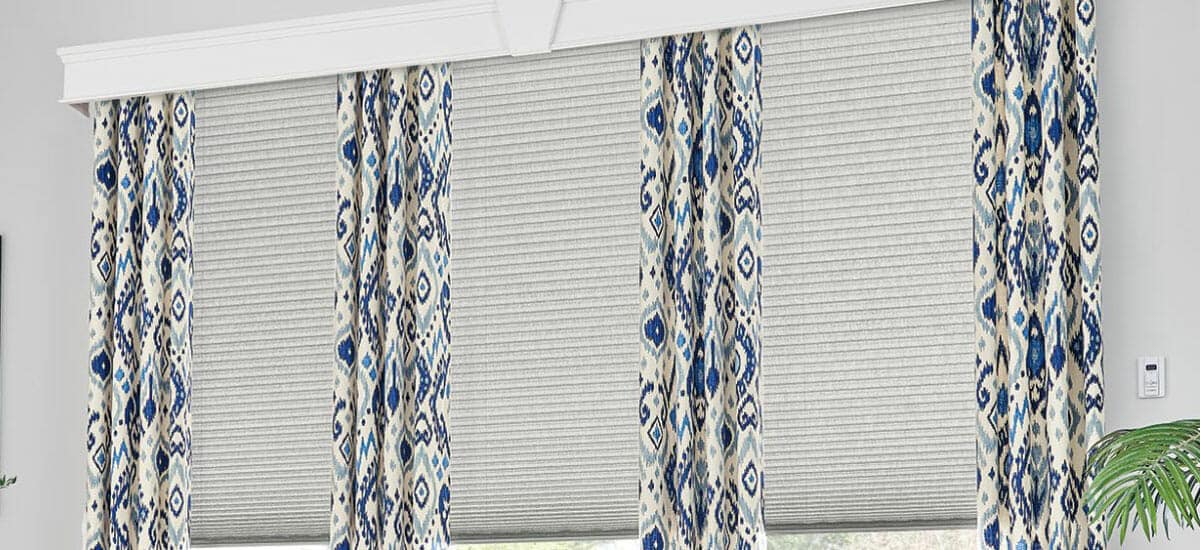 We're proud to offer you Graber's ideal solutions for every style and hope you share our excitement for the new and improved cellular and pleated shades!