Selecting the right window coverings for each room in your home can be exciting, but with so many options to choose from it's easy to become overwhelmed! Find inspiration for each room in your home, along with tips about why certain treatments work best in certain rooms.
Living Room – It's all in the layers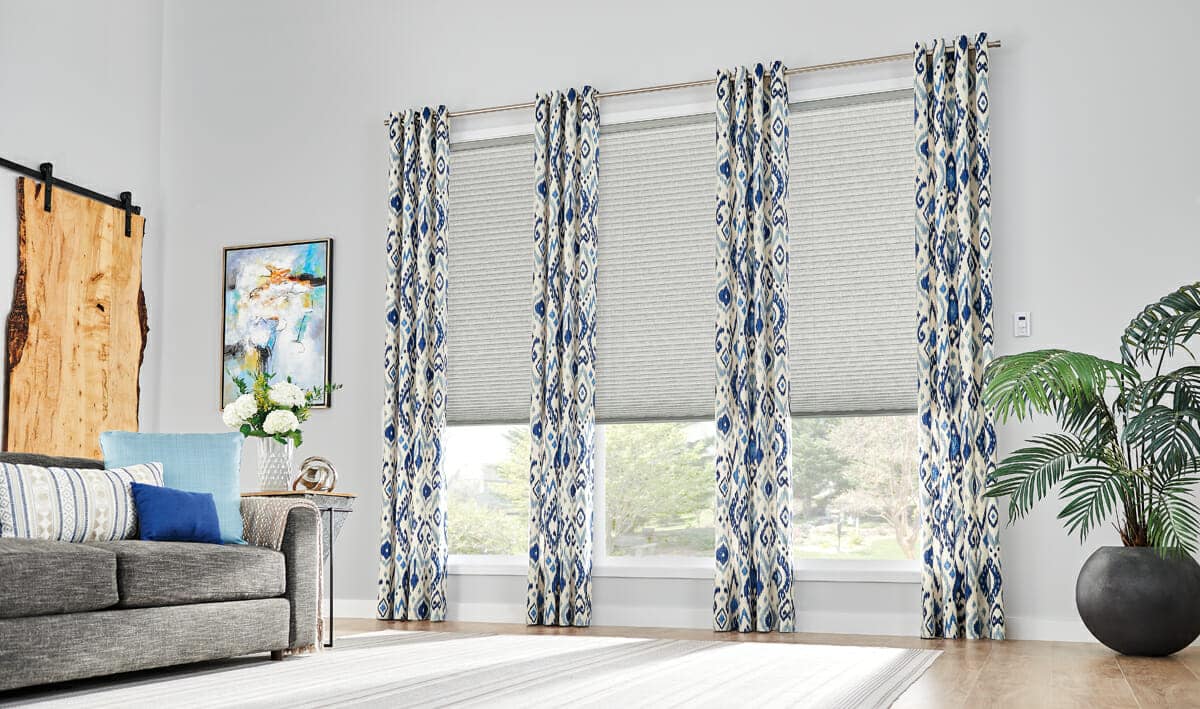 Your living room is one of the focal points of your home. Create a dramatic design statement with layered options, like this combination of cellular shades and long curtains. Dual treatments allow you to partially or fully close one or both layers, making it easy to control light levels during the day and the privacy of your home at night. Soft-to-the-touch fabric finishes create an inviting, comfortable atmosphere.
Explore This Design
Kitchen & Dining Room – Classic with a pinch of durability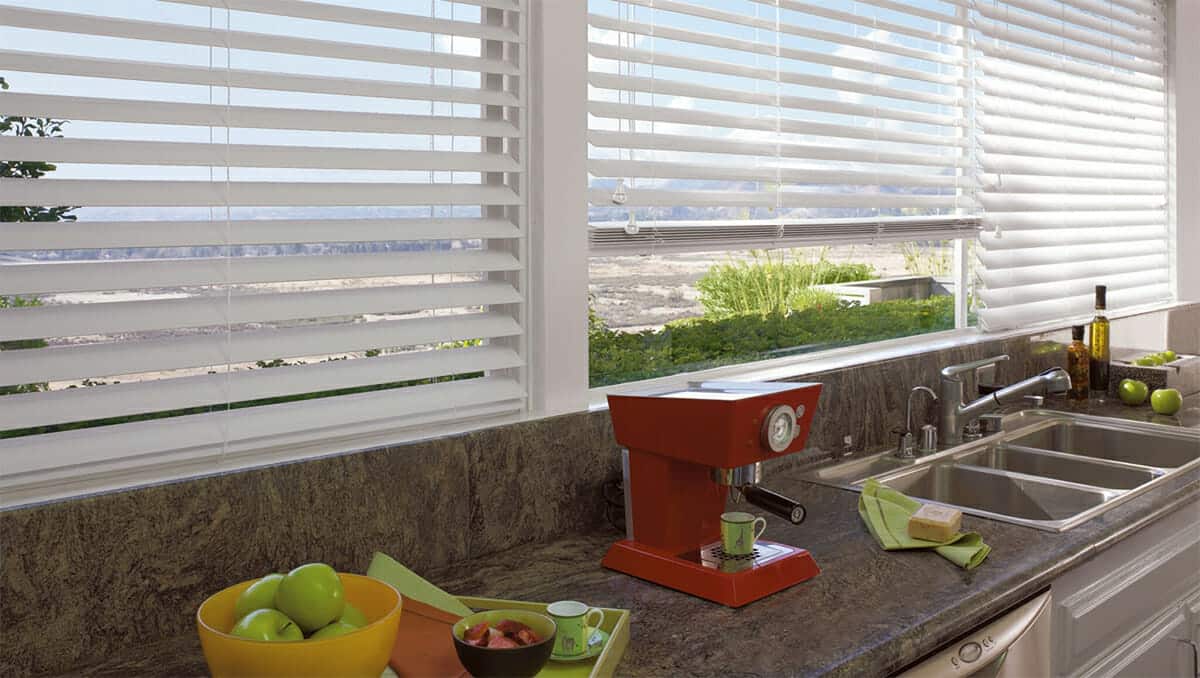 Don't give all your attention to the living room and forget about the window treatments for the kitchen and dining room! No matter the occasion, people gravitate to the kitchen. Create a classic look that's equally durable with wide-slat faux wood blinds. Unlike traditional wood blinds that can warp and deteriorate when exposed to humidity, faux wood blinds are made of composite PVC and can stand up to the everyday wear and tear of the kitchen. Don't worry about splatters, splashes, or smudges—your faux wood blinds are easy to clean and maintain for years to come. Plus, they're a great option for motorization and can be set to open and close at the push of a button, or by voice command with your smart home device.
Explore This Design
Rooms with Tall Ceilings – All the height, none of the hassle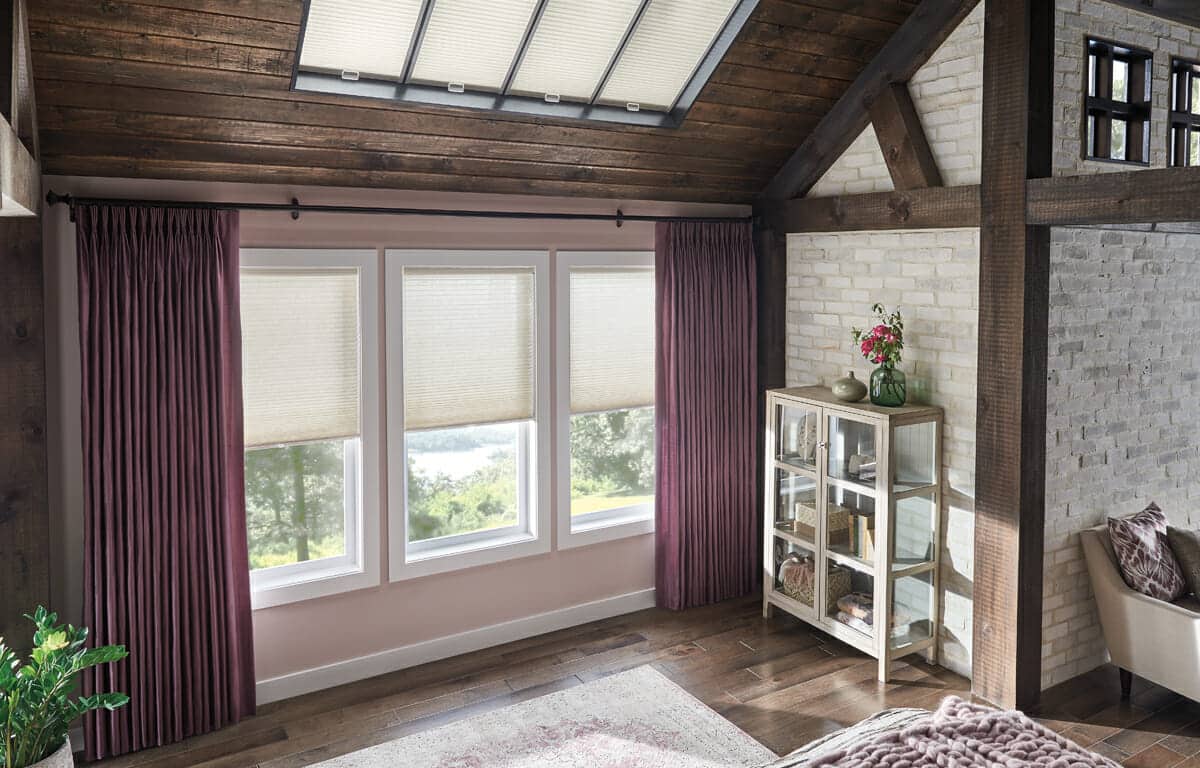 Nothing compares to the open, spacious feeling that vaulted ceilings and skylights can bring to your home! If you need window coverings for 2-story windows or skylights, motorized coverings are the best no-hassle option. Motorized coverings are available in many styles, including blinds, shades, and screens. In this example, you can see how cellular shades in a neutral color add the perfect finishing touch to a room with bold stone and wood features. In a simple room, you can create a statement with bright or rich cellular shade colors. With nearly 300 color choices available, your options are endless.
Explore This Design
Bath & Laundry Room – Steam-proof solutions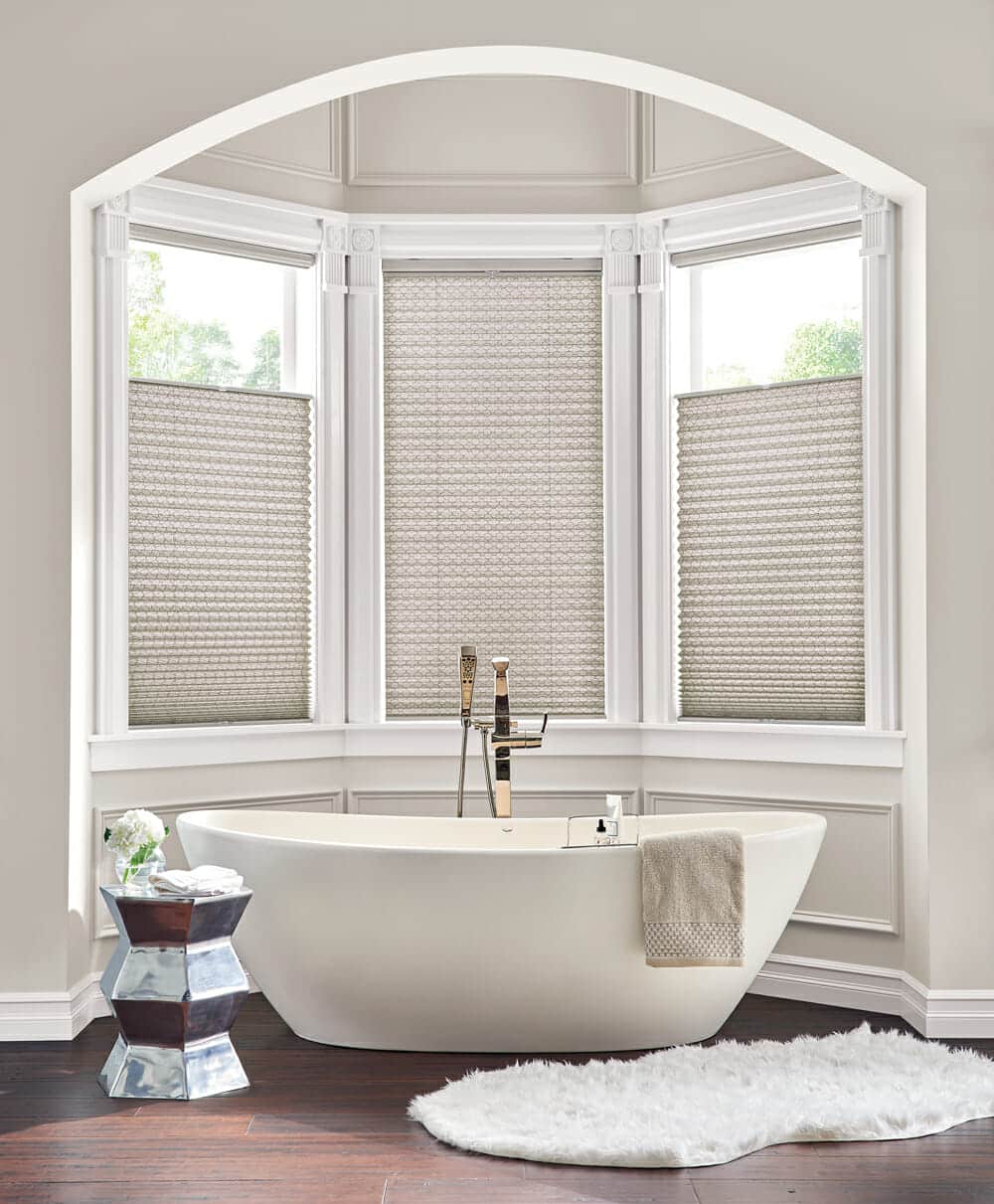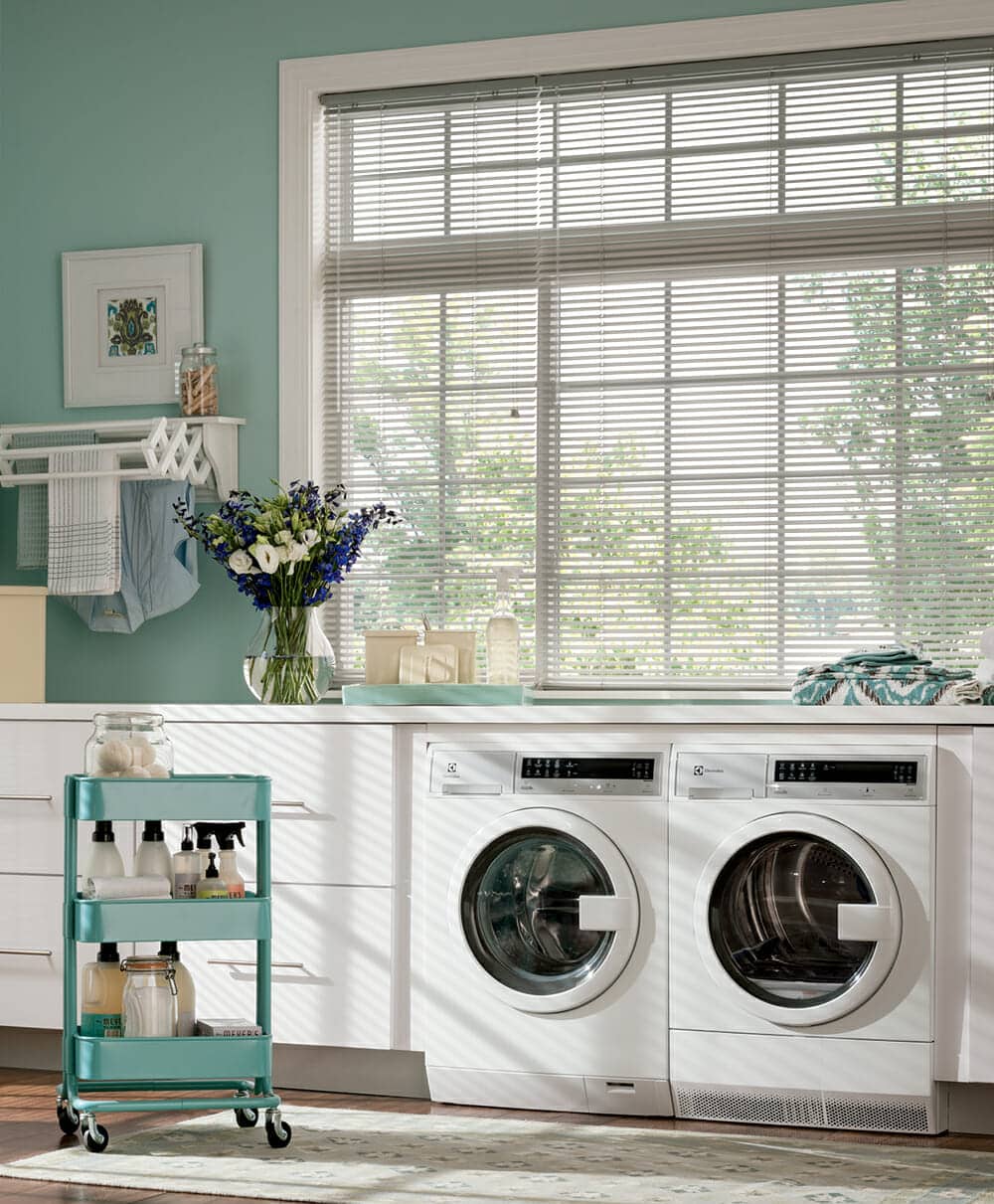 Just like in the kitchen, window treatments in your bathroom and laundry room need to be able to hold up to high humidity. Pleated shades in the bathroom allow you to control light and privacy easily, with options to raise and lower the top and bottom of the shades independently. Aluminum blinds in the laundry room provide a crisp aesthetic at an economical price.
Explore These Designs
Bedrooms – Customize the perfect night's sleep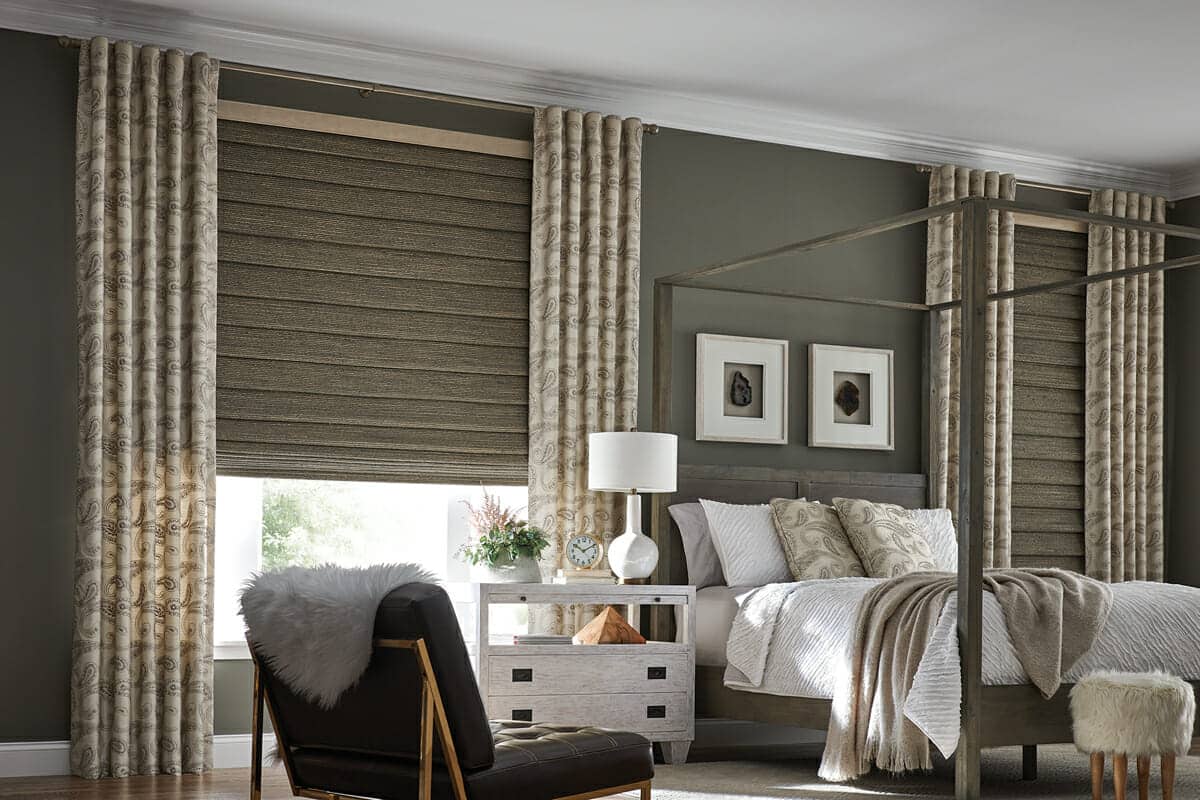 Window treatment needs of each bedroom in your home probably vary by occupant. We have a range of options to create comfort and the perfect night's sleep for everyone in your family! To ensure total darkness, you'll likely need to use layers. A combination of lined natural shades and patterned draperies not only enhances the style of your room, but it also allows you to gain full control over the light or darkness level. Double-cell honeycomb cellular shades can help your room maintain an even temperature and prevent overheating from bright morning sunshine. For safety in a child's bedroom, you'll want to consider cordless shades or motorized blinds.
Explore These Designs