How to choose the best blinds or shutters for your home
What is the best material for window blinds? That is the million-dollar question. If you're considering blinds or shutters with a wooden appearance, you're probably trying to decide if you should install faux wood or real wood window treatments. Let's take a look at the differences between the two choices and the advantages of each to help make your decision a little easier!
First, let's take a look at what types of window coverings are available in real wood and faux wood finishes.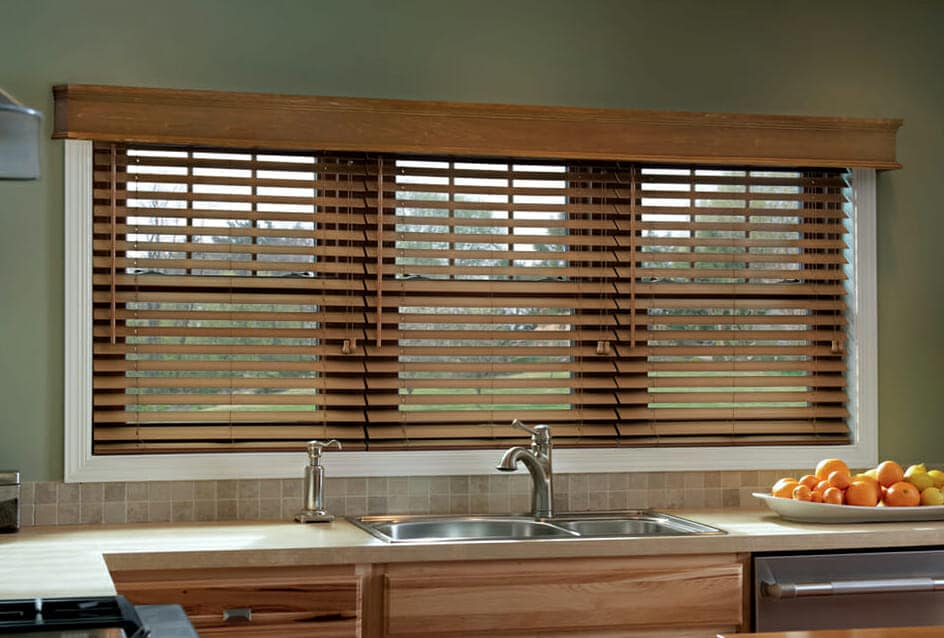 Is Faux Wood Blinds Better Than Real Wood Blinds?
We get this question a lot, and the answer is: it depends!
When choosing the perfect window treatments for your home in California, you'll need to consider the unique needs of each room. High humidity can result in warping, cracking, and sagging of real wood blinds over time. This means that composite or faux wood blinds and shutters are the better long term choice for these rooms. Additionally, constant strong sunlight can result in discoloration of real wood blinds, so we recommend against installing wood blinds in full exposure windows. Faux wood blinds and shutters are incredibly durable and can withstand humidity, intense sunlight, and frequent use with ease.
Aside from these factors, your personal preference also plays a significant role. Do you prefer the classic, warm appearance of real wood grain? Perhaps you'd like to make a statement with faux wood blinds in a bold accent color. Fortunately, there are many options for custom stain and paint colors in both real and faux wood window coverings.
What is the difference between wood and faux wood blinds?
advantages of
Faux Wood Blinds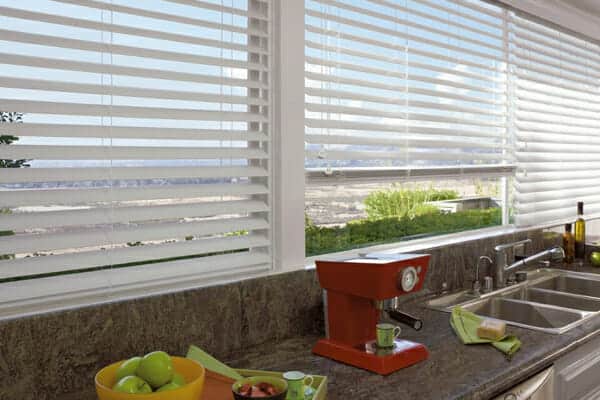 » A great way to get the luxurious look of real wood at about 15% less cost
» Faux wood blinds are produced of either a PVC/vinyl material or a composite wood material
» PVC/vinyl and composites are extremely durable and easy to clean and care for—all you need is a feather duster, soft cloth, or vacuum with a brush attachment
» Great for rooms with heavy (or messy!) use, like kids' rooms and the kitchen
» Excellent for high humidity environments like a bathroom or laundry room
» Resistant to extreme temperatures, making them a good fit for rooms with strong sun exposure
» Unlike real wood, faux wood blinds are far less susceptible to cracking, sagging, and discoloration from the sun
» Can be painted to match any color scheme to coordinate with your home decor
advantages of
Real Wood Blinds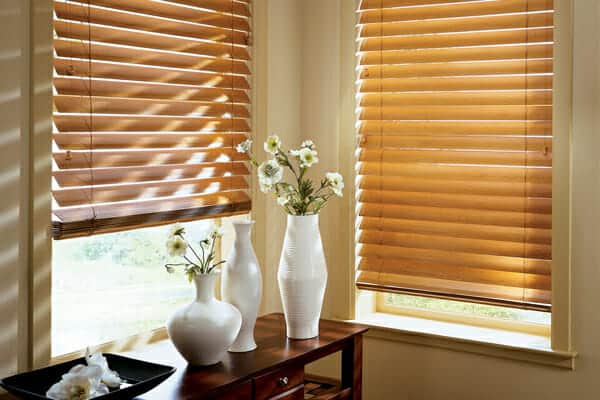 » The most popular option in the horizontal blind category
» Creates a natural, organic look in the home that is difficult to replicate with faux wood
» Real wood is lighter weight than composite materials, so that the lift mechanisms may last longer due to less wear
» Commonly used basswood is a renewable resource that comes from rapid growing trees and is farmed locally in the USA
» Available in many different wood stains, types of wood and colors
» Real wood adds a unique beauty and warmth to your home
» Can be stained or painted to match your home's decor
What do real wood blinds and faux wood blinds have in common?
» The Finishing Touch: Both real wood and faux wood blinds or shutters give your home a classic, elegant look inside and out, adding to your home's value and curb appeal.
» Consider Color: Whether stain, paint, or vinyl, a lighter colored blind will reflect more light, creating brighter rooms. A darker slat will absorb more light.
» Automate Your Home: Motorize your blinds or shutters and set your system to open and close the tilt of the window blinds automatically when the sunlight hits your windows. This will decrease the amount of light coming through your windows and help reduce your home cooling costs. Plus, going cordless creates a safe environment for children and pets.