Blog Post Updated 1/30/2021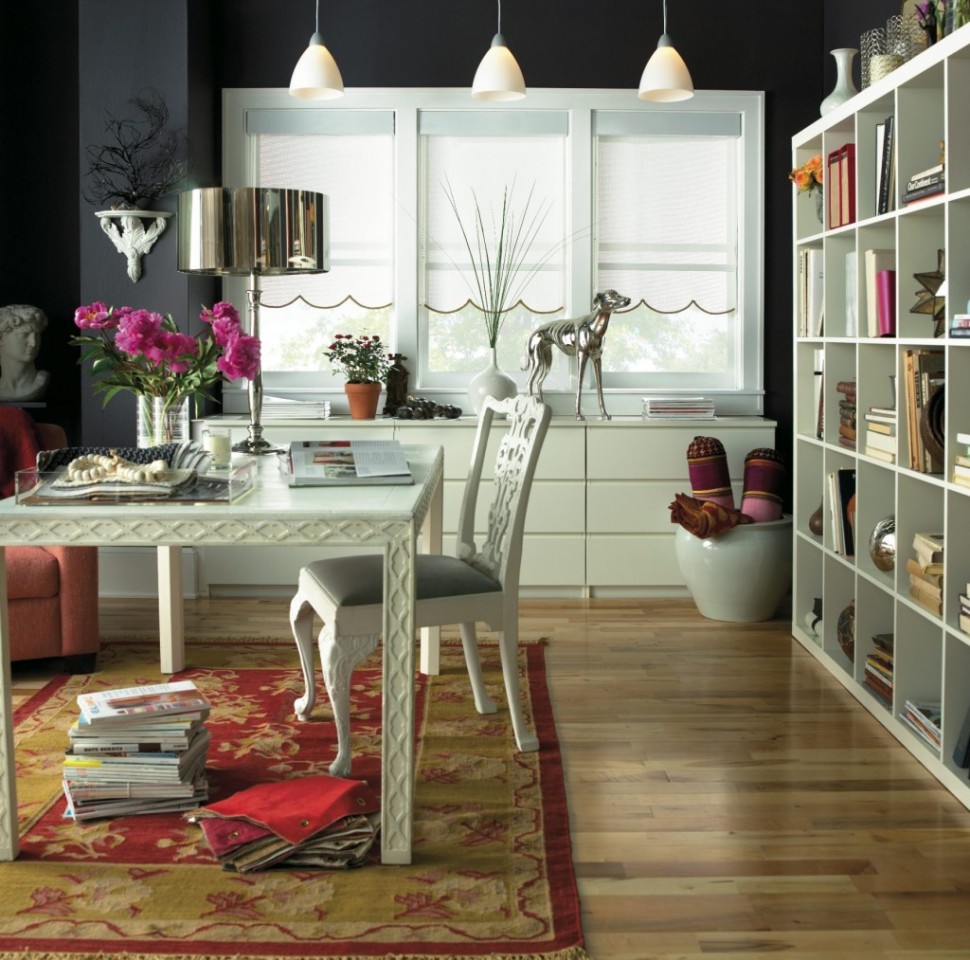 Roller shades and solar shades are two of our most popular window treatment options. There is a good reason why you see both treatments everywhere; commercial buildings, condos, and homes all over the West Coast, where the sun shines strong. If you want clean, sleek lines, roller/solar shades are for you, but how are they different? The district purpose? To determine how well they will work inside your home, we'll explain the characteristics of both.
Roller Shades Explained
At its basics, roller shades are effortless window coverings that utilize a solid sheet of material brought down with a roller function. Like a paper towel roll, the tube in the middle turns, and the material expands in length as it's pulled down. When the roller shade is pulled in the opposite direction, the material shortens by wrapping around the tube.

As simple as they appear, these treatments have come a long way since their popularity decades ago when only stiff vinyl options were available. Now both conventional roller and solar shades come in a wide range of styles, colors, textures, and patterns designed to match any home decor. The continuous cord loop lift provides a clean look and the addition of a cassette valance will conceal the roll at the top of the shade for a finished look.
Can you see through roller shades?
Traditional roller shades cannot be seen through in both directions. They offer excellent privacy when closed, and you'll have to open your shade to see out, giving you varying degrees of light control.
Do roller shades look cheap?
Roller shades are among the most affordable options for window treatments. With extensive fabrics and materials selection to choose from, we can create different looks for every taste and style.
What color roller shades should I get?
You can get roller shades in any color with patterns and shapes because of the fabric material. There are many ways to select the right color for your home; the world is your oyster! Typically we start with the following areas:
Match to the window trim and molding

Coordinate with wall color

Compare to flooring or other existing fixtures

Choose a contrasting color found in the space
WHAT ARE SOLAR SHADES
Solar shades, also known as UV Protection Shades, Sun Shades, or Solar Screens, have a similar appearance as roller shades, with no veins or slats and a single sheet of material pulled up or down via roller and functions as a window covering. As the name implies, solar shades' functional goal is to block harsh UV rays coming into your space, which in return, allows you to regulate the temperature in your home in the end. Light filtering functionality makes solar shades an excellent treatment option for windows in homes exposed to the sun. Solar shades also protect us against harmful UV rays, help reduce glare, prevent furniture and carpets from fading from the sun.
WHAT IS SOLAR SHADE OPENNESS?
Solar shades have an openness factor related to the weave's tightness and the corresponding shade percentage it provides (3%, 5%, and 10%). In general, the higher the openness factor, the looser the weave and allows more light. For example, if a shade has a 5% openness factor, it will let less light (and consequently interfere more with the view) than a solar shade with an openness factor of 10%.
Do solar shades provide privacy?
By nature, solar shades do not offer privacy as they are designed to let light and air pass through open weave fabric. You can see out during the daylight; however, the passers-by cannot see into the room. This effect is reversed after dark when the room lights are on, shades become transparent, thus allowing for viewing from the outside.
ROLLER SHADES VS. SOLAR SHADE
Roller shades are made from a range of textiles, often woven light filtering fabric or vinyl, to control a room's light. Solar shades are made from a mesh material screen designed to combat the sun and block UV rays without entirely blocking the view.
Both styles of shades are so compact that they blend into any room and minimize window space. Roller shades are available with alternative trim designs for the bottom of the shade, whereas solar shades do not offer the same opportunities for tailoring the bottom edge. If you have specific aesthetics in mind, consider a custom roller shade that can be altered and tweaked to match your decor. There is a variety that helps darken rooms or control the amount of light in the room, and they do offer more privacy than solar shades.

ARE SOLAR SHADES WORTH IT?
Solar window coverings ensure that you stay healthy while sprucing up your home décor and at the same time. Some of the major pros for sun shades are:
Keeps heat out during the hot summer days

Is available in a wide variety of material, colors, and designs

Blocks harsh sunlight and ultraviolet rays from coming into your living space

Increases the lifespan of your interior décor pieces, including furniture, flooring, and carpets

Help reduce incoming glare from the sun, giving you a pleasurable TB watching experience.

Conserve energy by reducing the requirement for your AC units and other air cooling equipment

Easy to clean! A wiped down with a damp cloth or a simple sweep of a vacuum cleaner brush attachment is all it takes to clear solar shades.
ROLLER SHADE & CHILD SAFETY
3 Blind Mice Window Covering prioritizes child and pet safety offering various child-friendly lift options, from continuous-loop lift to cordless lift to smart pull lift to motorized lift, providing a safe environment for your children or pets.
We offer different control systems such as manual or cord-free lift that raises or lowers the shades using a nickel-plated chain or a poly bead that you can color coordinate with your room or sill and motorization. We can do widths with motorization as little as 14 inches or up to 40 feet wide! You have the option of standard bracketed shades (no fascia), or they can roll up to a fabric-covered cassette, wood cornice, or decorative trim, making the whole treatment look seamless and sleek.
Blackout Roller Shades
Wondering are roller and solar shades effective for room darkening? We have the answer for you. Typically, both of the shades are mounted inside the window frame, but they allow a certain "halo" effect around the edges. To eliminate, you have several options: blackout roller shade with a blackout track system that runs along the edges and bottom of the shade, or an outside mount that overlaps the sill, or drapery side panels.
Can't decide? Ask our knowledgeable window covering consultants at 3 Blind Mice Window Coverings. They will help you to choose the best option for you. Please feel free to contact us or you can call us at 800-828-2003.
Or visit our YouTube video to watch Video Demonstrations of Roller & Other Window Covering by 3 Blind Mice Employee O'D.
We have locations throughout California serving both residential and commercial needs in San Diego, Orange County, Sacramento, and Fresno.