Is Motorization the Right Move?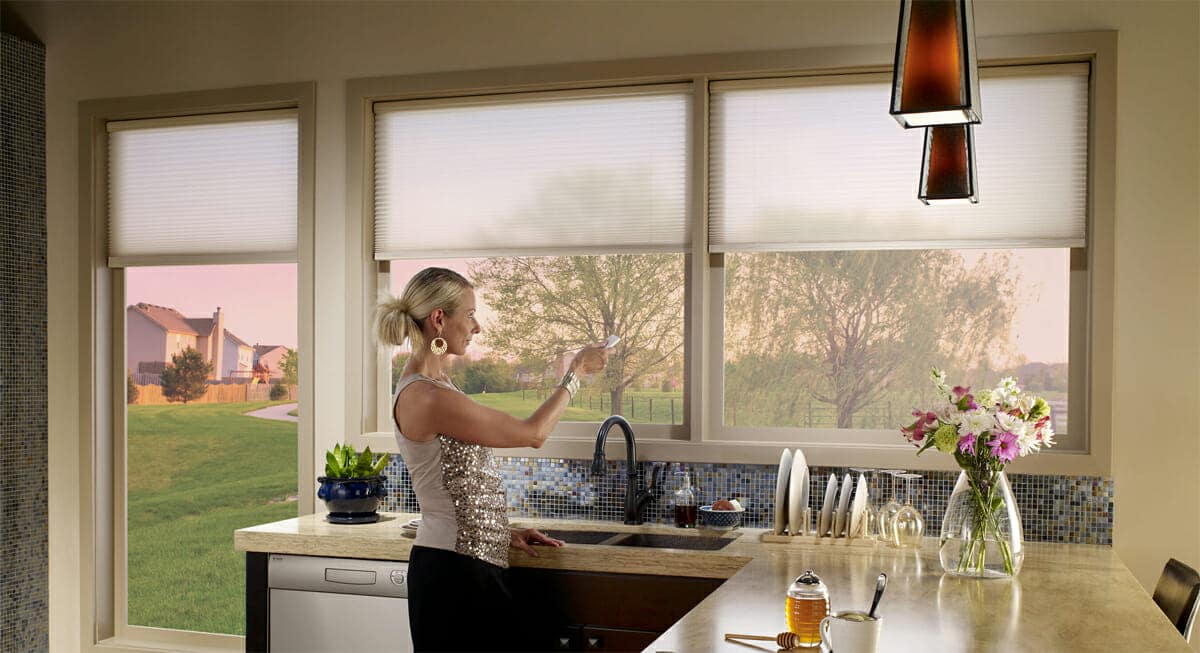 Installing motorized window coverings in your home is a powerful (no pun intended!) option for hard-to-reach windows, home automation, child safety, and overall convenience. You can easily control natural light and privacy in your home at the touch of a button. Motorized solutions can be paired with almost all window coverings including, horizontal blinds, roller shades, cellular shades, and even classic shutters.
Here are a few of the top benefits of motorized shades:
They are one of the few custom window coverings that actually increase your home's value so your initial investment may be returned to you later.
Motorization decreases the wear on your blinds—no uneven pulling or hurried tugging on the lift mechanisms when you're in a hurry or your hands are full.
It allows you to lower your shades with ease, via the push of a button, remote control, or even a programmed schedule, so you don't have to do anything.
Motorized window coverings can be connected to the smartphone and smart home technology that you already use in your daily life.
Motorized blinds and shades are cordless by design, meaning that there's less risk of children and pets becoming entwined or injured.
How Do Motorized Blinds Get Power?
After you decide you're interested in motorized window coverings, the next step is deciding how the blinds will be powered. To select the best option for your home, we're going to take a deep dive into each of the three primary power sources:
Wired power
Battery power
Solar power
Wired Power for Window Treatments
Using "wired power" window treatments means that the power comes from your home's main power supply, rather than from a battery or a solar panel. Wired power is excellent for those who never want to change or recharge batteries. Within this category, there are two groups: hardwired and plug-in.
Hardwired
Hardwiring window treatments involves running wires through the walls of your home and is most suitable for new construction, a substantial renovation, or when building an addition. It is easiest to run the necessary wires before the walls are closed and finished.
It may also be possible to wire motorized shades in existing construction. However, it depends on your home's build and insulation type. Newer homes may use spray foam insulation in the walls, and it can be difficult—or even impossible—to run wires through closed walls if this is the case.
In all cases, hardwiring power to window treatments is a job for a qualified electrician.
An electrician or home wiring specialist may be able to run wires through closed walls, depending on your insulation type »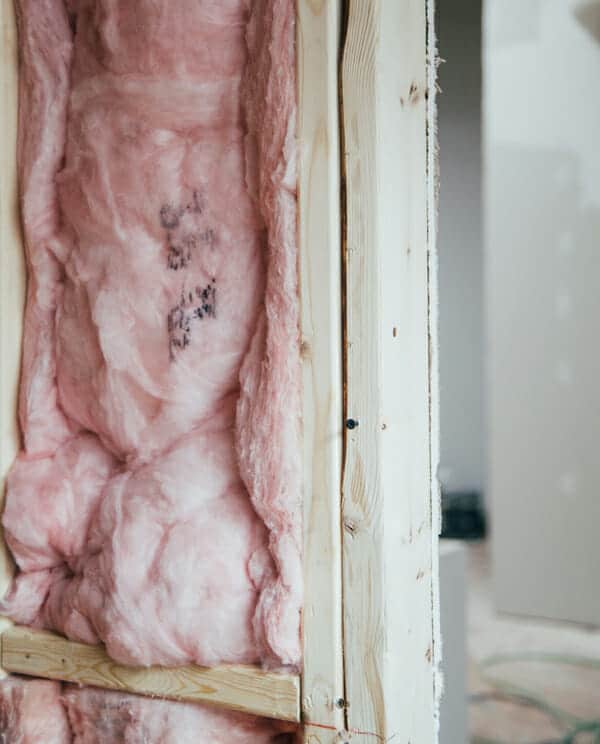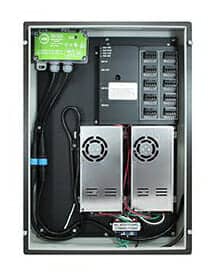 Both direct current (DC) and alternating current (AC) motors are available for powering hardwired window treatments. Generally, the lower voltage DC motors are suitable for small-to-medium window treatments. In a DC system, the wires for each shade or blind will run through the wall from the window to a central power panel, which is usually located out of sight in a utility room or closet.
For much larger windows where the shade will exceed the weight limits of a DC motor, you could consider splitting the treatment into several sections, each with their own DC motor. Or, you can switch to an AC motor, which is typically capable of lifting several hundred pounds. The use of AC motors may require adding a separate circuit within your electric panel.
» The type of motors needed will be dictated by the size of your windows and the weight of your window treatments
If hardwiring isn't an option in your home, plug-in motorized blinds are an excellent alternative. In its purest form, the plug-in option means running a power cord and transformer from the window covering to a nearby power outlet. This is a safe option to set up by yourself. Plug-in power is suitable if you're able to secure and conceal the power cords.
If this isn't possible, plug-in power could look less tidy, with power cords running from each window to an outlet. These cords can also create safety hazards for children and pets. If you have a lot of windows, this can also mean using up many of the available outlets.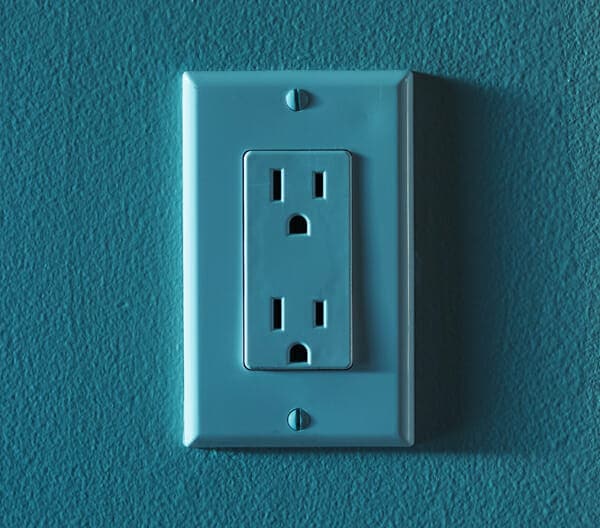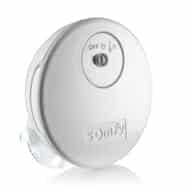 Running costs for all wired window treatments, whether hardwired or plug-in, is quite low and shouldn't have a significant impact on utility costs. In fact, you can even reduce your heating and cooling bills by setting your motorized blinds on a schedule or using a sun sensor to control how much sun and heat you want to allow into your home each day.
» The Somfy Sun Sensor executes an automated operation of motorized window treatment based on sunlight and room temperature.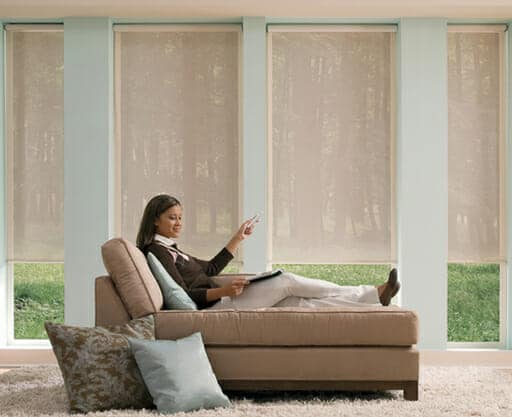 Built-In Rechargeable Batteries
Built-in rechargeable batteries are great because the power package is concealed within the treatment itself for a seamless design – no wires, plugs, or outlets. Depending on the window covering style and weight, the battery charge can usually last anywhere from 6-12 months on a charge. It takes about 5-6 hours to fully recharge the battery. Because most rechargeable batteries wear down a little over time, older batteries may need to be recharged more often than when they're brand new. To recharge the built-in battery, you'll simply connect the power cord to the battery and plug it into the nearest outlet.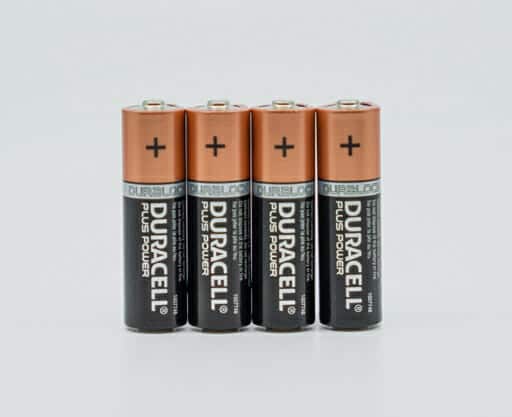 External Non-Rechargeable Batteries
External non-rechargeable batteries are battery cases that must be plugged into the shade and require replacing once they expire. There's no recharge time needed, since you just replace the old batteries with new ones. However, if you have lots of windows this can end up being an expensive option over time. Standard and Lithium AA batteries are typical for this option, and the motorized systems are very efficient so that battery replacement is minimized. 1 year is a common lifespan, but some companies report up to 5 years between battery replacements!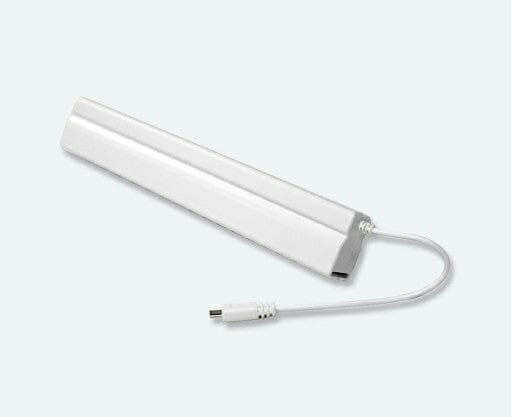 External Rechargeable Batteries
External rechargeable batteries, like external non-rechargeable batteries, need to be wall-mounted or concealed behind your shades. They have several advantages over the other battery types. Unlike internal rechargeable batteries, external rechargeable batteries can be replaced entirely if the battery stops accepting a charge or becomes less effective with time. You can also keep a few extra packs charged and ready so that you can swap them out quickly when a window starts to run low. They are higher powered than many other batteries, meaning they can power more substantial window treatments.
Solar Powered Window Treatments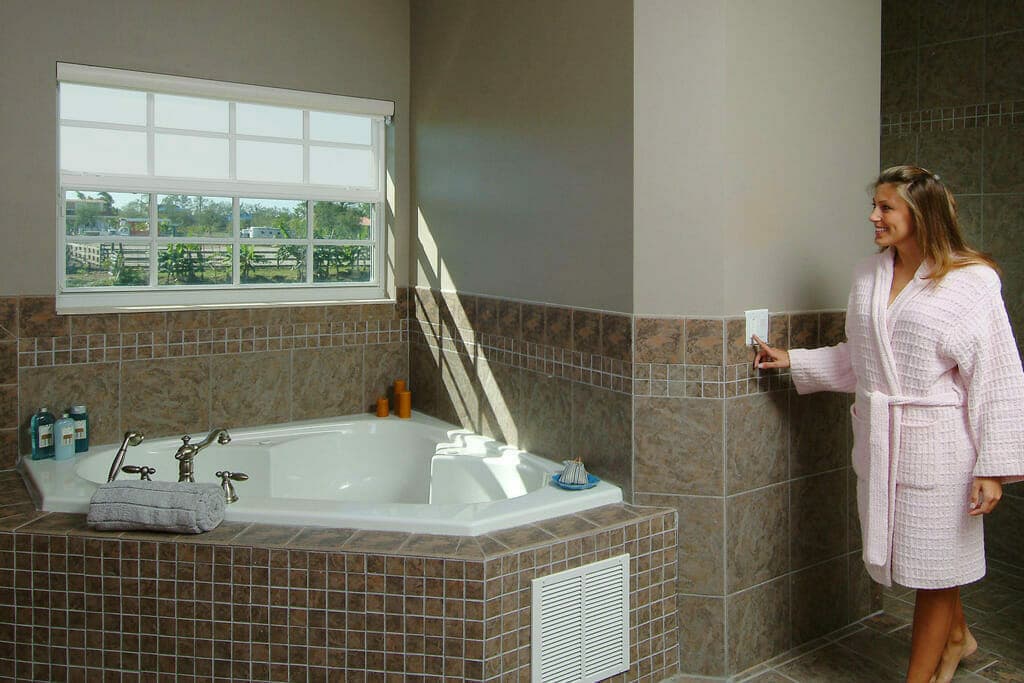 The last option for motorized window treatments is solar power. This is suitable for windows that get at least 6 to 8 hours of direct sunlight per day. Solar powered window coverings include a compact solar panel that is positioned in the window, behind the shade. The solar panel is connected to a rechargeable battery which is trickle-charged all day by the panel.
The solar power option is best suited for light- and medium-weight window coverings that are only opened and closed once per day, as the power and capacity with these systems is generally lower than battery-powered options. Solar batteries usually last between two years and four years but can be easily replaced.
Controls & Operations for Motorized Blinds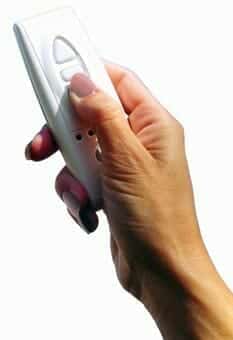 Nearly all motorized window coverings are operated using radio frequency (RF) via remote control or a push-button control panel. Similar to a garage door opener, the RF remote will work from a distance of about 65 feet. There are single-channel and multi-channel remotes available. Single-channel remotes control all shades at once, while multi-channel remotes allow you to control different windows independently.
If you don't want to use a remote, wall switches, timed schedules, and sun sensors are alternative options. Wall switches or push-buttons are a great option if you don't want the hassle of finding the remote. Timed schedules work similarly to a programmable thermostat: set the open and close schedule based on your lighting and privacy needs and the timer will automatically raise and lower your blinds. Sun sensors can be set to automatically close or open the shades when temperatures rise or fall. This seasonal response can help reduce your energy costs.
There are also smart home integrations available with many motorized systems. This allows you to operate your motorized window coverings from an app on your phone, or to use voice commands with Google Home or Amazon Alexa.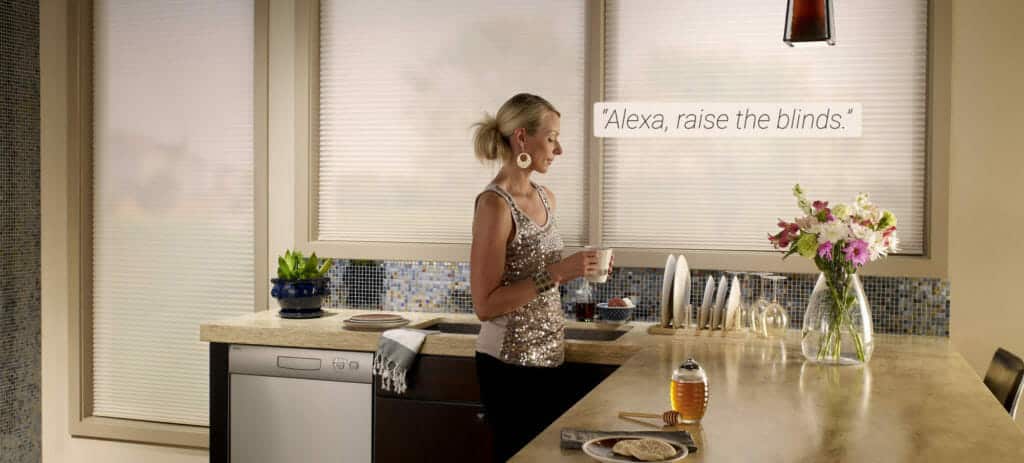 What's the Best Power Source for Motorized Window Coverings?
As far as long term maintenance and utility costs, hardwired power is hard to beat. No batteries to recharge or replace, and have few restrictions for window treatment type or weight. However, hardwiring motorized blinds may not be cost-effective in existing construction. In this case, both battery-powered and solar-powered options can be an excellent solution with moderately low maintenance requirements. As technology continues to improve, batteries last longer, charge faster, and can power larger motors.