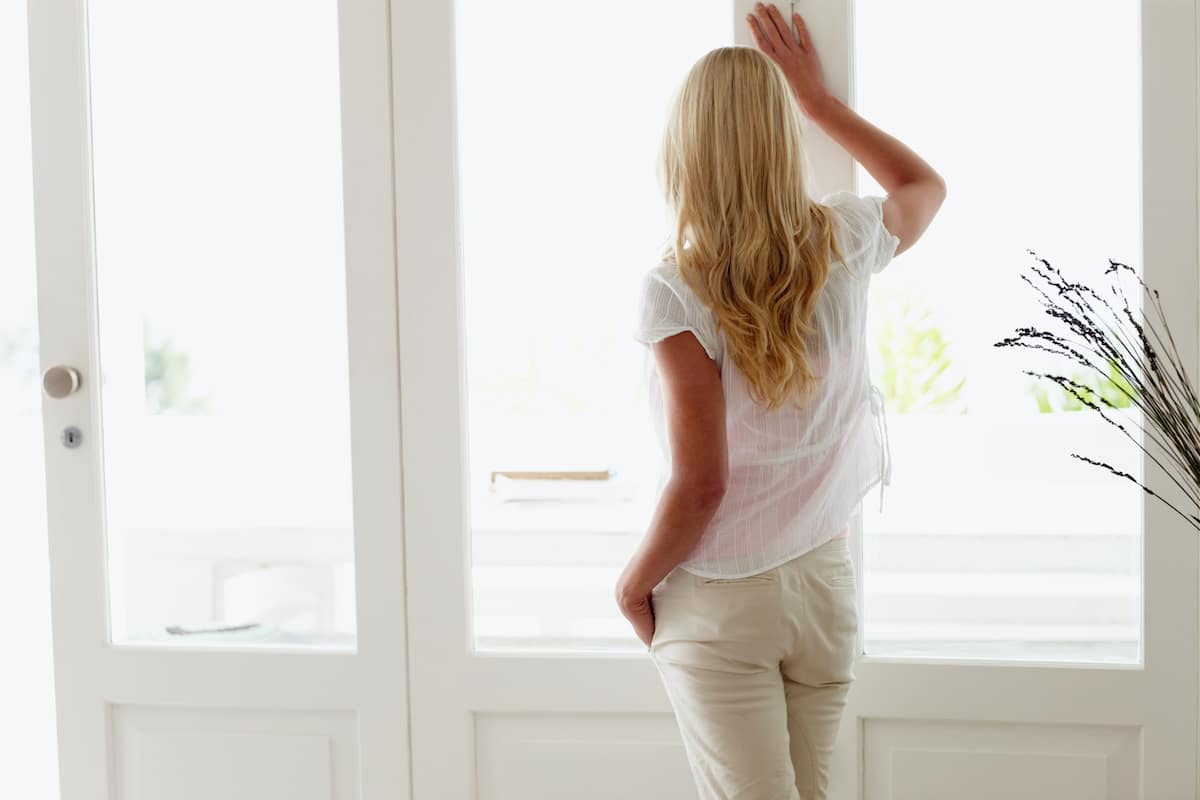 Are you feeling insecure about your window treatment knowledge? Maybe you consider yourself a low-key window covering pro…or perhaps anything window-related is entirely new to you.
No matter where you stand, you have come to the right place. In this comprehensive guide, you will find the know-how, the how-to's, the window terminology, the top window covering picks, and the basic knowledge to help support your next window treatment journey. Think of us as a go-to maestro for all your window treatment solutions. Whatever your needs, we've got you covered.
EVERY TYPE OF WINDOW TREATMENT YOU CAN DREAM OF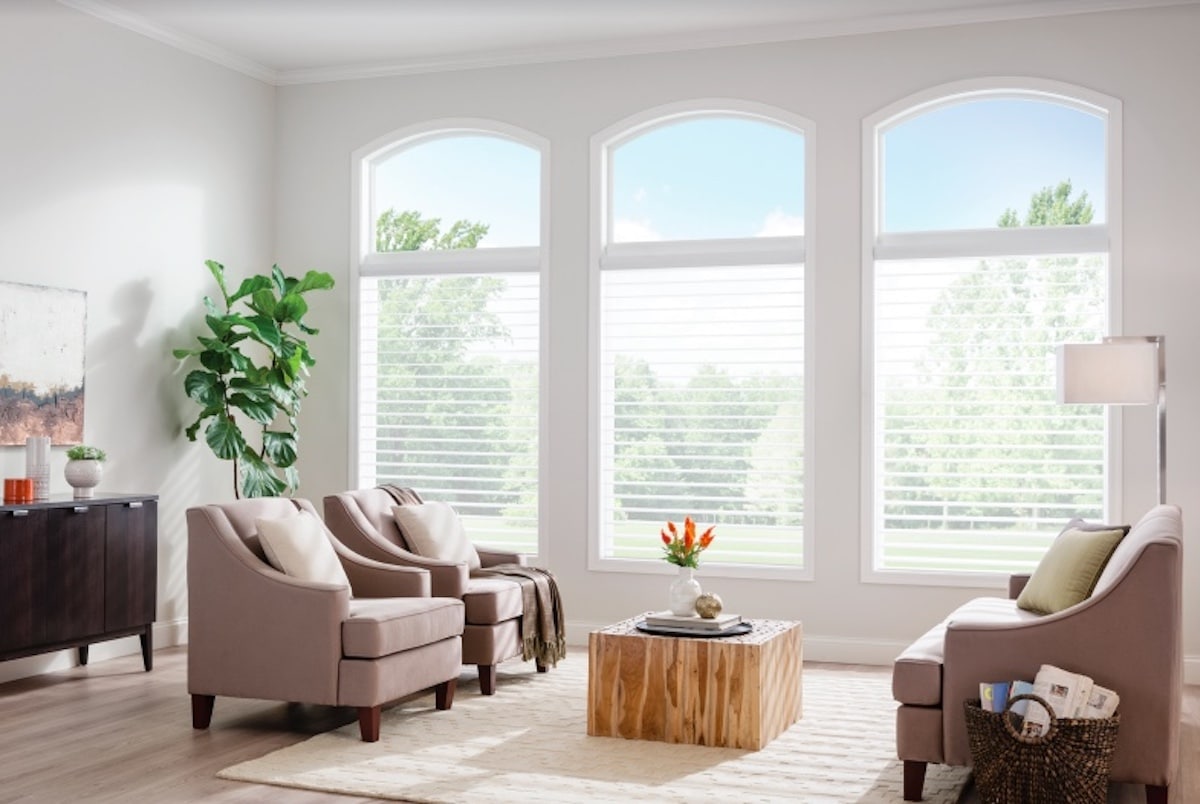 First, let's dive into the different types of window treatments you can choose from and purchase. Here is a list so that you can familiarize yourself with names as you read further.
Blackout Shades
Cellular Shades
Motorized Shades
Roller Shades
Roman Shades
Sheer Shades
Woven Wood Shades
Aluminum Blinds
Faux Wood Blinds
Horizontal Blinds
Motorized Blinds
Vertical Blinds
Wood Blinds
Arched Shutters
Faux Wood Shutters
Wood Shutters
Door Shutters
Black Out Curtains
Sheer Curtains and Drapes
Yep, there are a lot of choices! We have created the ultimate, easy-to-read guide so that by the time you are done reading, you will know everything there is to know about window treatments – that's a 3 Blind Mice promise.
Let's break down each window treatment type with a definition, so you have it all in one place.
Blackout Window Shades – create a barrier to completely darken your room and give maximum light control and total privacy. Blackout shades are a multi-functional window treatment that blocks light, noise and helps reduce energy costs.
Cellular Shades (also known as Honeycomb Shades) – energy-efficient shades that are one of the more popular styles. Shaped like a honeycomb, the cells filter air and can be opened from the top and the bottom.
Motorized Blinds and Shades – a modern and convenient solution that allows the ability to open or close the shades or blinds with the push of a button or by flipping a switch.
Roller Shades – offers a minimal, sleek look with a simple operation for light and privacy control.
Roman Shades – typically a flat piece of fabric with accordion-like folds that come together when the lift mechanism is operated.
Sheer Shades – Sheer shadings are unlike any other window treatment product on the market today. These window fashions combine the advantages of shades and blinds in one design.
Woven Wood Shades – a unique blend of wood, reeds, grasses, and bamboo; the perfect combination of traditional, casual styling and natural materials with an organic feel.
Aluminum Blinds – versatile and a perfect complement for any room in your home with metallic and pearlescent, linen and matte finishes, and textures.
Faux Wood Blinds – the best of both worlds – the feel of traditional wood blinds with a budget-friendly price tag. Made out of composite PVC, faux wood blinds are more durable when exposed to humidity compared to genuine wood.
Horizontal Blinds – a style of window covering with movable slats resting in a horizontal orientation.
Vertical Blinds – blinds with moveable slats that hang in the vertical orientation.
Wood Blinds – the most popular option in the horizontal blind category, our wood blind is crafted with unique woods including Poplar, Basswood, and a few exotic kinds of wood.
Arched Shutters – a favorite solution for arched-shaped windows. Custom-built and stained to fit any size window existing decor.
Faux Wood or Vinyl Shutters – constructed from synthetic polymers or PVC. This wood composite shutter style is heavier than real wood shutters, but they are also extremely durable.
Wood Shutters – classic hardwood shutter-style crafted with oak, maple, cherry, basswood, aspen, or poplar, and can be custom stained.
Door Shutters – a perfect solution to cover your sliding glass and patio door.
Black Out Curtains – made from tightly woven dense materials. Help achieve complete darkness in a room by blocking out 99% of incoming light.
Sheer Curtains and Draping – semi-transparent material that provides a limited amount of privacy. Great for homes or rooms that lack windows.
Phew! Next, how to use each of these window fashions in various ways to find what fits best for you and your home.
WINDOW COVERINGS MAKE A DIFFERENCE IN THE HOME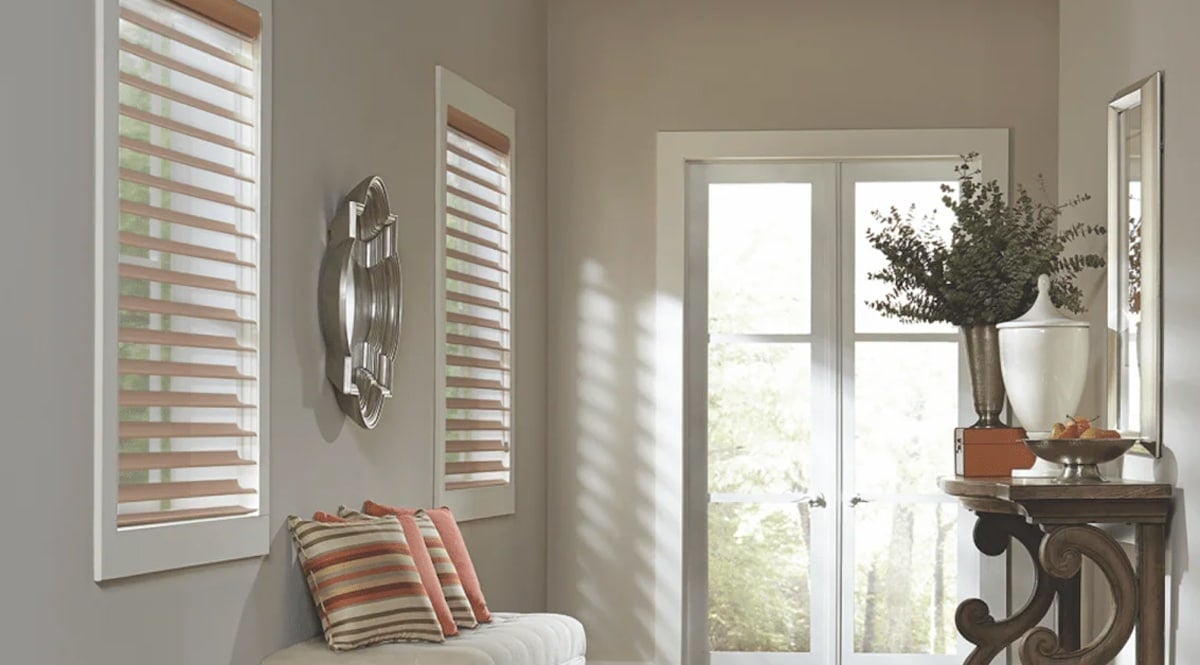 Have you recently stopped to notice the window treatments in your current environment? Open, close, up, down, more light, less light, day and night…windows are a basic element that we use in our everyday lives, often without noticing. In a way, that is the whole point. The window treatments in your home should be a seamless detail that works with you to provide the exact amount of light, privacy, and style you desire. The right window treatment will do just that.
The type of residency, be it a single-family household, apartment, condo, vacation home, determines the need for functionality for the window treatments. Each room calls for specific window coverings. As easy as it would be to wave our magical window wand and decorate your whole house in a fell swoop, you would notice that one window treatment does not work for every window, causing more frustration than ease.
There are a variety of window coverings that emphasize a specific functionality. From light filtering to privacy, from energy saving to heat control, there is a window treatment to solve a solution. Some are purely fashionable, which is also essential considering a home's décor. All in all, window treatments are essential to the overall function and comfort of your home. Let us explain further.

People spend the majority of their time in the main living room, bedroom, and kitchen. Each room serves as a space for different occasions – relaxation, rest, and nourishment. If the living room has big, broad windows taking up wall space, you may want more privacy without compromising the natural light during the day. In the bedroom, blocking light and sound tends to be most popular. The kitchen calls for something entirely different. If there are windows in the kitchen area, being mindful of temperature extremes, moisture, and the weather is critical.
Nowadays, home offices have become a requirement. Creating an atmosphere that helps to work from home be productive and pleasurable at the same time can be a challenge. The right window coverings can help achieve this.
The right window treatments are an excellent asset for your home. Not just in style and design, but they contribute to energy efficiency, light filtration, privacy, heat and cooling regulation, can help prolong the furniture and flooring in your home, and can help save you money on utility bills. Additionally, window treatments provide health benefits for you! How? Better sleep quality, mood-boosting aspects, productivity, and focus, are all ways optimizing the windows in your home can promote overall well-being.
WANT TO FILTER LIGHT? SELECT THESE WINDOW TREATMENT STYLES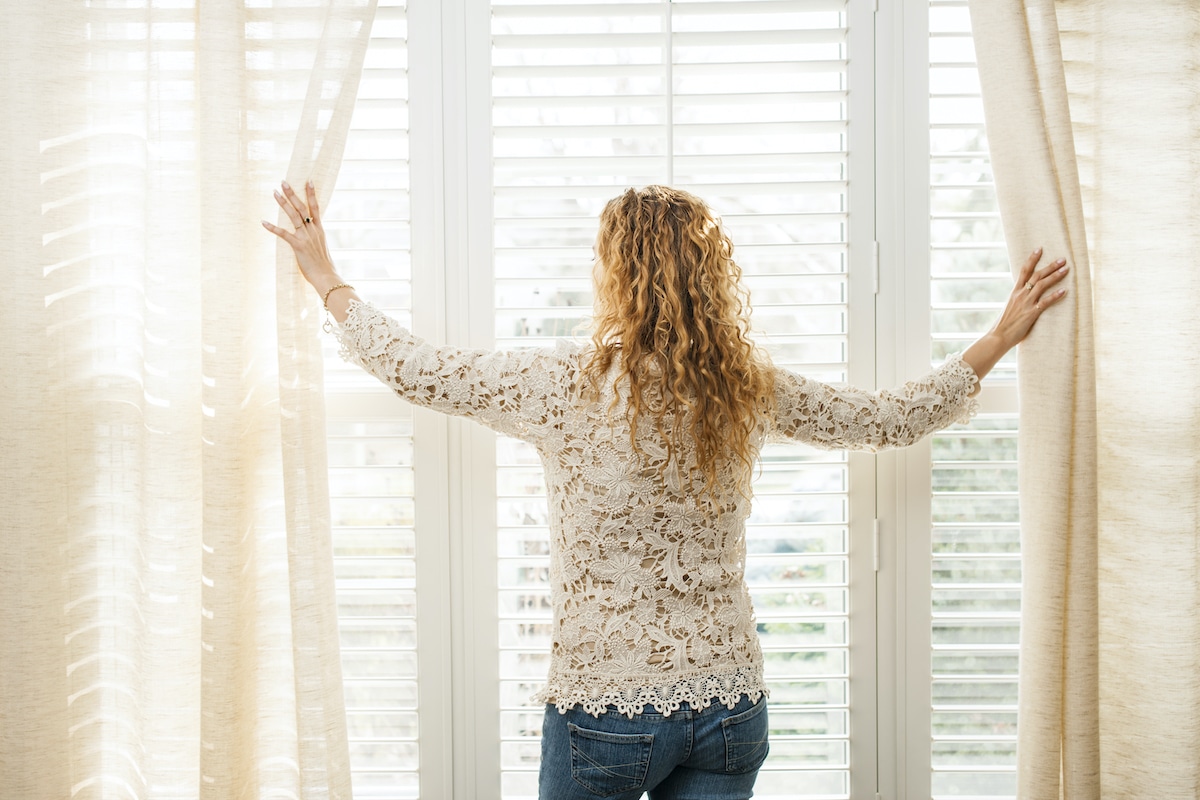 Speaking of ways to utilize windows to their fullest – filtering light is one of the main functions of window and window coverings. Knowing how much light you want to filter into a specific room or not is where you want to begin. If you are looking for ways to filter in the most natural light possible, you have plenty of options when it comes to window curtains, blinds, and shutters. Aren't they similar? What are the differences? How do you know which is the right choice?
Window curtains and drapes are a great way to fashion the larger windows in your home. While similar, curtains tend to come in more lightweight fabrics varying in thickness. Drapes are usually thicker in material to give a more concealed look. Both curtains and drapes hang long on a rod and are mounted onto the wall hanging over the window. They move from side to side along the width of the window to bring in more or less light.
Curtains and drapes can act independently, while drapes are often combined with a light curtain for more definition and flexibility. Adding a heavier drape to a sheer curtain gives definition to the window and is a great way to have more control with light levels while keeping your privacy. Layering like so requires dual window curtain rods. The sheer curtain will live on the rod within the window frame. The drape will go on the outside rod that is above the window. During the day, open the drapes for full-on natural light exposure. At night, you have the ability to draw the drapes closed for maximum privacy.
There are four levels to light filtration: sheer, light-filtering, room-darkening, and blackout which block out light completely. Decide the level of control you want based on these categories. Then you can make a covering selection that will fit the style of your home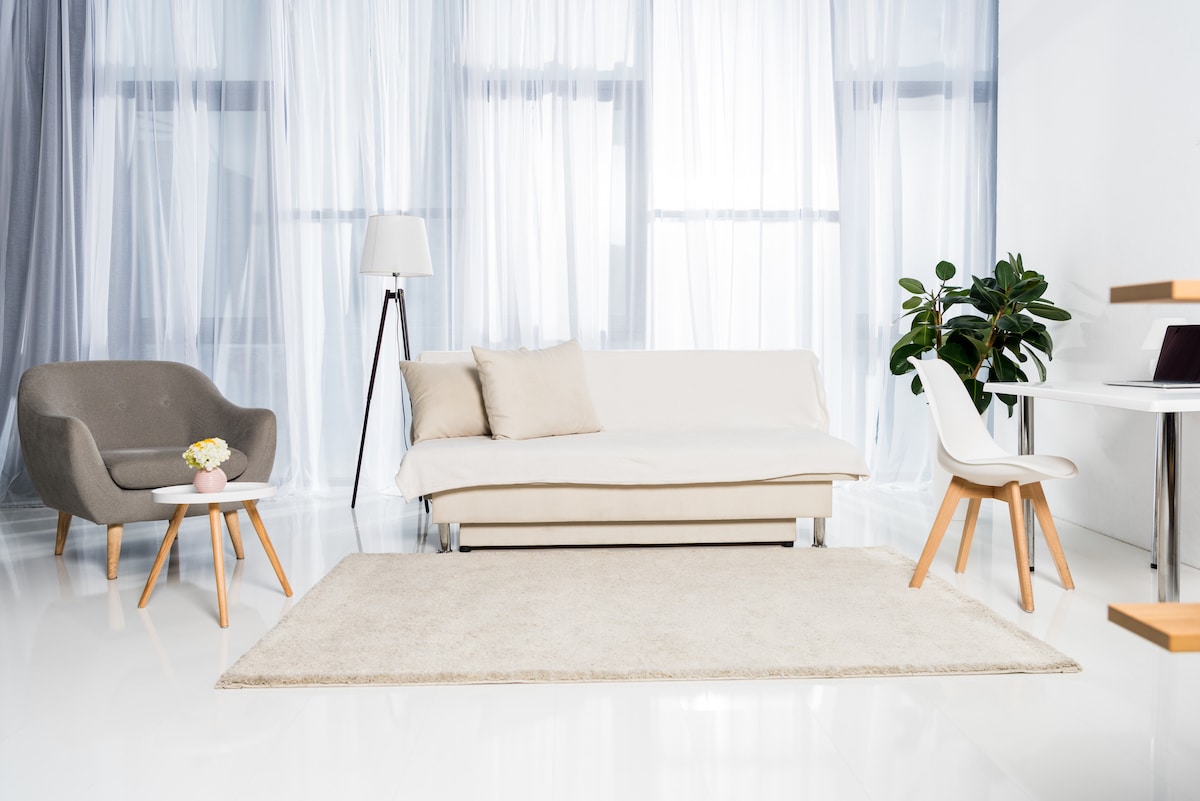 Sheer: Choosing a sheer curtain will give you the most access to natural light. Sheer and very lightweight in material, sheer curtains give slight concealment for harsh sun exposure and minimal privacy while adding increased light and airflow into the space.
Sheer curtains are great for the home office as they provide maximum light which promotes a focused mindset, energizing atmosphere, and natural Vitamin D. You no longer have to worry about the lack of sun from staying indoors during the workweek.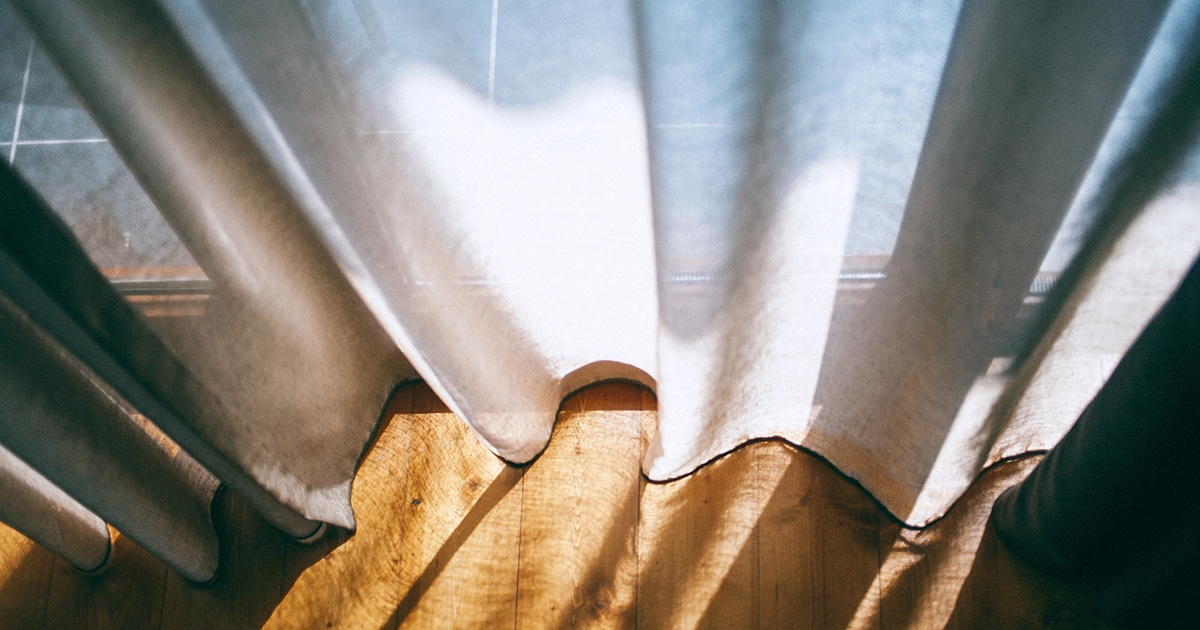 Filtering: A common selection for many rooms of the house is filtering curtains. They do what the name says and filter light at a medium level; some cut up to 50 percent of sunlight entering a room. The material is a bit thicker than a sheer curtain option, but they are not thick enough to cut out light altogether like a darkening or blackout curtain.
Filtering curtains are great for rooms used more often during the day. Since they are thicker, but not completely opaque, they will create shadows when the sun is going down. Suggested use is for rooms used less often like a foyer, dining room, or guest room.
Darkening: A more solid option that still leaves a breathable feel are room darkening curtains. Materials used for darkening curtains are woven together more tightly to lessen light filtration. They provide full privacy without weighing the feel of a room down. Because of the little space in the thread, they also help to keep your room cool during the warmer months. Room darkening curtains are most useful in the main living areas of a home.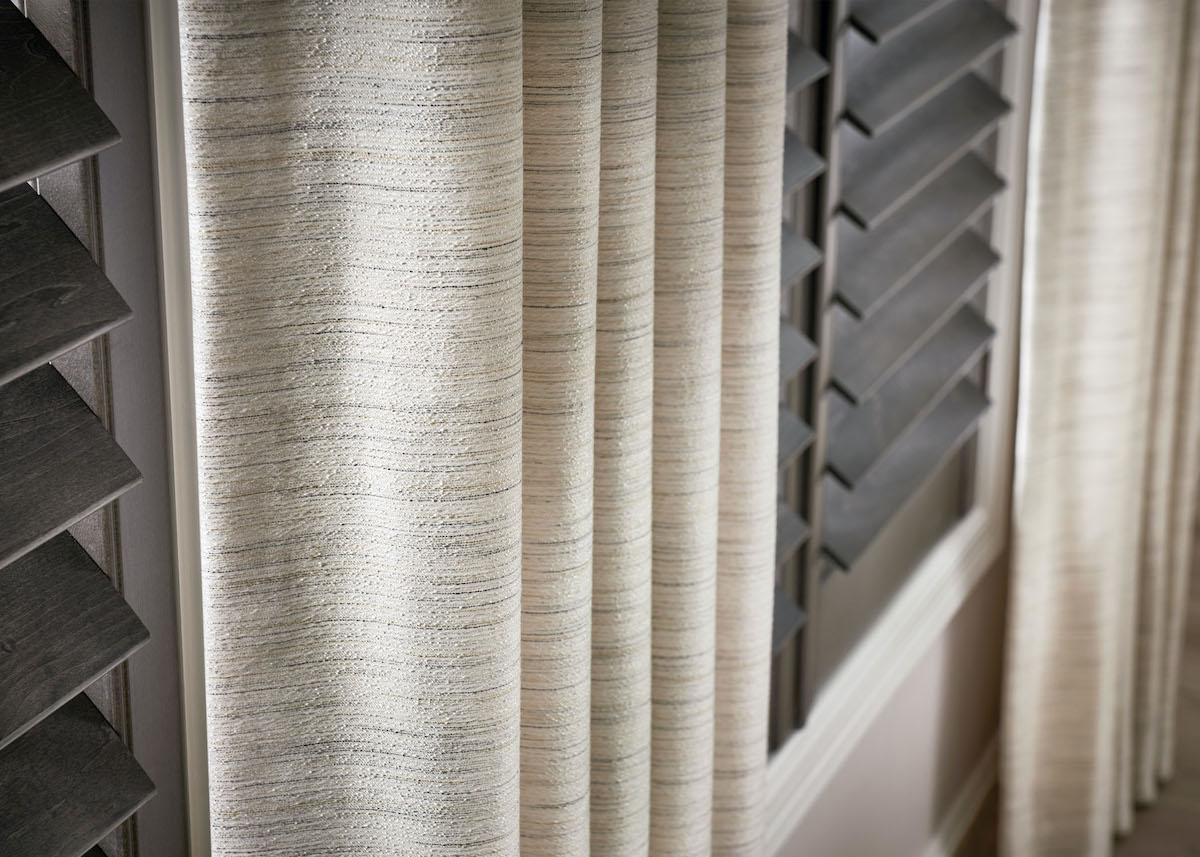 Blackout: A popular window covering for the bedroom is blackout curtains. Many people love blackout curtains because the lining that is sewed on the inside of the curtain deflects light back out keeping the room dark and cool – a perfect combo for the best night's sleep. The density in material also helps with noise reduction, another plus to a peaceful evening. They tend to come in materials such as cotton and polyester to help block light up to 99 percent entering the house. Because they block out the most light, blackout curtains can help with regulating desired temperatures and reduce your energy bills.
If you are looking for something a bit more permanent, consider a style of blinds as your window treatment.
Blinds are one of the most common window treatment options and for a good reason. They have come a long way in terms of modern design without losing their budget-friendly cost. From the traditional aluminum blinds to faux wood and natural wood blinds, from vertical blinds to motorized blinds, each can be customizable to your home and needs.
Blinds are crafted with slats that can rotate open or shut. You can then retract the blinds up to reveal more light. When opened, they allow a broad scope of natural light to pour in. When closed, the slats overlay one another to give more privacy and a fraction of the light. Horizontal blinds are the best bet if you are mostly concerned about privacy but still want the most amount of light to shine through. They can easily be paired with full-length curtains or drapes to add a bit of flair and style while also adding to a more blackout effect.
Vertical blinds are great for sliding doors or large patio windows. Also a great selection for windows that let in large amounts of the sun because vertical blinds provide protection against harmful UV rays. Light filtering control by rotating them open or shut and also by sliding the slats open or shut along with the door or window. They are durable for high traffic, especially for kids and pets, versatile, and are easy to maintain. Try aluminum, PVC composite, faux or genuine wood for an economical and durable solution.
HOW TO CHOOSE WINDOW TREATMENTS IS A SKILL – HERE'S HOW TO DO IT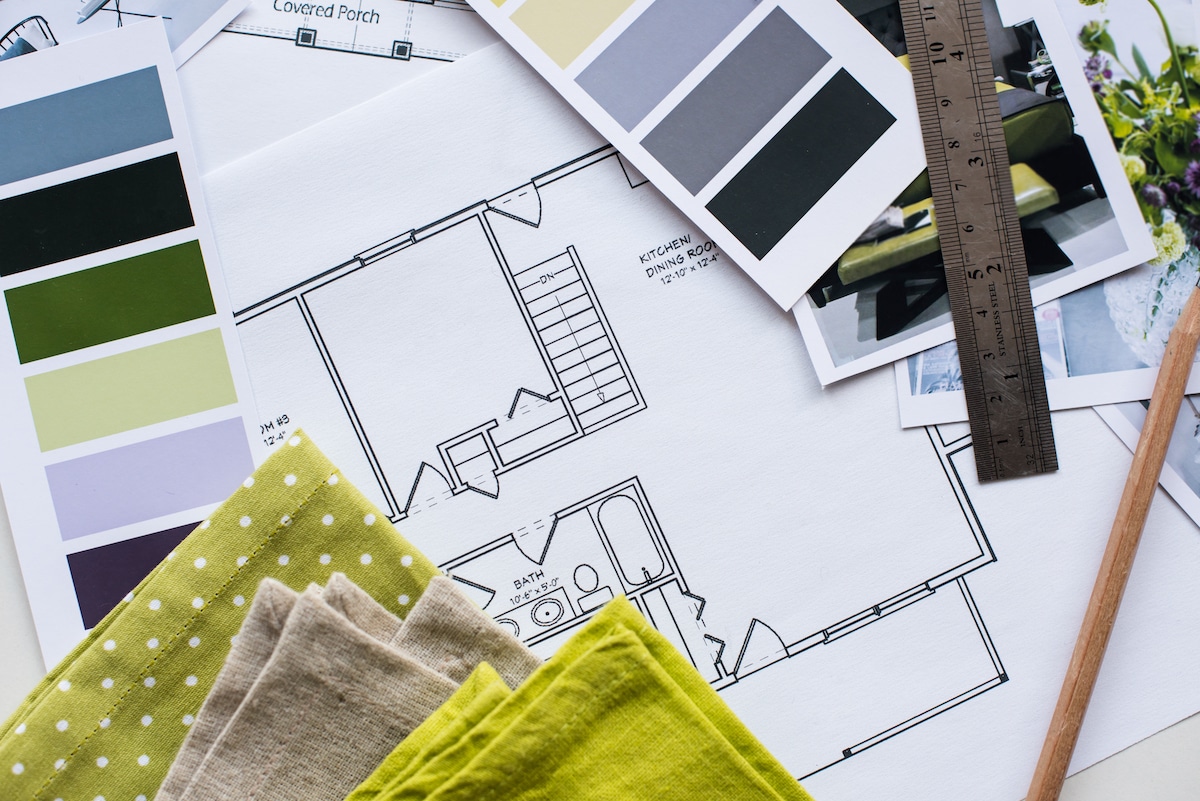 Knowing the difference between curtains and shades is one thing, but have you ever tried choosing window fashions for your entire house? That is why we are here as your guide.
We have gone over the types of window treatments and the varying light filtrations. Now it is time to give you a bit of knowledge on how to choose the right window covering. Whether or not this is your first rodeo or you are a window treatment buying vet – we recommend sitting down with a window specialist, like 3 Blind Mice, and getting a consultation. Share your goals, vision, and budget with this specialist to give them a clear idea of what your options are and how they can help. If you prefer not to work with a professional, make sure to create a list of the above and do thorough research, especially if you plan on installing any window coverings yourself. Doing any of these steps without full know-how will cost you more time, money, and energy than expected. We would be honored to steer your window treatment journey and offer our clients a free consultation. Set up an appointment here if you need extra insight or want us to take over completely.
How to choose window treatments? Start with the functionality first and foremost. Ask yourself: "What do I want my windows to do and provide for my home? What is their main purpose for this room?" You will narrow down your options significantly simply by knowing what you want the windows to do for the room you are decorating.
The functionality of a window includes privacy, light control, durability, maintenance, safety, style, design, and cost.
Next, identify the style and overall theme of your home. Is your home modern and sleek, cozy and warm, country-chic, or fancy and luxurious? However, you like to describe your home, make it clear so that when you see a specific window covering, you will know if it will fit in or not to the rest of your home. Some homes decorate room by room, and that is ok too! If that is the case for you, or if you are designing a new room, decide what the interior design will be before choosing any window fashions.
PRO TIP: Home décor does not only apply to the interior design of a home. When it comes to windows, you also must take into consideration the exterior of the home and how window treatments will show up from an outside perspective.
Don't forget to plan your budget! Having a firm idea of how much you are able and willing to spend on window treatments can make a big difference. Knowing your budget will help you decide on what quality, style, material, customization, and innovation are within your range.
Once you have clearly identified the functionality and the style of window treatments you are on the hunt for, then, do a bit of research to pick your top three to five styles that would be a good fit. This also includes the size you need and the material you desire.
If you are still not sure where to begin, call your professional window specialist. You can also look into the interior design industry for inspiration. Discover what new designs, styles, or innovations are trending. We suggest that if you are going to follow any trends, make sure that you are completely in love with the style and that you do not plan on changing the decor of the room or your house in the next 5 to 10 years. This will ensure you are spending your money wisely and getting the most out of your window coverings.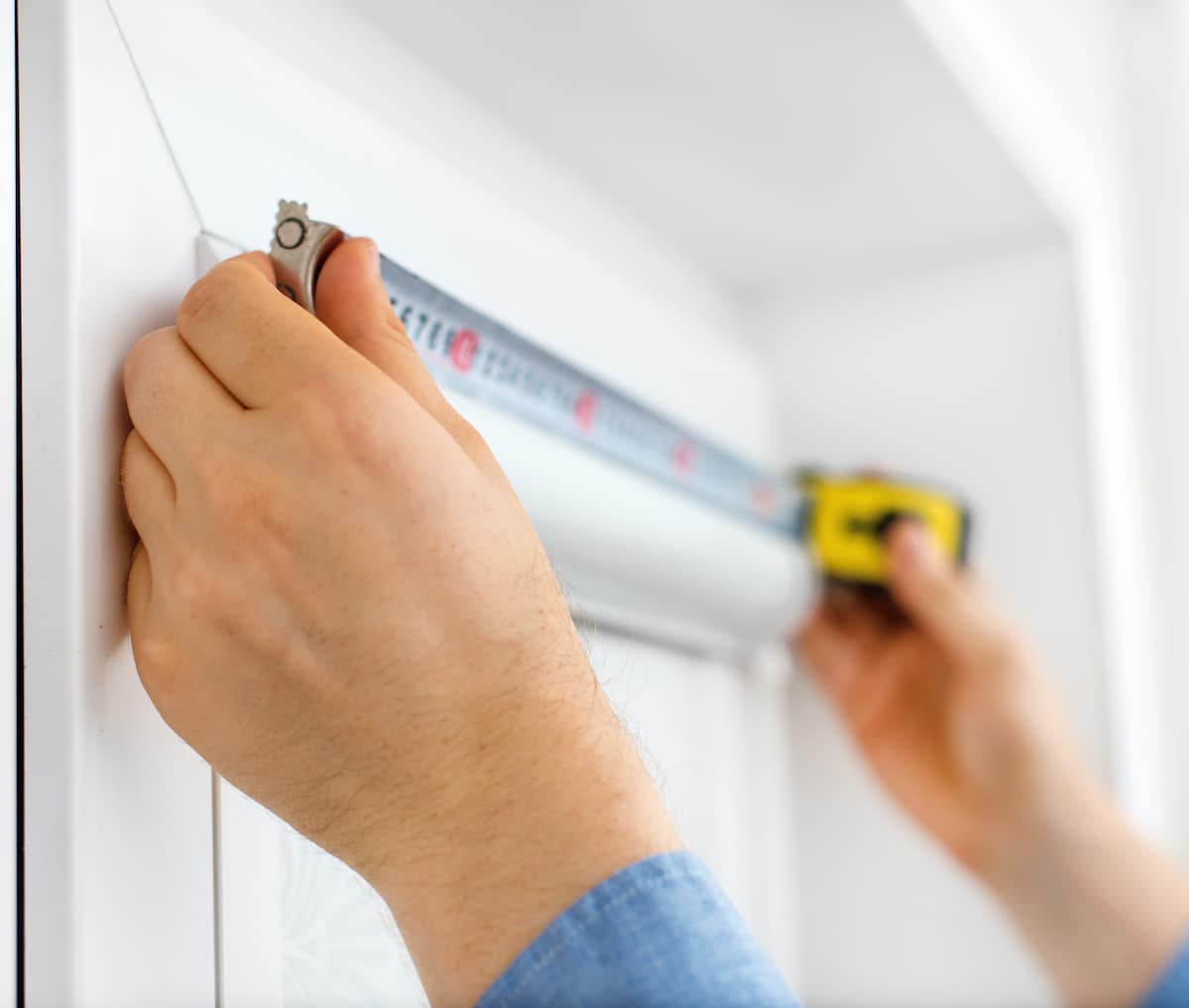 After you have made your selection, make sure that you get accurate measurements of your windows, or call a professional to do so. If you are replacing drapes or curtains, you are most likely capable of measuring and hanging the window fashions on your own. If you are getting a custom window treatment like blinds, shutters, or solar window screens, consider calling a 3 Blind Mice specialist to get the most accurate measurement and absolute perfect installation.
Remember that with hundreds of fabrics, accessories, hardware, and materials, you truly can create your visionary interior design. Let's work together to make your dreams happen!
THE MANY ACCESSORIES THAT COMPLIMENT YOUR WINDOW TREATMENTS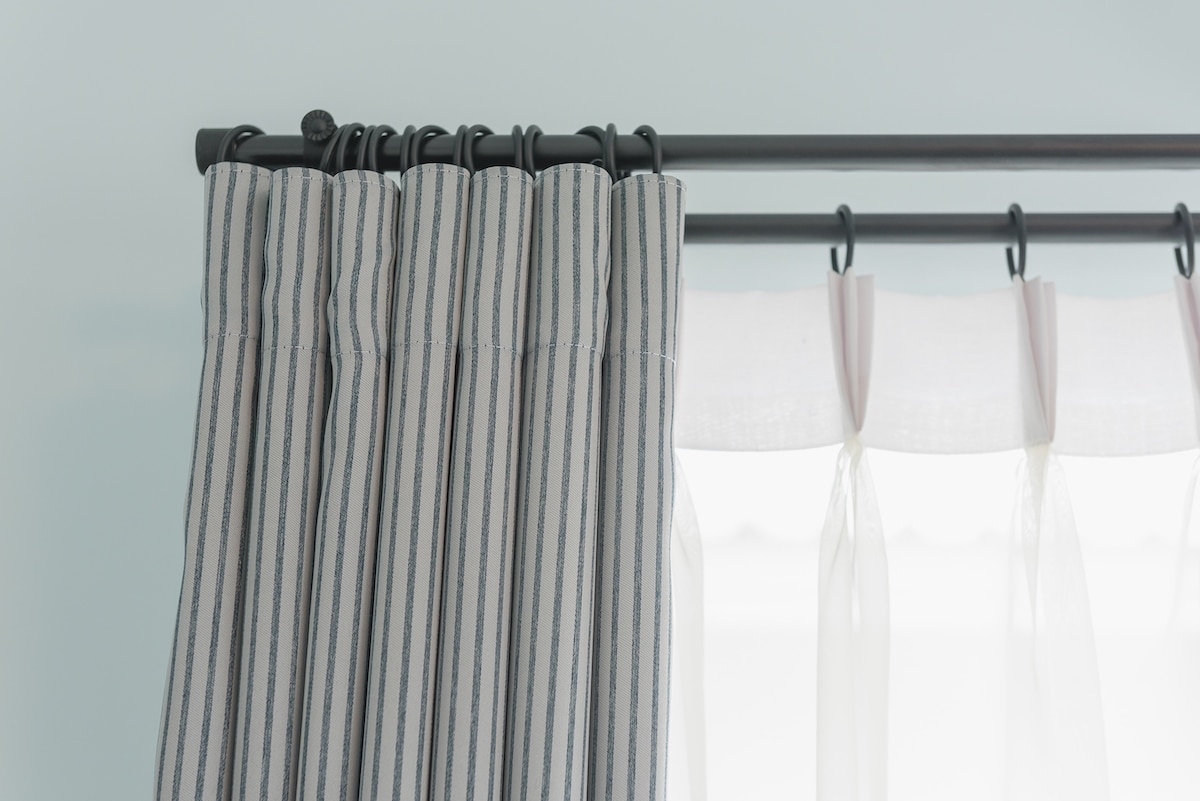 We have walked through the many different types of window treatments but what about all that stuff that supports, secures, and fastens it all together? Yup, you guessed it. Window hardware and accessories are just as important as choosing the correct window coverings. Considering how simple it might seem to "set it and forget it", adding curtains, drapes, blinds or any window treatment comes with the additional task of installing, hanging, and fastening all the pieces appropriately.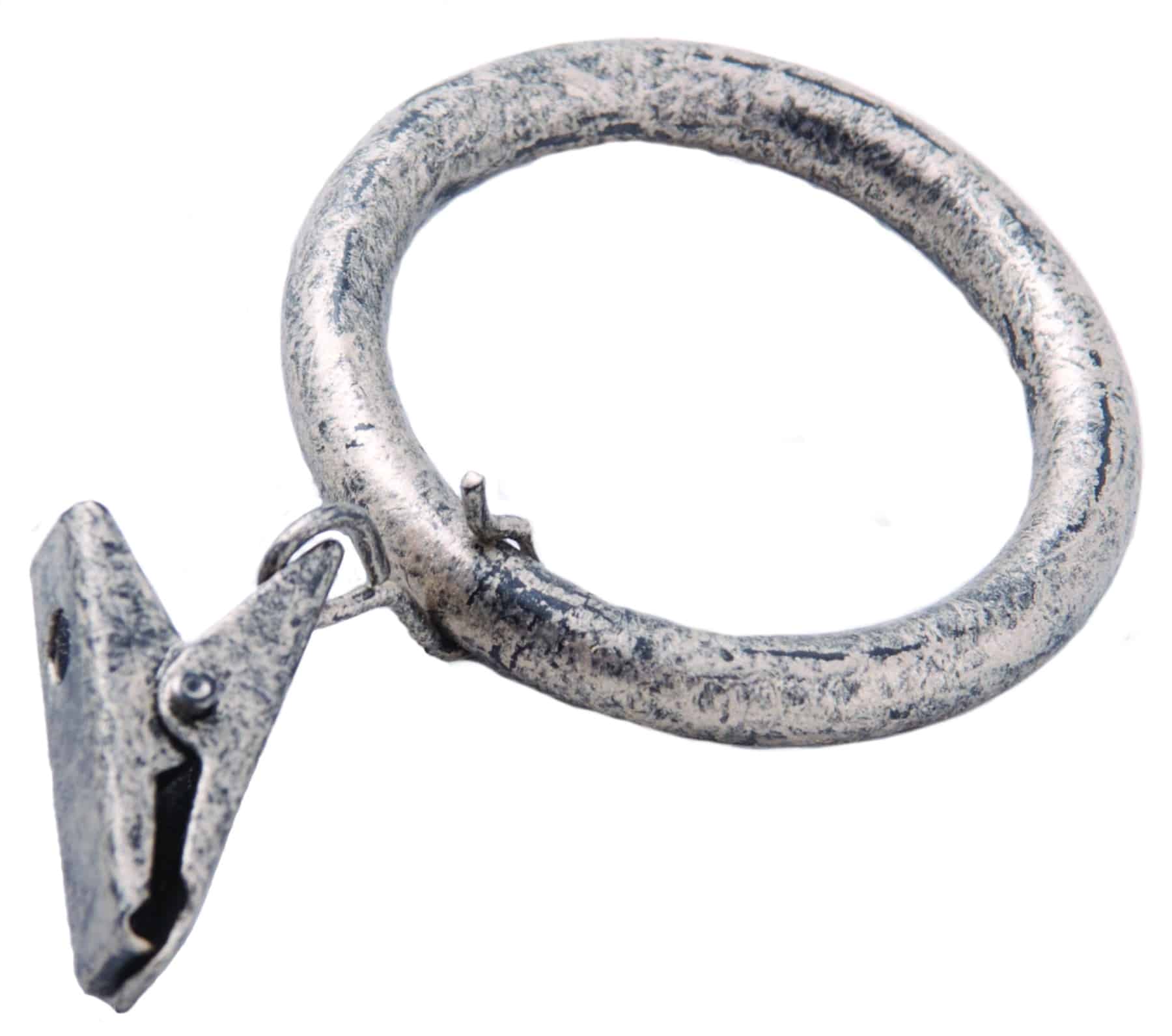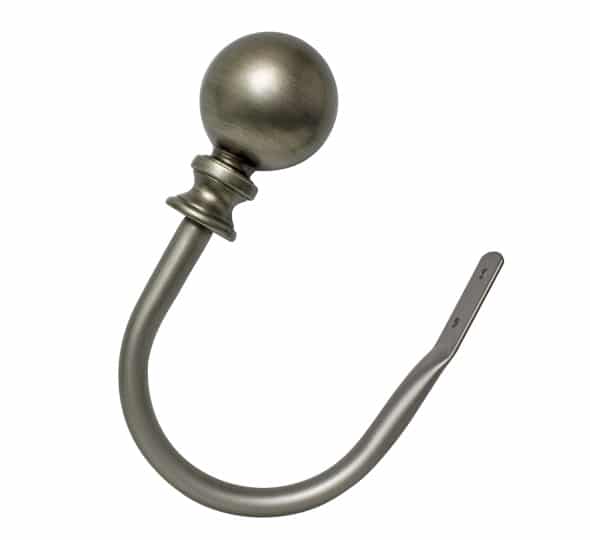 For hanging curtains and drapes, you will need to use a single or dual curtain rod. These come in a simple metal rod form, or choose elegant and ornate designs that bring a bit of extra flare. Drapes and curtains are hung on the rod in a number of ways. Whether it be a rod pocket, tabs that hang in the front or are hidden in the back, to a top grommet, or by rings with clips, each provides its own unique feel to the overall decor of the room. Depending on the type of curtain or drape you choose, will determine the feature you choose and how it falls across the window.

Go an extra step further and add finials to the ends of the rod. Finials are the tiny knobs that screw on to bring security and embellish the window to completion. For an extra formal look for the dining room or bedrooms, try holdbacks or tiebacks. This specific hardware is mounted to the wall at the edges of the window frame. You pull the drapes off the side, softly bunch the material into the hold,er which creates an elegant ripple effect to the material.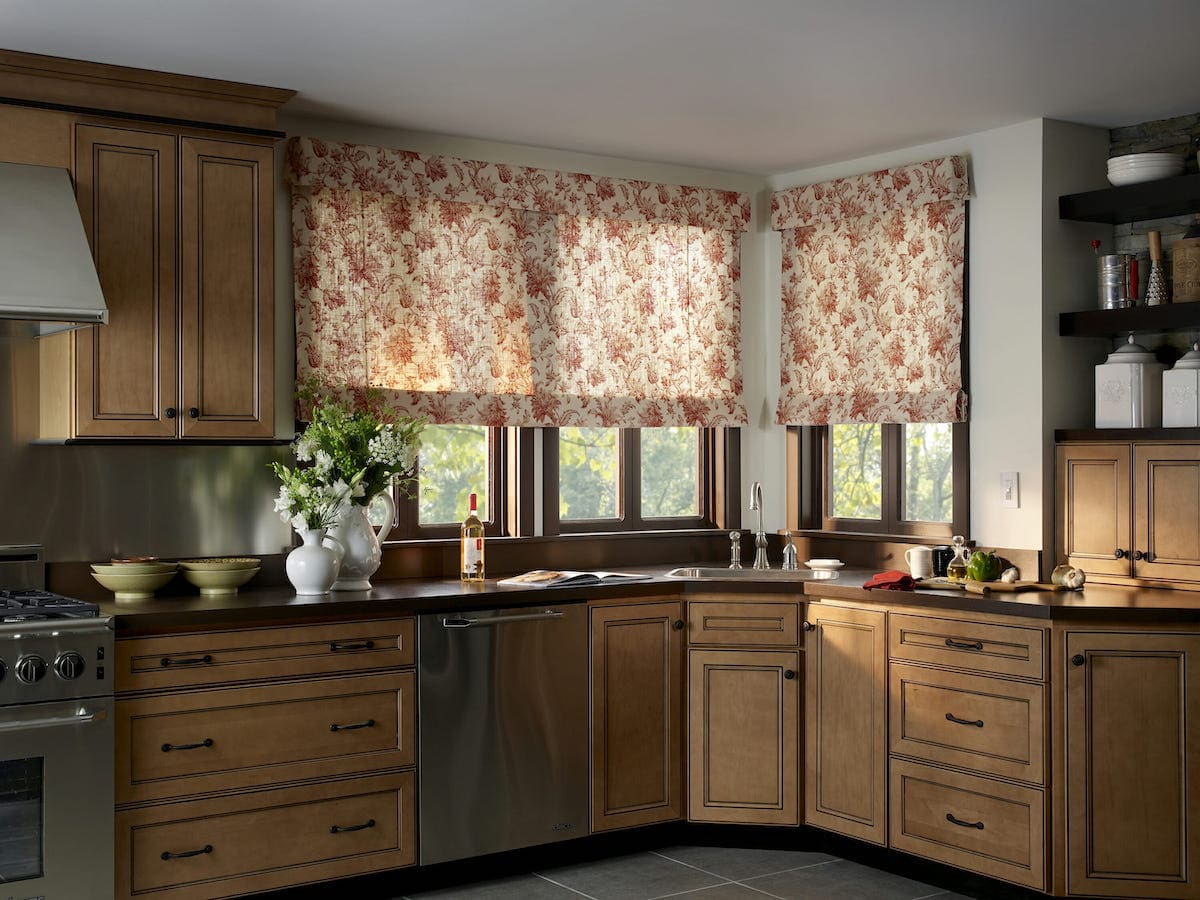 Valances, cornices, and cascades are sometimes considered outdated but do not overlook the effect this addition can bring to your windows. Either can be added to any window treatment as desired to bring a sophisticated, dignified, or dramatic appeal to your windows. Custom sizing is highly recommended for adding this type of crowning because they are offered in a wide range of materials and styles.
Think of window hardware as adding the final touch to the window. You will be amazed at how everything comes together.
If you have any specific requests or questions about hardware, make sure to reach out. We will direct you to the perfect adornment for your window coverings.
MODERN WINDOW TREATMENTS FOR ANY CONTEMPORARY STYLE HOME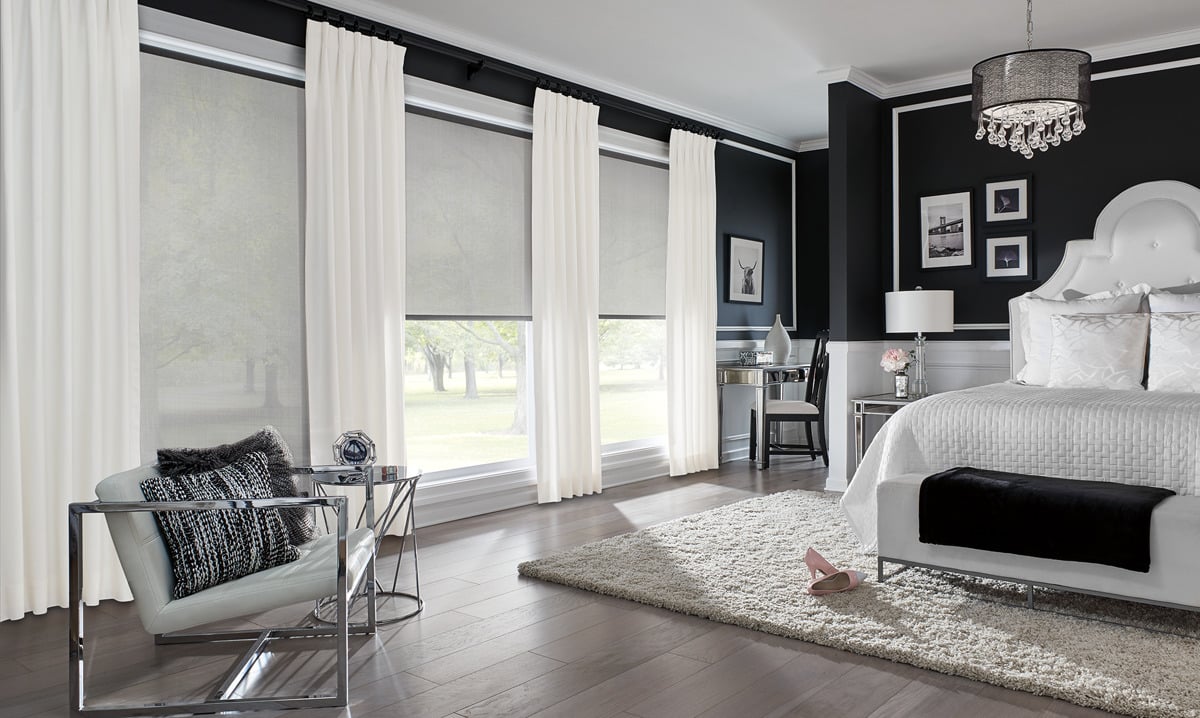 The best part about window treatments in 2021? There are more automotive, motorized, and innovative features for windows than ever before. Previously thought only as a luxury option, motorized shades and blinds have become more common due to their effortless ease. Consumers jump on the opportunity to automate one of the most used elements of their homes. You can choose from styles such as Cellular Shades, Roman or Roller blinds and shades, and solar window screens.
Motorized window treatments are most commonly powered by hard-wired, battery, or solar energy. Wires can either be run through the wall or to the nearest outlet. With the press of a button or even a voice command, you can control your windows throughout the entire home. There are plenty of other benefits that come along with choosing motorized window treatments in addition to overall convenience.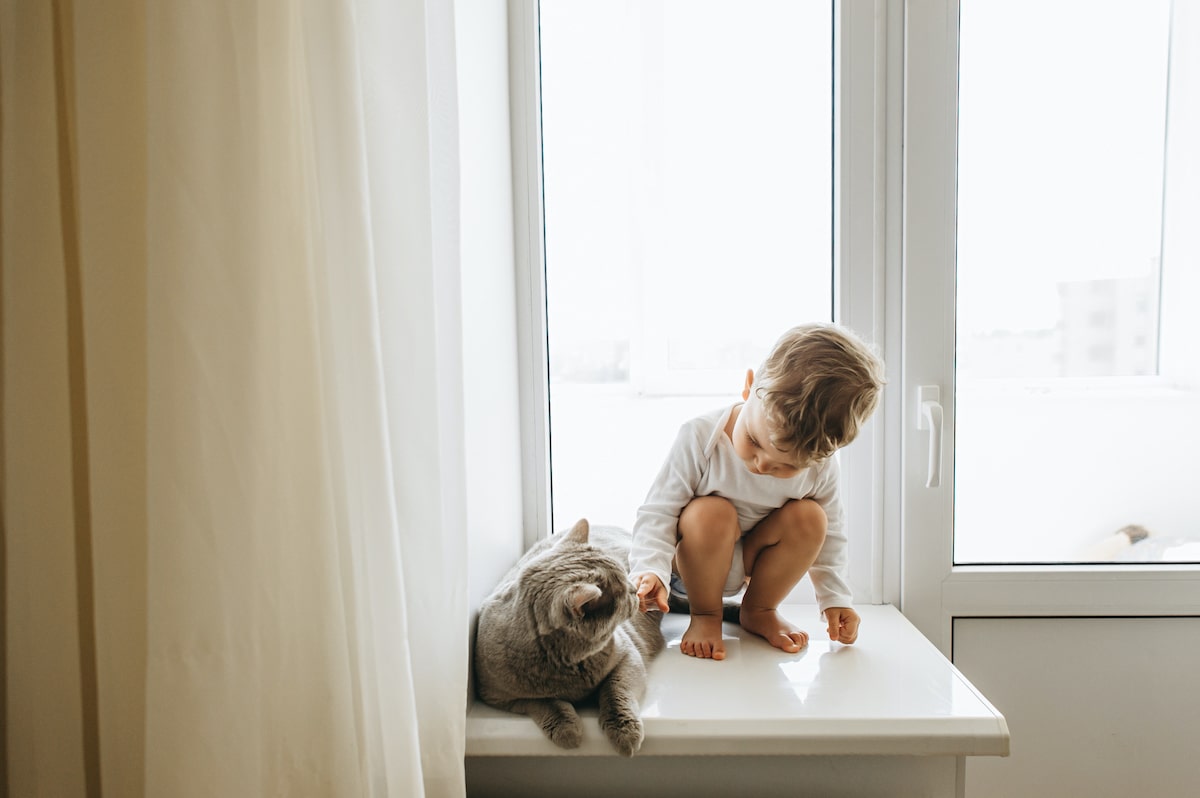 Motorized windows offer an increased level of safety. Windows with cords can become a hazard to families with little ones or pets roaming around the house. Instead of long, distracting cords that can break, tangle, and tear, motorized windows eliminate the stress of any control features malfunctioning.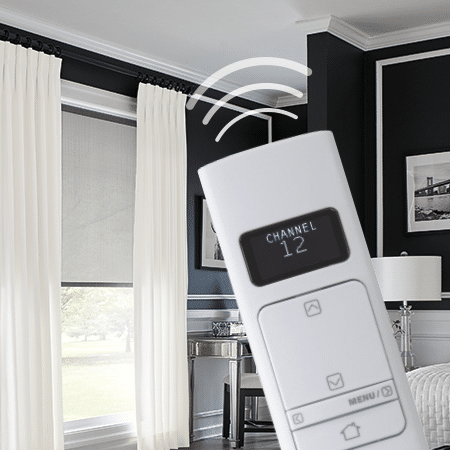 Use the power of your own voice to activate the opening and closing of your motorized window. They connect to almost every Smart Home integration making it effortless to operate your windows. Try custom QMotion brand Shades that are cutting edge and use a motor that is almost silent. They offer styles in roller shades, honeycomb shades, battery-powered blinds, or a motorized drapery rod option. QMotion even has a mobile app that lets you control and operate your motorized windows from an iPad or mobile phone device.
One of the most useful functions of motorized windows is their ability to provide extra security. You can set up controls for your windows when you are away. If you are traveling or leaving the house for a long period of time, simply select the away option and your connected windows will know what to do. You can rest assured that your home is protected.
If you are still wondering what the best window solution is best for you, consider motorized window treatments. That way, you can enjoy controlling the light filtration and privacy levels all from the comfort of your bed, couch, or dinner table.
Three Blind Mice is a specialist when it comes to motorized and custom window treatments. We hope this article gave you some further insight on how to choose the best solution for your home. As always, we are here when you need us and we look forward to serving you!