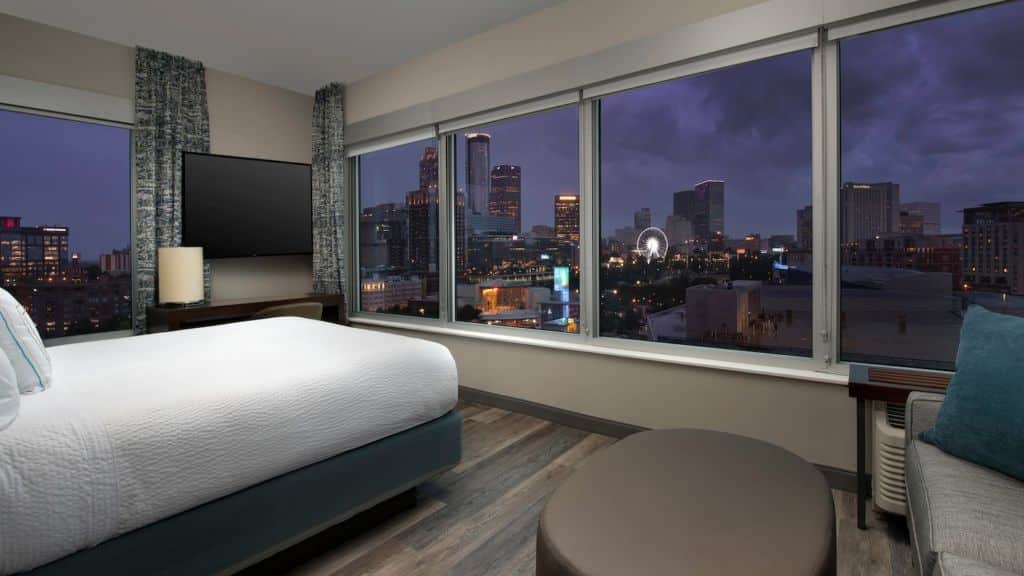 Block Light Along The Edges of Your Window
Last Update: 9/7/2021
This post was originally written on June 26, 2013, we made updates to the article to make sure that information is accurate to today's product standard.
Motorized blackout shades with side channels are designed to be a complete package.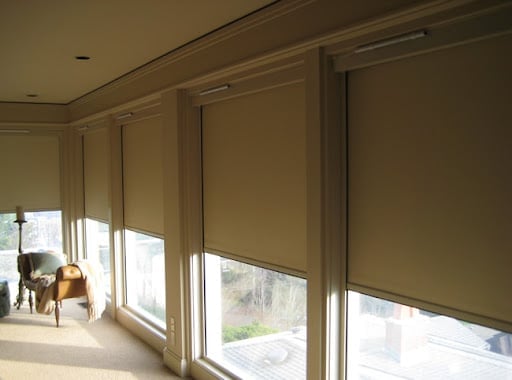 What are side channels for roller shades?
Side-channel are installed along the sides of the roller shade to prevent light from entering through past the edges of the fabric. The side channel wraps the hembar and the edge of the fabric allowing the shade to freely slide inside while in motion. This simple yet crucial addition removes the "halo effect" caused by most shades that claim they are blackout shades. 😎
A distinct advantage of using blackout roller shades
Blackout roller shades are made of thicker material than normal shades.
Energy efficiency savings roller shades provide.
Roller shades absorb the loss of heat inside your home.
The side channels reduce unwanted drafts side of the shades.
Having blackout roller shades will help to better maintain a constant temperature inside your home all year round.
WATCH PRODUCT OVERVIEW VIDEO
Where can I use blackout roller shades?
Beyond the bedroom, there are many areas in your home that can benefit from the installation of blackout roller shades. Family rooms, media rooms, or offices are other environments that can benefit from blocking out unwanted artificial exterior lights or sunlight. These window treatments can stop completely cut out unwanted glare on television screens, computer monitors, or reflective surfaces in your home or office.
Product Demo: Blackout Roller Shades Motorized with Side Channels
In the video, you will see how the roller shade material goes inside the channels and glides effortlessly through the channels, eliminating light and giving you the sleep or rest you need. All of our roller shades can come manual or motorized and come in various calming colors. If you need a dark room, man cave, theater room, kids room, or bedroom blacked-out, call 3 Blind Mice Window Coverings. We are the motorization specialists for QMotion, Lutron, and Mechoshade.
Color & Fabrics
Whether in tones of earthen stone, sleek white on white, or a deliciously textured woven mesh, our diverse collection of fabrics multiply our design styles into hundreds of decorative solutions.
Innovative Control Options
Beautiful form, beautiful function. Our innovative control options, SIMPLICITY Automation and BLISS Automation will keep your home both safe and serene.
We offer the latest and greatest of our manufactures' motorization and integration solutions. Utilizing the latest technological innovations in home decor, advanced motorization that integrates with major home automation systems, and the latest advancements in the window treatment industry are all part of the 3 Blind Mice Window Coverings experience.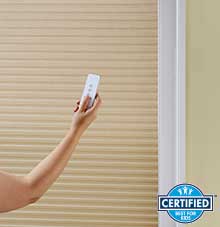 SIMPLICITY AUTOMATION
Our Simplicity automation is an economic motorization system available across several popular product categories. Rechargeable battery power offers reliable use.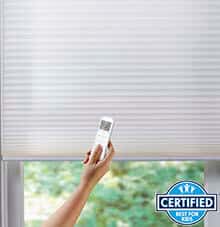 BLISS AUTOMATION
Enjoy the next level of ease and control with our range of BLISS™ Automation systems. BLISS motorization is the solution for modern design with full light filtering control — from the wire-free convenience of our rechargeable motors combined with the power of your voice for operation control.
Blackout Roller Shades with Side Channels FAQs
What are the side channels on roller shades?
Side Channel can be installed along the sides of a shade to prevent light from entering through the edges. The fabric side-channel new wraps the edge of the fabric and Hembar to freely ride inside while the shade is in motion.
How do I stop the lights from coming up on the side of my roller shades?
Light blocking strips (Aptly named Light Blockers) are available for all 3 Blind Mice roller shades and can be ordered simultaneously during the configuration process. Roller shades naturally have significant gaps (to the sides of the fabric aka the side-channel), so these light-blocking strips become the perfect solution for maximum light control.
How do I make my roller shades darker?
We can transform any of the 3 Blind Mice roller shades into a blackout version by the simple addition of a light-blocking layer into the fabric. In simplest terms, blackout fabrics are heavy materials that prevent light from penetrating the fabric weave. We have roller material running from plastic sheeting, bamboo, PVC, and heavy blackout fabric.
Pros / Cons
Non-Intrusive
Blackout
Contemporary
Telescoping
Mistaken for off-the-shelf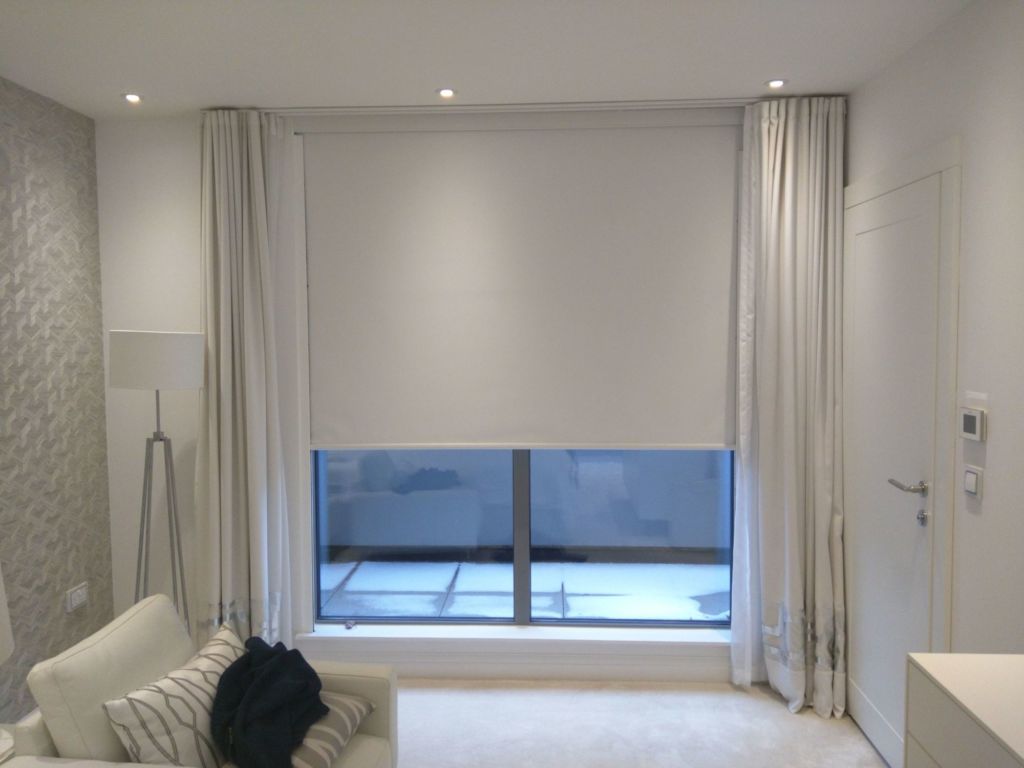 Limited Lifetime Warranty
The 3 Bind Mice Window Coverings' limited Lifetime Warranty extends from installation throughout the life of your window treatment.
LIMITED LIFETIME WARRANTY
The 3 Blind Mice Window Treatment's Limited Lifetime Warranty extends from installation throughout the life of your window treatment. We promise to stand by our product and cover any defects in materials, mechanisms, workmanship, or failure to operate correctly. Because with 3 Blind Mice Window Covering, you have a partner for life.
CERTIFIED BEST FOR KIDS™
The certification program is run by an independent laboratory giving you a guarantee that the product has options to operate without traditional cords or the treatment's inner cords are inaccessible to young children and pets.
STRESS-TESTED IN EXTREME ENVIRONMENTS
From testing UV-painted components and textiles to high heat adhesive strength test, 3 Blind Mice Window Coverings ensure finished window treatments perform consistently for years to come.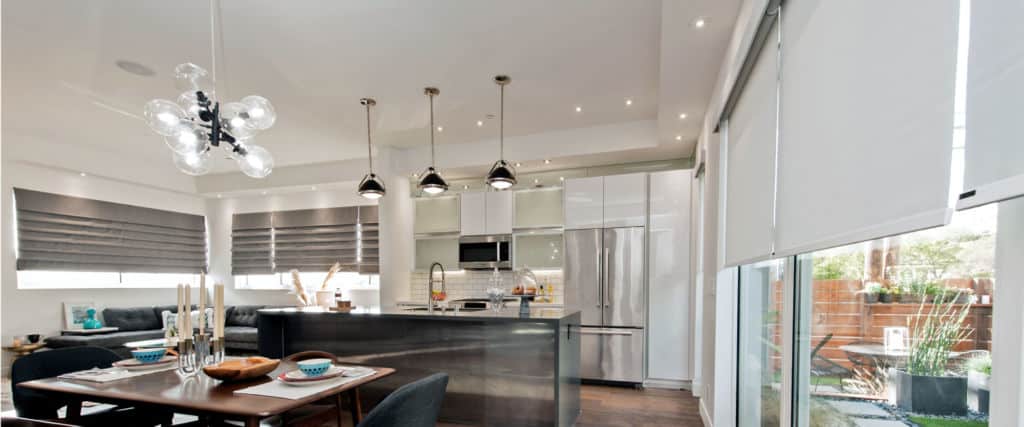 Ready to Customize?
Begin to Create Your Perfect 3 Blind Mice Roller Shades with Sidetrack today.
THERE IS NO OBLIGATION, AND THE CONSULTATION IS FREE!
How would you like to work with our designers?*
Virtual Shopping
Work remotely with one of our Window Covering Experts through a virtual appointment.
Shop @ Home
One of our seasoned Design Consultants will meet with you in your home at your convenience. We bring the entire showroom to you, including free swatches.
This original post was inspired by visiting the International Window Coverings Expo in 2013. Who knew there was a secret to those wonderful blackout roller shades in Vegas?!?! Well, fast-forward 8 years later, the gap on the side of the rollers is still a thing, although fabric technology, amortization, and automation are at a whole new level. At the time of posting, these rollers were a popular alternative to blackout curtains, and it was during those times where our customers started to embrace motorization for the true "cave-like" needs.
Need Help?
Choosing the perfect motorized blind for your home may seem like an arduous task, but we are here to help. Contact us to speak with one of our design consultants about window treatment ideas for your house or office, schedule a Free Consultation.
We can also help you anywhere in the US, and if you want to fly us out, we will travel anywhere.