The blog post was originally published on 11/14/2013 and updated on 10/1/2020.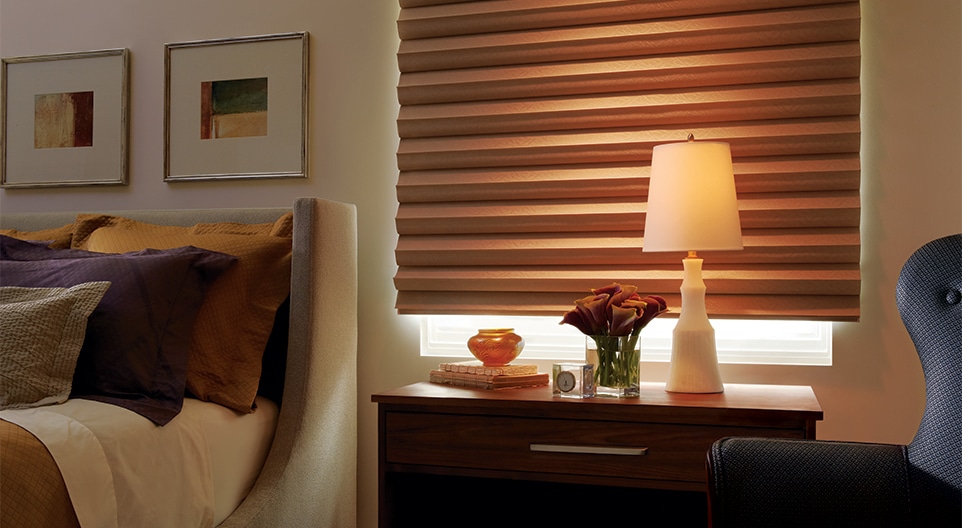 This blog post will walk you through the range of options to filter light in your home and room-darkening shades from sheer to blackout. Then introduce you to several innovative new window treatments & design ideas that give you optimal performance day or night!
Light-Control & Privacy Options for Window Treatments
Depending on your home's location & exposure, and the effect you are trying to achieve within a particular room; privacy and light control options can be the most critical factor when deciding which new window treatments to purchase. Whether you are looking to add privacy without sacrificing a view or work at night and need to sleep during the day, 3 Blind Mice can help you find a stylish and functional window design.
While all window coverings implicitly offer some level of privacy and light control by covering the window, the degree to which particular window treatment will block light and prevent prying eyes can vary significantly between different types of window coverings, as well as style and fabric options for the same kind of window covering. However, there are three main options for privacy and light-control: blackout shades, light-filtering, and room darkening shades.
Filtering Vs. Room Darkening Shades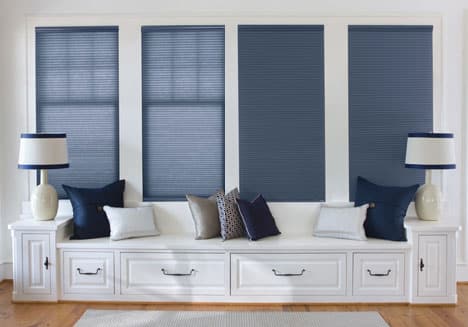 Light Filtering Shades & Sheers
At the sheerest end of the spectrum, window treatments that filter light are perfect for rooms where you want to add some privacy while keeping the decor light and airy, such as your den, kitchen, and/or living room. Light-filtering shades and sheers are not only useful for setting the mood, but these treatments also come in a variety of fabrics, patterns, colors, shapes, and sizes, making them a great way to complement existing curtains & draperies.
Different types of light filtering window treatments include sheer shades, horizontal blinds, solar roller shades & screens, woven woods, cellular shades, and some Roman shades. If you are keen on the cellular shades, they are available with either filtering or room-darkening fabric as well.
Room Darkening Shades & Drapes
If you are looking for something a little more subtle than blackout curtains there are many options to help darken your room enough for a good nights' sleep or watch a movie. Room darkening shades (and blinds) are most commonly used for bedrooms or living areas where light control is essential and are typically a safer option to blackout curtains & shades because the halo of ambient light from the sides of the shades provide enough light to help you see your surroundings when navigating around the dark room.
Options include room darkening cellular shades, room darkening sheer shades, woven woods with room darkening privacy liners, curtains with a blackout lining, modern Roman shades, and vertical blinds.
Blackout Window Treatments
A proper blackout window treatment blocks 100% of outside light and is most often used for nurseries, bedrooms, photographer's darkrooms, and movie/media rooms. While many shades and window treatments tout themselves as blackout, the term blackout shades is frequently misused in place of room darkening shades because there is still a "halo" of light around the edges of the treatment (see image below).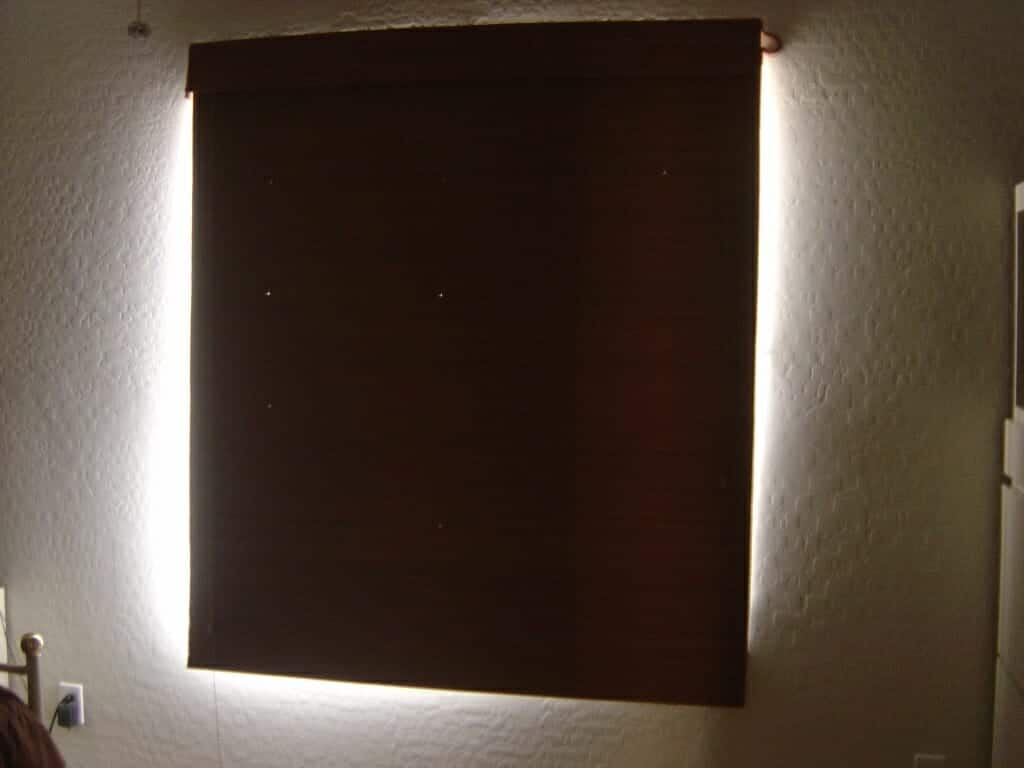 If you desire a true 100% blackout, we recommend the following window treatments:
Roller Shades with Side Channels
Using roller shades with side channels is just one option to help you achieve a completely dark room. The side channel comes in aluminum, bronze, or white, depending on how you want to match the decor of the home. These designer roller shades come in many different colors, fabrics, and patterns, and can either come motorized or manual depending on your preference for ease of use. Watch two video demonstrations of these motorized blackout roller shades with side channels in action.

Blackout Curtains or Drapery with Tracks
If you're looking to completely darken your room but maintain elegance in your decor, using motorized curtains with drapery tracks is a good option. Newer drapery tracks can curve around your curtains for an optimally dark room. And you have many options when it comes to motorizing these treatments or setting up a manual pull system. View our gallery of blackout curtains, blackout shades, and blackout blinds or watch this video (even though the fabric shown is not blackout) to learn more about the options available to you.

Multi-Layer Treatments
One final way to eliminate the "halo" around the edges of an otherwise blackout window treatment is to create a multi-layer treatment that combines side panels and a valance or cornice box to stop the light at the border and take your room's decor to the next level. Multi-layer treatments can take your windows from ordinary to extraordinary while eliminating all glare from your room. Combining a roller shade, with a patterned valance/top treatment, and patterned side panels are one of the many combinations you use. As shown in this video, beading is used to add extra elegance to your window coverings.
Innovative Window Covering Options
As we have discussed, the options for adding privacy or darkening your room are nearly limitless, but what about window treatments that do both? 3 Blind Mice offers stylish 2-in-1 window treatments from brands including Hunter Douglas, Levolor, and the hottest new product on the market by Coulisse.
In the video below, you can see Coulisse's Dual Roller Shade allows you to control light similar to a wood blind or sheer shade while giving you the clean look of a roller shade. As you will notice the bottom rail and headrail are finished with a nice nickel finish and straight lines. This product can be motorized or it does come in a manual operation.
If you seek something on the sheer side of things, Hunter Douglas' Silhouettes and Luminette Privacy Sheers are a soft, beautiful sheer drapery that has an innovative design that rotates 180 degrees for light control and privacy. The Silhouette can now manually tilt the vanes to manage light control for your room. These are also safe for children, eliminating the need for cords. And sheer curtains can be opened to allow light in and closed to completely darken your room, with a sheer front.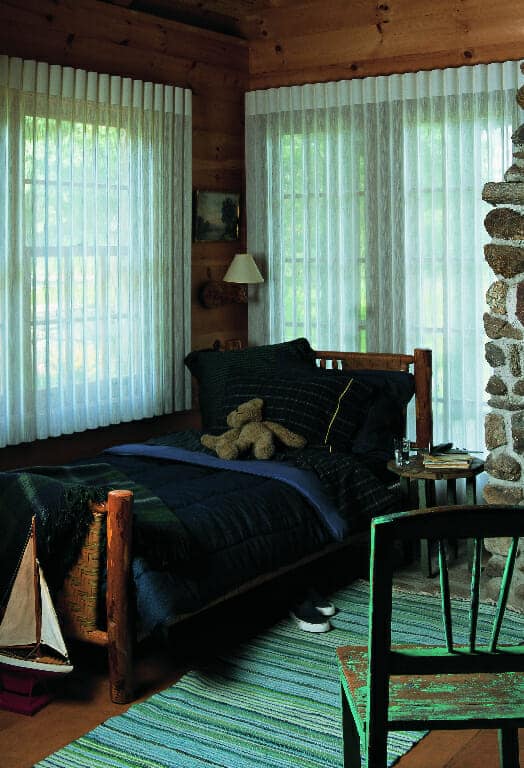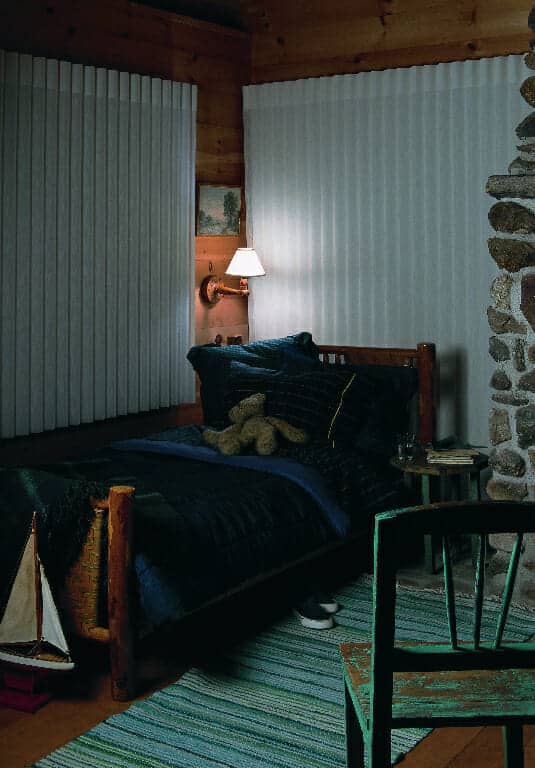 Frequently Asked Questions Regarding Room Darkening Treatments and How They Work
What are the best room darkening shades?
There are many options when it comes to room darkening shades. If we are to pick one, we like cellular shades for the light-filtering and blocking abilities, superior insulation that can help reduce energy costs, cordless options for child safety, and top-down /bottom-up option for outstanding control both privacy and light management.
Do room darkening shades provide privacy at night?
Room darkening shades provide similar benefits to blackout shades by increasing privacy during the day and night, provide energy efficiency, thus reducing electric bills, block noise, and protect furniture and floors from sun damage.
What are room darkening blinds?
Room darkening blinds dramatically reduces the incoming light to your home. However, they will not make your room pitch black as blackout shades do; instead, make it noticeably darker than before.
Need Help Choosing Room Darkening Shades?
Deciding between blackout, and room darkening shades for your home may seem like an arduous task, but we are here to help. 3 Blind Mice not only has quality products at an affordable price but also provides professionally certified installers and an outstanding customer support team. From the first phone call to your in-home or virtual demo to manufacturing to on-time delivery and installation, we are here to assist you at every phase of your shopping experience.
Review
I am very happy with the quality of the shades. I was kept informed through each step of the process from the sales representative to the installation of the final product.