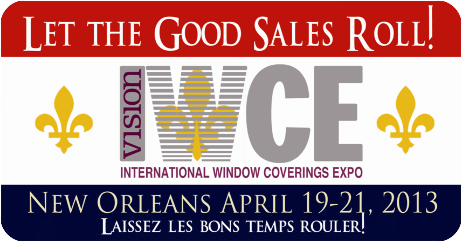 "Let the good times roll…" a common saying often heard in New Orleans, is the best way to describe the upcoming International Window Coverings Expo. With that said, we look forward to attending this year's show in New Orleans with some of our favorite vendors.  We can't wait to collaborate, learn, and be inspired!
3 Blind Mice will be attending this Friday, Saturday, and Sunday (April 19-21) showcasing our latest window coverings & window treatments from top brands including Hunter Douglas, Somfy, Lutron, and many more…
Videos & Much More
Last year we had the pleasure of taking video of many vendors latest offerings. To the right you can see a video we took of Lutron Serena's latest products. This year we are planning to video many more vendors and their latest offerings. If you would like to take part in the videos message us on
And last but not least….
On April 20, we are honored to serve on the Showroom panel with Exciting Windows!, Sonic Blinds, and Bazaar Home Decorating Center. Speaking on this panel will be none other than our very own Scot Dietz. We hope you can stop by at 9:15am on April 20 to see Scot speak!
If you would like to set up some time to have coffee contact us. See you soon!