Pleated shades and cellular shades are very similar in some respects and you can't go wrong by choosing either one of them as part of your home decor.
Both have features which make them a wonderful addition to your home's interior. In this post, we are going to explore the similarities and differences between pleated and cellular shades.
Similarities Between Pleated and Cellular Shades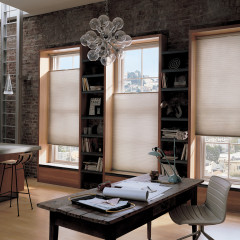 These two types of shades are similar in that they both have crisp pleats, much like the bellows of an accordion.
They also are both available as cordless window coverings, which is great for safety in a home where young children could conceivably instigate some mischief with cords.
Lastly, they both come with the top-down/bottom-up options, so that you can lower either the top half or the bottom half, or both.
Differences Between Pleated and Cellular Shades
One of the most notable differences between the two types of shades is in how they are constructed, specifically their composition between the pleated fabrics.
Cellular shades are great as an energy-saving investment because they can provide tremendous insulation from the honeycomb structure between pleats, which act as air pockets to hold in heat or cold, depending on the season.
Cellular shades also come in a wide variety of sizes, and in single, double, and triple cells, with the greater number of cells increasing insulation capability.
Pleated shades offer the advantages of lower cost and greater beauty, which imparts a subtle, delicate atmosphere to any room they're located in.
Video: Differences Between Pleated & Cellular Explained
As described in this video, cellular shades and pleated shades are often mistaken for each other but they have very distinct differences. Decide which you like best!
Not quite what you were looking for? Learn more about the differences between pleated and cellular shades in these related articles:
Purchase Either Type of Shade Here
Both these shade types make wonderful window coverings, and the type you choose should depend on those characteristics which are most important to you, whether it be energy efficiency, lower cost, or aesthetics.
If you're still undecided, please contact us today to learn more about the attributes of each, directly from the experts.
You can also start getting some ideas about how you want to approach your window coverings project.