In our last article on child safe window treatments, we discussed National Window Covering Safety Month and how important it is that your household with children installs cord-free window coverings, or modify your existing corded window coverings to ensure that your cords are out of sight and out of reach from becoming a choking hazard.
As we discussed in the article, there are plenty of fantastic child safe, cordless window covering choices to choose for your windows. We covered a few great options, but the truth is there are even more fantastic window covering options to choose from for your home. Today we wanted to share four more child safe window covering options that will make your home look fantastic.
Plantation Shutters
Plantation shutters are an elegant window treatment option available in oak, maple, cherry, basswood, aspen or poplar, and can be custom stained to match your home's decor. While wooden shutters are our personal favorite pick because you can see the unique wood grain finish in the shutters that really stands out, if the shutters are going to be in constant direct sunlight or high heat, there are also faux wood and composite shutter options available as well.
All these options are child safe as they have no cords whatsoever. Simply adjust the slats up and down as needed, depending on the amount of sunlight you want to let in.
Roller Shades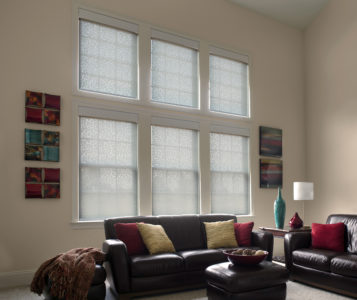 If the mention of roller shades brings up bad memories of cheap, weak shades that constantly need to be replaced, think again. Roller shades are becoming quite popular as a window covering choice. Their clean, sleek look, versatility and ease to operate have made them very trendy. Another factor making them so popular is that they come in a wide range of styles, colors, textures, and patterns that can be custom built to match any home's décor.
Roller shades offer child safe options. While some may wish to simply have a traditional spring-loaded shade that is simple to use and sturdy, there are also other great options. For instance, you can install them with motorized rollers, adding a high-tech approach to raising and lowering your roller shades. Either option is child safe as there are no cords involved to pose a choking hazard to your child.
Wooden Blinds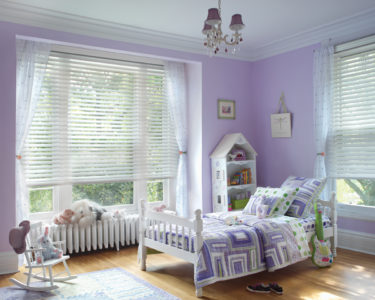 Wooden blinds are the most popular option in the horizontal blind category. There are a number of unique woods to choose from, including Poplar and Basswood and a few exotic kinds of wood. They are very popular because of their great features. Wooden blinds have adjustable slats for light and privacy control. By adjusting the slats you can reflect light upwards or downwards, completely changing the ambiance in the room.
What is not often known about wooden blinds is that like many other child safe window covering options, there is a cordless option. Because of a counterweighted system inside the wooden blinds, one can easily raise or lower them simply by pulling them up or down. The counterweighted system is sturdy, dependable and will last for a very long time. The lack of cords which are typically associated with horizontal blinds makes this great looking window covering a favorite among homeowners with children.
Sheer Shades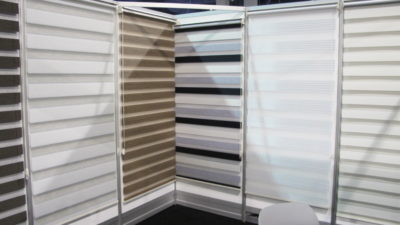 Sheer shadings are unlike any other product on the market today. These exquisite window fashions combine the advantages of shades and blinds… in one breathtaking design. They provide several different design looks including a sheer view, as well as many of the features of a horizontal blind. Airy, lightweight, semi-transparent fabric with open veins allows for maximum light diffusion that pairs perfectly with customized drapery fashions. Even better, they are now available in just about any color you could imagine.
Much like wooden blinds, sheer shades are cordless and easily raised and lowered by pulling up or down on them. Their great counterweighted system will easily lock them in place, wherever you decided to adjust them.
Download our guide on child safe window treatments to learn more.