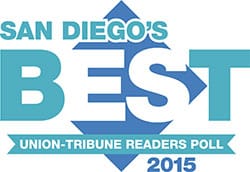 We are excited to announce our team won second place for the Best of San Diego award for Window Coverings / Shutter Company by the Union-Tribune readers!
This second-place award can be attributed to our hardworking employees for their long hours, extra effort, and devotion to maintaining the highest level of customer satisfaction. We also were awarded the 50th fastest growing company in San Diego by the San Diego business journal.

Window coverings are the beautiful finishing touches to add to your interior design. There are hundreds of options with an unlimited amount of fabric choices. With motorized window coverings as one of the hot window treatment trends, home automation has revolutionized this industry.
Best of San Diego's Design Experts
Our team of window covering design experts and specialists is trained to help you find the perfect window coverings in San Diego. Whether you are looking for shutters, wood blinds, blackout shades, or window film, we want to help you add that finishing touch to add beauty to every room of your home.
Our mission is to inspire our customers' pride and confidence in the window coverings they choose. Thank you for turning your pride into action and showing your appreciation by voting for us!
We Are Hiring New Mice To Join the Team!
As one of the fastest-growing companies in San Diego, we are looking for some hungry mice to make the big cheese!
If you're interested in joining the best window covering and shutters company San Diego has to offer, please use this link below and send a resume, cover letter, and reference for our review.