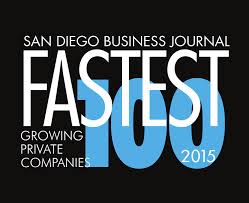 For the second year in a row, our team attended the San Diego Business Journal's Fastest Growing Private Companies of 2015 event at Paradise Point, SD.
And this year the award was accepted in true 3 Blind Mice fashion!
Moving up from 74th to 39th is a real testament to the daily hard work by each member of the growing window coverings company in San Diego.
"For the 4th time in 12 years and the 2nd time in the last 2 years we have made the list. The only way we made this list was with all of you kicking butt each and every day! Thank you!"

– Scot Dietz | Head Cheese
Scot Dietz, Head Cheese, explains their acceptance of the award after the event, as he reveals the company culture for these big cheese movers in San Diego.
"We decided to have a little fun this year. When they called us to the stage, 3 of us went to the stage with Mickey Mouse ears, sunglasses, and canes. Everyone got a good laugh and we had fun doing it."
Customer Services is a Cornerstone of Business Success
At 3 Blind Mice, our mission is to inspire our customers' pride and confidence in the window coverings they choose. We do this by delivering lifetime quality at an affordable price and industry-leading service before, during, and after the sale. Learn More About Us
Our installers are some of the best in the industry. Not only do we show up on time and work neatly and professionally in your home or business, but we also make sure you fully understand how to operate and care for your window coverings.
Interested in Joining the Team?
3 Blind Mice is looking for highly motivated, qualified individuals interested in becoming part of our successful team.
For more information on any of these positions and to begin the application process, please visit Careers at 3 Blind Mice.