Poway, CA, Homeowners Can Turn to Us for Custom Window Treatment Solutions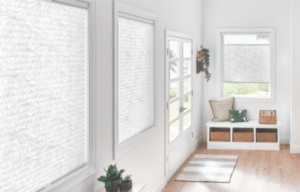 There are many reasons why you'd need new window treatments: It's a little too easy for your neighbors to see into your home; you have a hard time sleeping in on the weekend because the morning sun lights up your bedroom; your kids like to play with dangerous cords the moment you turn your back. No matter the reason you need new window treatments for your home in Poway, California, you can trust 3 Blind Mice Window Coverings to deliver top-notch solutions.
Custom Window Blinds, Shutters, Shades & More
At 3 Blind Mice Window Coverings, our goal is to not just improve the interior design of your home, but also to solve issues that you're facing. Some examples of how we can address the problems noted above include designing and installing:
Keep in mind that these are only a few examples of our capabilities. We have numerous products available to meet your needs, ranging from moisture-resistant faux-wood shutters for your kitchen or bathroom, cellular shades to better insulate a room that receives a lot of sunlight, and patio curtains that can add the finishing touch to your outdoor space.
We Make Complicated Easy
When you consider all the ways our various window treatments can be customized, it's easy to see how it can be overwhelming. Fortunately, when you partner with us, you'll have a project manager who will guide you through every step of the process, ensuring you receive the best window coverings to meet the needs of your home with minimal stress.
So, how can we help improve your home in Poway, CA, with custom window treatments? We'd love to discuss solutions with you! Contact 3 Blind Mice Window Coverings today to get started, our team in San Diego is ready to serve you!