Innovative window treatments we witnessed at International Window Coverings Expo 2022 (IWCE)
Here at 3 Blind Mice, we work hard to always bring you the latest window covering innovations and trends. Each year, our team attends the International Window Covering Expo (IWCE). After a two-year hiatus from the expo, we were excited to return this year to explore all the industry's window covering innovations from all over the world.
The International Window Covering Expo is the largest trade show for our industry in the world and we've returned home with lots of information on innovative window treatments, new tech for blinds and shades, and ideas for window treatments that we're excited to share with you. Find inspiration for your new window coverings during the summer months with our cutting-edge industry design tips!
📧 Never miss a post from the 3 Blind Mice blog!
Subscribe to our newsletter to receive window treatment tips, how-to, and special offers in your inbox.
"*" indicates required fields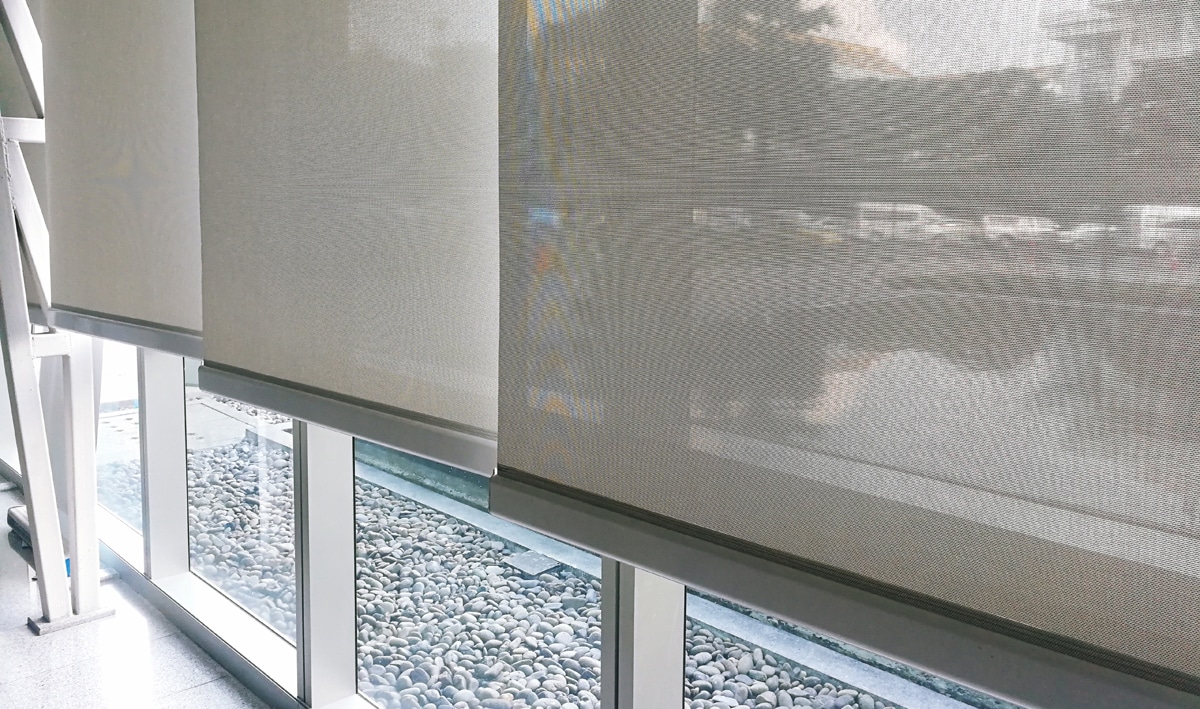 Top trends driving window treatment innovation
The displays at the International Window Covering Expo are a great way for us to see not only what's trending in the world of window treatments, but also interior design trends, home automation advancements, and even new trends in the motorization and home energy efficiency space. This year, we saw a few top industry trends that formed common threads through many window covering innovations on display at IWCE 2022.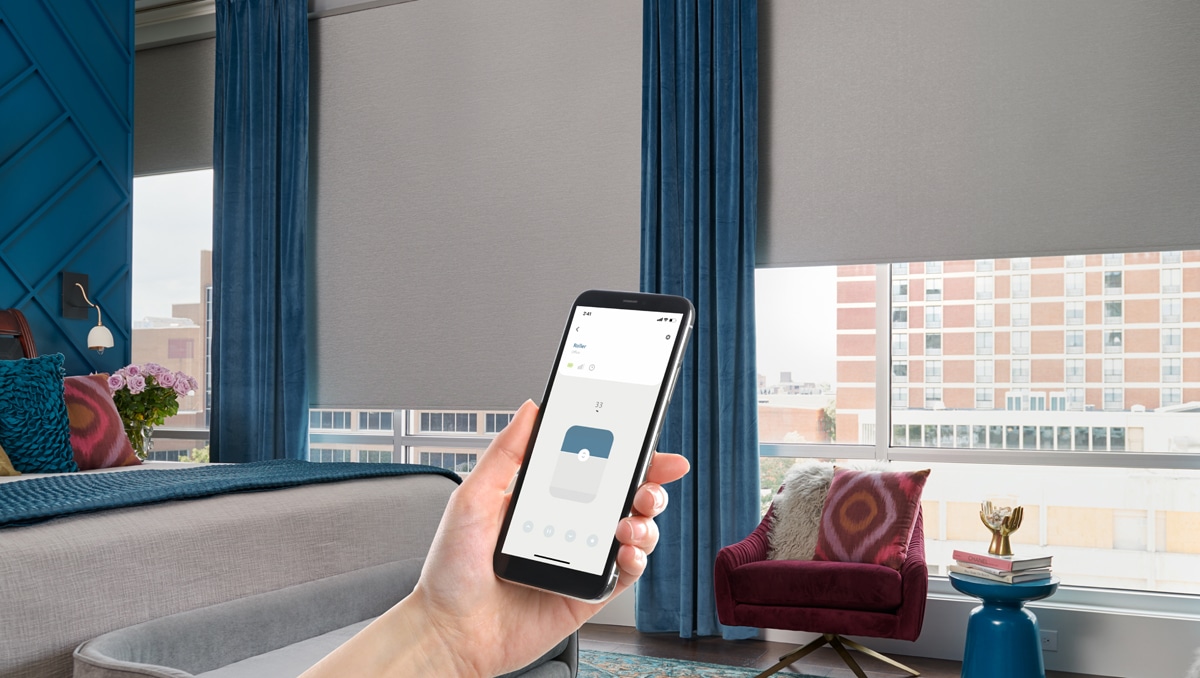 What industry trends are driving the latest window covering innovations?
» EASE OF USE – Who doesn't want life at home to be a little easier? The quest for a simple and easy home life is apparent in this year's trends.

» MINIMALISTIC DESIGN – From valances to wands, remote controls, and even new textures, we're seeing sleek and modern minimalistic designs throughout the industry.

» MOTORIZATION – With advances in battery technology, quieter and faster motors, and lower prices, motorized shades are becoming extremely common. Batteries are lasting longer, and new designs have better access for easy charging.

» AUTOMATION – Smart home options are becoming even easier to integrate with Amazon Alexa, Google Nest, and more. Open the automated shades with

voice commands

!

» LOVE FOR LARGE WINDOWS – As motorization and textile technologies evolve, larger and oversized window treatments are becoming more feasible and easier to operate. This means more love for large windows with these window covering innovations!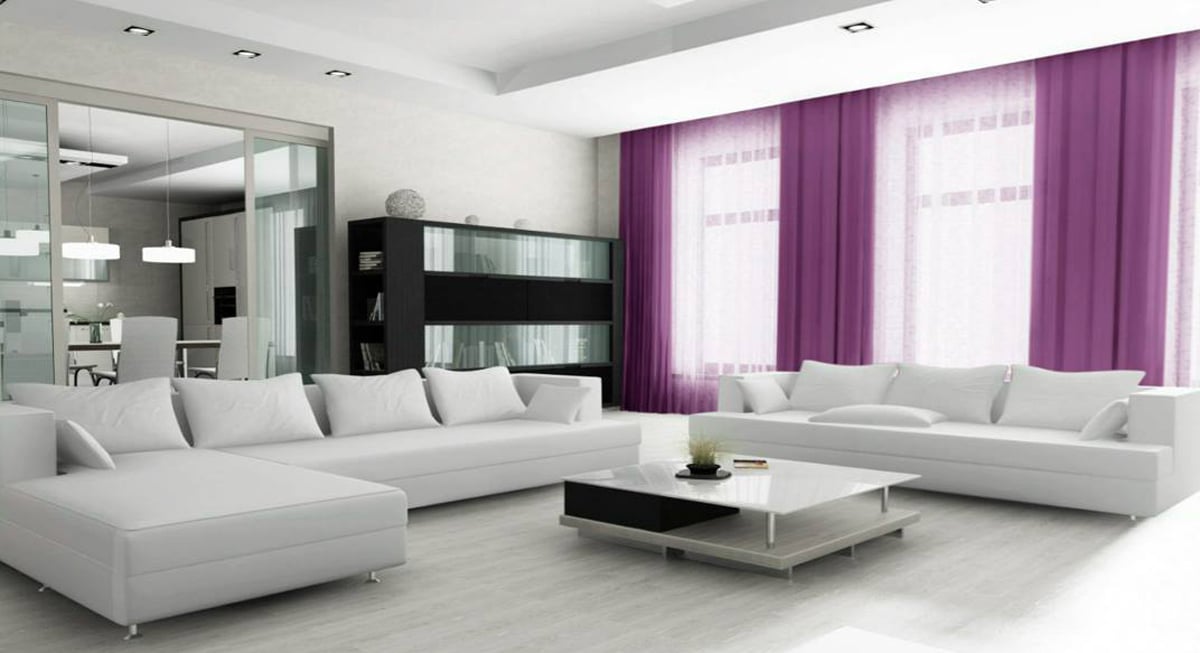 The Newest System: Forest Drapery Hardware Track with LEDs
Forest Drapery Hardware has long been known for their exceptional track systems for motorized draperies and beautiful curtain hardware. This year at the International Window Covering Expo, they introduced a new contoured headrail design that features a minimalist powder-coat finish and motorization that effortlessly glides draperies across the headrail. You can operate with the Forest remote, wall switch, or voice activation via your smart home tech.
No cords make this Forest Drapery Hardware Track mechanism child- and pet-friendly, plus it removes unsightly power lines. The battery is concealed effortlessly behind the draperies and can be temporarily plugged in for a charge when needed. The remote control design has been fine-tuned with a motion sensor to make it easy to find in the dark. Moving near the remote emits soft blue light to help you quickly locate it!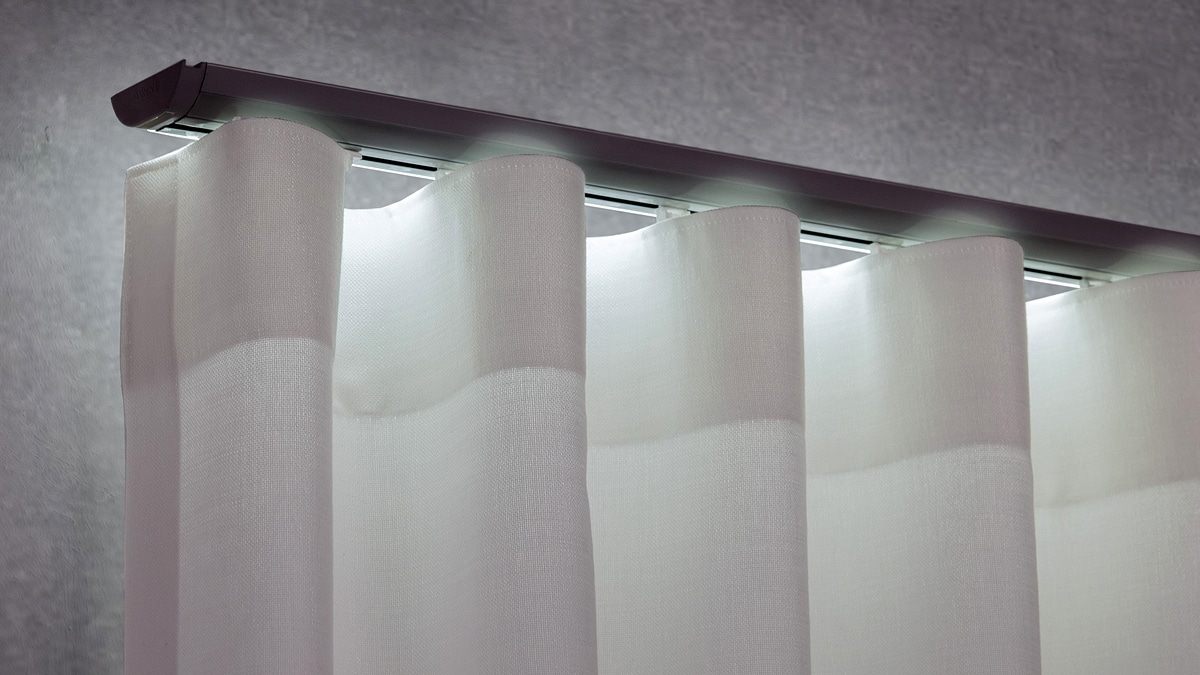 And, if all this attention to detail wasn't enough—the show stealer with this drapery track are the integrated LED lights. When lit, the lights at the top of the curtains emit a beautiful diffused glow through light-filtering sheer curtains, or just the right amount of ambient light with heavier draperies in a theater room.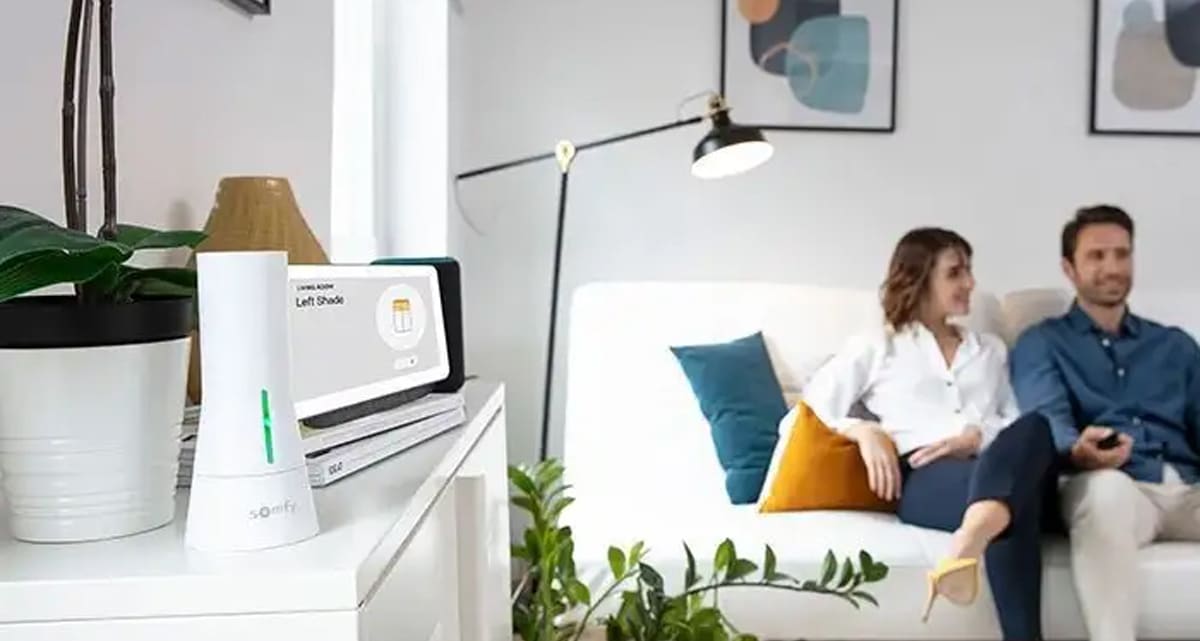 "Alexa, raise the blinds." Voice control…Everything!
Technology is evolving so quickly—we really are living in the future! Modern advancements in smart home tech are everywhere, and window treatments are no exception. The Somfy TaHoma is the perfect example of this. The TaHoma's gateway technology seamlessly connects your motorized blinds and window shades to the smart home devices you already use, like Amazon Alexa and Google Home. No need to learn a new system or download another app!
With window covering innovations like this, you can even create custom commands, like "Alexa, movie time" to simultaneously lower all the blinds, dim the lights, and turn on the TV—with just 3 words!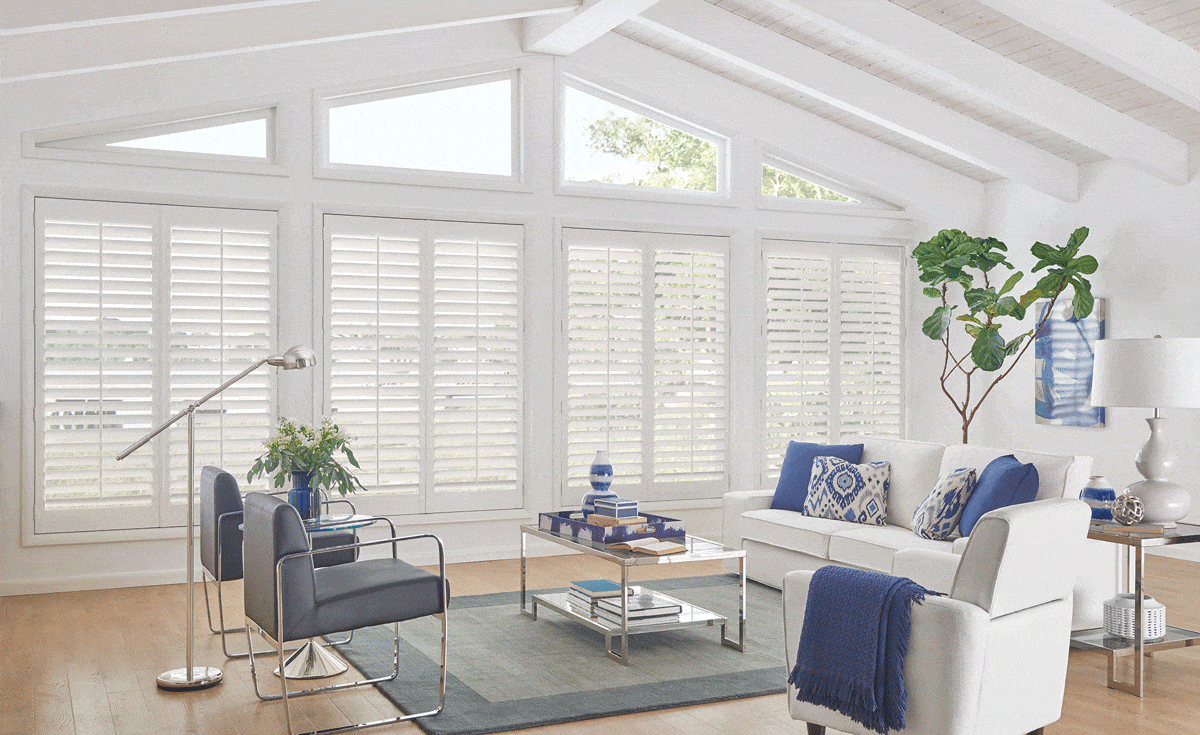 Window treatment trend we're loving: Light On Demand!
In today's on-demand world, it only makes sense that your window treatments provide light (or darkness!) on demand, too! 30% of window coverings sold now are motorized, and we expect to see that trend continue to increase. Motors are quieter and faster, batteries charge more quickly and last longer, and prices have become even more affordable.
Plus, motorization options are available on a wide range of window coverings: not just roller shades but cellular shades, honeycomb shades, draperies, and even motorized shutters are widely available! With better options available for room darkening and blackout shade solutions, motorization, and smart home automation, you can have light or darkness with a simple voice command or at the push of a button—all without breaking the bank. This is light control made easy.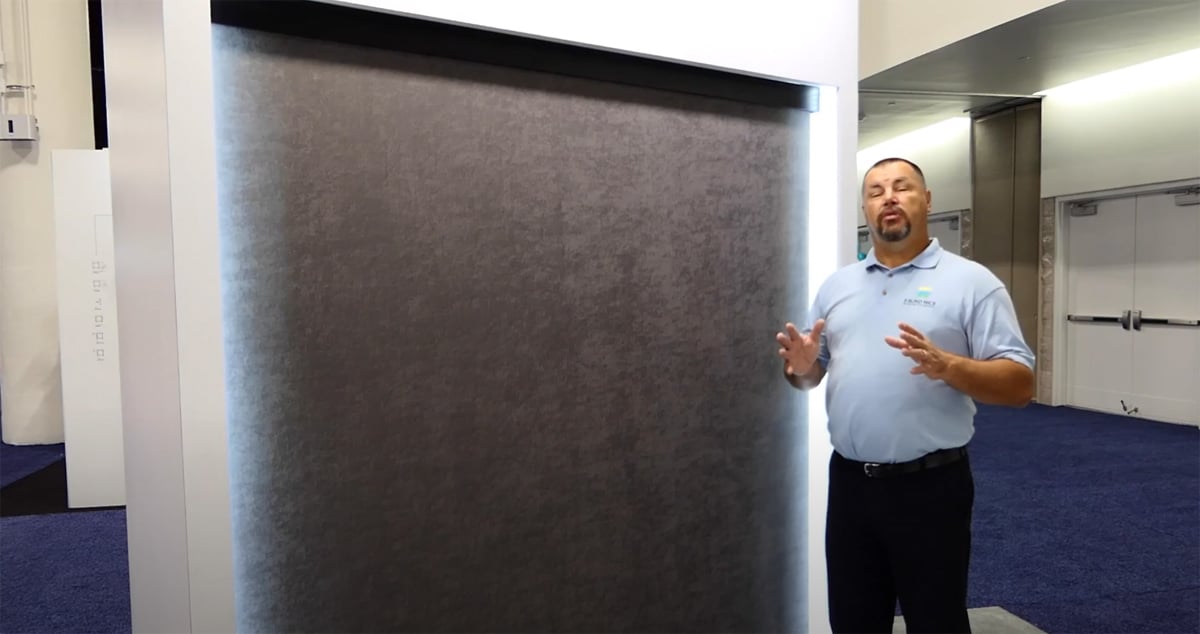 Newest design trends & window covering innovations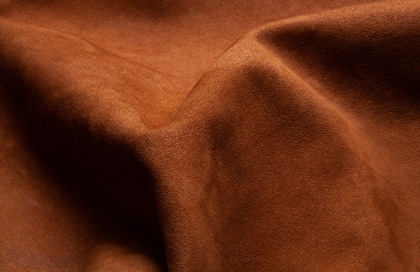 Don't let the curtains have all the fun!
Think that rich, luxe materials are only for the drapes? Think again! With the window covering industry taking design tips from interior design trends, new faux suede roller shades provide a sleek, single-panel accent for your windows that can soften a large space, reduce echo, and add a feeling of muted luxury to your space. Plus, motorized shades aren't your only automation option. Curtains and drapes can be motorized, too!
Forest Drapery Hardware – no detail overlooked
With metal and wood decorative options and track systems for motorized draperies, Forest Drapery Hardware brings minimalist and contemporary design to your curtain installation. There are dozens of beautiful & contemporary drapery rods in all shapes and finishes. Plus, battery-powered track systems can open and close your curtains with the push of a button. New and improved rods and track systems can support even longer distances for oversized windows and extra-large doors.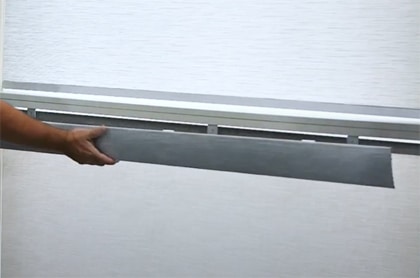 Latest window covering innovations: Versatile Valances
In the top window treatment category, Alta's contemporary aluminum valances not only look sleek and modern—they're incredibly easy to position and remove. Gone are the days of brittle and unreliable plastic valance clips that seem to inevitably fail with time. This new magnetic window covering innovation allows you to adjust and even change or replace valances with minimal effort. Plus, this feature isn't limited to roller shades—Alta's sleek magnetic valances can be used throughout the house to create consistency, even with different blind and shade styles in each room.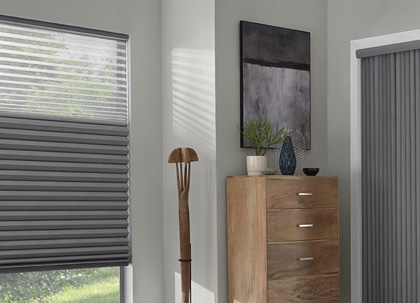 Alta Fashion Hybrid Pleat
Most cellular shades come in varying pleat sizes, from ½ inch to 1 lunch. The Alta Fashion Hybrid Pleat introduces an oversized 2-inch honeycomb shade pleat to create a smoother look with fewer lines. This is a great look for larger windows. Available in the ever-popular light-filtering top-down, bottom-up system, these cellular shades can be motorized for precise control via wireless remote or smartphone app.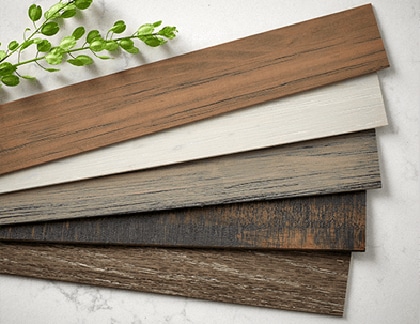 Beautiful Faux Wood Finishes
Responding to trends in interior décor, another of the latest window covering innovations includes new and modern wooden finishes. Alta has enhanced and expanded their faux wood finish offerings to include distressed grays, farmhouse whites, and dark coffee and charcoal tones. Excellent for areas with higher humidity, faux wood blinds are durable, affordable, and can even bring some of the feel of plantation shutters with new, larger slats.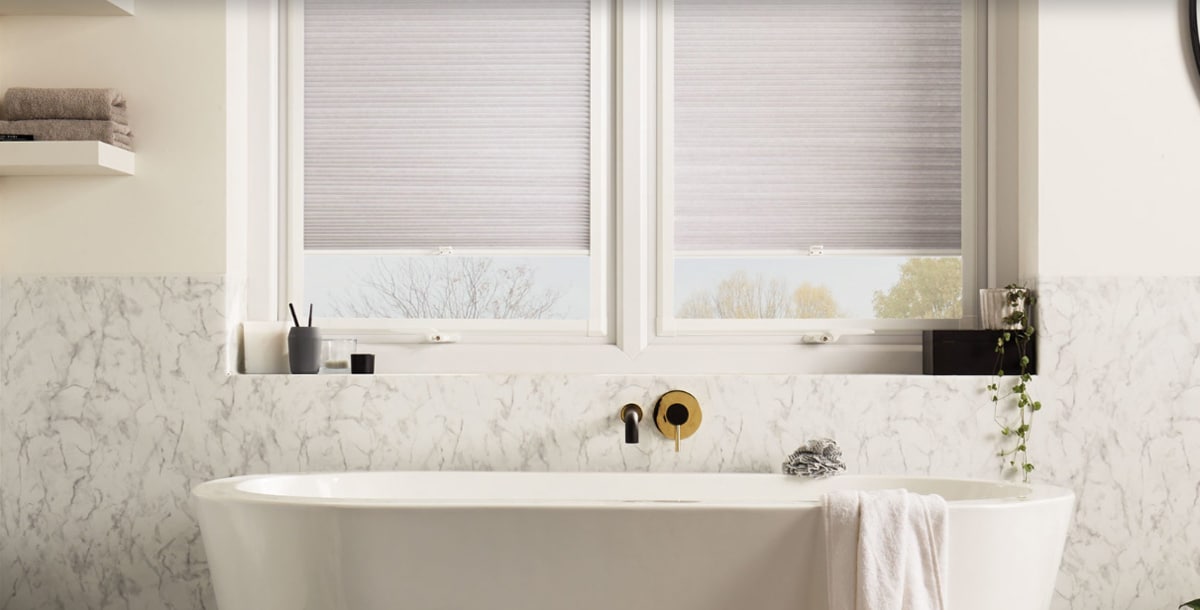 New, Sleek Window Covering Innovation: Louvolite Perfect Fit Blinds
While the Perfect Fit system has been on the market for a few years, this year's International Window Covering Expo saw a few noteworthy improvements. There are now two mounting options to better handle tricky windows: inside the window frame and outside mount. The inside mount of this latest window covering innovation keeps a very low profile with the sill recess mount and does not require screws to mount. The outside mount features an always cord-free, child-safe track system with enlarged side tracks, which gives more versatility on window size.
Additionally, the tracks have been improved to have no gaps on the side, making them even better for room darkening, privacy, and energy efficiency. Normally, you need to layer multiple treatments to block out all light – but the track system takes care of that for you! An enlarged T-split frame allows for 2 or even 3 shades to be installed side-by-side for large windows, with independent operation of each shade.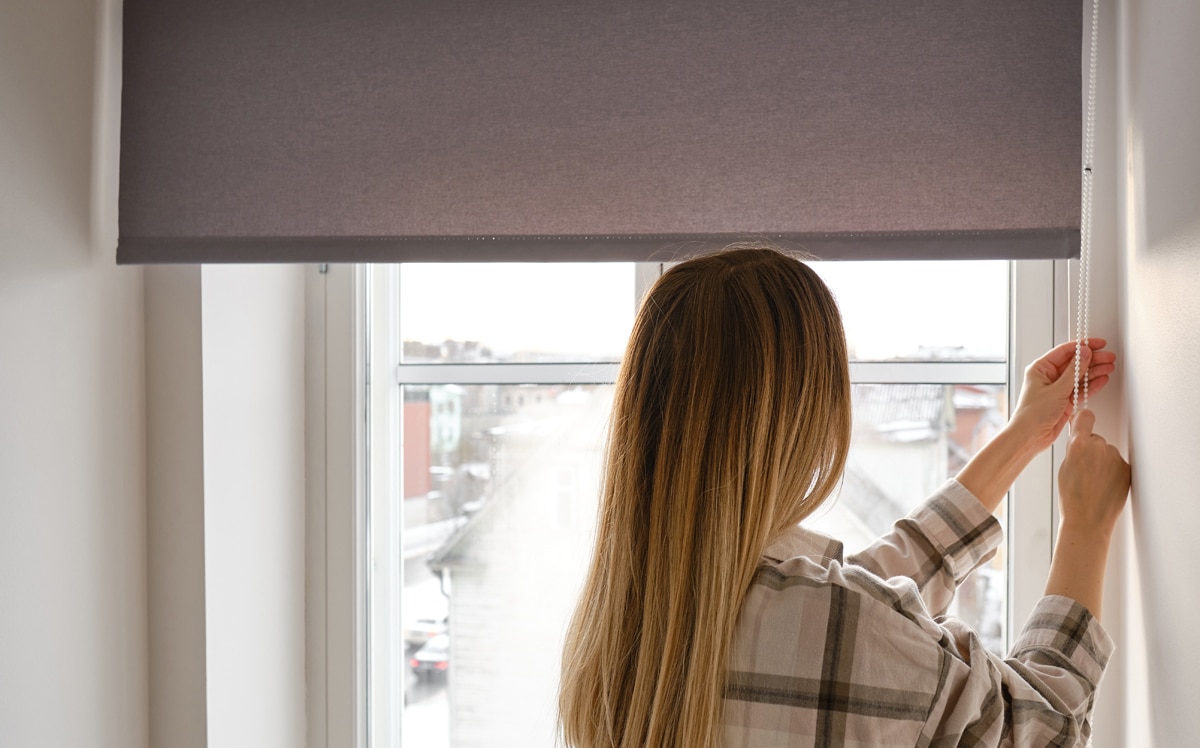 Protect students and their teachers with SecurShade
Created in Vermont, SECURSHADE is truly one of the biggest innovations to hit the window covering industry in years. This safety system simply and cost-effectively equips schools, campuses, offices, and commercial buildings with a mechanism that deploys the roller shades in the entire building with the push of a single button.
In the event of an active shooter scenario, teachers and educators must follow lockdown protocol that involves first getting students into a safe area, and then going to the window to lower shades. While very important to obstruct visibility, this puts the teacher directly in eyeline of the aggressor—and directly in harm's way.
SECURSHADE, the latest window covering innovation, closes all shades for the entire building. This quickly conceals everyone, not just a single room, while also alerting the whole building to the possibility of a threat. Designed to work simply, and tested rigorously, SECURSHADE founder and inventor Gordon Clements used his 30+ years of experience in the window treatment industry to come up with this life-saving solution.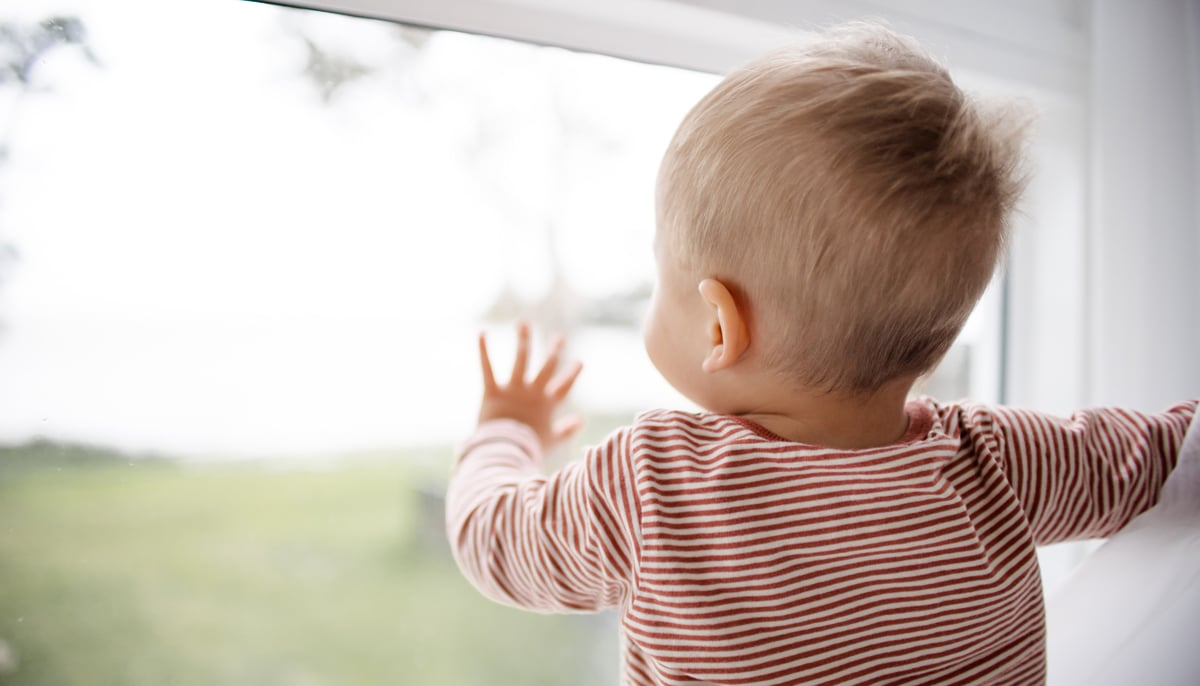 Window treatment child safety innovation – say goodbye to cords for good!
With new regulations affecting the industry every year, you'll see more products advocating for child safety in the home. All the latest window covering innovations are being created with child safety as a top priority, and this year's International Window Covering Expo was no exception to that trend!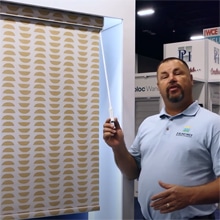 Louvolite PowerWand
Similar to the twist wand you may be familiar with using to tilt blind louvers, the Louvolite PowerWand is a simple stick-style control that provides battery-powered motorized shade control. Unlike remote controls, it's attached to the shades so it never gets lost! And with no cords whatsoever, there are no child safety issues. Recharging the battery is simple: plug the USB power cord into the bottom of the wand, which is easily reachable – unlike some batteries that are housed in the headrail!
AgileLift from Alta
The AgileLift Cordless System makes roller shades easier than ever to open and close. With super-precise positioning and no more lock-and-release system, there are no fiddly adjustments to make. The shades stay exactly where you lift them and can be positioned with a single hand—no cords required.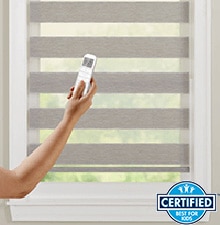 Dual Shades from Alta
Dual Shades from Alta provide an excellent sheer solution to diffuse light, reduce glare, and create privacy during the day. The BLISS Automation system means you barely need to lift a finger to enjoy wirefree convenience and motorization. With a long-lasting battery and the Best for Kids Certification from the Window Covering Safety Council, these designer banded shades really are an excellent addition for effortless and safe living for the whole family.
With numerous improvements in child safety, there are more options than ever before to create safe living spaces all throughout your home—in any and every style!