In this blog post, you will learn more about the silent motorized battery-powered drapery rod system offered by QMotion Shades and available for purchase & installation by 3 Blind Mice Window Coverings.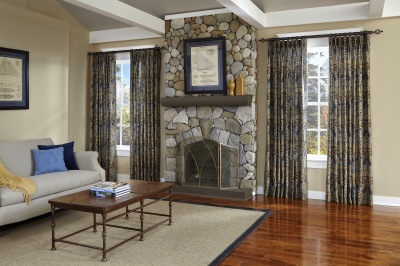 With whisper-quiet functionality and sleek look, you can adjust the drapes without disturbing anyone!
Quick tip: the battery-powered drapery system is perfect for home theater rooms, bedrooms, living rooms, and office meeting rooms.
With a variety of rod finishes, finial and valance choices, there are many options to highlight your style and complement interior of your home. No one will even notice they are no ordinary rods!
Rod finishes include:
Satin Nickel
Back
Brushed Silver
Bronze
White
Classic Silver
Watch the Battery-Powered Drapery Track in Action
In this video, get an inside look at how the battery-powered drapery rod works and watch it in action.
Below, you'll find more battery-powered window treatment ideas.
With batteries, low or line voltage is not required to operate your motorized drapes, making for easy installation. This motorized drapery option is powered by 7 D-Cell batteries, which can be easily replaced. No need to take down the rod to install new batteries!
Battery life is rated at an average of 1-2 years, depending on factors such as drapery weight, rod operating length, etc. There is an optional low-voltage transformer to power the track, as well.
Enjoy the clean look of your battery-powered window treatments with no messy cords or large, obtrusive motors. All motor systems operate silently and are cleverly hidden in the drapery rod and underneath the valance at the top of the blinds.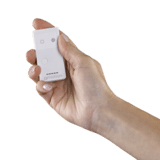 Imagine closing the drapes for a movie without rising up from the couch, or opening them to invite in the morning sun without getting out of bed.
Command these motorized drapes with the QSync app on your iPhone, iPad, or Android smartphone or tablet device.
View a video of QSync by QMotion
All of the motorized drapery options can be controlled by a radio wall switch formatted to fit a "Decora Style" switch plate. Remote control operates both handheld and attached to the wall with magnets for safekeeping.
Looking for more battery-powered options? Learn about battery-powered roller shades.
Speak with one of our knowledgeable design consultants.
We'll help you choose the best battery powered blind option to suit your home or office. Click the button to the right to schedule an appointment!