Introducing Serena the Wireless, Automated, and Battery Powered Roller Shades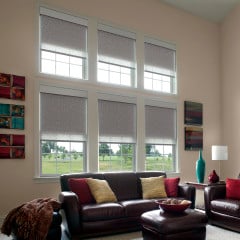 This highly sophisticated technology by Lutron Shades gives a sense of contemporary style living, with convenient, new-age design features in these old classic roller shades.
No electrician or technician is needed with the ease of installation from Lutron, the leader in silent and motorized shades. Impress your guests, be a couch potato, or time the shades perfectly with the new Serena shade system, one of our favorite new window treatments of 2014.
Benefits of the Serena Motorized System:
Wireless motor communication (no need for an electrician)
Easy to change battery system
Built-in fabric covered cassette system
Automated control of the whole house
Keypad, remote, tabletop & wall switch control options
Shading System with Automated Controls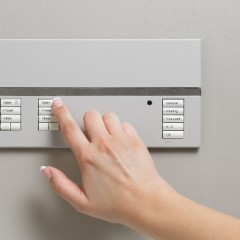 The communication to the motor is wireless, so there is no need for an electrician, wiring, cutting into walls, or expensive wires. Equipped with appropriately dubbed "smart motors," Lutron shading systems include a complex drive system that allows you to control the whole house with your automated system using keypads, IR remote controls, wireless tabletop controls, or wall switches.
Time-Saving Tip: You also have the option to set an astronomic time clock for the adjustment of your shades.
Battery Powered Roller Shades
The unique fabric-covered cassette nicely covers the roller shade hardware and batteries. As you see in the video changing batteries is a snap! There is no need to call a technician to do this anyone that knows how to change batteries in an item can do it on this roller shade system.
French Door Design Idea: Since it is hard to get electrical wiring through the door on standard wired motorized shades, using battery-powered roller shades will work well for a French Door. Take your home window coverings to a new and elegant level by adding in this classic and contemporary design style with sophisticated technology.
The material you can use in Lutron Serena battery-powered roller shades comes in various colors, openness factors and can even be ordered with blackout fabrics. Lutron shading fabrics are made from sustainable materials for complete environmental and energy savings.
Not sure which battery-powered roller shade is right for you? Speak with one of our knowledgeable consultants at 3 Blind Mice Window Coverings to choose the best option.