For the first time, you can now raise your plantation shutters!
Yes, it is true. That makes this elegant & traditional window covering far more functional. The versatility brought by this latest innovation by Comfortex is great when you want natural lighting filtering into the room, but also want privacy.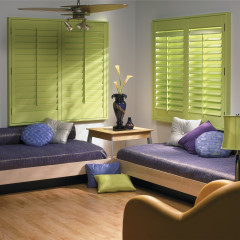 The PanaView by Comfortex looks like traditional plantation shutters but has three key features that show this is not your standard design.
The most innovative feature is the ability to raise your plantation shutters. Lift from the bottom and change the height of the shutter to any size within the window.
What makes this one of the most innovative window treatment trends for 2014 are the convenient functions that set this modern and elegant plantation shutter apart.
Innovative Plantation Shutter Features:
Clearview Tilt Bar
Achieve 40% more window view than a conventional composite plantation shutter. The exclusive "no panel" plantation shutter design allows for an expansive unobstructed view. The clearview tilt bar is on the back of the shutter and comes with standard 3 1/2 inch louvers. Your view is greatly enhanced since there is not a standard tilt rod in the front."
Top View Privacy Clip
Another nice feature of the shutter is the top view privacy clip which allows you to open up louvers at any position you like. There is no need for a fixed divider rail, you choose the location each and every time. This is great when you want that natural light filtering into your space, but you also want privacy. This is a great feature for bedrooms, family rooms and kitchens.
Room Darkening Treatment
Want to have a nice dark room to sleep in from a long trip or cuddle up and watch that movie on a Sunday afternoon? The PanaView shutter also makes a great room darkening treatment. By letting minimal light in when closed the PanaView plantation shutters by Comfortex your room can be dark enough for a movie while maintaining a traditional shutter style.
To see a live demonstration of these unique shutters that are elegant yet very functional watch the videos below. By adding modern touches to a traditional style this product really stands apart from the competition.
Panaview Plantation Shutters from Comfortex
Uplifting Shutters from Comfortex
Similar to the Panaview line of shutters, these have the tilt rod built into the frame so you can easily control all louvers. You can also lift from the bottom up to give a full view of the window just like horizontal blinds and the same as the PanaView line of shutters.
Want these quickly? Uplifting shutters can be ordered and installed in less than 3 weeks!
If you are thinking about buying shutters, you should learn more about Faux Wood or Real Wood Plantation Shutters.
Have questions about these Uplifting Shutters?
Speak with one of our knowledgeable consultants at 3 Blind Mice Window Coverings to choose the best option.