We've gathered eight of our favorite summer window covering trends and inspiring window treatment ideas for your home. From bringing nature indoors with green tones and natural elements like woven wooden shades, to keeping out the heat with window screens and cellular shades, we have a range of options that are both stylish and functional.
This summer, we're seeing lots of trends that highlight contrast: mixing vintage and classic styles with modern aesthetics, bold patterns with simple solid-color blocks, nature and natural elements side-by-side with modern technology, luxurious curtains with metallic rods, cool dark neutrals with bold jewel tones, rustic wood with modern appliances.
Let's take a look at the Top 8 Summer Trends for 2019!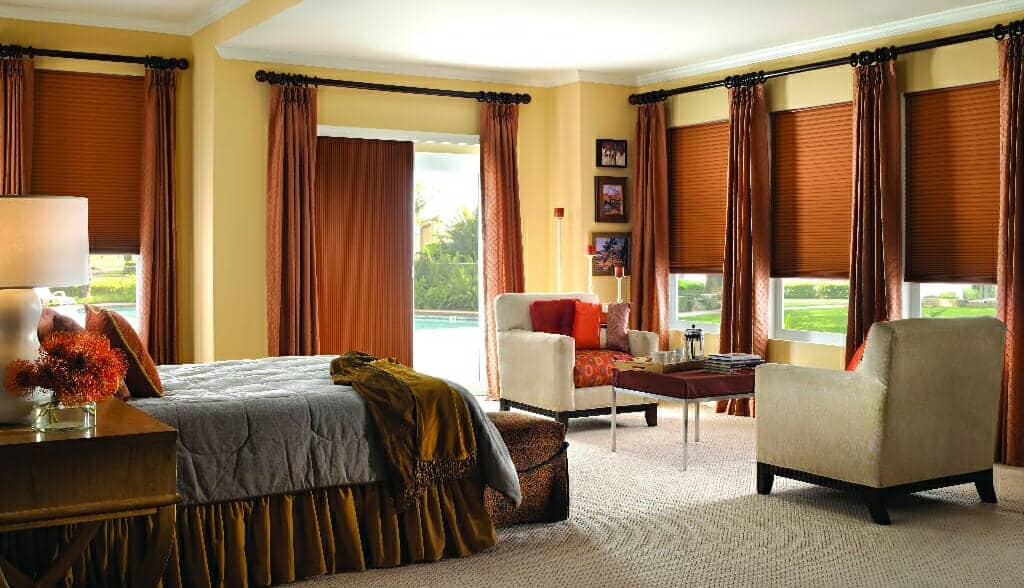 Layering shades and shutters with curtains or drapes is a window treatment trend we're seeing on the rise. Not only does this allow you create more interest with multiple patterns, textures, and colors—it's also great for transitional seasons before and after summer, when you may want multiple options for letting light in or keeping heat out throughout the day.
In the photo to the left, climate-controlling cellular shades are paired with on-trend floor-to-ceiling curtains, accented at the top with eye-catching curtain rods. Continue reading for more on each of these trends!
Trend #7: Automated Homes
As more people embrace home automation, we're starting to see a rise in smart home-compatible window coverings. There are now many styles of roller shades, blinds, screens, and coverings available for motorization, and there are a variety of power solutions available—you do not need to worry about rewiring your whole house to install!
Whether it's closing your shades with the push of a button, setting your mechanized blinds to follow a pre-set schedule, or using voice commands with your Amazon Echo, automating your window coverings adds ease-of-use to your home.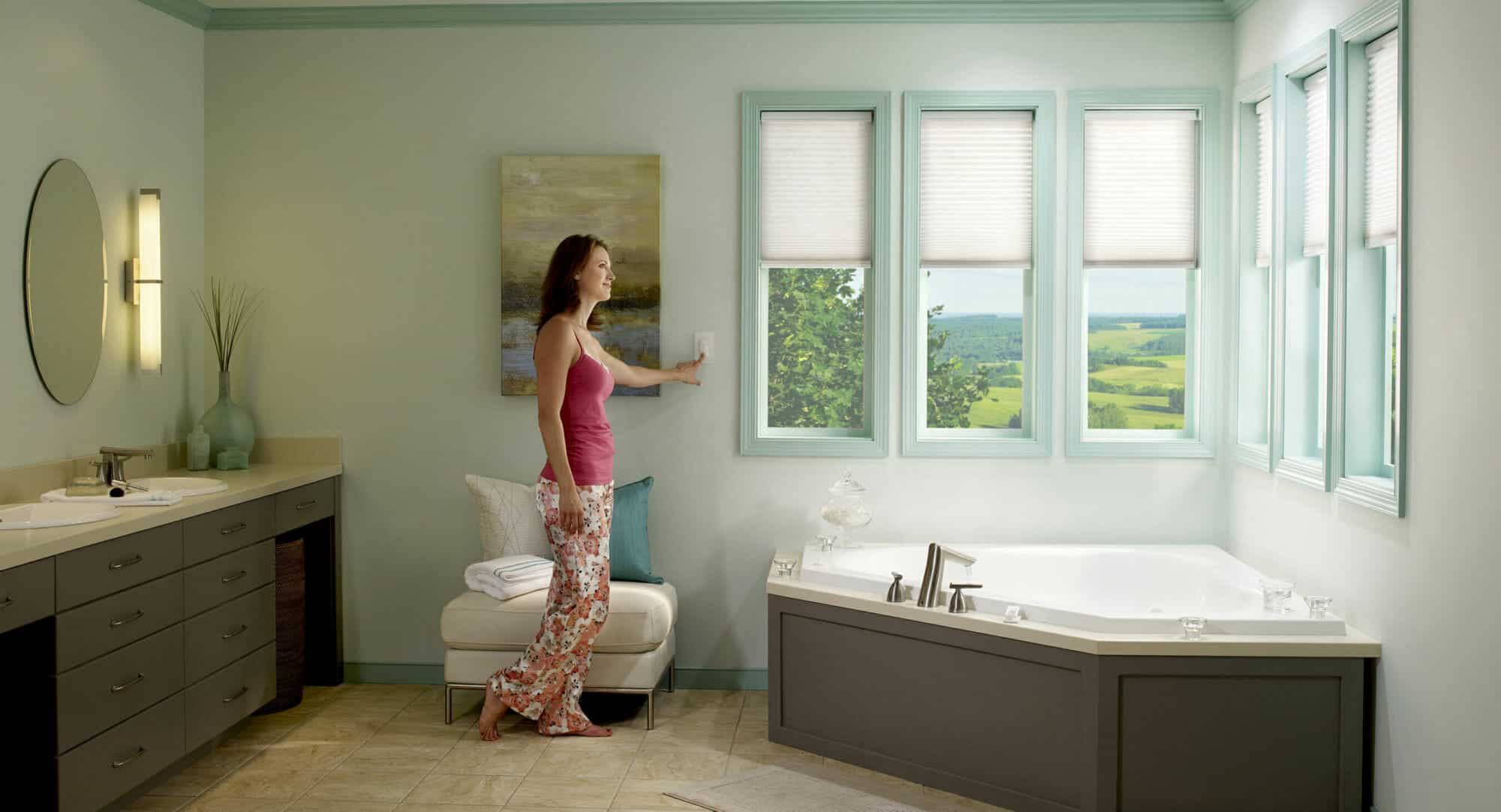 Trend #6: Metals & Dark Neutral Tones

Stainless steel is no longer just for kitchen appliances! We're seeing metal accents—specifically, stainless steel, copper, and brass—showing up in summer window covering trends. This includes curtain rods, hinges, knobs, and other finishing touches. We're also seeing metallic touches making their way into interior fabrics, like drapes with metallic wires woven in for a light-catching accent or sheer curtains with metallic printed accents.
Along with the rise in popularity of these metal accessories and accents, we're also seeing dark neutral colors making their way into interior window coverings. Dark charcoal, grey, and burnished bronze tones can add weight to your window coverings and create a sense of anchored balance in your home.
Trend #5: Let the Light In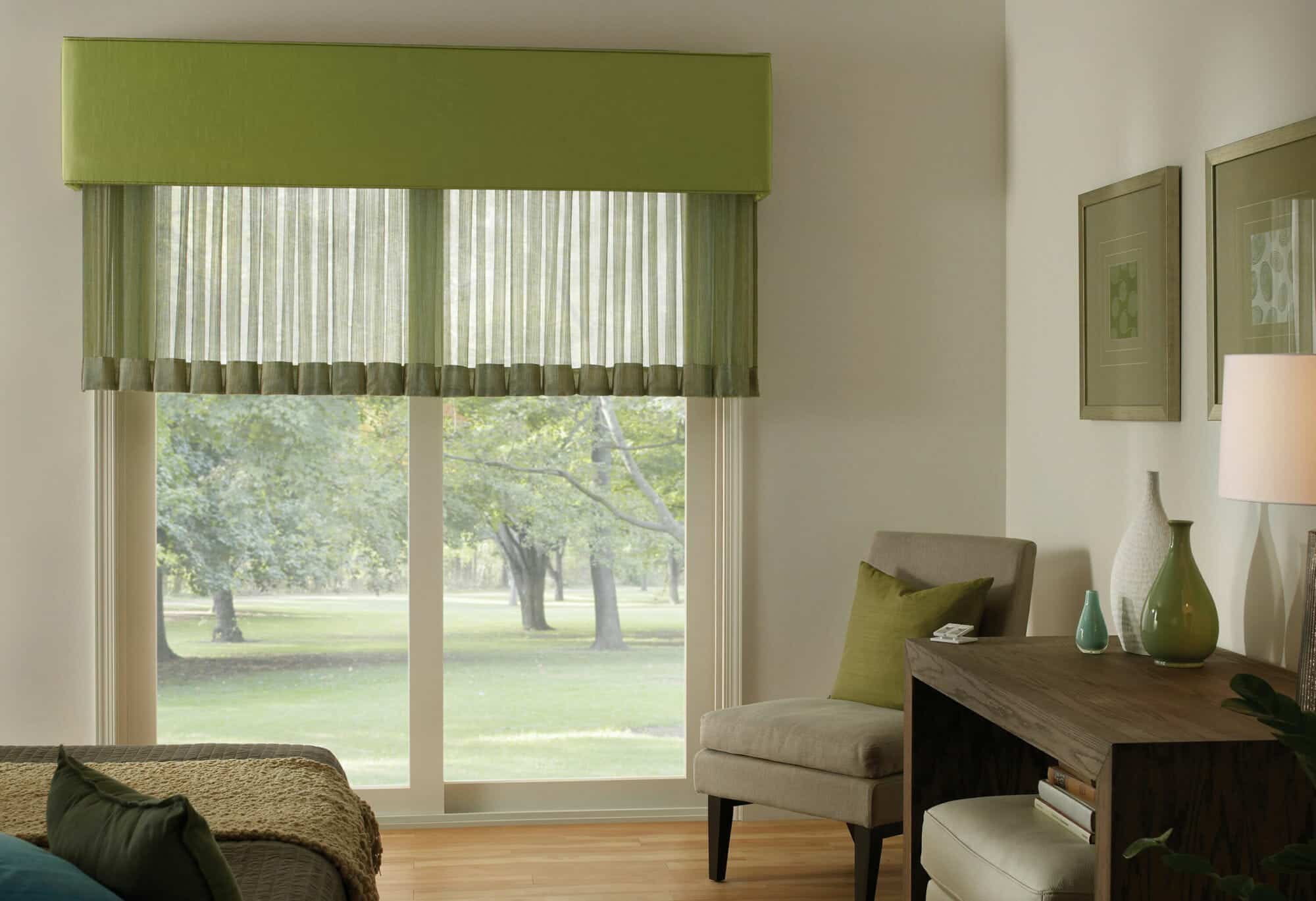 Summer means longer days with more opportunity for natural sunlight in your home. Take advantage all that extra light with sheer curtains and draping, which can soften bright sunlight to create a natural glow in your home.
During the day, a sheer curtain will allow people inside the home to see out through the curtain, without allowing people on the outside to see in. The loosely woven polyester or cotton lace fabric allows for maximum light to show through the fabric and provides a little bit of UV protection. You can combine sheer window coverings with draperies to block out light and heat and improve privacy and energy efficiency.
Trend #4: Climate Control
While you may want to let the bright summer sunlight into your home, that doesn't necessarily mean you want all the summer heat to come in, too. Every summer, we see an increase in solar screens and decorative films for windows.
These multi-purpose window coverings can let in plenty of light while offering privacy from the exterior of the home. They help keep summer cooling costs down by blocking the amount of heat coming in. Window decals can also add interesting visual elements to your widows, such as stained glass or a French pane appearance.
We had the chance to take a look at Texton's exterior Optix Screens at the 2019 International Window Covering Expo—you can read about our experience & watch the video here.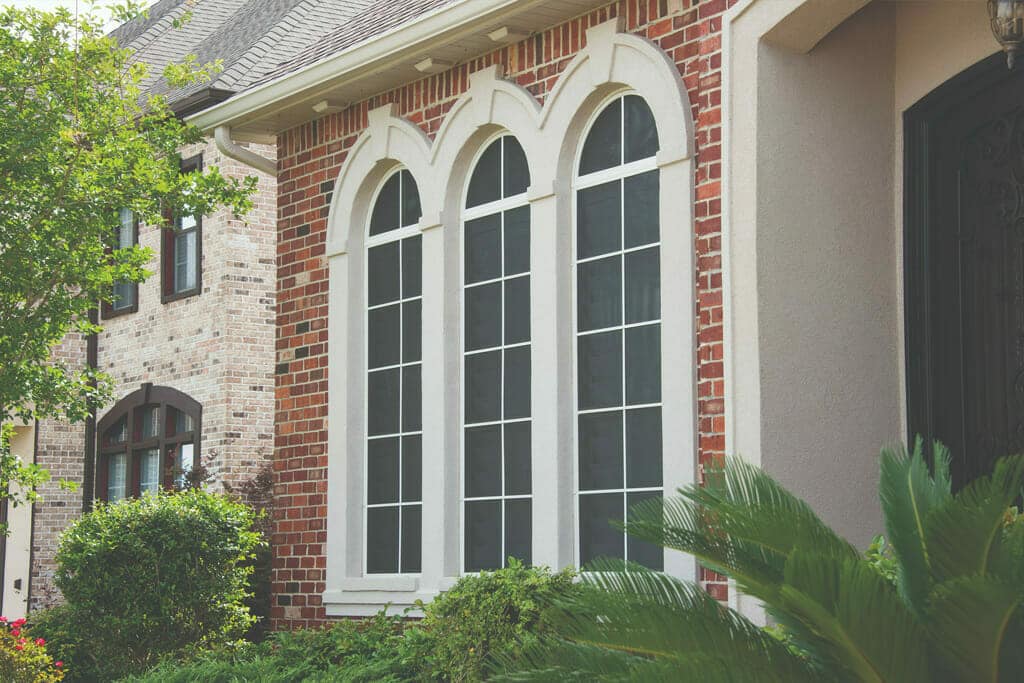 Minimalist trends of single-color rooms and light neutral tones are being accented—and even sometimes replaced—with rich jewel tones. Go bold with bright, deeply saturated tones of sapphire, gold, emerald, and ruby.
We're seeing a return to the "more is more" approach in residential interiors, with luxurious fabrics like velvet drapes and embellished upholstery making a comeback. Gold foil prints like the pillow shown above add both a hint of metal (Trend #6) and a touch of luxe to any room.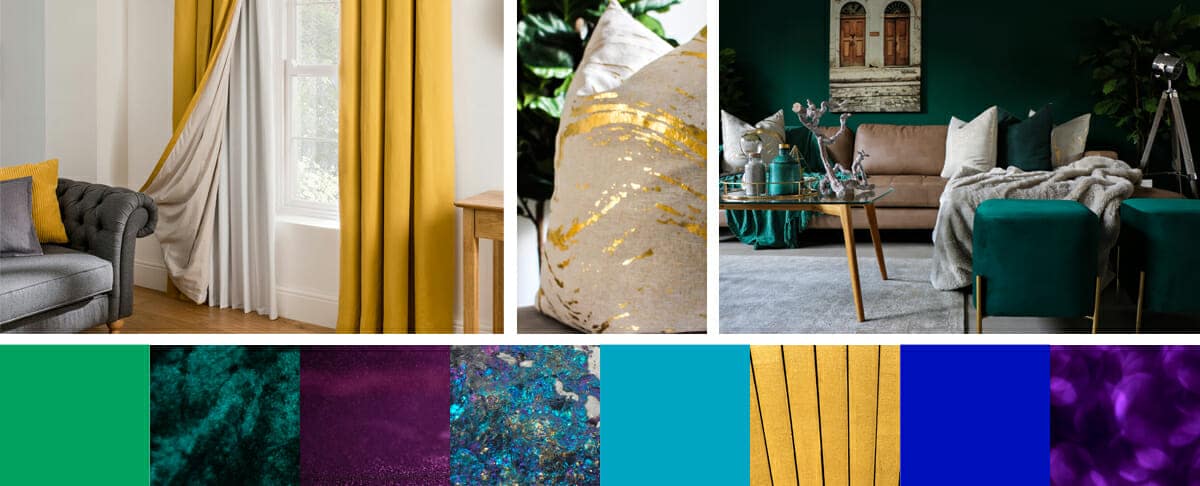 Trend #2: Bring Nature Inside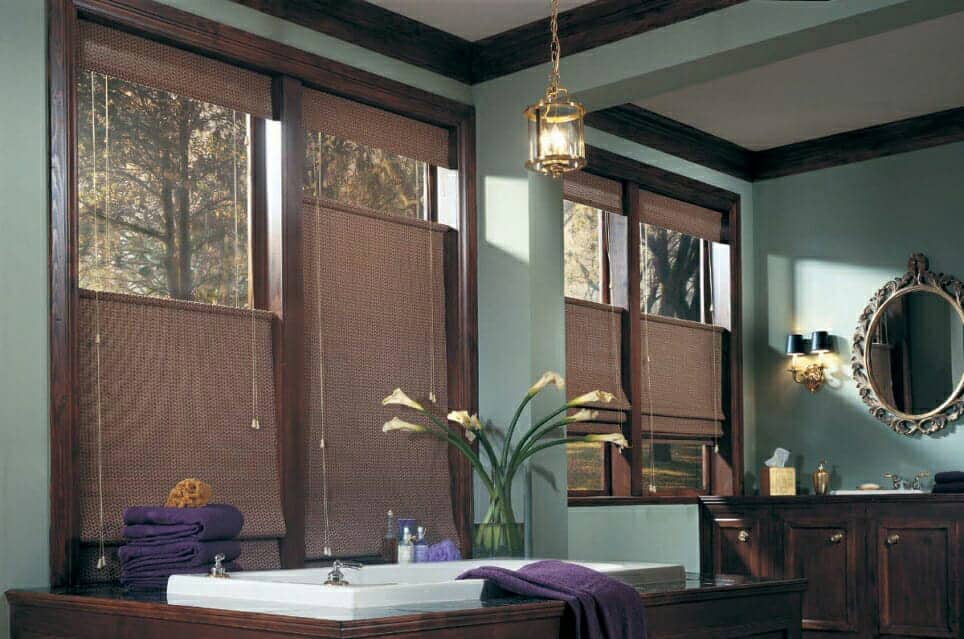 As we spend more and more time indoors, it becomes more important to bring elements of the outdoors inside the home. We're seeing this with a rise in bamboo and wooden window coverings like woven wooden shades and wood blinds.
Another nature-driven trend is going green: not only working with eco-friendly and energy-efficient materials and technologies, but literally bringing more green palettes into the interior. That can mean green furnishings, painting the walls a subtle sage or light lime, or even green window treatments. A sheer curtain can add a light green tone to your home, or you can go bold with vibrant green curtains and drapes.
"For 2019, there is greater interest in biophilia–emphasizing the relationship between humankind and nature, and the connections between the two. We are looking at material palettes that use rich, "galactic" depth for saturated colors, combined with supporting layers of organic, biophilic materiality that's sourced responsibly, and has a circular strategy for reuse or recycling after its useful life.
Natural, organic materials–such as wood floors, stone, and daylight and plant life–remind us of the exterior and brings the outside and nature, in. We are machine- and technology-driven society, but nostalgic about past processes and handiwork, so opportunities for custom Millwork and crafted materials are very important."
—Angie Lee, FXCollaborativ via Continental Window Fashions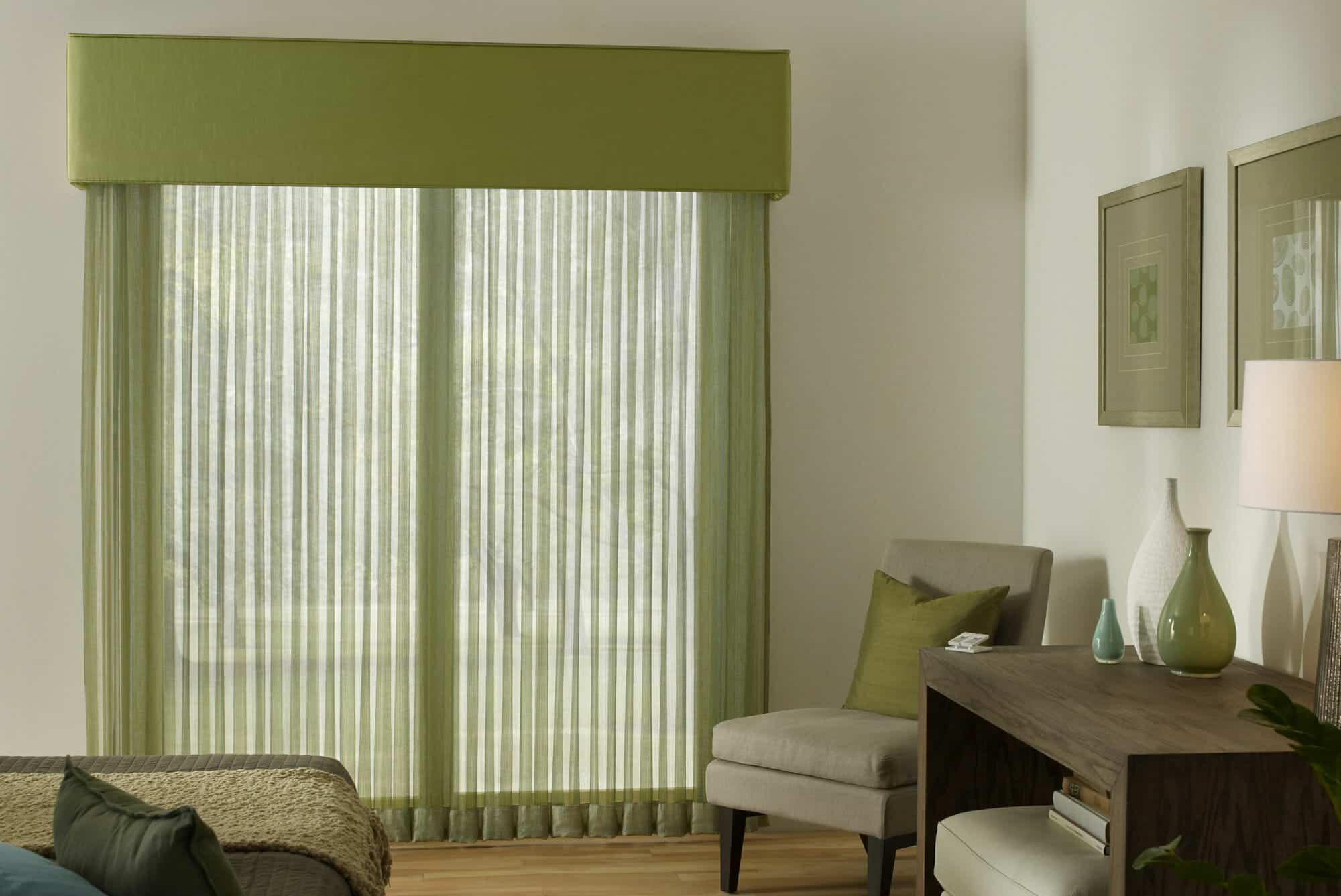 Trend #1: Bold Printed Patterns

The number one trend we're seeing for window treatments this summer is large, bright patterns and prints on drapes. When paired with the trending floor-to-ceiling curtains or drapes, this creates a bold eye-catching statement for your home.
One of our favorite ways to incorporate big, bold patterns is the Color Lux Virtual Design System from Comfortex. This incredible system allows you create a harmonious room based on a selection of 800 colors and dozens of patterns. When you create custom colors and patterns, the finished product is actually printed on your shades, giving you absolute control over customizing your home's décor!
Comfortex provides an online room visualization tool that you can access online from your own home on their website. You can explore this incredible tool on your own to try different window treatment styles, patterns, and colors, or a design specialist from 3 Blind Mice can come to your home in a free one-on-one design consultation to walk you through the many customization options!