Pleat styles might come and go in the world of fashion…
But in home décor, they're a mainstay!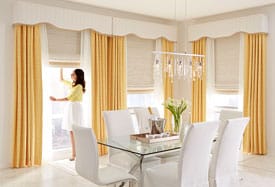 For one thing, pleated draperies lend depth and texture to the room, while making a bold statement when paired with complementary fabrics.
If you're thinking about making an upgrade to your window dressings, here's a chic, nifty guide to the mysterious world of pleats, pockets, and panels, which is one of the top window treatment design trends for 2015
Before choosing the cut of your drapes, decide how much you want them to move along the rod. Deciding between stationary and traversing drapes makes a significant impact on the final cost of labor and yardage.
Stationary styles means the drape won't operate and is considered more of a decorative piece, while traversing drapes are able to open and close using a rod or hand baton—letting you control the light, privacy, or temperature with ease.
Another choice to make is with the types of hangers you want. Some drapery pleat styles require curtain rings, which can be another way to show off your design prowess, while others adhere right to the rod for a more minimalist look.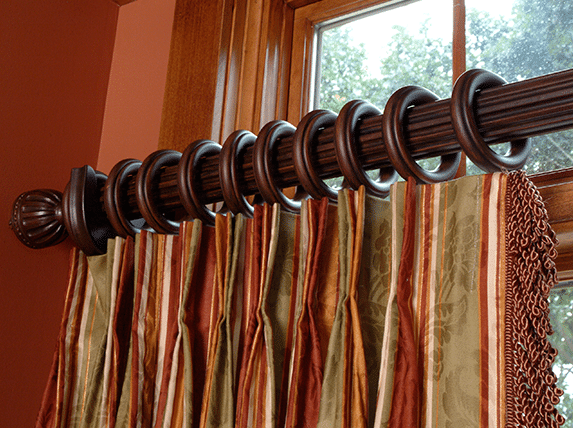 Once you've figured out your curtains' practical needs, you can get to the style selection. The cut of a curtain can create the same nuance as the neckline of a dress so knowing your ripples from your rod pockets can prove to be pretty helpful.
See the Latest Pleat Styles (VIDEO)
This video from the International Window Coverings Expo 2015, explains the different types of drapery pleat styles by our very own O'D McKewan and features some of our favorite design choices.
Drapery Pleat Styles Available
Each pleat style can be presented with a variety of fabrics. Medium weight is the most common, as they'll maintain the shape of the pleat throughout to the bottom, though lightweight fabrics offer a softer hang. The pleat styles can range from elegant to easy going, depending on your decorating demands.
Pinch Pleat: This is the Little Black Dress of the drapery world. A simple pleat keeps things sleek and traditional.
Gathered Tab Top: The Traditional Tab gets a makeover with a decorative sleeve wrapped around the top— use contrasting fabric for visual effect.
Traditional Tab Top: Since these have the hanger rings sewn in, this classic style is best for drapes you won't be moving too much.
Flowing: Soft pleats create a gentle slope, while the attached ring clips of your choice enhance the delicate silhouette.
Grommet: Best for highlighting a decorative curtain rod, since the clean lines won't distract from a lustrous finish or interesting finial.
Ripple Fold: Boasting clean lines, these drapes move well and keep things contemporary.
Inverted Pleat: The powers that pleat decided to shake things up with this style by highlighting a conical silhouette with a loose pinch.
Flat Panel: Featuring elegant folds that have been stiffened with buckram highlighted by your choice of fashionable ring clips.
Crown Pleat: A small pinch at the top of the panel gives clean lines to this classic drapery pleat style.
Drapery Pleat Styles for Your Home (Design Ideas)
Choosing the style that's right for you depends on the windows' function and your own flair for the dramatic.
If you're looking to dress up the dining room, a Goblet Pleat paired with brushed metal hanger rings creates an elegant duo.
If you're trying to jazz up a window with a not-so-great view, a Traditional Tab Top paired with an ornate finial will keep things sleek and stylish.
If you'd like to add even more depth, or simply allow more sunlight, sheer curtains are a great option. They keep things bright and breezy, even when paired with a heavier weight panel.
Valances to cover the top portion of a window make a grand gesture when paired with sweeping drapery.
A Cornice Box also serves as a statement-making topper. Their structured silhouettes allow for a little playtime in terms of custom details. You can wrap them in complementary fabrics—flowing latticework for easy style or a scrolling damask for royal flair—for a sophisticated accent to your drape design.
Download Our Window Treatments Buyers Guide

This guide is a great starting point in your redecorating adventures. Please contact us for help finding the perfect drapery pleat and design styles for your home.
More Home Design Inspirations from 3 Blind Mice Window Coverings
Add a new burst of style and decorative inspiration to your home with new window coverings. The vast array of colors and fabrics set a luxe or laid back tone, while pleated details draw the eye upwards, adding height to the room. Happy pleating!