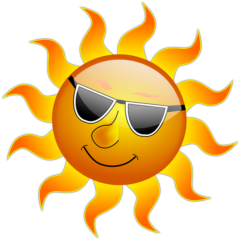 Summer is that welcome season for spending weekends at the pool or the beach…
However, the sun that you enjoy when being outdoors is not so welcome in your home when you are trying to keep cool.
In this article, learn how you can reduce heat in your home with energy efficient window treatments.
Window Treatments for Temperature Control
Not only does a bright, sunny room have the potential to make you feel uncomfortable, it also does a wonderful job of fading your furniture.
An air conditioning unit will blow cooling air into your room, but will also blow up your bank account. It will also not protect against UV rays through the window.
Window treatments are an awesome way to bundle costs for new interior design. You can improve energy efficiency while controlling the sun's impact to your home interior.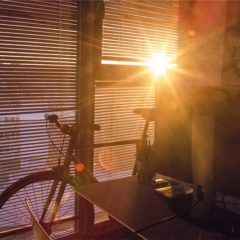 What makes a window covering energy efficient?
When speaking to a window covering expert in San Diego, you will surely hear about the "shade coefficient" and "openness" factors of various window covering products available. Learn about these terms below!
Both of these factors will affect the solar gain. (the amount of sunlight that is allowed to pass through your windows)
The lower the openness or shade coefficient percentage is, the less sunlight will be allowed to heat your home.
Below, we have outlined several window covering options that have been created to protect your home against the sun.
---
Energy Efficient / Blackout Curtains Or Shades
Drapes in light colors, or darker drapes with white backings, will prevent UV rays from being absorbed into the room. Blackout curtains and shades are ideal for use in home theater rooms where you want complete darkness any time of the day.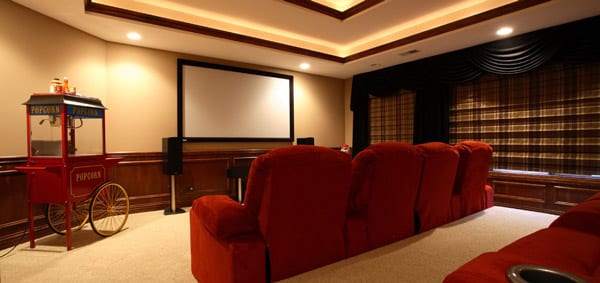 By reflecting UV rays back outside the window, heat coming through your windows can be reduced by about one-third.
Pro Tip: During those times of the day where certain windows receive direct sunlight, keep the drapes closed.
Window Tints or Film
Window tint or film
involves striking a balance between cutting down on the sun's heat and reducing the amount of light coming into your room.
A darker film can reduce the sun's heat by up to 79%, but some light will be sacrificed. Conversely, a lighter film won't eliminate as much heat but will allow entry of more light.
Energy efficient window film tints are typically layered with other window treatments such as drapes, shades, and blinds.
Motorized Window Treatments
Motorized window treatments come in a variety of styles – drapes, shades, solar screens, horizontal blinds.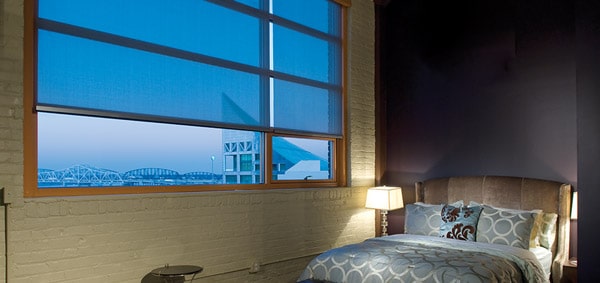 At the simple and convenient flip of a switch or the push of a button, your window treatments will open or close or roll up or down quickly, shutting out the sun and heat. Motorized treatments can easily be automated or controlled via smartphone.
Oh dear, you're on your way to work and realize that you forgot to close your window shades before leaving the house?
Not to worry, with a single tap on your smartphone, your home will stay cool.
Cellular Shades
Cellular shades contain built-in air pockets made by the use of two layers of fabric. This insulation slows heat flow from inside to outside, making them ideal for reducing solar gain.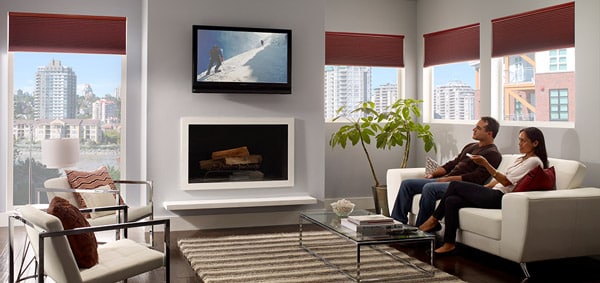 Another advantage is that they can be opened or closed from the bottom up or the top down. This allows you to control the amount of light you let into the room.
The cords for these shades are hidden, which is important if you have a four-year-old in the house who might think it's fun to yank on the cord.
Layered Window Treatments
In order to keep your rooms cool, it's not necessary to sacrifice an attractive decor.
By hanging drapes over light filtering shades, room darkening shades, or blackout shades, you are controlling the temperature of your room and at the same time transforming an ordinary window into something very special.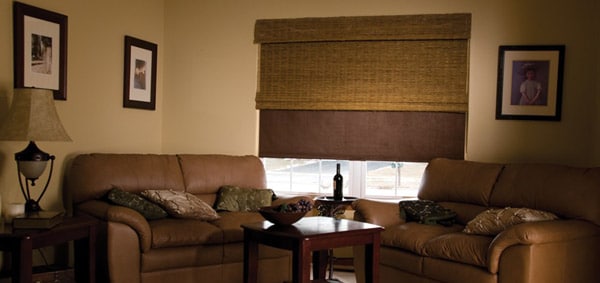 A multi-layered window treatment can include a valance, cornice box, and side panels which will take your room's decor to the next level. This layering technique is extremely effective in ensuring that there is no light seeping in around the window edges.
Banish Heat from Your Home!
Are you fed up with your unbearably hot home during the latest summer heat wave? We can advise you on cost and energy efficient window treatments that are the "coolest" for you.