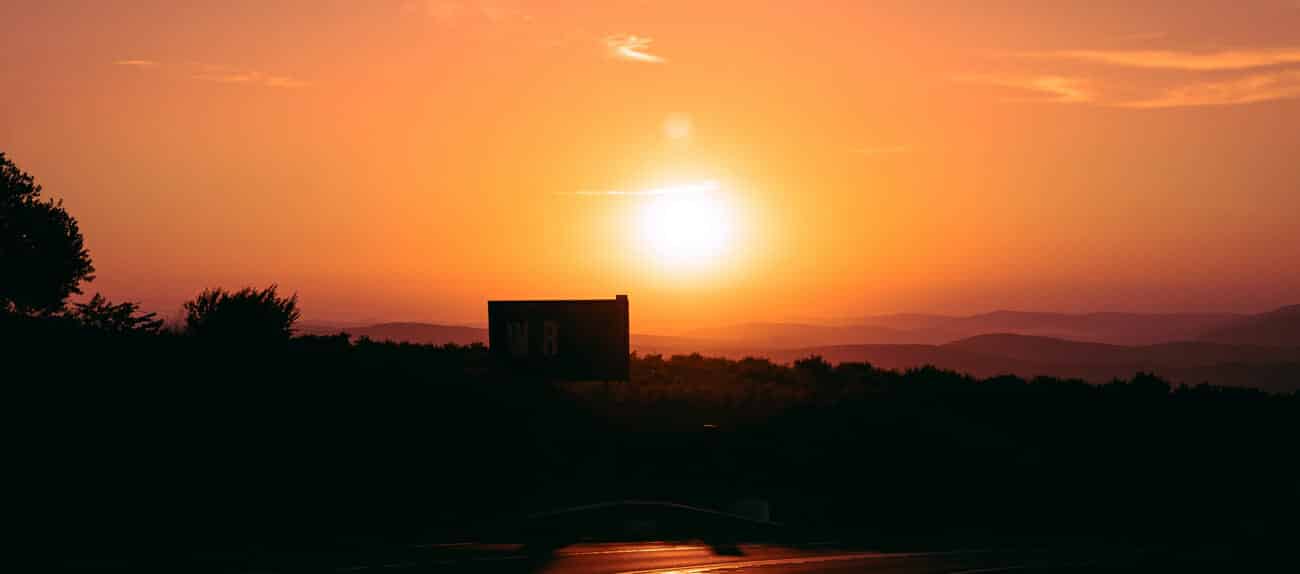 Are you facing sky-high utility bills this season? With record-high temperatures in California this summer and more time spent at home, many of us are using the air conditioning more than usual and seeing cooling costs rise. Here at 3 Blind Mice, this got us thinking about how we can help you save money on those air conditioning bills in the hot seasons—not just this year, but every year!
Do window coverings save energy?
The short answer is yes! The right window coverings can help keep unwanted heat out of your home in the summer by blocking light and sun heat. This can reduce your energy costs by as much as 25 percent!
Let's take a look at the 4 Best Ways to Lower Your Electric Bill with Window Treatments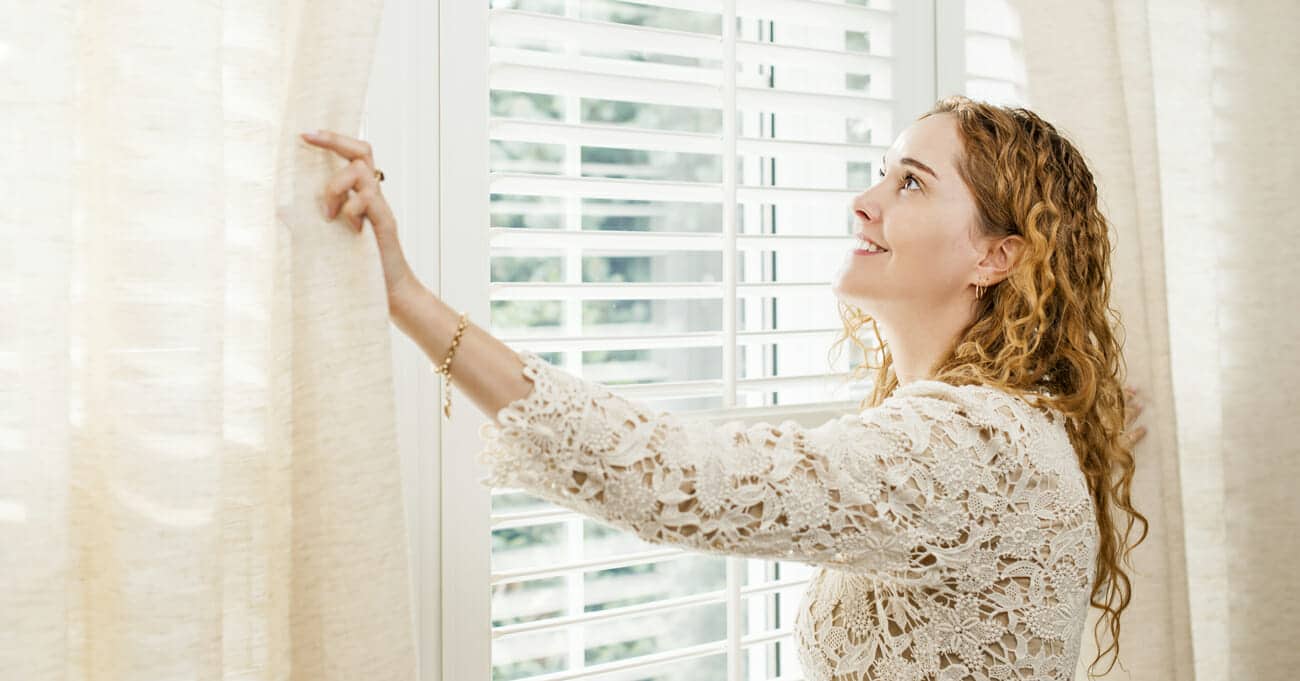 1: Timing Is Everything
It may be a habit to open all the blinds to let the light in every morning—but if your windows are uncovered during daylight hours, you're allowing UV rays and hot air to enter and build up in your home all day. This increases the need to run your air conditioner to keep indoor temperatures tolerable.
Keeping your shades closed during the day—especially those on windows that get direct sunlight—can drastically reduce the heat entering your home, reducing the energy you need to keep things cool. Ensuring that your window treatments have a snug fit within the window frame is also essential. Sunlight heats the air behind your shades, and a loose fit will allow that hot air to escape into the room, raising the temperature. A snug fit adds insulation value by trapping hot air in place behind the window covering and keeping it out of the room.
The same principle applies in reverse during the colder months – strategically open the blinds on windows that get direct sunlight in the winter to allow the sun to heat your home. Ensure a snug fit in the window frame to trap your home's heat inside once the sun has gone down. By paying attention to sunlight and proper installation of window treatments, you can impact your heating and cooling bills year-round.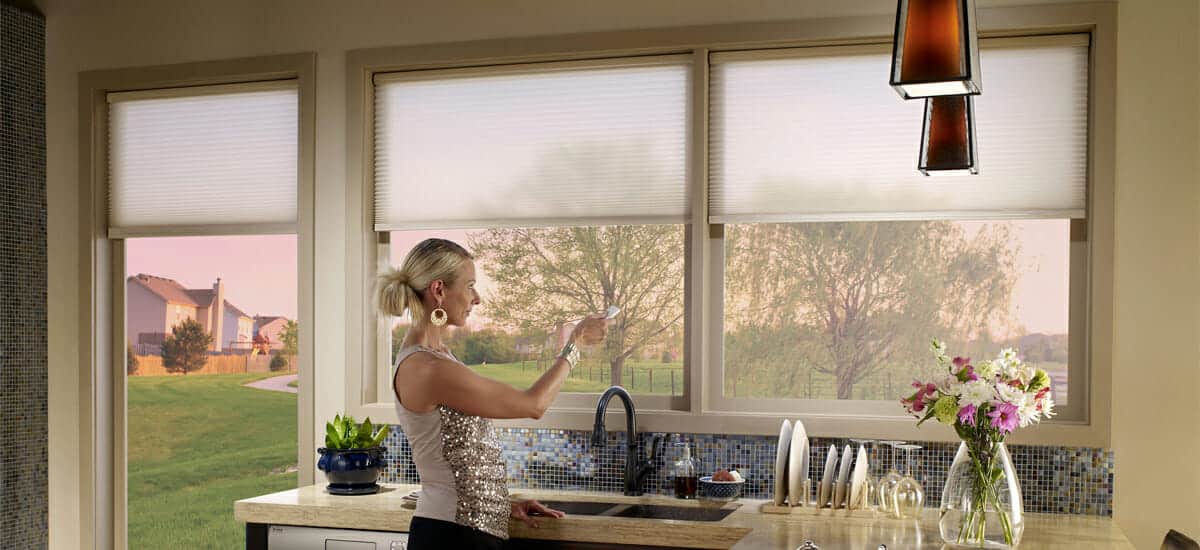 Don't want to spend time opening and closing the blinds?
The average home in America has 17 windows. It might sound easy to open and close your blinds at the right time each day for maximum energy efficiency, but you have to be consistent to see energy savings from this approach. If your home has a lot of windows, the time spent can add up. This is one significant benefit of motorization of your window treatments for busy homeowners—you can set timers and schedules for your blinds to open and close on their own, or even pair them with home automation solutions to control your shades from an app or via smart home voice command. Motorization allows you to benefit from the maximum effectiveness of opening and closing your blinds at the correct times each day. Plus, motorized options are cordless which adds a layer of safety for children and pets in your home.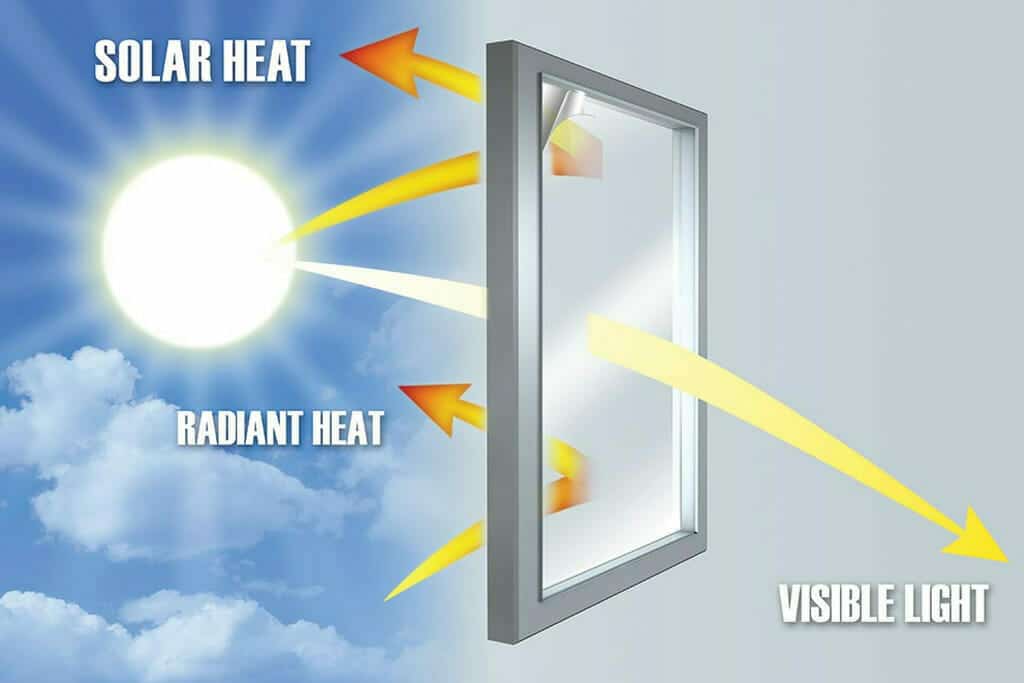 2: Make the Most of Natural Light (but block radiant heat!)
This summer, most of your electric bill is probably coming from running the AC, but don't forget that those lamps and overhead light fixtures have an impact! If you can rely on natural light instead of light bulbs during the day, you'll see some savings on that utility bill. Energy-efficient film and solar window screens can be added to your windows and paired with nearly any existing window treatment to allow visible light into your home while blocking radiant heat.
The energy-efficient film is perfect for those seeking the results of energy-efficient windows but can't afford to replace all the windows in their home. It works by blocking the transfer of heat through your windows. The film will not only help keep the sun's rays from heating your home in the summer; it will also prevent the loss of air conditioning through single-pane windows.
Not to be confused with roller shades, solar window screens (aka solar shades) are a type of window shade specifically designed to combat the sun at various opacity levels. Energy efficiency, heat reduction, and UV ray protection are a few significant benefits of solar shade's sun-blocking material. Sheer curtains and light-filtering sheer shades are a few more options that filter sunlight and block some heat, but allow enough light to avoid using lamps.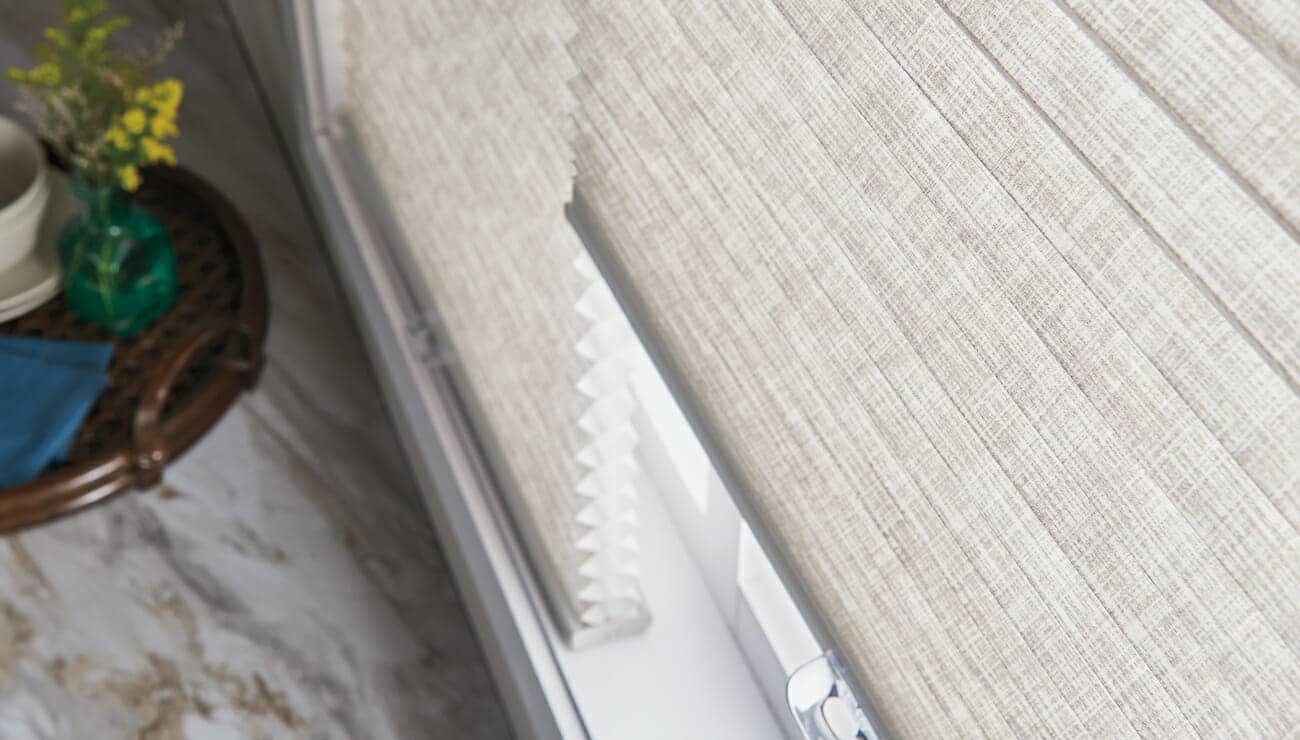 3: Keep Hot Air Out – Your Shade Style Matters!
In addition to a snug, well-measured fit acting as an insulator to keep hot air out, the type of energy efficient window covering you choose will also impact your ability to keep interior temperatures comfortable.
What IS the most energy-efficient Variety of window covering?
Cellular shades are often touted for the best window coverings for energy efficiency. The fabric of the shade blocks the sun and the pockets of air created by the honeycomb construction make additional insulation by trapping hot (or cold) air. They also block direct sunlight, protecting your floors, walls, and furniture from sun damage. Our new Seaside Collection offers patented cell-in-a-cell technology that makes them one of the most energy-efficient options on the market. This is one of THE BEST products to reduce heat in the summer and keep heat in the winter – they're 80% more efficient than glass!
Double cell shades filter out direct sunlight's harshness to reduce glare and increase privacy and allow soft, diffused natural lighting into your home's room. By opening from the bottom and top, this shade is perfect for ground-level rooms where you want as much natural light as possible without allowing views inside your home. Top-down/Bottom-up cellular shades open from the bottom and top, which makes this shade perfect for when you want as much natural light as possible without losing your privacy.
Are curtains more energy-efficient than blinds?
Because draperies and curtains are available in so many different materials and styles, it's difficult to generalize their energy efficiency. Drapes backed with energy-saving foam can block sunlight and help rooms stay cooler, and reports show that medium-colored draperies with white plastic backings can reduce heat gain by 33%. Curtains perform well in the winter and can reduce heat loss from a warm room up to 10%. However, blinds decrease indoor heat gain more efficiently than curtains in the summer. Blinds can reduce heat gain by 45% for a significant increase in energy performance. Energy efficiency isn't the only consideration, though —curtains can offer better soundproofing than blinds, as well as add an elegant, luxurious feel to your home's décor.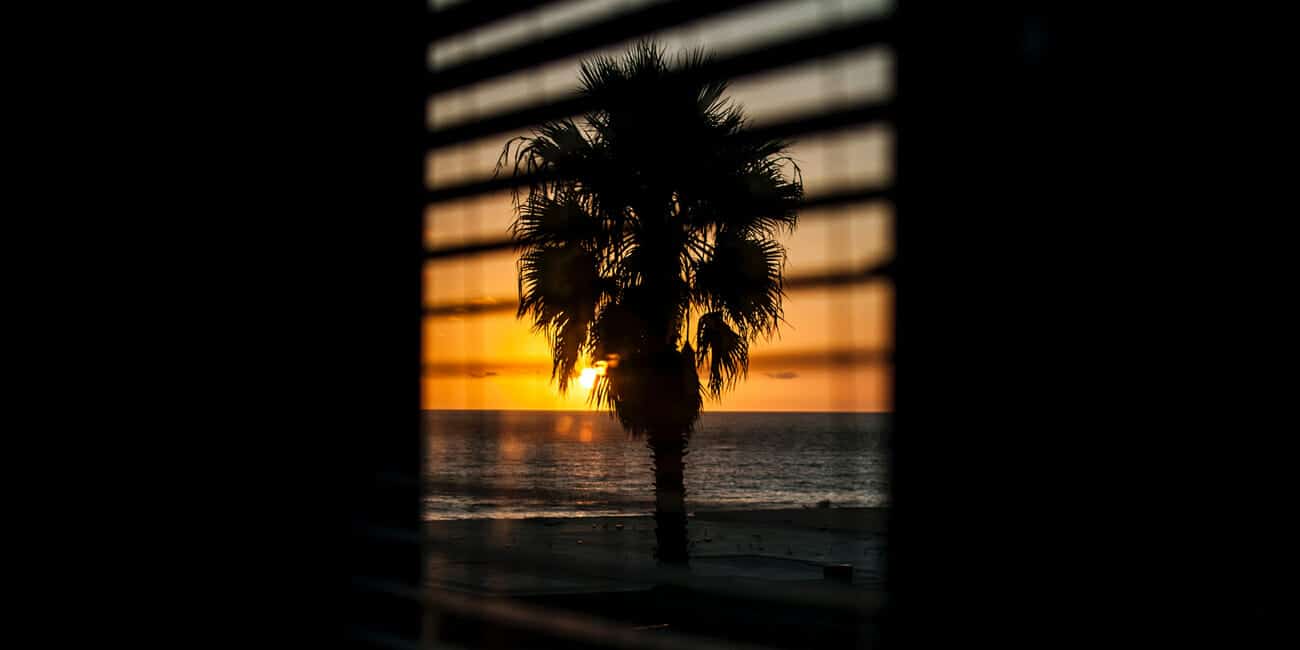 4: Cool Down At Night
Do everything you can to reduce your home's temperature once the sun goes down and evening temperatures drop. Open windows and run a fan— ceiling fans, window fans, towers and whole-house fans use only a fraction of the energy consumed by an air-conditioner. Using fans properly can help reduce your energy costs. Learn more: Energy-Efficient Fans: Finding the Best Fans for Your Home The cooler your house is in the morning, the longer it will take to heat up during the day and the less you'll need to run your air conditioner.