Introducing the Solar Shutter™
Block the sun, not the view with this new patented shutter. Combine the look of a traditional plantation shutter with the modern technology of solar shade material is one of the more unique window treatment trends for 2014.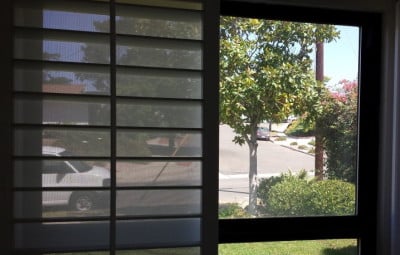 This advanced design allows the installation of a solar shutter in an area where you might not have been able to in the past for heat reduction, extra privacy, and glare reduction.
Using solar material protects your investments from the heat and damaging UV rays which can be a major threat to your beautiful interior. Diffuse the light and maintain privacy even when your shutters are open with the removable solar screen attached to the rear of the shutter.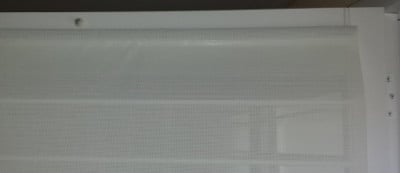 Solar Shutter Protects Your Interior & Minimizes Glare
Designed to compliment shutters in areas where the sun's rays were damaging to interior surroundings and to increase visibility while the louvers are in the open position. When louvers are closed the Solar Shutter™ minimizes the light that penetrates through the required margin tolerances.
Reduce the sun's heat, energy costs, and increase viewing quality of media devices with a less interior glare.
Solar Shutter™ Benefits
Enhances the life of the Shutter & Window's
Improves Energy Efficiency
Blocks up to 90% of Heat & Cold
Reduce Suns Heat & Glare
New or Retro-Fit Application
Reduces Damage to shutters caused by Heat & Cold
Lifetime Warranty on Fabric with two color choices
Solar Shutter Material
Using the 10% screen material, Solar Shutter comes in two color selections, and the product is cut to fit behind any shutter panel. The fabric is welded top and bottom with a steel bar inserted into pockets for fabric rigidity. The magnets are placed in designated areas on the panels and the fabric is attached. This material is strong enough to endure the elements of the shutter panel usage, resistant to weather, and easy to remove and clean.
The latest in patented solar shutter material protects damage to shutters enhances the lifetime of your windows and improves energy efficiency. Installed in areas they would not normally be considered, the Solar Shutter also increases visibility in comparison to other shutter materials.
Not Sure what Size Window Coverings you Need?
Download our FREE guide to window treatments for specialty shapes and sizes.

Interested in the the Solar Shutter™, speak with one of our knowledgeable consultants at 3 Blind Mice Window Coverings to begin the installation.