Roman Shades Window Coverings Explained
The blog post was originally published on 3/9/2013 and updated on 12/20/2020.
Roman shades are very traditional window treatments covering and have been around for a long time. With the innovation of fiber, sewing techniques, and design advancement, the truth is today's Roman shades are not the same and light years ahead of the original window covering. In this blog post, the design experts at 3 Blind Mice Window Coverings describe the most common options: light filtering to room darkening, styles, newly added functions like motorizations/automation, and most importantly, designs.
HOW DO ROMAN SHADES WORK?
The Roman shade is a soft window treatment with a fabric that gradually folds up as you pull the drawstring. While it can be made from different types of material and in many different styles, the defining characteristic of Roman shades is that it folds as it goes up, and provides an elegant softness to your decor.
WHAT ARE THE DIFFERENT STYLES OF ROMAN SHADES?
Roman shades are available in several different and unique styles but can typically be grouped into one of these four distinct style options:
Soft / Hobble Fold: Soft or hobbled fold roman shades are a traditional look characterized by soft fabric folds that cascade from top to bottom, giving a waterfall or a soft ruffle appearance. An ideal choice if you are looking for window treatments to have more weight and bulk.

Flat Fold: Flat fold Roman shades are made with one big piece of fabric, which means it has no horizontal seams across the fabric's face, making them ideal for showing off stripes and other bold patterns with no interruptions. Because there are no seams, the shades take less space when fully raised.
Batten Front: Roman shades with a batten, also known as tunnels, are front feature tubes of fabric with a stiff strip of solid material (wood, plastic, or metal) sewn at regular intervals into the outer side of the shade. The style is suited for stripes and other patterns as the battens won't interfere with the design.
Batten Back:

These Roman shades have the battens inverted, sewn into the side facing the window (or door) and create a delicate, refined look when down, and make those traditionally defined folds when raised.
WHAT ARE ROMAN SHADES MADE OF?
Traditional Roman shades are made of three parts – the fabric panel, cord, and ring system. An important aspect of Roman shades is the fabrics that make the panel. You can choose from a variety of materials: grasscloth, simple polyester, woven woods, cotton blend, and also a silk option. Because of the material's nature, the treatment may have wrinkles after installation; however, the minor wrinkling will smooth out after a few days.
INSIDE MOUNT VS. OUTSIDE MOUNT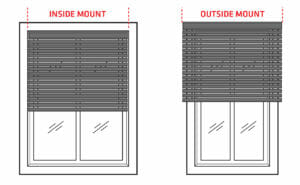 Inside mount, as the name suggests, the treatments mounted inside the window frame and generally more popular, especially if you are interested in showing off your window casing. With the outside mount, the shade is mounted outside the window frame. Inadequate space to install an inside mount shade, needing more light control, or having multiple layers of shades such as a roller shade is inside the window frame. The Roman mounted on the outside are few reasons our customers opt for that option.
ARE ROMAN SHADES EXPENSIVE?
Based on the different fabric choices, the price can be affected significantly. Another thing that alters Roman shades' price significantly is how they're made. With your simple Roman shade, you have just a simple pull cord behind a piece of fabric and a pull system. An economical version takes small strips of self-lined fabric and uses snap-on battens to create the look. The more traditional and expensive style is a handmade Roman shade. You take the fabric and hand-stitched liners and inner linings; you have a much more durable batten system and a heavier duty lifting system.
Liners for Light Control & Privacy
Roman shades also come with numerous options of liners, giving you the flexibility of light filtering. The light will freely come through with no liners, making the fabric see-through, giving you a soft window treatment option. The self-liner provides you privacy and allows some light to come through. Suppose you are looking for a room darkening solution. In that case, we can have blackout liners attached, which allows no light to penetrate the fabric itself but creates the halo effect of light that comes through on either side, making this window treatment an excellent option for those looking for room darkening options with elegance.
For those that want a little bit of both, we have the Infiniti option. With this, you have the blackout option when the Roman shade is down, but let's say that you need a little bit of light while maintaining your privacy; you can raise the blackout shade and have a lovely privacy liner behind it that lets light through. Once you don't need the privacy anymore, and you'd like to have your beautiful California view back, you can raise the bottom shade and have the full view of your window. Those are some of your typical styles and options of an authentic Roman shade.
Innovative New Options for Roman Shades
We would like to introduce a new option called the modern Roman shade. With contemporary Roman shades, you get a very similar look to that of a traditional Roman shade; however, they are entirely different in the fact that they don't fold. All of the modern shades roll up into a canister. The advantage of this is that you don't have the stacking you would have if you had a traditional Roman shade. On a modern Roman shade, you end up with about 3 1/2 inches of stacking once the shade is inside the canister. On a traditional Roman shade, the longer the window, the longer the stacking. It can range anywhere from about 6 inches to 16 inches.
Another advantage of the modern Roman shade is the thickness of the fabric. A traditional Roman shade is relatively thick and has liners to it. The modern Roman shade is very thin and light, with a self liner attached to it for privacy or light control.
One option you have with a modern Roman shade is the top-down or bottom-up option, where you can either lower the shade from the top of the window downwards, or you can raise it upwards like you would any other standard shade. You can do this on a traditional shade, but it is not as simple and as easy as the modern option because of the stacking you get with a conventional shade. When you raise the modern Roman shade, it goes all the way up entirely into the canister.
Control Options
The last thing about Roman shades is a plethora of control options. We have motorized lift upgrade and home automation options available as we just went over. The functionality gives you state-of-the-art remote control that allows operating multiple motorized shades simultaneously. Perfect for child safety or for those hard to reach windows.
We also have cord-free features that allow you to raise and lower the shades with ease by merely pushing the shade up or pulling it down with your hand. If you're looking for something simple, we have our manual system. With a manual system, the cord gets longer as you raise the shade. This is the most typical control of shades.
View Cordless Roman Shades in Action
You also have the top-down, bottom-up feature where you have two cords that can control your's shade to make it go either down or up. We also have a system that is called a continuous cord loop. With this system, no matter where the shade is on the length of the shade, the cord length always stays the same. It's charming for large windows. Also, it uses a clutch system to make hefty shades easier to lift. We've also got a retractable cord system. Typically when you raise a window shade, the cord gets longer. With our Ultraglide system, the cord retracts itself back into the headrail, keeping a nice, clean, sleek look, and no matter how wide the shade is or how many shades you have, all the cords look the same. Also, we have the twin option of having two different pulls for the two shades; you have the standard for the shade and your retractable cord for the liner.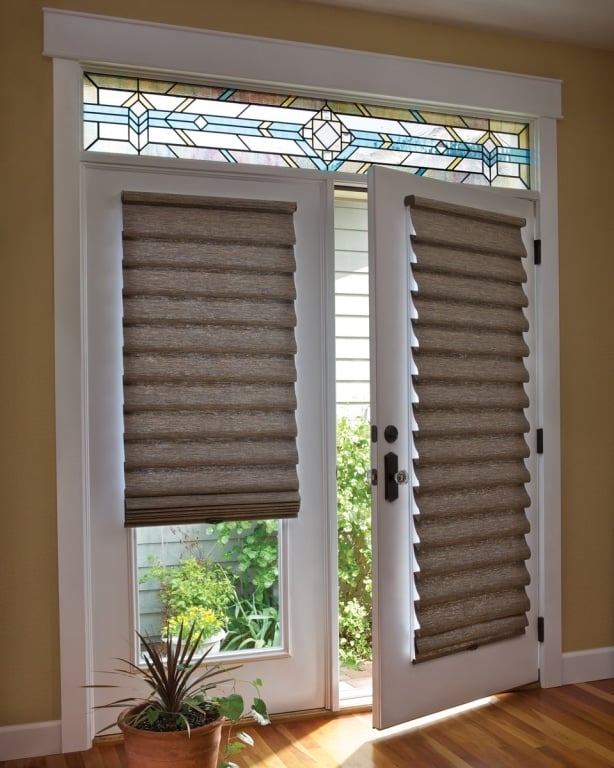 Ask an Expert on Roman Shades
Still, have questions or can't decide which Roman shades are right for you? Ask our knowledgeable window covering consultants at 3 Blind Mice Window Coverings. They will help you to choose the best option for you.
Several Options to Choose From:
Deliver The Show Room – In-home meetings where we bring the showroom to you – We deliver the samples to your home, helping you choose the ideal window treatments, help you measure. You will be assigned a project manager who will guide you through every step of the process. You'll enjoy a stress-free and exciting remodel with the result that you're sure to love. Keep in mind during in-home appointments; our window designers take substantial care to establish a safe working environment as COVID-19 keeps changing.
Virtual Consultations – we now offer virtual design services simplifying the entire process for you. The new program lets you work remotely with our world-class design team through a virtual appointment. It's easy to do from your phone or computer and results in a unique look for your home that's totally custom to you.