Open your door. Take a deep breath…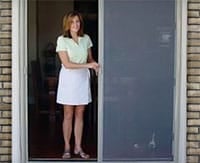 And enjoy the fresh breeze as it washes over you through your newly installed retractable screens from All Seasons / Polar Shades.
Whether your door is standard or 10 ft tall, they are custom manufactured to the exact specifications of your home for a perfect fit.
Read on to learn the many reasons why these retractable screens have revolutionized how we think of this product category to make it one of our favorite window treatment trends of 2015.
Why Are All Seasons Retractable Screens So Unique?
Adaptable to large openings such as Double French Doors this system will not compromise the classic, clean look of your doors.
Great for any single door application you can keep insects and dirt out, while still having a smooth and efficient glide system! Consisting of two retractable screens that are installed on either side of the door/window opening and are drawn together at the center.
LIMITED TIME SALE:

All Season Retractable Screens
Single Door Regularly $500 – NOW $450
Double Door Regularly $850 – NOW $775
Receive Free Installation with No Limits on Quantity!
When not in use, both doors smoothly retract into protective aluminum housings. By blending into the door frame you are left with a sleek system to provide an unobstructed view while in use and still keep out bugs/debris.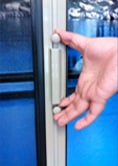 What makes it truly different from the competition is the squeeze locket and magnetic strip to open/close the screens. This middle locking system keeps the screen tight to make this one of the more easy-to-open retractable screens on the market.
The magnetic strip runs completely from top to bottom which is a major differentiating featured from the usual 1-2″ long set of 3-4 magnetic strips. Featuring a bottom track that seals, bugs and debris will have a lot more difficulties to get inside this retractable screen.
Pro Tip: This retractable screen would make a great father's day gift.

If you run into the screen it will break away into its casing to preserve the screen. It is recommended you add a stencil on to the screen to let people know the screen is there. Maybe choose your favorites sports team logo or a cool design that matches your current window shutters.
Watch the Video Demonstration
John Koester of Polar Shades Sun Control explains the benefits of this retractable screen product. Get a first hand view on why the All Seasons Retractable Screens are unique and superior to their competition. Custom installation and quality materials make their retractable screens the best in the business.
Where to Use All Seasons Retractable Screens
Kitchen – Using retractable screens for your kitchen door will keep insects away while cooking. If you have children, the quick release mechanism will keep little Johnny or Sally from breaking the screen if they run home for dinner and think that the screen is open! Explore more kitchen window treatment ideas for other coverings made for moisture resistance.
Front or Back Door – Sick of hearing the screen door slam? By upgrading to retractable screens, you'll never again spend a summer day listening to the slamming door of your front or back door throughout the day. Look forward to enjoying the silent sleekness of your new retractable screens.
Patio – Create the ambiance you've always wanted in your outdoor seating area by integrating retractable screens into your exterior design. Erase the boundaries between yourself and nature by feeling the cool breeze through your screen door while still having a sturdy product to withstand heavy winds.
Garage – This is the greatest solution for habitual garage dwellers or those with a garage office. You want the garage door to be open and ventilated while also having protection from insects and the sun's rays.
Learn More About Retractable Screens Options
Speak with one of our knowledgeable designers about this new & innovative product.
Call us at 858.452.6100 or contact us online to schedule an appointment and choose the right retractable screens for your home.
You can also stop by our window coverings showroom to view our large selection of window treatments for California.