Navigation Menu
Window Treatment Ideas for Doors
Video & Photo Gallery
Window Treatment Ideas for Doors
San Diego, CA | Orange County, CA | Sacramento, CA | Austin, TX
Are you looking for a functional window treatment idea for sliding glass door, or maybe looking to add an elegant touch to those double french doors? No matter what type of door you need a window treatment idea for, we have got you (and your doors) covered in this guide to window treatments ideas for doors.
Stop dealing with those broken blinds and check out some of our innovative window treatment solutions for doors!
Table of Contents:
Wood Glider Blinds™
A new twist on horizontal blinds for your door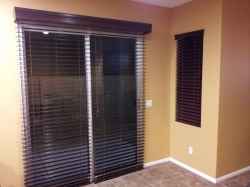 Glider Blinds™ made from either real or faux wood allow you to have the style of horizontal wood blinds without having to worry about raising the blind every time you go in or out of the door. With these Glider Blinds™, you can simply slide the panel to the side without having to raise the blinds, making getting in the door with a armload of groceries or an excited child a little easier.
Check out the photo above for an example of wood Glider Blinds™ on a sliding glass door in the open position. This particular design was further customized with the addition of a wood valance across the top of the door and matching window blinds throughout the house.
Video Demo of Glider Blinds™ for a Sliding Door
Watch O'D as he demonstrates these innovative Glider Blinds™
You simply just slide one panel to the side and now you can go our your door without having to raise the blinds. This product can also be motorized for the tilt function and the sliding function so you can control it all from a remote, iPhone or iPad!
Sheer Drapery Panels
Maintains privacy & lets light in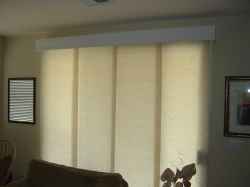 Modern drapery panels are another simple solution to covering a door. By breaking up a traditional sheer curtain into a series of vertical panels, this window treatment gives you the functionality of a vertical blind with the style, fabric, color, and patterns choices of designer curtains & drapes!
You can also add a unique rod with artistic nobs on the end to spice up your decorating style. And, to top it all off, use a custom wood or fabric valance with a unique shape to add that perfect finishing touch!
If you have high or vaulted ceilings, you can even use a "U" shaped curtain rod above the your door to add "height" to your room and some uniqueness to your home decor.
Cellular Shades for French Doors
Stylish, functional, & highly energy-efficient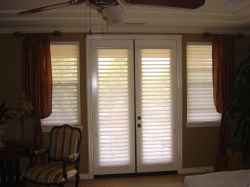 Cellular shades (aka Honeycomb shades), have been some of the most sought after window treatments for as long as I can remember – and for a good reason. They come in multiple fabric opacities from sheer to fully opaque, giving you the power to decide the amount of light or darkness that best fits your room.
Cellular shades also come in an extensive selection of fabrics and textures with a wide range of colors; ranging from the soft, neutral hues to deep, vibrant tones.
Another benefit of cellular shades is that they can also be opened from the top OR the bottom, giving you the ability to cover the window fully, half-up, half-down, or anywhere in between, making it perfect for french door or double doors like these to the right.
Roman Shades for Sliding Glass Doors & French Doors
TONs of Different Styles to Choose From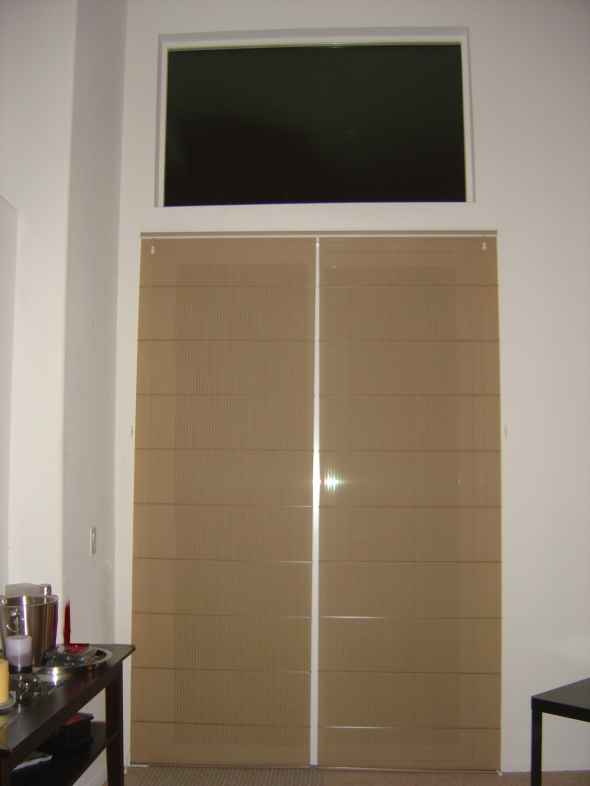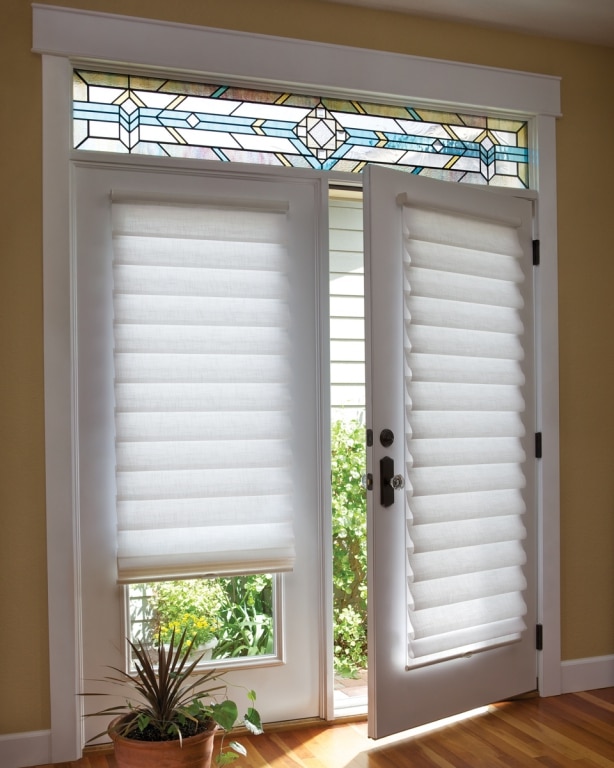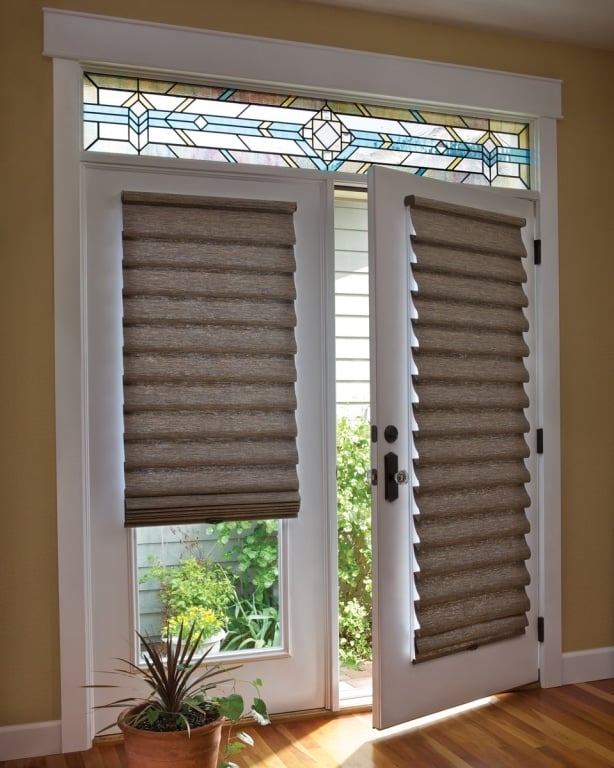 Wood Shutters on French Doors
A view from the inside
See below for a picture of these French doors with plantation wood shutters from the outside of the home below.
Wood Shutters on French Doors
A view from outside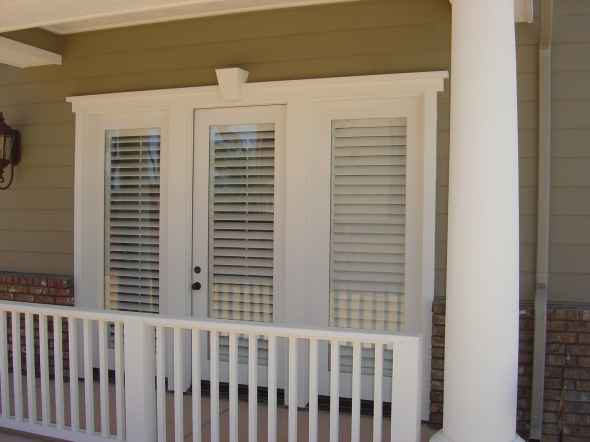 Wood shutters and faux wood shutters are another great solution for French Doors, and come with a variety of cut-out options for dealing with those pesky door handles. See the next image in the series for a close up of a cut-out.
Close-up of Door Handle Cutout on Shutters for French Doors
No need to sacrifice your designer door knobs!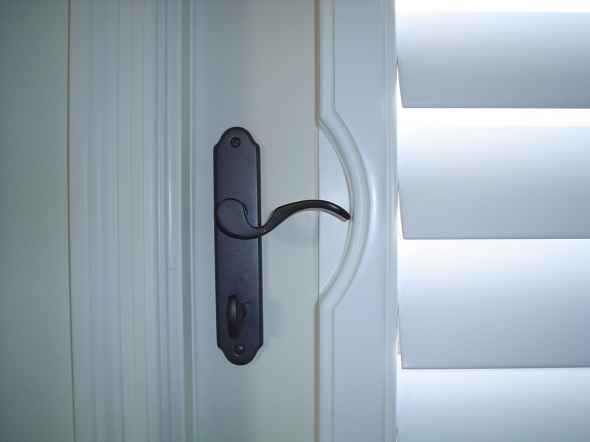 Videos Related to Window Treatment Ideas for Doors