ENERLOGIC® Low-E Window Film
EnerLogic® Low-E Window Film — A Simple Way to Improve the Energy Efficiency of Your California Home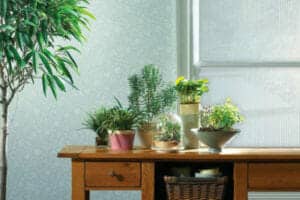 Your windows are a huge contributor to the thermal performance of your home. Unfortunately, if your windows are more than 10 years old, that contribution can be unwanted because your aging windows are likely allowing heat to enter your home in the summer and exit your home in the winter. One solution is to replace your windows with new energy-efficient models, but this can be an expensive and invasive endeavor that some homeowners in California may not have the budget or patience for.
An easier and more cost-effective alternative is EnerLogic Low-E window film, an innovative insulating material installed by the window treatment experts at 3 Blind Mice Window Coverings.
Year-Round Energy Efficiency
Other window films on the market only reflect heat away from your home. While this is ideal during the warm seasons, it doesn't provide much use in the fall or winter. This is where EnerLogic outperforms its competitors — EnerLogic not only prevents heat from entering your home, but it also retains heat inside your home, delivering outstanding energy efficiency throughout the year. The result is less work for your HVAC system and potentially lower monthly energy bills.
Global Green Tag Certification
EnerLogic performs four times better than other eco-friendly window films. So, it's no surprise that it earned a Global Green Tag Certification, a globally recognized certification of the healthiest eco-products on the market. With its low cost and high return on investment through energy savings, this phenomenal window film is the ideal solution for your home's energy efficiency needs.
To learn more about EnerLogic Low-E window film and how it can improve your California home, contact the specialists at 3 Blind Mice Window Coverings today.
What People Are Saying
Laurie S.
What a great experience working with this professional knowledgeable company. I love the end product and the team fulfilled everything they promised.
Katie G.
Fabulous job 3 Blind Mice, I love my new shutters. Extremely professional, helpful and polite service.
Janet G.
The experience with the company was great from the home visit to pick options for blinds to the installation. They company was very responsive and prompt. The office worked very hard to work with my schedule. All of the representative showed up right on time and were very personable and knowledgeable. I was worried about wrinkles in a set of the Roman blinds that were installed and I receive an almost immediate call back and a very quick scheduling for steaming. Very good experience. I wish all companies provided this great of services.
Heather B.
I think everyone was exceptional. Sherry was very good to work with and very knowledgeable. I liked that I received the quote the day that she came. Chris was great when he came to measure the windows and again when he came to steam the Roman shades. It was great how Ruben kept me informed of the progress. Barbara was great in working around me schedule. Rusty and Brandon were a great team and had all 18 windows done in great time.
Cheryl B.
I am very happy with the entire process! It was fun to pick out my window coverings, and I didn't feel pressured at all to make quick decisions or to address areas I wasn't ready to look at. Installation was smooth and the installers were great guys. I love the way my new windows look….lots of compliments and I really feel like the process was customized just for me!
Sebastian R.
Great service. Very attentive. Product is amazing and really helps with my energy bills.
Sheryl P.
EVERYONE was fantastic! Following the original install, I noticed the sliding glass door blinds were not fully closing (the panels didn't lay against each other and you could see inside/outside the house). When I telephoned and explained the problem I was experiencing, their response was to get back to my house (very quickly I'd like to add), and with a little tweaking they now close as they should. I appreciated their quick and efficient response! From start to finish, it was a pleasure dealing with 3 Blind Mice. Thank you!
George D.
We love the Roman shades from Graber. They have the most extensive and unique woven shade selection we have ever seen.
Toni N.
My blinds were completed ahead of schedule, and they worked around my work hours for both consultation and installment. I highly recommend.
Michelle J.
Staff is very professional from original measurement, 2nd measurement for accuracy, to installation
Marilyn S.
Rick, my installer, did an outstanding job on the installation. Fast, courteous, and made sure everything was cleaned up and disposed of before he left!
James A.
7 windows with wood shutters…. in & out in an hour! All the shutters fit like like a glove thanks to their precise measurements
Steve A.
They were very professional, from Tammy's initial visit to the installers and their work. Everything fit perfectly, and we love our new window coverings!
Janice B.
We have used Three Blind Mice on three occasions for three different types of window coverings. We have been delighted with all of the results. Not only are the finished products exactly what we needed the quality and service were excellent. We would not hesitate to recommend them!
Robert L.
Quality Installation, QUALITY Product!! I chose the blinds that have the lining to Stop the light from penetrating the blind. These were in a bedroom with three large south facing windows. When they are closed, 97% of the light is blocked!! The rising sun no longer wakes me up!! I call these types of blinds, Accordion type! Two go up and down for the windows, one large one goes left and right for the sliding glass door!!
Pam A.
Love my new blinds; color is perfect and the installation was flawless.
Kimberly Z.
Quality product! Richard was great, not a pushy salesman and spent the time answering all of our questions. Installer was also helpful. Showed up on time was professional and friendly. We really enjoy our blinds
Learn more from one of our experts
Heard Enough?
Schedule a free consultation today and let our experts help you find the perfect solution.
0% Financing Provided By: