Custom Vertical Blinds
Vertical blinds are characterized as blinds with moveable slats that hang in the vertical orientation.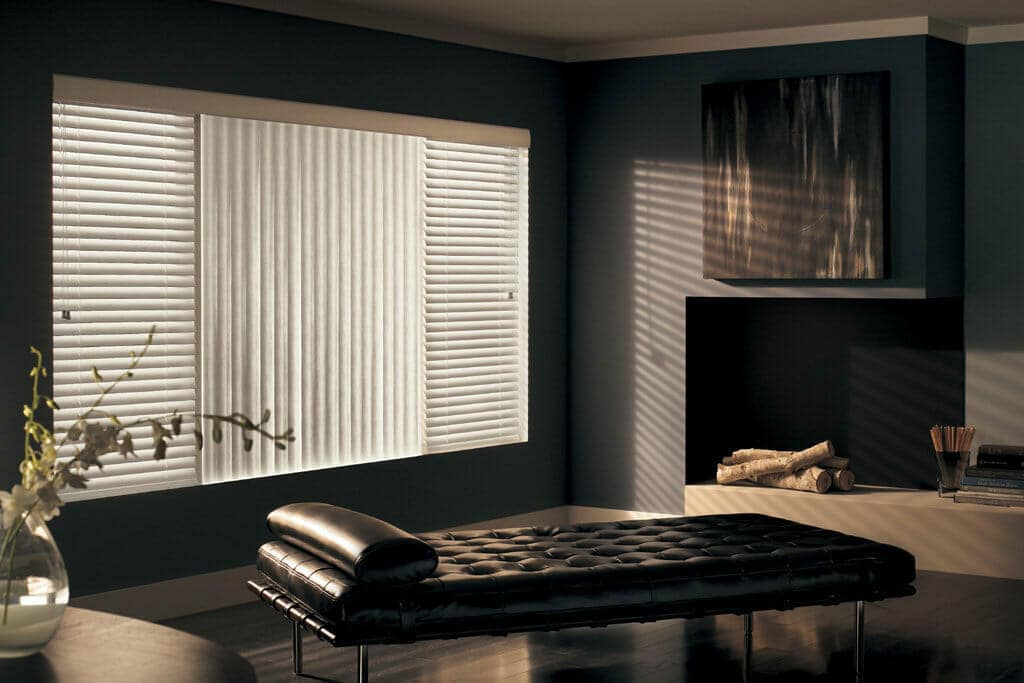 Product Overview
Custom Vertical Blinds in San Diego, Orange County, Sacramento, Fresno
Vertical blinds are characterized as blinds with moveable slats that hang in the vertical orientation. If you have a tall window or a sliding glass door in your home, vertical blinds may be just the right fit as this type of blind is often used over large openings.
Custom Controls
With 3 Blind Mice Window Coverings, you can customize your vertical blinds with different operation options. Cordless wand controls are an exceptionally great choice for families that are mindful of preventing potential injury to children and house pets.
Easy maintenance and excellent light control
You can't beat vertical blinds for their easy maintenance and excellent light control. They're versatile and are a perfect complement for any room in your home.
What is the best material for vertical blinds?
Each material has its benefits. We recommend you first determine which space you want to hang a blind. Some of the more common and popular types of materials for vertical blinds include aluminum, PVC composite /faux wood, and genuine wood. Aluminum blinds are economical, durable and versatile. Faux wood has the durability, affordability, and beauty of vinyl blinds that work well under extreme temperatures, intense sunlight or high humidity making it a perfect fit for kitchen or bathroom. Natural wood is highly versatile and elegant as the material can be painted, stained, or varnished to your taste and fit any décor.
Want Fabric?
Vertical Shades: If you are looking for more of a soft look of fabric, vertically mounted shades can help you create vertical open and close operation, especially useful for patio doors and room dividers.
Get motorized
Motorized blinds and shades are a smart, rewarding investment in comfort, convenience, and peace of mind. Ask our designers about our motorization options!
Review
We are delighted with our motorized blinds and would highly recommend 'Three Blind Mice'.
Motorized / Alexa Compatible
What People Are Saying
Laurie S.
What a great experience working with this professional knowledgeable company. I love the end product and the team fulfilled everything they promised.
Katie G.
Fabulous job 3 Blind Mice, I love my new shutters. Extremely professional, helpful and polite service.
Janet G.
The experience with the company was great from the home visit to pick options for blinds to the installation. They company was very responsive and prompt. The office worked very hard to work with my schedule. All of the representative showed up right on time and were very personable and knowledgeable. I was worried about wrinkles in a set of the Roman blinds that were installed and I receive an almost immediate call back and a very quick scheduling for steaming. Very good experience. I wish all companies provided this great of services.
Heather B.
I think everyone was exceptional. Sherry was very good to work with and very knowledgeable. I liked that I received the quote the day that she came. Chris was great when he came to measure the windows and again when he came to steam the Roman shades. It was great how Ruben kept me informed of the progress. Barbara was great in working around me schedule. Rusty and Brandon were a great team and had all 18 windows done in great time.
Cheryl B.
I am very happy with the entire process! It was fun to pick out my window coverings, and I didn't feel pressured at all to make quick decisions or to address areas I wasn't ready to look at. Installation was smooth and the installers were great guys. I love the way my new windows look….lots of compliments and I really feel like the process was customized just for me!
Sebastian R.
Great service. Very attentive. Product is amazing and really helps with my energy bills.
Sheryl P.
EVERYONE was fantastic! Following the original install, I noticed the sliding glass door blinds were not fully closing (the panels didn't lay against each other and you could see inside/outside the house). When I telephoned and explained the problem I was experiencing, their response was to get back to my house (very quickly I'd like to add), and with a little tweaking they now close as they should. I appreciated their quick and efficient response! From start to finish, it was a pleasure dealing with 3 Blind Mice. Thank you!
George D.
We love the Roman shades from Graber. They have the most extensive and unique woven shade selection we have ever seen.
Toni N.
My blinds were completed ahead of schedule, and they worked around my work hours for both consultation and installment. I highly recommend.
Michelle J.
Staff is very professional from original measurement, 2nd measurement for accuracy, to installation
Marilyn S.
Rick, my installer, did an outstanding job on the installation. Fast, courteous, and made sure everything was cleaned up and disposed of before he left!
James A.
7 windows with wood shutters…. in & out in an hour! All the shutters fit like like a glove thanks to their precise measurements
Steve A.
They were very professional, from Tammy's initial visit to the installers and their work. Everything fit perfectly, and we love our new window coverings!
Janice B.
We have used Three Blind Mice on three occasions for three different types of window coverings. We have been delighted with all of the results. Not only are the finished products exactly what we needed the quality and service were excellent. We would not hesitate to recommend them!
Robert L.
Quality Installation, QUALITY Product!! I chose the blinds that have the lining to Stop the light from penetrating the blind. These were in a bedroom with three large south facing windows. When they are closed, 97% of the light is blocked!! The rising sun no longer wakes me up!! I call these types of blinds, Accordion type! Two go up and down for the windows, one large one goes left and right for the sliding glass door!!
Pam A.
Love my new blinds; color is perfect and the installation was flawless.
Kimberly Z.
Quality product! Richard was great, not a pushy salesman and spent the time answering all of our questions. Installer was also helpful. Showed up on time was professional and friendly. We really enjoy our blinds
Heard Enough?
Schedule a free consultation today and let our experts help you find the perfect solution.
FAQS
Vertical blinds are best cleaned when hanging. The easiest way to keep your vertical blinds clean is to vacuum them with a brush attachment during your regular cleaning routine. For fabric and vinyl blinds, you can use a dry sponge to remove any spots that the vacuum was unable to remove.
Vertical blinds are a very versatile choice as it is easy to control light and privacy and they come in a variety of materials and options. They are easy to care for and have a cord free wand which is safe for homes with children.
Pros/Cons
| Pros | Cons |
| --- | --- |
| Large Widths | Dated look |
| UV Protection | Vanes will break if mishandled |
| Many colors / styles to choose from | High Noise |
0% Financing Provided By: