The Perfect Window Treatments for Your Home in Coronado, CA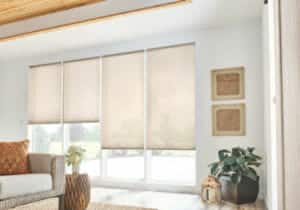 For custom window treatments and a design process that's as easy as pie, turn to 3 Blind Mice Window Coverings. We understand that choosing from the vast product and customization options that we offer can be daunting, which is why we'll assign a project manager to help guide you through the process. We daresay you'll even enjoy your experience with us!
For homeowners in Coronado, California, we can custom-design any or all of the following window coverings:
Window Blinds
Choose from horizontal blinds for privacy, vertical blinds for your patio doors, faux-wood blinds for your kitchen or bathroom, real-wood blinds to accent your living room, and more. Ask your designer about the best motorized blinds.
Window Shades
The essential purpose of shades is to block sunlight from entering through the window, and our options accomplish this task in more ways than one. For instance, sheer shades block most light but allow some to stream in through the top of the window, cellular shades reflect UV radiation to protect your interior décor and make your home more energy-efficient, and blackout shades are the perfect option for darkening a room. We also offer motorized shades for the ultimate convenience and affordable luxury.
Window Shutters
Shutters are a great option for controlling sunlight and the view into your home while also adding a touch of elegance. Our popular plantation shutters are available in faux wood and a range of real-wood materials, such as oak, maple, cherry, aspen, and more. We can also design arched shutters to fit your home's unique architecture.
Window Curtains & Draperies
Beautify the interior of your home with custom curtains and draperies. Your project manager will help you choose the perfect materials and combinations to meet your needs. For instance, combining curtains and shades is a great way to enjoy all the benefits that these products offer.
All these window treatments and more can be customized for your home in Coronado, CA, and you'll experience white-glove treatment from our team every step of the way. To learn more, contact 3 Blind Mice Window Coverings today, our team in San Diego is ready to serve you.