Modern Window Treatments for Your Home in San Juan Capistrano, CA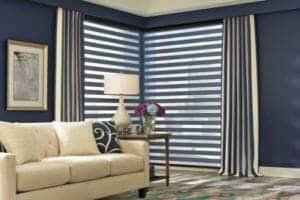 Are you bored with the interior design of your home? If so, and you're ready for a makeover that will give your eyes something vibrant and new to look at, as well as improve how your San Juan Capistrano, California, home functions, consider custom window treatments from 3 Blind Mice Window Coverings.
More Than a Pretty Face
While it's undeniably true that new curtains and other window coverings will give your interior a much-needed facelift, our selections can also make your home more energy-efficient, private, and modern. In fact, when you partner with us, we'll create the perfect combination of treatments to deliver the solutions you're looking for. Here are some examples:
Energy Efficiency
To minimize heat transfer through your windows, we can apply a UV-reflective window film that will keep things cool and help your HVAC unit run more efficiently. We can combine this with cellular shades, which will add insulation thanks to a unique honeycomb design. New window treatments are certainly a more cost-effective way to increase energy efficiency than replacing your windows!
Privacy
There are many ways custom window treatments can block out the view of the interior of your home from curious eyes. The semi-transparent design of sheer shades, as an example, will add some privacy. For total seclusion, plantation shutters and blackout curtains will render your windows opaque.
Modernity
San Juan Capistrano, CA, is known for its historic buildings, but that doesn't mean you need to live in the past. Enjoy the local history while living in a modern home when you choose to equip your new window treatments with motorization technology. With the simple press of a button or voice command, you can operate your blinds and automate shades without taking your eyes from your historic romance paperback.
There are virtually endless ways custom window treatments can improve your home, and at 3 Blind Mice Window Coverings, we'll make your project easy for you with white-glove treatment. Contact us today!