Where Newport Beach, CA, Homeowners Go for Custom Window Treatments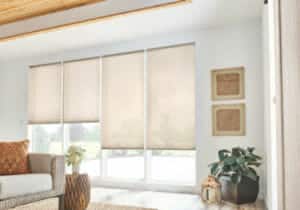 If you're living the good life in Newport Beach, California, and want your home to reflect your easy-going coastal lifestyle in the best possible way, turn to 3 Blind Mice Window Coverings. We can design the perfect combination of window treatments to not only give the interior of your home a vibrant new look that matches your personality, but will also improve its very functionality.
Our Products
There are a multitude of ways we can design new window coverings for your home, and while this may seem overwhelming, rest assured your project manager will guide you every step of the way. In fact, you can expect white-glove treatment from our team when we create any combination of the following:
Blinds
Whether you prefer traditional aluminum blinds, modern wood blinds, or need vertical blinds for your patio doors, we've got them all and more.
Shades
Add interior flair with Roman or woven wood shades, insulation with cellular shades, and privacy with blackout shades. Shades and curtains complement each other well and can help control how much of the hot California sun enters your home.
Shutters
Plantation shutters allow for better light control, and we have faux wood options available for rooms with high moisture. We also can install arched shutters for your home's uniquely shaped windows.
Our Service
Because we are not beholden to anyone manufacturer, 3 Blind Mice Window Coverings is not limited by the material. This means that we can help you pick and choose the ideal window treatments for your home in Newport Beach, CA.
Care to learn more about how custom window treatments can improve your home? If so, we're only a phone call away. When you contact us, be sure to ask about motorization technology that will make operating your blinds and shades as easy as a walk on the beach.