How Custom Window Treatments Can Improve Your Home in Mission Viejo, CA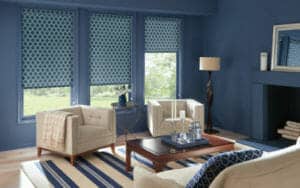 Most people think of window treatments almost as decorations that add to the interior design of a home. And while that's certainly true, window coverings can be so much more than mere adornments. At 3 Blind Mice Window Coverings, we believe that the right treatments can improve how you enjoy your home in Mission Viejo, California.
Energy Efficiency
The hot California sun all but ensures your air-conditioning system will run nonstop as it tries to cool your home's interior. Why not give it some help and potentially lower your energy usage with UV-reflective cellular shades or low-emissivity window film?
Natural Light Control
Whether you prefer plenty of natural light inside your home, some natural light, or no natural light, there are window treatment options available that will allow you to control exactly how much light shines in. For instance, roller shades can be opened and closed with the touch of a button, inviting or preventing light from entering. Sheer shades block light through most of the window but allow some light in through the semi-transparent fabric. And blackout shades and curtains will eliminate almost all light, making them ideal options for a bedroom or home theater.
Privacy
At 3 Blind Mice Window Coverings, we have a variety of window treatments that can help close off the view into your home from the outside. These include:
Motorization
By motorizing your window treatments now you can add an extra layer of luxury and customization while adding more life span in your window treatment and bring more energy efficiency into your homes. Choose from a variety of treatments from powered shades, motorized blinds to automated curtains.
An Easy Process
When you partner with us, you can expect to receive white-glove treatment from start to finish. Our designers will help you choose and customize the perfect window coverings for your home, and your personal project manager will coordinate the installation to minimize any inconvenience.
We look forward to demonstrating how our window treatments can improve your home in Mission Viejo, CA. Contact 3 Blind Mice Window Coverings today for more information.