Fall in Love With Gorgeous Window Treatments, Designed for Your Home in Costa Mesa, CA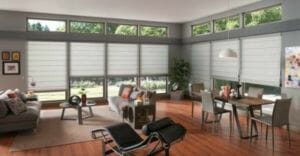 Costa Mesa, California, is known for its history as well as its quickly expanding modern areas. Local homeowners likely appreciate this blend of old and new, but if you feel like your home is more grounded in the past rather than representing a bright future, an update may be in order. In which case, you should consider having 3 Blind Mice Window Coverings design new window treatments for your home.
Modern Solutions Homeowners Crave
You'd be surprised how much new shades, shutters, blinds, or curtains can add some much-needed modernization. Here are some examples of how our window treatments can meet the needs of contemporary homeowners:
Energy Efficiency
Perhaps one of the most important solutions for those living in Costa Mesa is improved energy efficiency. Better insulation can potentially lead to lower monthly energy bills, and we have a range of options that can help your HVAC system run more efficiently. These include cellular shades, solar screens, and UV-reflective window film.
Child Safety
Children are so cute when they make a beeline directly toward dangerous objects within your home. While we can't assist with chasing your kids around, we can remove a dangerous choking hazard from your home by eliminating the cords on old-fashioned window treatments and replacing them with motorized, cordless upgrades.
Privacy
Large windows can be an irresistible architectural element when buying a home, but you may not have realized that these windows can put your private life on display for the whole neighborhood without the proper coverings. Thankfully, we have a plethora of options available that can fit your oversized windows and allow you to spend time with your family in peace.
We're Ready to Help Improve Your Home
The solutions noted above are only the beginning of how custom window treatments from 3 Blind Mice Window Coverings can improve your home in Costa Mesa, CA. To learn more, contact us today. Our white-glove treatment will make updating your home with gorgeous new window coverings an easy and pleasant experience.