To introduce you to our new website, we are running a fun little contest where we will be giving away prizes for completing a "scavenger hunt" to find a series of funny cat photos we have hidden throughout the site.
Contest Description
Earlier this morning we hid 10 photos that contain a cat throughout our window treatment photo galleries. The first person to find and submit all 10 cat photos we have hidden on the site wins a $100 Costco Cash Card ($50 gift card for second place)!
Terms & Conditions
Eligibility
NO PURCHASE NECESSARY TO ENTER. ALL CONTESTS ARE VOID WHERE PROHIBITED OR RESTRICTED BY LAW.
This contest is open to individuals only. No companies or groups may enter.
Limit of one entry per person.
Timing
This contest begins at 12pm PST on September 19th, 2013 and ends 12pm PST September 30th, 2013.
Prizes
All complete entries received between now and 9/30/2013 will be entered into a drawing for a $50 Costco Cash Card.
The first person to find AND submit 10 cat photos from our Window Treatment Gallery will win a $100 Costco Cash Card.
How Do I Enter?
Use the "Share This Image" link to send us a message with the links to the 10 cat photos via any of the methods described below.
Option 1 - Email Cat Photos as You Find Them
Option 2 - Pin it to win it!

For all the Pinterest.com users out there, we have come up with fun way you can pin each photo to participate!
Log in to your Pinterest account and create a "secret" board for the contest photos.
When you find a cat photo on the site, you can "Pin It" using your Browsers' "Pin It" button, or click on the "Share This Image" link to be taken to a page where you can use our button to "Pin it" to the contest board you just created.
Find and pin all 10 photos to your secret board
Make your secret board public & then submit a link to your contest board using the comment form below.
If you want to keep your contest board secret, you may invite sales@3blindmiceusa.com to pin to the board and we can verify your entry that way.
Option 3 - Email Links to Cat Photos All At Once
You can submit the links to all 10 photos at once by emailing sales@3blindmiceusa.com.
How Do I Use the 'Share This Image' Link?
Spread the Word To Unlock Bonus Cat Photo – The 11th Cat!
To help us spread the word about our new website, we are giving you the opportunity to share this contest with your friends to be shown a bonus cat photo and increase your chances of wining the $100 gift card!
[sociallocker]Thank you for sharing! Here is your first cat photo, only 9 more to go – happy hunting!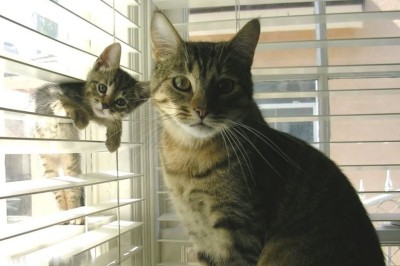 [/sociallocker]
Bonus Video – ANGRY Cats!
If you are in need of a little inspiration for hunting cat photos, or just want a laugh, check out this video compilation of funny/angry cats. Make sure to watch with sound, and get ready to laugh!