Don't let the Christmas tree have all the fun this holiday season! Explore these easy DIY Christmas decoration ideas to bring holiday cheer to your windows, and make Christmas decorating a month-long family activity!
What colors are trending for Christmas 2020?
Be on the lookout for our Holiday Color Trend Tips sprinkled throughout. We have fun holiday window decorating ideas that suit all styles, whether your home is decorated in sunny seaside, rustic farmhouse, bold & bright, or subdued neutrals.
DREAMING OF A WHITE CHRISTMAS?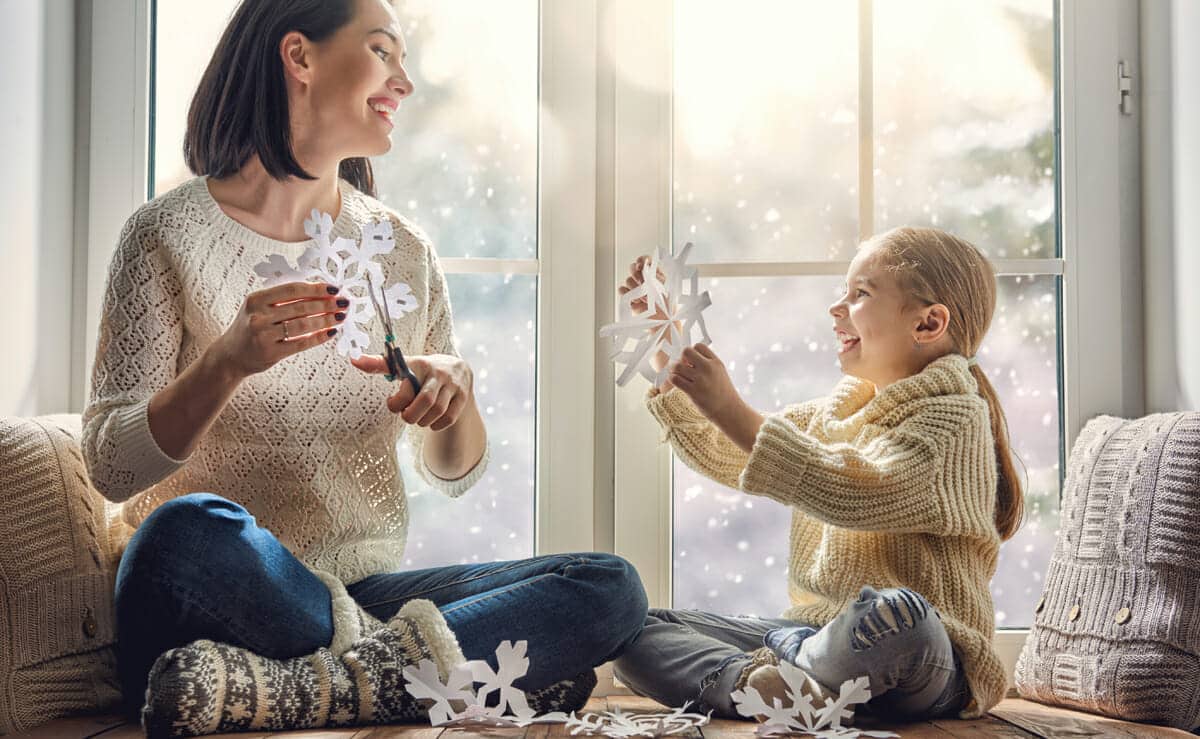 While it's possible to find snow near San Diego, it usually involves a drive to the mountains. Bring a little snow to your window holiday decorations this year with decals or one of our favorite simple holiday decorating ideas: hand-cut snowflakes. Making paper snowflakes makes a great family night Christmas decorating activity. Just put on a classic Christmas movie and get started with these paper snowflake patterns. They're cheap to make and easy to store or recycle when the holidays are over.
EMBRACE A METALLIC COLOR PALETTE WITH SILVER ORNAMENTS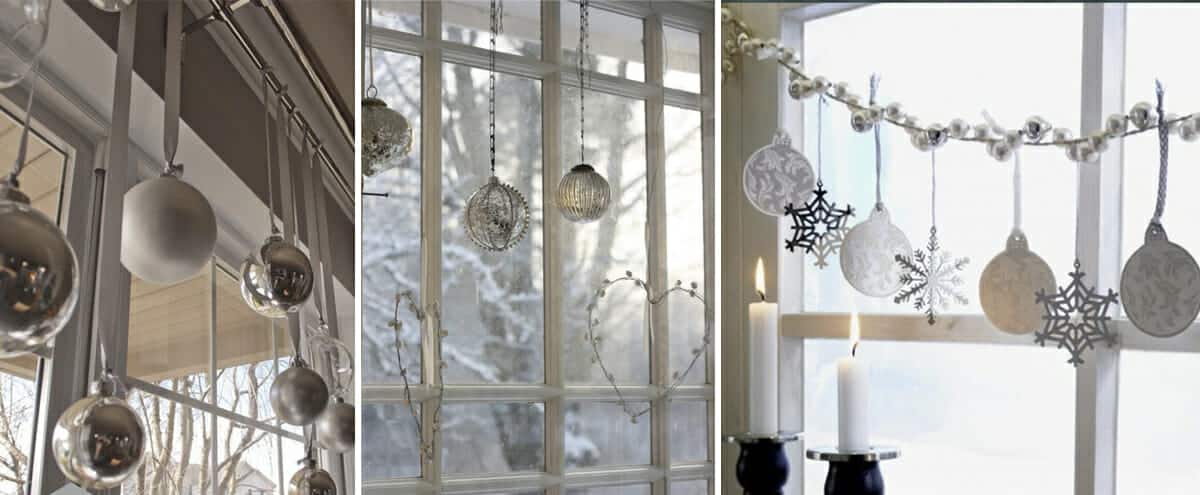 Hang baubles, balls, and glass ornaments in the widow from matching ribbon or thin string. You can stagger the heights of the ornaments by using varying lengths of ribbon to add visual interest. Clear or semi-transparent glass ornaments can catch and reflect light for a stunning effect. Mix in jingle bells and tin ornaments for a little extra metallic touch. If you are looking for more of a vintage feel, a classic mercury glass Christmas ornament fits this color palette and is charming. For added elegance, add gift boxes under the Christmas tree with wrapping paper and ribbon that echo the larger displays and ornaments. And if you are trying to avoid the crowd this holiday season, spray painting a box of old plastic Christmas ornaments with a $3.59 can of spray paint can turn the tired, old to new and joy!
HOLIDAY COLOR TREND TIP: Can't decide between silver or gold? Go platinum! This tone falls between silver and gold and is an excellent way to add a soft, metallic touch to your holiday decorations. It's also trending as one of the top neutral tones for Holiday 2020.
LET IT GLOW, LET IT GLOW, LET IT GLOW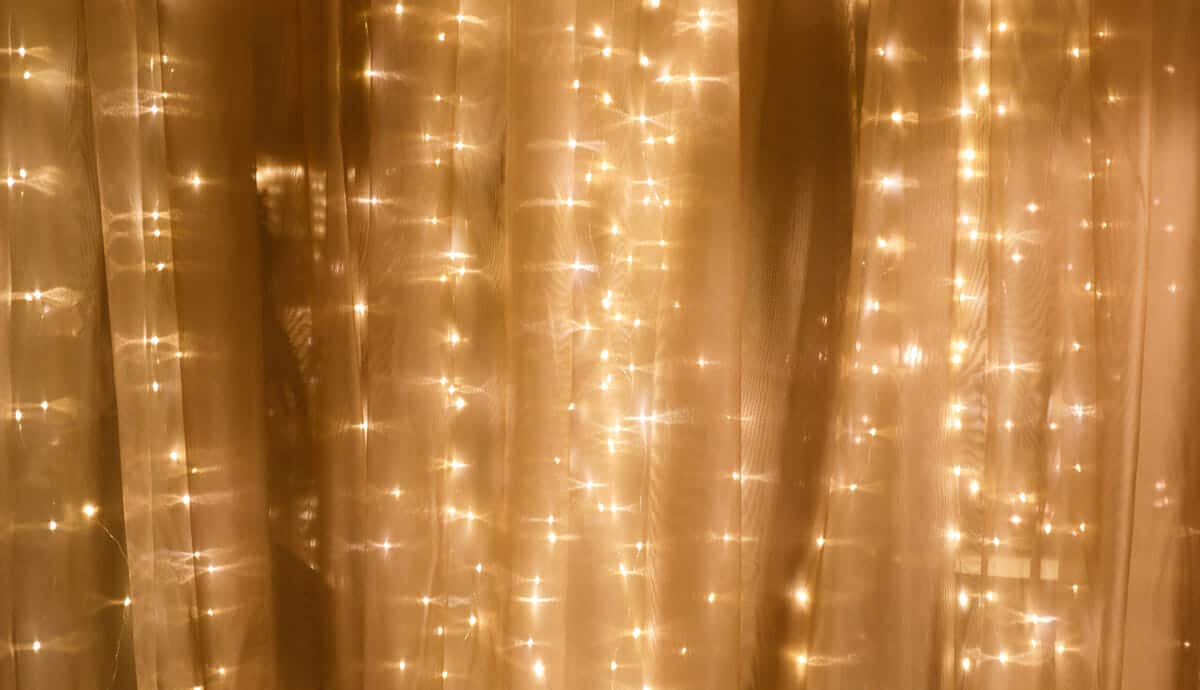 Use long strings of small LED lights (sometimes called 'fairy lights') behind sheer curtains in your living room to create a soft, diffused glow in the room. You can use twinkle lights to mimic the movement of falling snow, or still lights to create a calm and warm setting.
HOLIDAY COLOR TREND TIP: With neutral color palettes being so popular in home decor right now, adding string lights behind your soft curtains is a perfect way to create a winter wonderland without going full red-and-green traditional Christmas decor.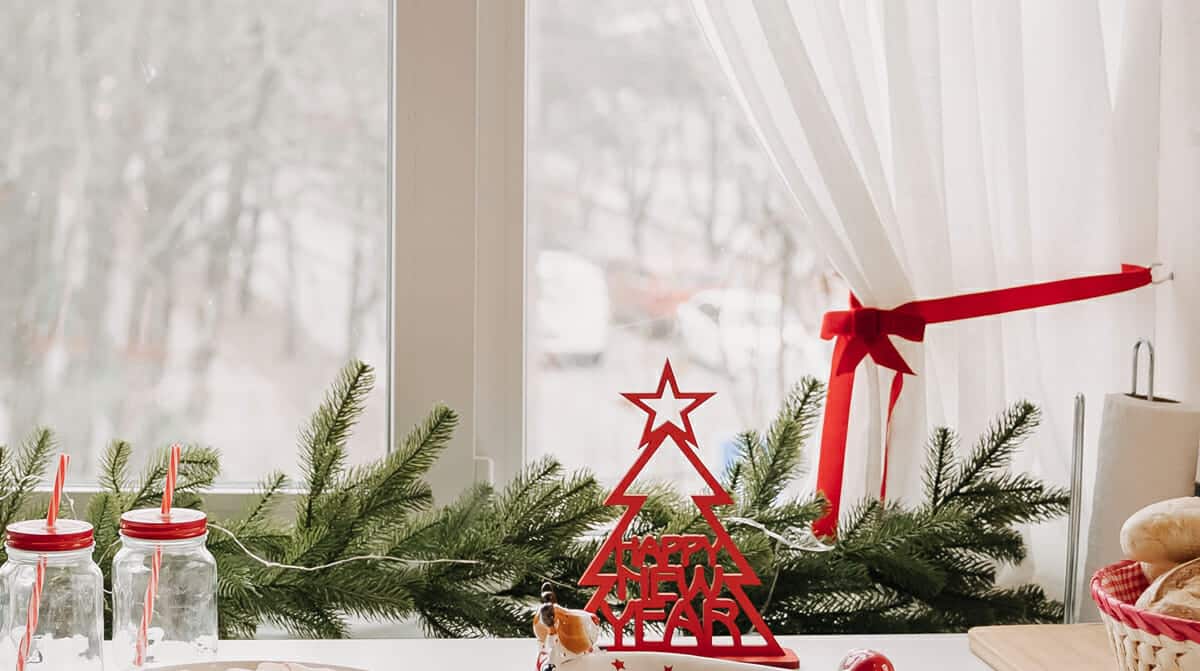 Instead of using traditional curtain tie backs or hooks, tie a festive bow around your curtains using a Christmas ribbon. 2- or 3-inch ribbon works excellent, especially in a velvet, burlap, or plaid pattern. When setting your Christmas table, don't forget to decorate your dining chairs with festive accents – wrap a burlap bow around your chairs for a chic country look, or use a ribbon and tie an ornament in a pretty bow. The living room and dining room tends to be the focus in our decorating inspirations, spending time decorating the bedrooms and stairs, and adding bows in the banister will help bring holiday cheers throughout. Bonus: use the same ribbon on gifts to tie the room together!
HOLIDAY COLOR TREND TIP: Plaid is always popular during the holidays, with Buffalo Check remaining a classic favorite in classic "lumberjack" red and black, or the modern neutral tan and white.

Hang a wreath in the window using wide holiday ribbon and drape window sills, ledges, and even curtain rods with greenery. Adding a dining room table centerpiece only takes minutes and makes a big impact to the overall decor. Go fresh to get that delightful fir smell in your home, or opt for a realistic-looking faux greenery that can be used year after year.
HOLIDAY COLOR TREND TIP: Greenery is a great way to add color to a neutral or monochromatic room. The dark forest greens make a beautiful accent for white walls, neutral furniture, and subdued farmhouse or Scandinavian decor styles.
GIVE YOUR WINDOWS SOME HOLIDAY SPIRIT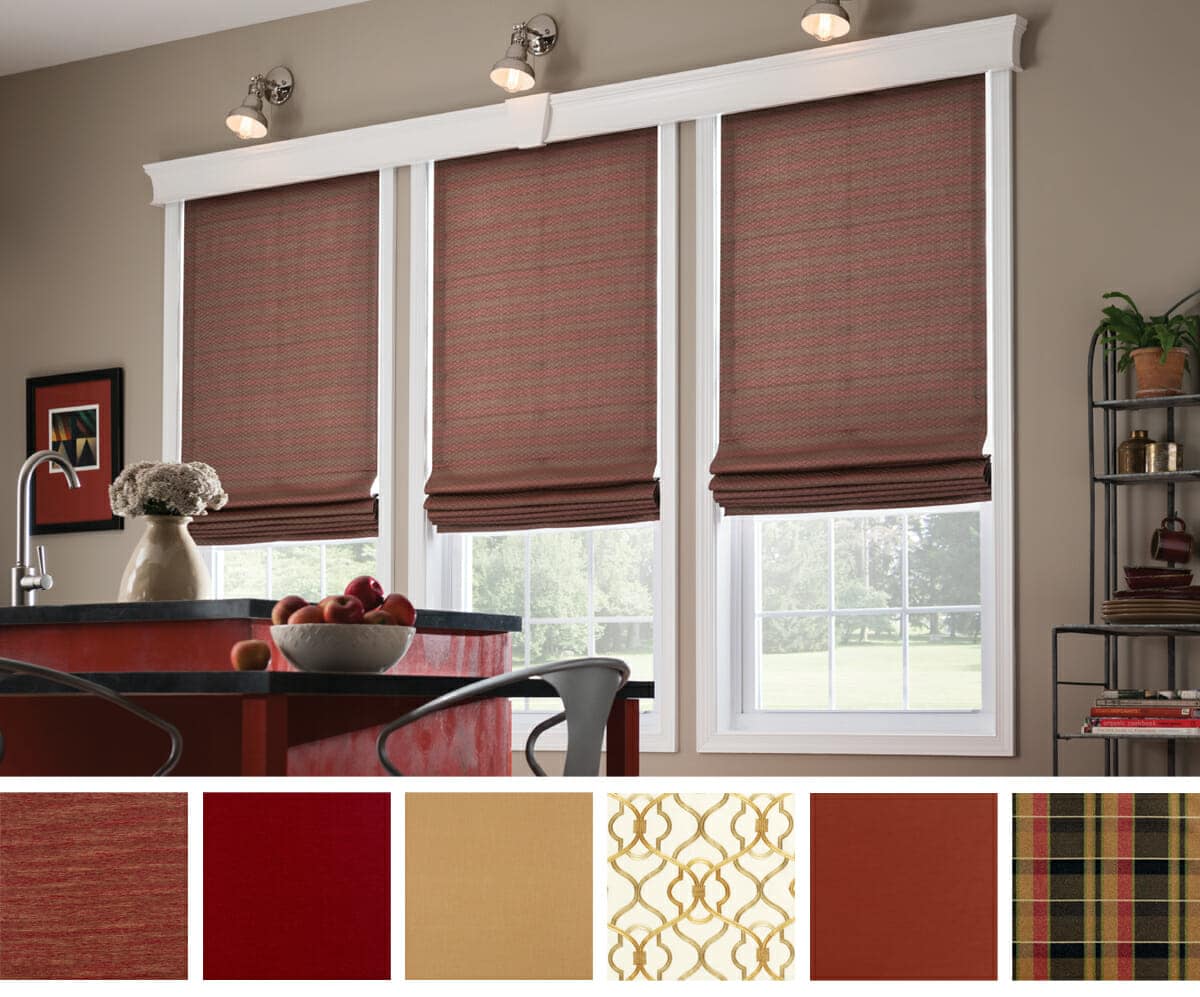 The window coverings you choose can contribute to your home's holiday cheer, and nothing says you have to keep the same window coverings up every day of the year. If your home has drapes or curtains, consider taking down your every-day drapes and hanging unique holiday drapes in a festive color, texture, or pattern.
Depending on your home's color scheme, a deep red can look great through Thanksgiving and Christmas—even through February for Valentine's Day! Patterns with rich brocade, red and green plaid, or white with gold accents all have their place in holiday decorating.
What if you don't have drapes but opted for something like cellular shades or classic blinds to cover your windows? You can add curtains just through the winter months and enjoy the added benefits of greater insulation on your windows by doubling up with two window treatments. Take a look at our favorite no-fail window treatments to pair and layer.
HOLIDAY COLOR TREND TIP: Don't be surprised to see the 2020 Pantone Color of the Year, Classic Blue, making an appearance in holiday decorating ideas this year! Classic Blue pairs beautifully with color palette like white, silver, gold, and even deep reds.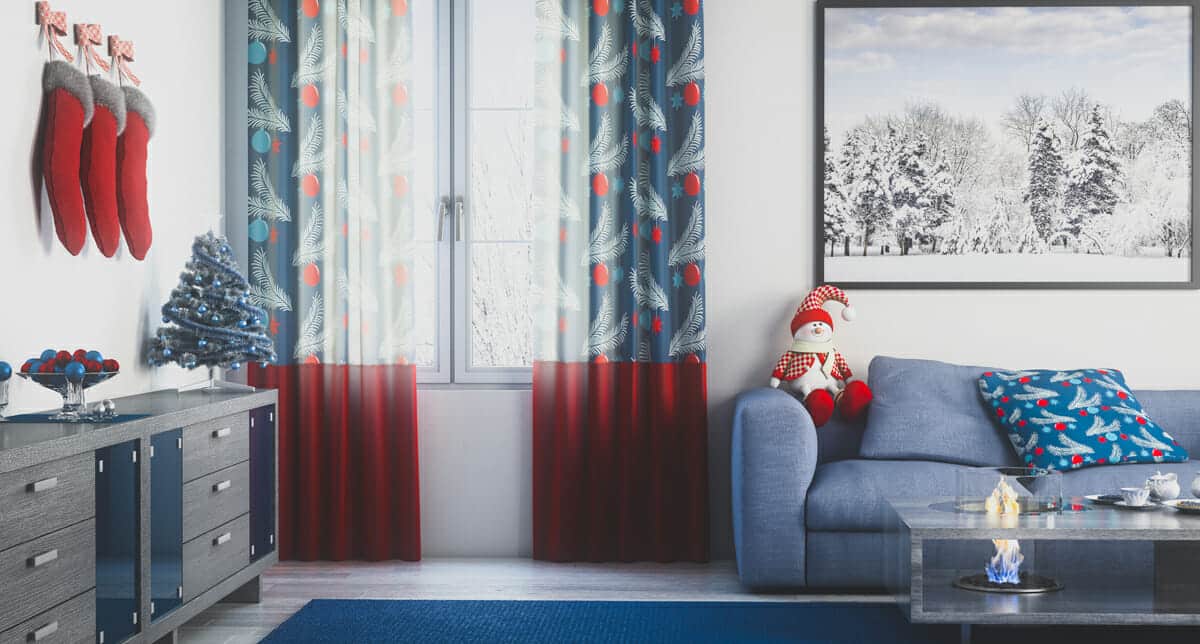 Want to change your window coverings to match any season or holiday? The innovative window fabric line by ADO offers a fabulous assortment of materials and colors that can be mixed and matched according to any holiday season or everyday occasion.